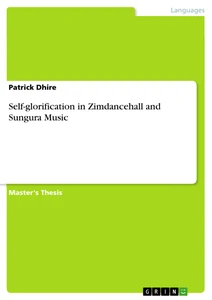 Self-glorification in Zimdancehall and Sungura Music
Master's Thesis 2016 83 Pages
Excerpt
TABLE OF CONTENTS
Declaration
Approval form
Abstract
Dedication
Acknowledgements
Table of contents
CHAPTER ONE - INTRODUCTION
1.1. Introduction
1.2. Objectives
1.3. Statement of the problem
1.4. Background of Study
1.5. Significance of Study
1.6. Theorati cal framework
1.7. Research Methodology.
1. 8. Primary sources.
1.8.1. Music
1.8.2. Interviews
1.8.3. Questionnaire
1.9. Secondary sources of data
1.10. Literature review
1.11. Limitation of the study
1.12. Definition of Key terms
1.13. Dissertation lay out
CHAPTER TWO BOASTS AND AFROTRIUMPHALISM IN TRADITIONAL SHONA SOCIETY
2.1. Introduction
2.2. Unpacking the Concept boasts
2.3. Boasts in Nicknaming
2.4. Nhimbe
2.5. Boasts in courtship
2.6. Blacksmithing
2.7. Conclusion
CHAPTER THREE METAPHORS, IMAGERY AND NICKNMAES INZIMDANCEHALL
3.1. Introduction
3.2. Metaphors and Imagery
3.2.1. Metaphors and Imagery in Winky D's music
3.2.2. Metaphors and imagery in Тоску Vibes'music
3.2.3. Metaphor and imagery in Shinsman's music
3.2.4. Lady Squanda and her agenda for self-glorification
3.2.5. Magical and his agenda to demean other artists.
3.2.6. Seh Calaz and the struggle for space, voice and authority
3.2.7. Sniper and his agenda to demean the Sungura genre
3.3. Nommoic creativity in Zimdancehall
3.3.1. Chibaba
3.3.2. Chimhamha
3.3.3. Doctor Wemagitare
3.3.4. ShumbaYemagitare.
3.3.5. Musoja
3.4. Conclusion.
CHAPTER FOUR - Metaphors, Imagery and Nicknaming in Sungura music
4.1 .Introduction.
4.2. Imagery and Metaphors
4.2.1. Tongai and his agenda to demean other artists
4.2.2. Alick Macheso and self-glorification
4.2.3. Allan Chimbetu and the fight for recognition
4.2.4. Moto Muzhinji
4.2.5. Chopper
4.2.6. Senior Lecturer
4.2.7. Sugar Sugar
4.2.8. Mukoma
4.2.9. Dotcom
4.2.10. Captain
4.3. Conclusion
CHAPTER FIVE - CONCLUSION
REFERENCES
Appendix 1 - Questionnaire for audience
Appendix 2- Interview guides for academics
APPENDIX 3 - Interview guides for Zimdancehall/ Sungura artists
Abstract
This study pursues the struggle for space voice and recognition in Zimdancehall and Sungura music. In this study, intense interest has been on names and metaphorical constructs of self­glorification in Zimdancehall and sungura music. It established that artists deploy metaphorical constructs and nommoic creativity in the struggle for space, voice and authority. It is inspired by the growing interests in boasts in Zimbabwean music. Informed and guided by Afrocentricity, the study holds that artists are using nicknames to glorify themselves as a strategy of winning the hearts of the audience. The study argues that boasts are not new in the Shona culture and they are as old as language itself. It is argued and maintained in the study that Zimdancehall and the Sungura musicians are tapping from African cultural heritage to express individuality in a competitive industry. Metaphors, imagery and nicknames are deployed in the struggle for prominence.
Dedication
To the Dhire family
ACKNOWLEDGEMENTS
First and foremost, I would like to thank the Almighty God for making me to reach this stage in my life. I acknowledge the guidance and support that I received from my supervisor, Dr c. Tembo. He agreed to be associated with this research when it was still in its raw form and helped to transform it to what it is now. I am so grateful for his patience, guidance and invaluable support which sometimes transcended beyond academia. Through his frank comments, constructive criticisms and advice, he encouraged me so much to complete this dissertation
I am also deeply indebted to the Dhire family for their encouragement and support. I also wish to extend my sincere gratitude to the Marecha family for looking after me each time I visited Gweru and Zvishavane. I am also indebted to the entire Department of African Languages and Culture staff. I would also want to express my sincere gratitude to all my colleagues for moral support. A few of these include: Sifundisiwe Dube, Anna Magaya and Nokuthula Sebata.
A big thank you goes to my wife, Providence and two kids Tanatswa and Tinevimbo for affording me the peaceful environment I needed during my study and the encouragement they gave me when I faced financial and social problems.
Special acknowledgement also goes to my workmates especially Mr Guzha, Ms Murimbika and Mr Chipomho who provided me with moral support even when things seemed to be not right; they always spoke positively about my studies
May God bless you all!
CHAPTER 1 INTRODUCTION
1.1. Area of investigation
This research is in the field of oral literature. The study pursues manifestation of self­glorification in Zimdancehall and Sungura music with reference to selected Sungura and Zimdancehall music in Zimbabwe by Alick Macheso, Tongai Moyo, Nicholas Zacharia, Shinsoman, Winky D, Killer T, Lady Squander and Seh Calaz. The main argument in this study is that the music industry is characterised by stiff competition and this competition triggers metaphorical constructs as well as nommoic creativity as artists negotiate for space, voice and recognition. This study establishes that in order to gain recognition and power, Zimdancehall and Sungura artists resort to any means necessary like self-glorification by deploying poetic devices especially symbols, metaphors, imagery and nommoic creativity. This is done with the intention to expose their individuality which implies unique contribution to the industry. The study demonstrates that Zimdancehall and Sungura artists are tapping boasts from African cultural heritage and incorporating them into their lyrics to gain recognition and power in the music industry.
1.2. Objectives
The objectives underlying this study are:
- To expose and interrogate the manifestations of self-glorification Zimdancehall and Sungura Music.
- To interrogate the forces that lead to artists' involvement in self-glorification in Zimdancehall and Sungura music in Zimbabwe
1.3. Statement of the problem
Zimdancehall and Sungura music lyrics are awash with expressions of self-glorification. These musicians have even composed songs in which they attack other musicians or in response to attacks from other musicians. This has resulted in music that is ideologically bankrupt that emphasises on bragging as opposed to grappling with big political, economic and social issues. The sustained intense interest in boasting tends to limit musicians' duty in a society with multifarious problems.
1.4. Background of study
The study is motivated by the preponderance of boasts that exist in Zimdancehall and Sungura music. It is important to note that the rate of unemployment has seen more artists venturing into the music industry. This prompted the emergence of music that is fidi of boasts expressed through metaphors, imagery and nicknames. In the light of this background, the issue of self-glorification is widespread and is therefore interrogated as it is portrayed in Zimdancehall and Sungura music genre.
1.5. Significance of the study
The present researcher have particularised on boasts in Zimdancehall and Sungura music because it is one of the topical issues that finds wide expression in the music. It is also important to note that most researches carried in Zimdancehall and Sungura music focused on issues like vulgarity and representation of women but no researcher known to the present researcher has studied the concept of self-glorification as it finds expression in music.
This study is worth carrying out since it draws onomastics and music together. The point of the departure which makes the study worthwhile is that the study is not a generalised study of onomastics but the interface of onomastics and music.
The researcher has selected Zimdancehall and Sungura music in an environment with different music genres because these are the two of the most dominant genres of music in Zimbabwe.
This study is significant contribution to researches carried out by other scholars in dancehall and Sungura as it adds knowledge in the field of literature. This study also provokes more studies based on Zimdancehall and Sungura music as some scholars might notice some gaps that might need further researches.
1.6. Theoretical framework
This study is guided by the Afrocentric theory in its discussion on the manifestation of Zimdancehall music. Afrocentricity is an intellectual perspective deriving its name from the centrality of African people and phenomena in the interpretation of data (Asante in Hudson- Weems, 2007:29). Asante (1987) argues that Afrocentricity can have a significant impact upon the way African people view their identity, specifically considering African people as centred, located, oriented and grounded. This theory is suitable for this study since it places the experiences of African people at the centre of any analysis.
In the Afrocentric rubric, the researcher is guided by the Afrotriumphalist perspective. It is a life-affirming idea that celebrates 'the victory of the human spirit over forces inimical to ... growth' (Muhwati et al, 2010:204). The Afrotriumphalist perspective states that Africans have ways of overcoming difficulties. Against that background, the Afrotriumphalist perspective is applicable in the appreciation of boasts in sungura and Zimdancehall music as it grounds the study in the concerted struggle for victory in a competitive music environment. This viewpoint is proper for this study as it helps to understand the issue of boasts as a way of abandoning victimhood, hopelessness, helplessness, lifelessness and life-weary pessimism. It is a departure from celebration of helplessness.
Since the study is also concerned with names in music the Afrocentric principle, Nommo is deployed in appreciating names. Nommo is an Afrocentric term used by Asante (1987) and others that identifies the power to generate and create reality. It is therefore important to note that this study regards self-naming and self- defining by Zimdancehall and Sungura artists as a way of empowering one-self in a competitive music industry.
Individuality is another Afrocentric idea that prioritises uniqueness. In this case it is important to note that every human being is unique in his or her own way. According to Jordan (2010) people were given different talents by the creator. There is need for one to expose his unique skills at the same time making a contribution in the society. Individuality is the way of showing strength that was given by the creator. One should inject the venom of agency in oneself and make his unique contribution to the society. Every individual was given the crown of individuality it only takes one's effort to wear it. This idea helps one to understand that boasts or self- glorification is a way of expressing power and dominance in a competitive music environment.
Self - determination (Kujichagulia) is an Afrocentric principle proposed by Maulana Karenga which suggests that Africans should define themselves, name themselves, create for themselves and speak for themselves. The principle of self-determination is quite applicable to the study as boasts are understood as a strategy to name themselves.
Basing on the above elucidation, it is apparent that Afrocentricity is the best framework for this study as it places African people and their history in every analysis.
1.7. Research Methodology
The present researcher employs qualitative research in investigating the manifestation of self­glorification in Zimdancehall and Sungura music. Miles and Huberman (1994) point out that qualitative research provides the researcher with the opportunity to gain an insider's perspective on social action and involves an interpretive, naturalistic approach to its subject matter. This entail that the researcher gained an in-depth knowledge of specific cases on self­glorification in Zimdancehall and Sungura by gathering reliable data from artists, listeners and understanding them in their natural setting
1.8. Primary Sources
The researcher made use of primary sources as part of the research. According to Haralambos and Holbom (1990) primary sources refers to the data collected by researchers themselves during the period of research. Primary sources include data collected by researchers using interviews, questionnaire, interviews and discourse analysis of music.
1.8.1. Music
The research made use of music as part of its primary sources. The researcher chose tracks from different artist like Seh Calaz (2016), Lady Squander's, Тоску Vibes', Shinsoman's and Winky D's (2015) in Zimdancehall music. In Sungura music the researcher selected Tongai Moyo's Muchina muhombe, Alick Macheso's Nclezvashe (it's for the Kings) album and Allan Chimbetu's Professor. An in-depth discourse analysis was adopted in order to make a thorough exposition of the selected music which is part of the primary sources of the study so as to understand boasts in their natural settings. The music was chosen using non- probability sampling technique. In this case the researcher did not use random sampling but made use of purposive or convenient sampling since the researcher is in search of music with specific thematic areas.
1.8.2. Interviews
Leedy (2005) says interviews are conversations between an interviewer and interviewee with the purpose of eliciting certain information. Interviews were employed where clarification from participants was possible. These are a direct method of collecting data from respondents in face to face interaction, thus they allow for obtaining of in-depth information on the topic under study.
For the purpose of this study, oral interviews were used to obtain data from key respondents. Key respondents were Zimdancehall and Sungura artists, listeners and elders. The researcher made use of interviews because they facilitate a dialogue between the interviewer and the interviewee and provide the platform for the researcher to probe and clarify issues where the interviewee fails to understand. Flick (2004:14) says unstructured interviews are valuable mechanisms to complete statements that cannot be completed by those who could fail to express themselves. Interviews are appropriate here because some of the participants are illiterate and also the research realised that artists are always busy to an extent that they may fail to fill in written down material such as questionnaires.
1.8.3. Questionnaire Method
The researcher made use of the questionnaire method to gather data from key informants. The key informants in this study are Zimdancehall and Sungura artists, academics, producers and listeners. The questionnaires were distributed to the students and academics. The questionnaire is more efficient as it helps to cover a wide area. The researcher relied heavily on convenient sampling. Purposive sampling is vital in this study because it only chooses a target aspect for a specific purpose. In this instance students and academics were sampled to provide data to the study. This technique also calls for selecting samples which are to be useful to the research. The questionnaire method is more convenient especially when dealing with busy people like musicians. The questionnaire can be emailed to the targeted group of people especially the academics, producers and musicians.
1.9. Secondary Sources of Data
The research used desk research of literature. Desk research is a term used loosely and it generally refers to the collection of secondary data or that which has already been collected. The researcher consulted books, critical works, articles and dissertations to illuminate some ideas for the study. Desk research sustains, concretizes, authenticates and validates ideas of the study since this kind of research lays the foundation of the whole study.
1.10. Literature review
Literature review is where by the researcher will be reviewing the published text on the issues concerning the topic under discussion. This section therefore reveals the point of departure from other scholars. In this section focus is on literature published by other researchers concerning boasts and music in African Oral Literature. This section helps the researcher to gain more insight from the previous research which was done in relation to the research understudy Chiwome (1992) argues that African Oral Literature serves a special purpose in African society. In his view, traditionally Oral literature was used to deal with mental health. Boasting can be noticed in the traditional oral literature in Muchongoyo performances. In other words war songs were some forms of self-glorifications that were meant to deal with fear of deaths. One would win the war at the mental level before winning it physically. Chiwome (1992) suggest that boasts or self-glorification were also helpful to the hunters. The philosophy embedded in these boasts is the same as the one in war. The study carried out by Chiwome (1992) mainly focused on African Oral literature in relation to mental health mainly focusing on hunting and wars. This proposed study seeks to make further enquiries of boast with special reference to selected Zimdancehall music.
Finnegan (1996) argues that boasting manifests in African poetry. The hunter sung boasting himself or herself after a successful hunt. The audience were told about the animal that has been killed in terms of type and sex in these boasts. In the pre-colonial era hunting was part of people's way of life. In both the Mutapa and Rozvi state people hunted with the intention to get meat, tasks and animal skin. This clearly shows that boldness is not a new observable fact in the African communities. Therefore this study seeks to make a discourse analysis of the boast that exist in Zimdancehall and Sungura music so as to notice their significance in the new type of music genre.
According to Muhwati (2010) the Shona and Ndebele people have inherited a philosophy of life that value transcendence and agency. The Shona and the Ndebele people created a bundle of energy out of their culture so as to fight life challenges. The articles clearly demythologise the European world view that perceive Africans as helpless, defeatists, and people who easily surrender to life challenges. Muhwati (2010) uses proverbs to illustrate that the Shona and the Ndebele people had ways of strengthening themselves as they move in the journey of life. The traditional Shona and Ndebele leaders came up with ways to cultivate a never die psychology. These ways were invented after observing and experiencing different life situations. The article gives examples of numerous proverbs for example, proverbs like บรarase mbereko nokuftrwa (Do not throw away the baby carrier just because you have lost the baby) and Isililoasipheli (Deaths is a continual process) that encourages agency. The article clearly brings to light the significance of philosophical system that sought to equip people with a never- die -spirit. The research made by Muhwati (2010) unpacks the idea that the Shona and the Ndebele people have cultural ways of maintaining agency and transcendence. However, the study only focused on proverbs and fails to address the issue of boasting as another way of addressing agency and transcendence. This research will take a step ahead in focusing on boasts or self-glorification as another way of achieving victory in life situations. Boasts are appreciated as a strategy to exercise agency.
According to Mpofu and Tembo (2015) Zimdancehall artists especially Sniper Storm has resorted to militarisation of Zimdancehall music and demilitarisation of the military as a way of fighting competition in the music industry. The new musicians are still looking for ways to gain popularity this has made musicians like Sniper, SoulJahlove and Jah Preizar to militarise their music. It is important to note that the music Industry have been dominated by musicians like Macheso before the coming in of Zimdancehall artists, therefore, the upcoming artists require great lyrical skills to conquer the local music industry. In view of the article by Mpofu and Tembo, Zimdancehall is competitive in nature that is why most musicians approach the music industry in military dressing and jargon. Musicians like Sniper Storm call themselves 'The General', Jah Prezah is 'Musoja'' (soldier) and Sulu calls himself 'Captain Sulน. This clearly shows how the Zimdancehall musicians have earned themselves firm and popularity in a competitive environment. The research paper clearly explains the strategy of militarising music and demilitarising the military. It is important to note that the names like 'Musoja , 'Captain' and 'Warrior' are part of boasts or self-glorification done with the intention to fight competition in music industry. However, the research paper only focused on boasts derived from the military field hence narrowly focusing on Musoja (soldier) only. This study will critically focus on boast on a wider spectrum.
According to Manase (2011) Zimdancehall music is well known of its ability to articulate the multiplicities characterising the current urban conditions. The article analyses different tracks like Chaputika (it has explode), Madhiri (deals) and Vanotaura (they spread the rumour) by Winky D. In Madhiri (deals) the author clearly brings to light the idea that the artists is inspired by the challenges in urban life that is forcing people to engage into different deals. This shows that Winky D is acting as the mouth piece of the society by citing the realities of life. It is also important to note that the scholar critically analyses the music by Winky D by taking into consideration some of the criticism levelled at the musician. The musician is said to be promoting violence and the sexual objectification of women. This is exemplified by songs like lew hi! vakuru (big man) were Winky D brags that he is the wicked man in town, a big father and a man of high class who has the ability to lure women into love. The article captures various themes in Winky D's music but fails to consider the reason why Winky D is making use of self-glorification in his music. It is also important to note that the article only focuses on Winky D's tracks hence giving criticism narrowly focused on one artist. The present researcher will look beyond mere bragging in Zimdancehall music and analyse how self-glorification is helping artists in winning power in Zimdancehall music.
According to Pararwangira (2015) Zimdancehall artists make use of vulgar as a symbol of power. The music industry is generally competitive in nature that is why most musicians find ways to break the new ground. Vulgarity is another way used by Zimdancehall artists to gain popularity in the music scene. The scholar argues that most people view the use of vulgar as a form of backwardness yet side-lining the fact that its beauty and goodness need to be understood in art forms in relation to expression of power and truth. The argument is substantiated with examples like Knkonzeresa (causing problems) and Kimanzvapakati (leaking in between) by King Labashand King Shaddy's tracks like "HcmdmasmhirebhcikosF (no cheap things) and "Mukonde พa l 'onde " (Tonde's sadza). As much as Parwangira acknowledges that Zimdancehall music industry is associated with competition for power and considered vulgarity as a way of gaining power, he fails to take into consideration self­glorification as a way to gain power. Therefore, this research seeks to cover the gaps left by Parwangira in his unpublished dissertation.
According to Chitando (2002) music has the ability to deal with pain and bring hope to people. It is important to note that artists sing focusing on the current burning issues in order to gain relevance in the musical scene. The article mainly focuses on issues relating to mV and AIDS. The article traces the role of music in the traditional Shona society. It is important to note that music empowered people to face war, pestilence, disease and death. This clearly shows that music plays a very crucial role in the Shona communities. The ideas raised by Chitando (2006) regarding the role of music in the traditional Shona society acts as the researcher's point of departure in tracing the role of boasts in Zimdancehall music. Chitando identified singing about the current situations as a way of gaining recognition in the music industry. The present researcher will take a different view point by looking on boasts as another way of gaining recognition and power in music industry.
Musiyiwa and Visser (2015) argue that music is classified under different categories basing on the message being articulated. The scholars make use of Martin and Rose's Model to come up with a typology of music. Martin and Rose's model of prioritizing the rhetorical aspect of a text as the criterion for classifying stories is used by Musiyiwa and Visser (2015) to propose a typology of Shona popular songs. The article enlightens this research with the fact that Zimdancehall music can be further sub-divided into sub-genres basing on Martin and Rose's Model. In the article songs were classified under recount, anecdote, observation, apocalyptic, didactic, narrative, argumentative, exemplum, mobilization, persuasion, cautionary, praise, celebratory, intimidation and multi-rhetorical songs. The scholars did not consider the issue of boasts as they explain praise, multi-rhetorical, intimidation and other sub music genres. Therefore, this research seeks to propose another music sub-genre basing on self-glorification or boasts.
Vhiriri et al (2011) assert that Zimdancehall music influences the behavioral trends of the youth in urban communities in particular. The scholar analyses urban lyrics specifically focusing on Troika, Maskiri, and Winky D and Extra-large. The research paper argues that those Zimdancehall artists' songs especially that of Winky D provoke violence among the urban youth. A detailed analysis made by Vhiriri et al (2011) indicates that Winky D's songs fuel hate speech, drug dependency, violence and frustration among the youth. Despite the fact that Zimdancehall music was adapted from the Rasiafamsm a culture that upholds peace loving ideology the songs by Winky D promotes violence. The songs analyzed are said to be inspired by the western philosophies hence the destructive nature of globalization. Vhiriri et al (2011) draw examples from songs like Rokesheni (location) and Vcmhu vakuru (Big man). Even though the scholar managed to see the nature of Zimdancehall music, it is important to note that the boasts element that exists in the music is not new in the Shona philosophy. Therefore, this study seeks to demonstrate the existence of boasts in Shona culture since the pre-colonial era.
Chari (2008) argues that "urban grooves" artists produce music that attack women negatively. Chari (2008) analyses the representation of women in male produced urban grooves music in Zimbabwe. The scholar argues that the lyrical content of the "urban grooves "artists celebrate negative stereotype of women, violence against women and other negative issues that undermines the empowerment of women. This can be exemplified by Zimdancehall music like Chiramu by Winky D where a woman forces a man to commit adultery. As much as the argument drawn by Chari is true it is important to note that not all 'urban groove "artists dwell much in such thematic area. Not all [zimdancehall] music can be regarded as a tool with the potential to create hostility between men and women. It is important to note that people should not take for granted the fact that self-glorification in Zimdancehall music play an important role in Shona society. This research will demonstrate that self-glorification in Zimdancehall music has power to cause a positive change on artists and the audience.
According to Chari (2009) even though urban groove artists are said to be fusing some western style into their music, they still draw local cultural elements to their music. The scholar is departing from the fact that the local artists have been accused of imitating the western musicians especially the Hip Hop musical genre. It is crystal clear that the western culture is different from the Shona culture. The researcher managed to notice how urban groove artists have managed to incorporate their cultural experiences into their music but did not focus on one particular element. It is therefore important to take self-glorification or boast as part of Shona philosophy and understand how Zimdancehall artists are benefiting from it.
Manase and Bhatasara (2015) argue that Zimdancehall music promotes masculinities and femininity. The article focuses on how music is used to reduce women to mere sexual objects and how they are being dominated by men. This idea is said to be passed from one generation to the next through Zimdancehall music hence exposing the power of music in the society. The scholars agree that music has effect on the society; it might be positive or negative. Among the various themes discussed, the scholars focuses on portrayal and celebration of hegemonic masculinity. This is exemplified by King Shaddy's song entitled Ndezvevamme (This is for men). From the discussion in Manase and Bhatasara (2013) it is crystal clear that [Zimdancehall] music is all about dominance and control even though the article mainly focused on gender issues. This research will therefore take the issue of dominance in relation to self-glorification as its point of departure.
Magaraushe et al (2013) argues that Zimbabwe urban context music business is hinged upon profit making. Promoters usually go for artists who have gained popularity. This has seen artists being informed by social-political and economic factors in creating their musical lyrics. The main motive is to be relevant in the musical scene. This can be exemplified by the fact that during 1960 and to the mid-1970s popular music was influenced by the emergence of nationalism and the struggle for political independence. Between 1980 and 1990s the music was influenced by the celebration of independence. The emergence of digital technology in recording has seen a lot of artists mushrooming from different genres. The scholars clearly bring to light the idea of magnitude of musicians who have joined the music as a result of technology hence creating competition in the music industry. Some Zimdancehall artists have since moved to the use of real instruments rather than lip syncing when performing live shows to gain popularity and attract promoters. However, this is not the only strategy being employed by artists to gain power in the competitive music industry. Therefore, this study will take a different angle by looking on how self-glorification lyrics are being used by artists (Zimdancehall) to gain mileage in the musical scene.
Mbaegbu (2015) argues that music is powerful in the African society. The scholar argues that every musical genre plays a significant role in the African communities. It is therefore important to note that even though some musical genre is negatively viewed by the general population, they serve a particular purpose in the community. This is exemplified by the role of music during the war and the birth of the child. The study by Mbaegbu (2015) clearly shows that music plays an indispensable role in the being of Africans politically, socially and economically. However, the scholar does not give a specific genre in the analysis hence the need to focus on a particular musical genre and the cultural aspect. This study therefore seeks to cover the gap left out by Mbaegbu by looking on the power of boasts in Zimdancehall music to the musicians and the society.
Mashiri (2004) made a critical analysis of nicknaming with the intention to praise one-self. Self- praising through nicknaming is said to be existing in different domains like churches, Universities and other social scenes. Nicknaming with the intention to glorify oneself can be traced in certain individuals from their childhood up to adulthood. Children usually give themselves names like Spiderman, Cheso power among others while in Universities and other educational institution people might call themselves doctor, commander and Chomsky. It is important to note that people give themselves names that depict positive characteristics with the aim of bragging. Mashiri argues that nicknames enable the bearer to celebrate individuality and prowess and represent a kind of wish-fulfilment in their owners. This narrowly focused on nicknaming in general. The present research sees it fit to further look into the issue of self-glorification nicknames that are chanted in Zimdancehall music as part of this study.
Thus from research findings gathered from the above cited literature in this section it can concluded that the above research findings will assist the researcher in making an evaluation of the significance of self- glorification in Zimdancehall music. The research observations from above cited literature differ from this research since they did not actually narrow down towards assessing and evaluating the significance of self-glorification in Zimdancehall music.
Even though the study พ!น be different from other noted researches, the researcher will benefit from their views in making a discourse analysis of Zimdancehall music in relation to self-glorification
1.11. Limitations of the study
During gathering data from respondents on their views on manifestation of self-glorification in Zimdancehall and Sungura music, the researcher had a problem of soliciting views from artists and producers due to their tight schedules. Confronted with that challenge, the researcher had to resort to questionnaires instead of conducting interviews. As a result, the target number of twelve (12) interviewees was not attained. Some critics could not give their views to this study since they never listened to Sungura or Zimdancehall music with self­glorification
1.12. Definition of the key terms
Boasts- Talk with excessive pride and self- satisfaction about one's achievements, possessions or abilities (onlinedictionary.com)
Nommo-Nommo implies the power of words to create harmony and balance in the face of disharmony (Cummings and Roy 2002).
1.13. Dissertation lay out
This study is organised in five chapters. Chapter one is the Introduction. It posits the topical issue of self-glorification in Zimdancehall and Sungura music genres. Chapter two gives an overview of boasts in the Shona culture from an Afrocentric point of view Chapter three presents and analyses the metaphors, imagery and nicknames in Zimdancehall music. Chapter four presents and analyses the metaphor, imagery and nicknames in Sungura music genre. Chapter five summarises, recommends and is the conclusion of the study.
CHAPTER 2 BOASTS AND AFROTRIUMPHALISM IN TRADITIONAL SHONA SOCIETY
2.1. Introduction
This chapter traces the history of boasts in the Shona culture in relation to Afrotriumphalist perspective so as to substantiate the arguments raised in the study. In order to have a comprehensive understanding of boasts in the Shona culture, the study clearly unpacks the concept of boasts by looking on the contexts and the purpose that triggered such an act in relation to Afrotriumphalist perspective. The contexts which triggered boasts include bira, Muchongoyo dance parties just to mention a few. This chapter brings to light the fact that boasts are part of Shona heritage that are being passed from one generation to another.
2.2. Unpacking the concept of boasts
This section traces the history of boasts in the Shona society so as to prove the fact that they are not foreign in the Shona culture. In order to zero down to the boasts in the Shona community there is need to understand boasts in African sense and in general. Oxford dictionary defined boasts as talking with excessive pride and self - satisfaction about one's achievement or abilities. This clearly shows that boasting can be done to show off one's skills or successes. During the pre-colonial era boasting or self-glorification was significant in the Shona community. This particular act was done in certain situations through poems or songs. It is important to note that boasts were meant to deal with the mind in certain situations.
Boasts were invented in African society to serve a particular purpose. Gwekwerere, Possa and Nyamende (2013) argue that Africans have the capacity to invent opportunities as a way of overcoming life situations African people are active people who have the capabilities of changing their live. It puts emphasis on the possibilities and necessities of African centred frameworks that can enable Africans to overcome the political, economic and social challenges of the past and present. This concurs with Chiwome's (1992) arguments where he see boasts as a way of dealing with fear of death at the same time cultivating brevity. It is important to note that boasts can be regarded as African heritage that is being passed from one generation to another.
According to Chiwome (1992) Nziyo Dzekuhondo (war songs) is similar to boasts poetry. Boast in the Shona society were recited before and after the war. This means that boasts could be made after a successful battle. Such an action can be described as self-glorification that was meant to heal the mind. In other words it was a way of suppressing fear of death so as to instil brevity within them. According to Chiwome (1992) war songs and dances were meant to win the war at the mental level before getting into the physical war. This can be illustrated by the pre-colonial state in the Shona society that relied heavily on raiding expedition like raiding for cattle. Such expedition required brevity hence the need to cultivate it through boasts.
When the Europeans arrived in the Shona society they first targeted the Shona culture including the heritage of boasts. Boasts can also be noticed during the Chimurenga. Despite the suppression of the Shona cultural practices, self-glorification came into existence during the liberation struggle in the form of Pungwes (Chiwome, 1992). The Shona people were suffering from inferiority complex therefore it was important for them to utilise the pungwes for self-glorification or boasts to strengthen themselves. In view of Mararike's concept of Kudyiswa, self-glorification was a way of kuzvinilsisa (vomiting) that is gathering the strength of fighting against the one which the Shona people thought was superior. The black man was labelled a boy while the whites regarded themselves as men. This issue of labelling reduced blacks to mere objects. Therefore, the guts to fight against white man were imbued through self-glorification during the Pungwes. The boasts can be seen manifesting in the traditional Shona society up to the present day. To have a clear understanding of the boasts in the shona society it is important to trace the background of the boasts in the shona society by looking on the context that triggered boasts. It is therefore important to focus on boasts in different contexts in the Shona society
2.3. Boasts in Nicknaming
Nicknaming is as old as language itself. This can be traced back to the pre-colonial Shona society were people named themselves with the intention to boasts. A nickname is defined by Mashiri (2004) as a name that comes after the official name given by parents soon after birth. As people go through stages of life they develop names for themselves with the intention to boasts. The functions of nicknames given by Holland (1990) are
(1) The nickname is a form of classification of different social groups
(2) Nicknames help construct group identities and are symbols of such solidarity
(3) Nicknames can be a form of social control
(4) Nicknames can mark out social groups or individuals
(5) Nicknaming can guide one's perceptions of others
(6) Names can be agents of 'ego identity
The Shona people were social technocrats who identified life as a "movement, constant movement, merciless movement, movement in the mind even when [one] is sitting still, sitting still and calculating what has happened, what is going to happen" (Davidson, 1984:6). The fact that they believed in the philosophy chara chinnve hachitswanyi inda (one finger cannot crush a lice) they found a way of binding people together and at the same time evoking a positive behaviour through the use of nicknames. This became a way of classifying different social groups. For example there was the Nzou (elephant) and the shumba (lion) people. This clearly shows that in a community one did view himself as a loner but as part of a social group with certain characteristics. This provoked a victorious thought within the Shona people as one always identified himself or himself in relation to a certain social group.
Nicknaming was a way of building identity. This can be traced back to Shona pre-colonial societies. Nicknaming can be traced by observing the names of the traditional Shona kings. Mutota who moved from Great Zimbabwe to form the Mutapa state was nicknamed Mwene Mutapa meaning the owner of the conquered land or master pillage. This concurs with Holland's idea of nicknames that can be used as form of classification of different social groups and guide one's perceptions of others. In another case the Rozvi was a nickname that was meant to glorify the army of the Changamire Dombo. Their fighting skills were very impressive hence the name Rozvi.
In pre- colonial societies people developed names that were termed 'Mazita emadunhurirwa' with the aim to praise, ridicule or reprimand. In most cases the names were formed through compounding for example some people were named Chipavhurire, Matekwatekwa, and Chipangamazano. Such nicknames have social connotations in terms of one's character. Chipavhurire was a name given to the one who was not mean but a giver. This was meant to praise people so that they would continue giving in the pre-colonial Shona society. Chipangazano was also among the nicknames given to some of the Shona people in the pre­colonial society. The nickname was usually given to people who were knowledgeable in terms of giving advice There were also nicknames adopted from clan praises in the pre-colonial Shona society. People from the Moyo clan were popularly known as Dhewa, Bvamararida or Marozvinmkimi. It was very common for one to brag using these names in the pre-colonial shona society. This also applies to other clans like the Nzou who were popularly known as the Samanyanga or Mhukahuru. The Dube clan was commonly referred to as the Manjenje or Samaita that is the description given to the Zebra animal. The Mhofil people praised themselves with names like Mutimhuimemago while the Gudo clan were well known as the Makwiramiti or Mil капу a. The iVgara clan adopted the name Chikandamina that describes the behaviour of the Pangolin. Therefore nicknames raised one's self esteem in the Shona society. This helped the Shona people to transcend in different life situation as they wanted to be identied by the behaviour articulated in their nicknames based on totems.
The heritage of Nicknaming can be seen today being adopted in music industry by different musicians especially in Zimdancehall and Sungura music in Zimbabwe. This can be illustrated by names like Chibaba, Ambasador, and Chimhamha in Zimdancehall music today while in Sungura music they make use of clan praise names like Dhewa, Samanyanga and Bvumavaranda. Nicknames have the ability to create a new image different from the artist's official name given by parents soon after birth.
2.4. Nhimbe (beer party)
Nhimbe is a cultural practice that was meant to assist one another collectively in the field. In a good season a farmer or field holder can call members of the community for a beer party. The owner of the field prepared a large quantity of Kaffir beer (doro hwahwa). This is a practice that has been in existence in the Shona community since the pre-colonial period. It is said that it has been in existence in rural communities since 1800s (Bhila 1982, Kajese 1987 and Munyuki 2011). At a Nhimbe people could speak freely especially with the intention to correct social ills or reprimand [a] member[s] of the community of the issue that cannot be addressed under normal circumstances. Boasts are very common at such a beer party. One could boast himself of certain qualities or things he or she possessed. This can be exemplified by the poem cited by Fumiss and Gunner (2008) entitled Rudo Ndimavhaidze (love is prowess) where he brags about his wife. This can be clearly shown where he say:
Rudo ndimavhaidza Rudo Rwechokwadi Vanhu vanondi tauri ra Mııkadzi wako akcmycmgarci Ini handizvi wane Nokuti ndinomada Pane vannve ndinovhaira naye
(Love it is that makes me proud
Love true love
People say to me
Your wife is ugly
I do not see that myself
Because I have her
Among the boast I boast about her)
In this case it is clear that the above poetry is directed towards the people who were saying bad things about one's wife especially those who are said to be saying mukadzi wako akcmyangara (your wife is ugly). It is most probable that the poet could not confront the people uttering bad things about his wife directly in a normal situation. He had to wait for the Nhimbe for him to confront the people and brag about his wife. According to Chiwome (1992) this cultural practice can be considered as a mental antidote which has the ability to release the piled up bad feelings towards other people. Therefore it was a way of strengthening oneself in marriage and making people to respect one's choice. This philosophy is embedded in the shona philososphy moyo muti imomera paimoda (love is blind).
[Using] the Afrotriumphalist perspective it is important to note that [boasting] was an African centred, life affirming critical canon that foregrounds the necessity and possibility of going beyond the challenges that threatens the survival, freedom and dignity of the Shona [people's marriages]( Gwekwerere, Possa and Nyamende, 2013).
เท another case, a farmer himself can boast at a beer party about his farm produce with the intention to celebrate his bumper harvest. Boasts were normal ¡ท Shona community especially ¡ท functions like Nhimbe were a farmer would boasts about his success. This has the potential of motivating other people so that they would aim to engage ¡ท productive Agriculture. The boasting of a farmer gave courage to other farmers despite the labour and resources that was required to farm successfully. As other farmers saw the other farmer boasting it created a consciousness which say that "the future will have a different story to tell" (Blyden, as quoted ¡ท Ephraim, 2003:422). This made the Shona people to triumph starvation and be productive ¡ท the Agricultural economic activities. People were taught to be industrious for them to achieve the same status as the one who ¡ร boasting. This shows that boasts were a driving force for one to learn and possess the required skills to excel.
2.5. Boasts in courtship
Daniel (2009) argues that dating is a stage in the rites of passage. This is a crucial stage in the life of a youth as they chose one partner's for life. Marriage was considered important in the pre-colonial Shona society. Men were groomed by their uncles on how to get a life partner while girls relied on their aunties. The Shona had ways of grooming or nurturing young boys in a bid to prepare them for courtship. The proverb rume risinganyepi harirori (a man who does not he will never merry) is enshrined in the Shona culture implying the need for self-glorification in order to convince a girl. In the Shona culture, a boy would find means to fulfill the societal needs. It is important to note that failure for one to get a life partner was a taboo in the Shona culture. Baur (2000) argues that in the traditional Shona society people believed that people who died unmarried did not belong to the spirits of the ancestors. Therefore the Shona people had ways of overcoming life situation as enshrined in the proverb rume rismgcmyepi harirori (a man who does not he will never merry). Therefore in courtship boasting was considered as strategic thinking and superior intelligent that was required for one to transcend in acquiring the one he needs as a life partner and fulfill the societal expectations.
2.6. Blacksmithing
Boasting was also common among the blacksmith in the traditional Shona society. Blacksmithing was common in the traditional Shona society since the Shona people viewed it as part of their economic activities. A blacksmith is a person who creates objects from wrought iron or steel by forging the metal. Fumiss and Gunner (2008) state that boasts were common in the Shona society especially for successful blacksmith. It was a way of summing up their skills and achievements. The blacksmith did only boasts for the sake of it but it was also a way of provoking thoughts of other blacksmiths "to see, think and act beyond the constrains of the past, the present and the future" (Gwekerere, Possa and Nyamande 2013). It was a way of strengthening other people in terms of skills and work so that they would aim higher than the one boasting. This was also meant to improve the economic production of the Shona people since other Blacksmith always aimed to be successful and brag about their skills.
2.7. Conclusion
This chapter traced the history of boasts by focusing on different context where bragging was common. It has been discovered that boasts are old in the Shona society and they are more evident in Nhimbe, blacksmithing, Nziyo Dzichidzimba, Nziyo Dzekuhondo and other traditional shona practices.
[...]
Details
Pages

83

Year

2016

ISBN (eBook)

9783668509498

ISBN (Book)

9783668509504

File size

1.1 MB

Language

English

Catalog Number

v369620

Institution / College

Midlands State University

Grade

1

Tags