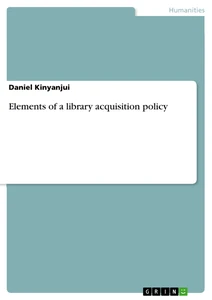 Elements of a library acquisition policy
Elaboration 2017 7 Pages
Excerpt
Elements of a library acquisition policy
Content
Content
Introduction
Importance of a written library acquisition policy
Elements of an acquisition policy
REFERNCES
Introduction
According to oxford English dictionary, a policy is a course or principle of action adopted or proposed by an organization or individual. It is basically a concise formal statement of principles or actions which indicate how an organisation will act in a particular area of its operation. A written policy prevents the organization from being driven by events or by individual enthusiasms and from engaging in projects, actions or activities, which may not support the mission of the organization.
A library acquisition policy is a formal statement that guides the library's acquisition of materials to be added to its collections. It has a number of elements each addressing a specific purpose. This paper provides a justification of the elements included in the policy.
Importance of a written library acquisition policy
A written library acquisition policy is an indispensable document in the library because of the following reasons:
1. It defines the scope of the libraries acquisition activity. For example, the scope of collection coverage could for example be described in the following terms: languages collected or excluded; geographical areas covered and/or specific areas excluded; chronological periods covered by the collection in terms of intellectual content and in terms of publication dates and specific periods excluded.
2. It lays the guidelines for acquiring materials for the collection of the library
3. The policies forces the staff to think through library's goals and commit themselves to these goals
4. It helps the staff to identify the long-and-short-range needs of users and to establish priorities for allocating funds
5. According to IFLA (2001), such a policy provides a sound foundation for future planning, thereby assisting in determining priorities, especially when financial resources are limited. This provides a basis for the fair allocation of resources, and helps to protect library funds by explaining the rationale behind acquisitions bids.
6. IFLA's Guidelines for a collection development policy using the Conspectus mode (2001) also argues that the policy enables individual selection decisions to be justified on a standardized basis. By referring to the official statement, library staff can deflect criticism or censorship arising from special interest groups, and politely but firmly refuse unwanted gifts, inappropriate materials, sectarian materials or potentially offensive items at the same time defending these acquisition decisions(if they are challenged).
7. It ensures continuity and consistency in selection and revision even in cases where there are staff changes and transfers. The incoming staff are handed the policy, and with little guidance, they are able to take up the responsibilities. So it can be argued that the policy also serves as an in-service training tool for new staff.
8. The policy contributes to operational efficiency by reducing the time wasted consulting within the library since most repetitive selection issues are clearly outlined in the policy
9. The policy ensures compliance with legal and statutory responsibilities. For example, it guides the library in meeting acquisition standards set by the Commission for University Education. The act of preparing this policy is a step towards compliance with these requirements.
10. In addition, the policy provides a basis for cooperative activities with other libraries thus avoiding duplication of efforts.
Elements of an acquisition policy
1. Preamble/Overview
This section includes statements of mission and objectives of the library. Mission of the library is especially important in clarifying and defining the library's purpose in the long run.Objecives on the other hand, set out exactly what is to be done. The overview also gives the purpose of the acquisition policy. For example, a brief statement explaining for whom the policy is intended.
There is also a description of the community served by the library that includes basic statistical information and brief statements to explain the character, location, and any unique groups or attributes, and needs of the community that may require special treatment or attention.
It is a common practice among most of the libraries to include in this section a general description of the library in terms of physical size, the probable size of the physical collections, a mention of any special strengths and unique collections, and perhaps the circulation in a year. This puts into perspective what kind of a library it is. There is usually an optional brief statement about the source of funding for the library's information resources which is included by some libraries. A good statement to indicate source of funding could be like: "97% of the library comes from the government while 3% comes from library's income generating activities"-(in case of a public library).
2. General statements about the various parameters of the collection specifying subjects to be included in the collection and the preferred formats of information resources to be acquired.
3. Types of programmes or users' needs to be met by the collection should be spelt out. Is the collection for educational, reference or recreation needs? This enables the library to meet the needs of the user community.
4. The acquisition policy also includes a general statement about limitations and priorities to be followed in the selection and acquisition of the materials. For example: what subjects or areas are intentionally not collected; a statement such as "our main priority is developing and maintaining collections supporting existing programs".
5. Any cooperative acquisition agreements or arrangements, both formal and informal in which the library participates is mentioned and well explained. Discussion of this element sheds light on how and from whom the library can acquire on demand items that it is unable to have or to maintain in its stock.
6. Sets of subject areas to be covered. In particular, it outlines broad subject areas emphasized or de-emphasized and those subject areas that are intentionally not collected
7. Policies on the following:
- Copyright and confidentiality- Generally, the libraries state briefly their philosophy on copyright and how they ensure or promote compliance to copyright law and respect of intellectual property rights.in addition, there is a general statement regarding the library's policy on confidentiality of users' records.
- Censorship- strong statement about the library's stand on censorship issues as well as the process for handling complaints regarding books and other information sources that might be affected by censorship. This section guides the staff in addressing attempts to censor library materials. As well, it acts as a defense when selection decisions are challenged.
- Gifts and Donations- the treatment of gifts and donations presents a serious problem to many libraries. The policy should state the library's philosophy about gifts and donations and indicate the selection criteria for individual items, acceptable condition, legal and tax issues associated with gifts and gift acknowledgement procedure. It should also specify what types of materials the library does not accept as gifts or donations. For example many libraries do not accept periodicals, religious tracts etc.
- Weeding or deselection - this section includes library's weeding guidelines and weeding/deselection criteria. This section sets out the principles to be observed when weeding the collection. It also enables the library to defend itself from some of the questions that the community may ask as the library discard or remove books from the shelves. According to Arizona State Library (n.d), when libraries do not weed regularly or consistently, customers have trouble finding interesting and relevant materials. Also removing outdated or worn-out items makes the collection more visually attractive and more inviting to users
- Duplicate copies-here treatment of duplicate copies is addressed. To be able to provide the broadest possible range of materials to support the main focus(such as teaching and research interests), while also taking into account user needs and limitations of budget, space and staff resources, many libraries do not acquire duplicates. Reprints and different printings do not constitute different editions. This section defines what a duplicate is. For example, are reprints or different printings constitute different editions?
- Evaluation- The policy should state the frequency of collection evaluation and the method(s) and guides to be used in evaluating the collection. According to VSU Library Collection Development Policy, review statements guide the library in conducting collection evaluation and therefore maintaining an active library collection of current interest to users. In the review process, the library is able to spot its strengths and weaknesses.
- Revision: - there should be a statement regarding the policy's revision. How often? And by who? Etc. According to Douglas (2011), a policy is revised so that it both reflects current collection practices and it is flexible enough to adapt to changes in publishing trends, budgeting, and patrons' information needs. So in an acquisition policy, it is important to explicitly provide a firm statement on revision.
[...]
Details
Pages

7

Year

2017

ISBN (eBook)

9783668461338

File size

473 KB

Language

English

Catalog Number

v367934

Grade

Tags