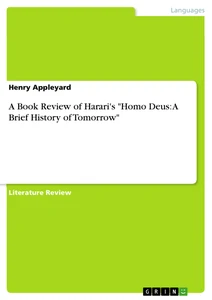 A Book Review of Harari's "Homo Deus: A Brief History of Tomorrow"
Literature Review 2017 2 Pages
Summary
Homo sapiens make sense of the world through stories, contextualising consciences in communication and interaction. This was the premise for Yuval Noah Harari's Sapiens: A Brief History of Humankind (2014), looking back at the last 75,000 years of human socio-cultural evolution "to ask big questions and answer them scientifically". In a similar vein, Homo Deus: A Brief History of Tomorrow (2015) looks forward, hypothesising on this growing symbiotic relationship with artificial intelligence (AI) as the next stage of evolution. What we see in the Anthropocene epoch is the writing of history and stories shifting to computational processes, narrated by the user/human but plotted by AI.