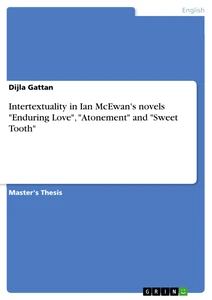 Intertextuality in Ian McEwan's novels "Enduring Love", "Atonement" and "Sweet Tooth"
Master's Thesis 2016 169 Pages
Summary
This thesis deals with intertextuality in Ian McEwan's novels. The aim of this study is to show how McEwan uses intertextuality and how this technique is used to develop the themes, characters, and narration of his novels. This study tries also to label the different kinds of intertextuality that McEwan uses.

This thesis is divided into an introduction, three chapters, and a conclusion. Intertextuality is an important subject in literary and linguistic studies. As a term, it was introduced by Julia Kristeva in 1966. The main idea of intertextuality is the shaping of a texts' meanings in the light of another. Consequently, there is no text, rather intertext. Other critics and theorists developed this theory. Mikhail Bakhtin has a social approach to it. Roland Barthe adapts a textual analysis of intertextuality, and focuses on the role of the reader rather than of writer. Chapter one of this thesis is an introduction and is divided into three sections. Section one tackles the theory of interextuality. It discusses its definition, applications, roots and history, development, and its pioneers, while section two focuses on the multiple types and devices of intetextuality. Section three focuses on Ian McEwan's life and career.

Chapter Two studies McEwan's Enduring Love (1997). It tackles important issues such as the controversy between human studies and literature on the one hand, and science on the other. The researcher tries to discover what kind of intertextuality this novel has.

Chapter three discusses McEwan's masterpiece, Atonement (2001). It is a very rich intertextual novel. The researcher tries to discover McEwan's aim behind this aura of intertextuality, how he exploits them for the sake of the themes, techniques, narrative, and finally for the sake of metafictionality.

In chapter four, the researcher analyses McEwan's novel, Sweet Tooth (2012). First, the researcher tries to focus on its complexity which is due to the interconnectedness between intertextuality and metafictionality on the one hand, and its genre as a spy novel, on the other. This chapter sheds light upon how intertextuality serves metafictionality and vice versa, and how intertextuality interferes with all levels of this novel, themes, narration, structure, and characters.