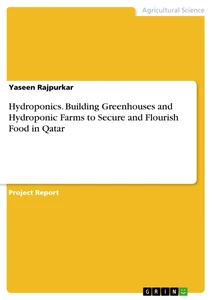 Hydroponics. Building Greenhouses and Hydroponic Farms to Secure and Flourish Food in Qatar
Project Report 2016 78 Pages
Summary
In a closed hydroponic farms like hydroponics carried out in greenhouses, very little and insignificant research has been done on maintaining the individual nutrient balance in a complete water nutrient solution and how maintaining the nutrients would result in less usage of water and the nutrients composition, to give high yields of production of plants and vegetables. Research in this area would give high outputs with comparatively very less inputs saving adequate quantity of water, nutrients and minerals.

In any Hydroponic system the water used should always be purified and when nutrients are re-circulated in a hydroponics system, each nutrient must be maintained at the desired concentration and it will keep changing as the plants absorb nutrients and as water is reduced from the solution through evaporation and transpiration. It is difficult to predict the changes that take place in the nutrient solution as it is difficult to measure transpiration rates and uptake of each nutrient by the plant as it grows and develops gradually.

The desired concentration of the solution can be obtained and maintained by continuously leaking of the solution from the re-circulating system and thus the solution is refilled again with the desired concentration of nutrients, which can be changed at certain time intervals as the plant develops and goes through different phases of growth. Similarly, there are different factors that affect the plant growth and the water nutrient solutions when the process of hydroponics is carried out in a greenhouse, like Oxygen level, mixing of nutrients, water purification, Formulations, Desirable pH range, monitoring etc.

Hydroponic Greenhouses are introduced with extraordinary technical innovations that have led to improvements of greenhouses features such as improved ventilation, greater strength and more resistant, more luminosity, larger air volume, no condensation, etc. Its robust modular design allows supporting different types of crops and additional elements such as thermal screens, irrigation pipes, etc. The greenhouse structure is composed of tubular parts assembly, prefabricated, seamless and made with premium materials, allowing easy and quick assembly. In addition to the structure itself, the greenhouse has a series of hard points that enable its complete immobility.

Details
Pages

78

Year

2016

ISBN (Book)

9783668465497

File size

3.1 MB

Language

English

Catalog Number

v367403

Institution / College

Sheffield Hallam University

Grade

64.4

Tags