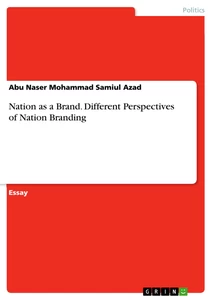 Excerpt
Contents
Introduction
What is nation branding?
Different perspectives of nation branding
Nation branding from technical-economic perspectives
Nation branding from political perspectives
Nation branding from cultural-critical perspectives
Conclusion
References
Introduction
Nation branding is relatively a new as well as a complex phenomenon. There are various opinions of nation branding e.g. either it is a good idea or indeed possible (Kaefer 2014). Though there are different view on the notion which actually depend on the professional and academic background (Kaefer 2014) but the significance of the nation branding cannot be ignored in the present world to understand the status /image of a nation in-compare to other nation in the world. Now as days it is gaining the attention amongst both academics and practitioners because "… we are responding to brand images in exactly the same way as when we're shopping for clothing or food" (Anholt 2002, 186). The aim of this paper is to explore the notion of nation branding with the focus on various perspectives of nation branding.
What is nation branding?
There is no single or agreed definition of nation branding. Simply it can be said as the promotion of a nation state on the basis of some so called uniqueness of a particular nation like cultural heritage, high ethical standards, and trustworthiness in business etc. According to Anholt(2002, 186), nation brand is the sum of people's perceptions of a country across six areas of national competence – governance, investment & immigration, culture & heritage, people, tourism and exports. These six areas are called the nation branding hexagon by Anholt. As nation branding is based on the perception of the people about a nation and various initiatives are taken to create a positive perception about a nation among the people. On the other way, nation branding can be as set of discourses and practices aimed at reconstituting nationhood through marketing and branding paradigms which includes various activities such as the creation of national logos and slogans as well as governmental and quasi-governmental bodies for managing long term nation branding efforts (Kaneva 2011, 118). It is not a short term initiative usually taken by the corporate organization rather it is long term initiative with an institutional approach. Goverment of a country establish various institution/organization or even the ministries, for example Government of Bangladesh has established the Ministry of tourism and under which it has different organization e.g. National Tourism Cooperation. In addition, nation banding is a public approach which has been taken by the government to create a positive image of the country to show it to the other countries. For example, Government of Finland created a body called The Team Finland with a aim to attract foreign investment through the promotion of positive image of the country.To sum up, nation branding is a long term institutional initiatives taken by a government to promote a positive image about the country through the marketing techniques with the aim for economic and political gain over others countries.
Different perspectives of nation branding
Nation branding is a complex phenomenon which includes various economic, political and cultural aspects. After examined 186 sources of nation branding, Kaneva concludes thatcan be divided into three broad group- technical-economic, political and cultural-critical approaches (Kaneva 2011, 119-120). Our preference to German car, trusting the policies of the Swedish government and admiration the heritage of China and India refer to different perspectives of nation branding (Anholt 2002, 186).
Nation branding from technical-economic perspectives
One of the main aims of nation branding is to build and maintain the strategic economic interest of a country. Taking a functionalist, instrumentalist stance, this notion of nation branding predominantly as a strategic tool to boost a country's competitive advantage and the hegemony of the market (Kaneva 2011, 121). So in the branding process countries always trying to attract the foreign investor though creating a perception that how worthy and profitable to invest to the country. For example Finland has used the criteria like land of creative and smart people(Valaskivi 2016, 16) which means that it has a unique creative and well educated labor force which would be worthy for the investor to invest. In addition, the technical-economic view based on three basic assumptions : i. the global market is competitive and there is a competition among counties, iii. national wellbeing is ensured by securing competitive economic advantage and the focus of the nation branding is to attract the foreign investments, tourists, human capital, or trade and iii. a parallel between nations and brands is warranted and necessary(Kaneva 2011, 122). For example, we have a positive perception about the electronic product of Japan and we prefer to buy Japanese electronics product. This positive perception about a brand image of a specific category of product create a huge market in abroad. On the other way, a nation can be seen as a brand (O'Shaughnessy & O'Shaughnessy 2000, 56 cited by Kaneva 2011, 123). For instance, German automobile has a positive brand image around the world and when we have seen a car with made in German logo creating a positive perception about the car among us. To conclude, technical economics perspective sees nation branding as a tool for building and maintaining economic growth for the country.
Nation branding from political perspectives
Nation Branding is a powerful political instrument to fortify the economic position of a country as well as to compete against other countries with economically, politically and militarily. According to Volcic & Andrejevic, nation branding is seen from political perspectives as coordinated government efforts to manage a country's image in order to promote tourism, investment and foreign relations, for example cool Japan and cool Britain were the government initiatives to promote the countries (Volcic et al 2011, 598). In this light, nation branding is also seen as a powerful political tool, especially for small, peripheral nation eager to make stronger their economic position and to compete against the economic, financial or military with other competitive countries (Volcic et al 2011, 610). For example, American clime of the greatest democracy in the planet and the government try to use this notion to control other countries as well as justifying its war around the world e.g. overthrown Gaddafi from power in Libya in the name of establishing democracy and continue its hegemony over there. Nation branding from political perspective is "an augmented form of propaganda" as well as "post-ideological form of reputation management for nations"( Kaneva 2011, 126). At the end, from political perspective nation branding is a way to maintaining and managing reputation of the country and maintaining its hegemony over others.
Nation branding from cultural-critical perspectives
Cultural perspectives of nation branding tends to focus on its implications for national identities, social power relations and agenda-setting (Kaneva 2011, 127). American trying to brand itself as the land of the greatest democracy of the world and use this ideology to dominate other nation around the world.
Following this approach, the very practice of marketing and branding is to be treated with caution, since marketing is not a value-free and it uses specific symbols, ideological discourses and practices, branding actively shapes social relations, for example by granting material consumption a central role in people's lives((Moufahim et al., 2007, 128-130). For example India claim that it is the land of heritage and cultural diversification and promoting this notion to attract the tourist from around the world. To sum up, from cultural-critical perspective nation branding as a way to reconstitute nations both by means of ideology and praxis (Kaneva 2011, 128)
Conclusion
Nation brand is an important concept in today's world and as a consequence of globalisation, all countries must compete with each other for the attention, respect and trust of investors, tourists, consumers, donors, immigrants, the media, and the governments of other nations: so a powerful and positive nation brand provides a crucial competitive advantage (Anholt 2007, 186). In addition, nation branding is multidimensional which include various socio-economic, cultural and political aspects. the purpose of this paper is to present a conceptual framework of three different perspectives of nation branding namely : technical-economical, political and cultural-critical. From the analysis of Kaneva (2011) it has found that nation branding is not a mono-perspectives and it usually encompass more than one perspectives.
References
Anholt, Simon.2007. What is a Nation Brand?
Accessed February 26,2016. http://www.superbrands.com/turkeysb/trcopy/files/Anholt_3939.pdf
Kaneva, Nadia.2011. Nation Branding: Toward an Agenda for Critical Research. International Journal of Communication 5 (2011):117-141
Kaefer, F. 2014. Credibility at stake? News representations and discursive constructions of national environmental reputation and place brand image: The case of Clean, Green New Zealand. PhD diss. University of Waikato. Accessed February 26 , 2016 http://researchcommons.waikato.ac.nz/handle/10289/8834.
Volcic, Z., & Andrejevic, M. 2011. "Nation branding in the era of commercial nationalism." International Journal of Communication, 5, 598-618. Accessed February 27, 2016 http://ijoc.org/index.php/ijoc/article/viewFile/849/544
Moufahim, M., Humphreys, M., Mitussis, D., & Fitchett, J. 2007. "Interpreting discourse: A critical discourse analysis of the marketing of an extreme right party." Journal of Marketing Management, 23(5), 537-558. Accessed February 27,2016 doi: 10.1362/026725707X212829
Details
Pages

5

Year

2016

File size

438 KB

Language

English

Catalog Number

v366697

Grade

4 (very good)

Tags