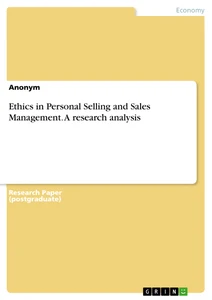 Ethics in Personal Selling and Sales Management. A research analysis
Research Paper (postgraduate) 2016 12 Pages
Excerpt
Table of Contents
1. INTRODUCTION
2. LITERATURE REVIEW
2.1 SALES FORCE AND ETHICS
2.2 ETHICAL DECISION MAKING PROCESS
2.2.1 Individual factors - gender
2.2.2 Individual factors - age
2.2.3 Individual factors - personal values and ethical perspective
2.2.4 Individual factors - Machiavellianism
2.2.5 Organisational factors - Income and competition
2.2.6 Organizational factors - supervision, discipline, rewards and punishment
2.2.7 Organisational factors - codes of ethics and culture
2.2.8 Organisational factors - selection, hiring and training
3. CASE STUDY: PHARMA PLUS
3.1 SALES FORCE RELATED ISSUES
3.1.1Roberto
3.1.2Elvira
3.1.3Antonio
4 ANALYSIS OF THE ISSUES AND RECOMMENDATIONS
4.1 ANTONIO
4.2 SALESREPRESENTATIVES
4.3 PHARMAPLUSRESPONSIBILITIES
5 CONCLUSION
6 REFERENCES
1. Introduction
According to Koch (2004), 80% of a company's sales are made by 20% of its sales staff. Their importance to any organization cannot be emphasized more. They generally work across departmental boundaries and are most of the times under intense pressure to meet sales quotas. Hence, they are the ones most susceptible to behave in unethical ways.
Pharma Plus is a French pharmaceutical company that produces medicines in France but sells them throughout Europe. At Pharma Plus, there are many issues that need to be taken care of. From the sales point of view, the two examples of high performance employees are not credibly good in terms of sales attitude and behaviour. In addition to that, the manager is lacking control and is not motivational enough to his employees. An extensive analysis will be done on the attitude of sales representatives and the manager as well. Then, recommendations and possible solutions will be given to improve sales and the behaviour of employees.
2. Literature Review
2.1 Sales Force and Ethics
Ethical issues are encountered by many kinds of business people such as marketing managers, marketing researchers, advertising personnel and purchasing personnel. However, salespeople are the ones most vulnerable to encountering ethical dilemmas. This is due to the fact that they tend to work apart from each other; experience little daily interaction with supervisors, subordinates and peers; they are basis evaluated on short-term objectives and they are primarily responsible for generating the firm's revenues as mentioned by Weeks & Nantel (1992).
Ethical sales behaviour can be defined as "Fair and honest actions that enable the salesperson to foster long-term relationships with customers based on customer satisfaction and trust." (Román & Ruiz, 2005, pp.439-45)
2.2 Ethical decision making process
As noted by (Roman, 2011), the ethical decision making process starts with the salesperson facing an ethical situation. Then, the salesperson will have the intention of either behaving ethically or unethically. Based on his intention, he will then make the decision and take actions.
The decision making process is influenced by organisational factors such as income, competition, supervision, rewards etc. as well as individual factors such as age, gender, education, training, ethical perspective etc. The results of unethical behaviour will consist of high levels of job stress, customer dissatisfaction in the future etc. whereas the outcomes of ethical behaviour will lead to customer loyalty and future success for the organisation.
Abbildung in dieser Leseprobe nicht enthalten
Fig. 1 Un/Ethical Decision Making Process Source:(Roman, 2011)
According to McClaren (2000), there are many individual and organisational factors that affect the ethical decision making process. These factors are:
2.2.1 Individual factors - gender
Studies show that women are more ethical in their selling behaviours compared to men. They are reported to be more sensitive in their sales decision.
2.2.2 Individual factors-age
Age has been found to have a small impact upon the perceptions by salespeople about ethical dilemmas. Prior research shows that young people thought that seeking information about competitors' quotes and gift giving were less of an ethical concern. Since age is associated with length of time in a career, experienced salespeople have been found to be more conservative and hold less compromising ethical situations.
2.2.3 Individual factors - personal values and ethical perspective
The personal values and ethical perspective of sales employees affects their ethical decisions. Findings suggest that absolutist sales employees tend to have high concern for the welfare of others and avoid making gains from violating moral norms. In contrast, subjectivist sales workers tend to put personal gains above moral norms.
2.2.4 Individual factors - Machiavellianism
Machiavellianism is a personality attribute that affects a person's sales behaviour. The salesperson with this kind of attribute will use manipulative and persuasive behaviour to achieve personal and company's goals. Such employees may deceive, manipulate and use highpressure selling tactics to achieve their target.
2.2.5 Organisational factors - Income and competition
The intensity of market competition and source of income of employees (commissions based) was also found to be related to ethical conflicts. The ethical standards decline under increased competition and when income is based on volume of sales.
2.2.6 Organizational factors - supervision, discipline, rewards and punishment
When managing ethics, supervisors should consider the behavior of a sales person as well as the impact that their own actions have upon an individual and the salesforce. If they also look the other way when they see a questionable behavior, its gives the salesforce encouragement to do the same activities in the future.
The harshness of the discipline and punishment provided for unethical acts will also have an impact whether the salesforce will repeat the same unethical behaviors in the future. The reward system whether they are based on the volume of sales of individuals or compensation plans focusing on salaries also affect the salespeople's ethical decisions.
2.2.7 Organisational factors - codes of ethics and culture
The code of ethics in an organisation, the issues they cover and their regulatory effect contribute to reducing ethical conflict. It has been reported that staffs respond favourably to the existence of codes in an organisation. An organisational culture that promotes absolutist ethical behaviour and discourages subjectivist ethical behaviour produces the best organisational ethical values among its salesforce.
2.2.8 Organisational factors - selection, hiring and training
If the organisation is careful from the beginning when recruiting and hiring and bring the right kind of individuals, then, there will be no future issues of ethical behaviours. Candidates with traits such as ego strength and Machiavellianism should not be hired to prevent unethical sales behaviour. Similarly, providing training to experienced employees and preparing them to behave ethically can avoid unethical practices in an organisation.
Different factors that help to avoid unethical sales behavior and promote ethical behavior can also be shown clearly in figure 2.
Abbildung in dieser Leseprobe nicht enthalten
Fig. 2 Factors that foster ethical sales behaviour Source: Roman (2011)
Abbildung in dieser Leseprobe nicht enthalten
[...]
Details
Pages

12

Year

2016

ISBN (eBook)

9783668431218

ISBN (Book)

9783668431225

File size

424 KB

Language

English

Catalog Number

v358154

Grade

1,4

Tags