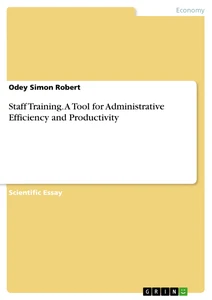 Staff Training. A Tool for Administrative Efficiency and Productivity
Scientific Essay 2017 16 Pages
Excerpt
Content
Introduction
The Concept of Staff Training
Literature Review on Staff Training Impact
Research Methodology
Data Presentation, Analysis and Discussion
Conclusion
Recommendations
References
Abstract
Poor organisational and institutional cum administrative performance and productivity in Nigeria and most developing nations are the manifesting implications of low staff training therein. This study scholarly explores staff (re)training as a tool for administrative efficiency and productivity, highlighting the implications of poor/inconsequential staff training. The study reveals that while staff (re)training is almost absent– very low– in Nigerian public sector, the private sector has lowly appreciable performance in it, though only but a few, particularly the multi-national firms alone, do so. In public institutions, the supposed funds for staff (re)training are diverted by top management officials for personal aggrandisement, besides the low budget for it. Most private firms economise their funds, if they bid staff training, focusing more on profit maximisation and most often over load their staffs, even with duties outside their professional knowledge and competence. Consequently, there are extreme poor staff performance, administrative lapses and low organisational productivity. The paper submits that (effective) staff (re)training is an invaluable tool for administrative efficiency both in Nigeria and other parts of the globe, as obtains elsewhere and proven by the findings of this study. It recommends that both public and private firms/institutions in Nigeria should take staff training and retraining very serious in their administrative policies so as to appropriately tap from its huge potentials. It was done using survey method, qualitative approach, simple percentage, content-analysis, non/participant observation and relevant library textual materials, following its nature, scope and pursuit.
Keywords: Staff training, Tool, Administrative, Efficiency, Productivity
Introduction
The scourging problems that bedevil many organisations in Nigeria, including low employee [staff] and organisational performance cum productivity, inefficiency, poor/lack of technical-know-how, negative workplace politics, etc. are traceable to lack of/low staff training. This is very worrisome (Etim, 2016:4). Etim (2016:4) categorically states that staff training in Nigeria, especially in public organisations/institutions, is still very low/inconsequential, as most of the staffs are poorly (re)trained all because of workplace politics and being economical to avoid spending [much] on training the staff.
The positive effects of staff training in both public and private organisations cannot be over-emphasised. Staff training impacts positively on employees' performance as well as organisational manpower and administrative productivity. It has both individual and organisational development potentials, opportunities, efficiency and propels innovation, on-the-job learning and impact and standard service delivery (Etim, 2016:2). Trained staffs get improved and usually perform better. It is a means of job enrichment, job satisfaction and job commitment, which produces desired employee performance (Lunenburg, 2010; Saleem et al., 2012; Etim, 2016).
In spite of the immense benefits, potentials and prospects of staff training, only a very few firms/institutions in Nigeria practise or give attention to it, thus making it seem less important in administration and staff productivity matters/strategies. Highlighting the need for and impact of staff (retraining), Etim (2016:3) states, In the course of training while on a job, staffs learn new techniques, knowledge, intrigues and modalities with which effective performance arises and thus better output. Next, social and public/inter-relations between and among staffs abound with various prospects. Training and retraining of staffs of both public and private establishments is imperative, particularly in the Third World nations like Nigeria, where there is high rate of illiteracy, poor knowledge of modern means of living, corruption, poor manpower and technological skills/advancement, among many others. As such, effective staff training and retraining in Nigeria is a dire necessity so as to key into it and realise targeted organisational goals and objectives, betterment, development, innovation and efficiency.
This study intends to explore staff training effects/impacts on administrative efficiency, staff performance and organisational productivity in Nigeria; the extent of staff training that obtains in Nigerian public and private firms/institutions; ascertain the problems that arise from poor/lack of staff training; and proffer scholarly solutions to the study problem.
The Concept of Staff Training
Training is defined by Ngirwa (2009) as a learning process in which employees acquire knowledge, skills, experiences and attitudes that they need in order to perform their job better for the achievements of their organisational goals. Tzfarir (2005) noted that training is an important element in producing the human capital. It provides employees with the skills, abilities and knowledge required by the position (Danvila del Valle et al., 2009). Therefore, when staffs are (re)trained, they are bound to perform well as supposed. It becomes invaluable for both the management and the staff as it brings about administrative efficiency and staff's high performance. In addition to on-the job and off-the-job training types, Tylor (2009) identifies six training types thus: on-the-job training and lecture, programmed instruction, computed assisted instruction, audio-visual techniques, simulations and business games.
Training is one of the major functions of Human Resources Management (HRM), which has been recognised since the late 20th century and has attracted scholars' and researchers' interest (e.g. Gordon, 1992; Beardwell, Holden and Claydon, 2014). Obi (2012) notes that the success or failure of any organisation depends much on adequate and proper manpower planning and development of a given organisation's management and administration– managers and administrators. As such, for any organisation, institution or government to succeed, it must equip its manpower and development sector/department with effective training and retraining (Etim, 2016).
Staffs refer to the employees of organisations/institutions. The process of employing or recruiting personnel, manpower or staff in organisations/institutions is known as staffing. Staffing ensures that the right people are available at the right time in the right place. This involves identifying the nature of the job and implementing a recruitment and selection process to ensure a correct match within the organisation, including retrenching or firing. One objective of staffing has always been ensuring that people are recruited and should be retained (Ghauri and Prasadi, 1995:354/5). This is because it is improper for any firm to recruit today, fire tomorrow and start looking for new ones to recruit again the following day/s. That shows administrative inefficiency. This objective, according to Etim (2016), can only be implemented with the right people (staff) in place. Appraisal process would usually become easy if staffing function is well suited to the organisations' administrative strategies. This is so in such a way that Human Resource Management (HRM) knows exactly what is expected of the hired personnel and can thus evaluate their performance. Still, the personnel can evaluate themselves, depending on what they are expected to deliver and easily identify their potentials and which developments are required. The staffing function would thus move towards the direction of staffing policies (Hendry, 1994:80). This study thus rouses government and managements of private firms towards proper and adequate staffing.
Training (and development) involves two methods: (a) on-the-job training and (b) off-the-job training, which are basically grouped as job rotation and transfers (McCourt and Eldridge, 2003:356), coaching and/or mentoring (Devanna, Fombrun and Tichy, 1984; McCourt & Eldridge, 2003; Torrington et al; 2005:394/5), orientation, conferences, role playing and formal training courses and development programmes (Armstrong, 1996; Nassati, 2013:15-18; Nadler, 1984:16). Therefore, public and private firms in Nigeria must duly (re)train their staff accordingly in order to achieve the desired results both as individuals and organisations and governments respectively.
More so, training (development) is a function of human resource management concerned with organisational activity aimed at bettering the performance of individuals and groups in organisational settings. It has been given several names, such as human resource development, human capital development and learning and development. These descriptions are viewed within the context of organisational learning rather than other contexts, like personal context of training and development (Etim, 2016). The Chartered Institute of Personnel and Development (CIPD) (2000) has argued on the name of the discipline 'training and development', noting that 'human resource development' is too evocative of the master slave relationship between employee and employer, for those who refer to their employees as 'partners' or 'associates' to feel comfortable with the nomenclature (Montana and Charnov, 2000; Harrison, 2005; Employee Development, 2015). CIPD (2000) eventually settled upon 'learning and development', though that was itself not free from problems, 'learning' being an over-general and ambiguous name, and most organisations referring to it as 'training and development' (Harrison, 2005).
Armstrong (2006) says development is an unfolding process that enables people to progress from a present state of understanding and capability to future state in which higher level skills, knowledge and competencies are required. It takes the form of learning activities that prepare people to exercise wider or increased responsibilities. This means that training involves three basic activities: training, education and development . Training activity is both focused upon, and evaluated against the hob that an individual currently holds (Garavan, Costine and Heraty, 1995). Education activity focuses on the jobs that individuals may potentially hold in the future and is evaluated against those jobs. Whereas, development focuses on the activities that organisation, employing the individual or that the individual is part of, may partake in the future, and is almost impossible to evaluate (Garawan et al; 1995).
Literature Review on Staff Training Impact
On training impact on both employees and organisations, it is imperative to note that the efforts of employees [staff] can determine the success and survival of their organisations (Drucker 199; Barney, 1995). Training and development are essentially a way in which those efforts can be aligned with the aims and objectives of originations. Staff can be motivated and their performance managed, leading to improved performance and productivity (Orpen, 1997; Martin and Bartol, 1998; Cook and Crossman, 2004). If an organisation wants to remain competitive, it has no choice but to train and develop its staff (Ngirwa, 2009).
Pursuant to the goals, benefits and potentials of training and development, staff would often tend to be more committed, satisfied, effective, motivated and asserted, even financially. According to Tsai et al. (20007), employees who are ready to learn show a high level of job satisfaction, which has a positive effect on their performance. This view has been supported by Qureshi et al. (2007). Barrington and Stimpson (2002) suggest that there should be clear objectives of staff training. Thus, training is needed in order to introduce a new process; improve the efficiency and role of staff; equip unskilled workers with requisite skills and competence to make them more valuable to the organisation; to reduce needed supervision; improve the opportunities for internal promotions as specific skills of communication and behaviour; and to reduce the chances of accidents. These aptly point to the imperatives of effective staff training in Nigeria and beyond.
In their contribution, Boadu et al. (2014:515) note that performance may be seen as the result of congruence between training. For Fey et al. (2000), there is strong positive relationship between staff training and development programme and organisational performance in Russian team-based subsidiaries of Western corporations. This means that staff training and development relate significantly to organisational performance. Champathes (2006) lends credence to this fact when he posits that whenever staff performance increases, it leads to organisational effectiveness. These views are apt and obtain in our case under study too. Training brings about job satisfaction, which emerges from feeling comfortable within the organisation, job proficiency and even from the knowledge that a staff can contribute to all of these factors and characteristics of job and consequently leads to more satisfied employees who perform at exceptional levels (Etim, 2016). Ngirwa (2009) notes that training programmes increase an employee's job knowledge. An increase in job knowledge means that the staff would feel more comfortable doing their job and perform at a high level and as well be happy. Etim (2016) disagrees with Ngirwa (2009) when she notes, 'It is imperative to observe… that increase in an employee's job knowledge is empirical and commonly obtained but the feeling more comfortable doing a job and high performance are not always and not general but reserved or selective. This scholar (writer) shares Etim's position.
Rowden and Shamsuddin (2000) and Rowden and Conine (2005) argue that the most thoroughly trained employees [staff] would better satisfy the needs of their customers and employers. We agree with these scholars. This is why staffs of both private and public firms must be thoroughly (re)trained. But on this, Etim (2016) argues otherwise again thus:
This, like Ngirwa's (2009) above, is hypothetical. Because what would justify the case where thoroughly trained employees still do not satisfy the needs of their customers and employers better? Be it as it may, thoroughly trained staff would definitely satisfy the needs of their employers and customers better, as the otherwise would certainly be rare. Although there is need for further studies to validate this hypothetical submission or muse on the relationship between job design, staff training and job satisfaction, we maintain the status quo.
Well, for this researcher, however, staffs should be well (re)trained and should appropriately utilise their acquired training skills. This is because some of them on rare occasions still perform otherwise because of factors like organisational politics, ineffective/low level of training, poor job (re)design, lack of motivation, job boredom and so on. Different organisations are motivated to take on different training methods for a number of reasons, for example:
(i) Depending on the organisation's strategy, goals and resources available;
(ii) Depending on the needs identified at the time; and
(iii) The target group to be trained which may include, among others, individual workers, groups, teams, departments or the entire organisation.
The following are benefits of staff training:
(i) Acquisition and improvement of knowledge– skills and attitudes towards work-related tasks;
(ii) High morale, staff who receive training have increased confidence and motivations;
(iii) Lower cost of production– training eliminates risks because trained personnel are able to make better and economic use of material and equipment thereby reducing and avoiding waste;
(iv) Lower turnover– training brings a sense of security at the workplace, which in turn reduces labour turnover and absenteeism is avoided;
(v) Change management– training helps to manage change by increasing the understanding and achievement of employees in the change process and also provides the skills and abilities needed to adjust to new situation;
(vi) Provision of recognition, enhancement of responsibility and possibility of increased pay and promotion ;
(vii) Help to improve the availability and quality of staff (Cole, 2001).
Compensation and benefits is another element of training which involves the designing and implementation of individuals' and organisations' pay and benefits schemes. Its practices vary across organisations and places. It is vital to both staff and management (administrators). For example, compensation decisions influence the employers' ability to compete for employees in the labour market (Gerhart, Milkovich and Murray, 1992; Barry, Harvey and Ray, 1994). Most of the benefits of training are easily attained when training is planned. This means that the organisation's trainers and trainees ought to be and are prepared very well for training, such that they would have been trained in advance. Planned training is the deliberate intervention that is aimed at achieving the learning necessary for improved job performance (Kenney and Reid, 1986). Further, planned training, according to them, comprises the following steps:
(i) Identifying and defining training needs;
(ii) Defining the learning required in terms of what skills and knowledge to be learnt and the attitudes that need be changed;
(iii) Defining the training objectives;
(iv) Planning training programmes to meet the needs and objectives by using right combination for training techniques and locations;
(v) Deciding who provides the training;
(vi) Evaluating the training;
(vii) Amending and extending training as necessary.
[...]
Details
Pages

16

Year

2017

ISBN (eBook)

9783668437708

ISBN (Book)

9783668437715

File size

538 KB

Language

English

Catalog Number

v356508

Grade

A.1

Tags