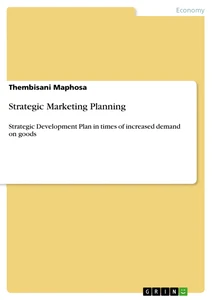 Strategic Marketing Planning
Strategic Development Plan in times of increased demand on goods
Elaboration 2016 12 Pages
Excerpt
Table of Contents
Introduction and Idea for New Product Development
Marketing Audit- Strategic Situation Analysis
Political
Economic
Social
Technological
Legal
Environmental
Objectives and Strategies
Marketing Objectives
Marketing Strategies
Segmentation, targeting, positioning strategies
Competitive advantage configuration and communication
Implementation - Marketing Mix
i. Products and service
ii. Price
iii. Place
iv. Promotion
Gantt chart
References
Introduction and Idea for New Product Development
The world population has continued to grow for the past few decades and this has effectively translated to an increased demand for services like health care, food, transport, entertainment, education, housing just to mention a few. Hundreds to hundreds of thousand companies offer these services and it takes a great deal of strategy, vision and innovation to remain relevant and a cut above the rest. Marketing thus plays a very crucial role in ensuring competitiveness in the very dynamic and fast paced business world.
According to Kotler and Keller, 2011, marketing is meeting needs profitably. A plethora of things can be marketed i.e. goods, services, experiences, events, places, organizations information, people and ideas. Long ago marketing used to be associated with a physical place where buyer and seller would meet for a product, but growing research has concluded that marketing is not a single process, rather a more complex marketing management.
Kotler and Keller, 2011 further reiterate that marketing management is an organizational function and a set of processes for creating, communicating, and delivering value to customers and for managing customer relationships in ways that benefit the organization and its stakeholders. In order to achieve this, there has to be extensive planning for better coordinating and directing the marketing effort, in simple terms a marketing plan.
A marketing plan helps managers identify the company's clientele, competitors and design strategies to make the organization stand out. Like a good mission or vision statement, a marketing plan is the face of the organization. According to Kotler and Keller, 2011, this forces the company to sharpen its policies and objectives and overall performance standards. If performance has been below set goals or expectations, diagnosis is done and a remedial program enacted, in this case, new product development.
The product development strategy dictates that the organization creates new offerings for the existing markets because consumers prefer a product that offers quality and innovation. In non-profit organizations like Concern Worldwide, the marketing plan is central for fundraising because all projects are donor funded, community outreach and raising health and nutrition awareness.
According to International Telecoms Union (ITU), the total mobile phone users are estimated to have surpassed 5 billion the world over. With such a high number of subscribers, one would expect health service delivery to be a click of a button away for every mobile phone owner alas the concept of mobile health (mHealth) is still inconspicuous in most parts of the so called the 3rd world countries. Concern Worldwide as a leader in health and nutrition programming in emergency and developmental contexts can adopt and use mHealth as leverage to fundraise and increase coverage.
This concept (mHealth) uses the mobile phone's SMS, GPRS, GPS, 3G and 4G functions and can significantly improve the following;
- Communication between individuals and health services and vice versa
- Consultation between health care professionals
- Health monitoring and surveillance
- Management of patient records and standardizing nutritional treatment
- Intersectoral communication in the event of emergencies
Marketing Audit- Strategic Situation Analysis
Companies/businesses are expected to efficiently provide customer needs satisfaction whilst keeping an eye on competition and the changing external environment. Kotler and Keller, 2011 reiterate that every industry has succumbed to the evolving macro environments at some stage.
Constant dynamic changes are common hence the need for companies to prepare for such eventualities by conducting an environmental scanning and analysis.
As the adage goes that 'if you don't adapt you don't endure', environmental scanning helps organizations identify challenges and opportunities. The PESTLE research tool assesses the current environment and future changes. Many companies around the world conduct PESTLE analysis to understand the market dynamics before launching their product or service.
Concern Worldwide is a non-governmental organization (NGO) operational in over 50 countries. ECHO, OFDA and the UN fund Concern's emergency programs. The overall goal of Concern's program is to reduce vulnerability and achieve sustainable improvements in people's lives through effective emergency response, recovery and long-term development programmes. The organisation's PESTLE analysis is summarised below:
Political
Concern is an NGO working collaboratively with respective governments. Misunderstandings between these two institutions are almost unavoidable in many contexts because there is usually a tussle on who the implementer is and who the target beneficiaries are. The organization depends on donor funds but in some cases the donor and government agendas may differ for example when a donor intends to achieve long-term outcomes against the current government's short term or vice versa. Concern must stay in sync with government expectations.
Economic
The global economic crisis experienced a few years back crippled many businesses and this equally negatively impacted the health sector. Going forth, there is a need to prioritize health interventions and this requires sound financing. A number of staffs were laid off as a result of the economic downturn and this meant reduced service delivery. Concern needs a financial risk protection to respond and adapt to such changes in the future.
Social
Development and health interventions interact closely with culture and religion therefore Concern needs not to overstep its mandate but remain in line with stern cultural differences.
Technological
Most organizations have taken advantage of the recent social media craze and taped into this space to provide real time service to the market. It should be however noted that technology has a potential to widen inequality to health, as technocrats will be privileged to get latest and quality health care from the touch of a button. The quick win of technology is that it aids research and development because data is readily available.
[...]
Details
Pages

12

Year

2016

ISBN (eBook)

9783668353787

ISBN (Book)

9783668353794

File size

508 KB

Language

English

Catalog Number

v345099

Institution / College

Marymount University

Grade

B

Tags