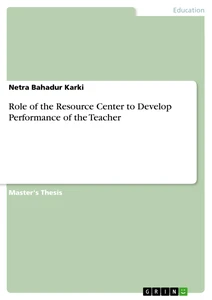 Role of the Resource Center to Develop Performance of the Teacher
Master's Thesis 2016 60 Pages
Summary
The aim of the thesis entitled "Role of the Resource Center to Develop Performance of the Teacher" is to study the roles played by the resource centers in enhancing the performance of the teachers.

For this, three resource persons, eighteen Headmasters and thirty-two teachers are included in the questionnaire for the data collection. The Resource Centers were selected through purposive sampling and the teachers were selected through random sampling technique. During the research, George Elton Mayo's Human Relation Theory, Mary Parker Follett's Principles of Coordination and Abraham Harold Maslow's Theory of Motivation were utilized as the theoretical framework. The collected data were analyzed, described and presented with the help of tabulation, pie charts and percentage.

In this study, it was revealed that the inspection service could not reach to all the schools. The teachers and the resource persons discuss very less on the subject matter. Good human relation between the resource person and the teachers could not be maintained as per the Human Relation Theory of Mayo. Teachers could not be coordinated and motivated for their profession as per the Principles of Coordination of Follett. The Resource Centers have been conducting the professional development trainings, curriculum sensitization, trainings on the construction and use of teaching aids etc. for developing performance of the teachers. Presently, the Resource Centers have been facing problems like lack of financing, lack of trainings for the Resource Persons, lack of subject wise Resource Persons, lack of assistant personnel and so on.
Details
Pages

60

Year

2016

ISBN (Book)

9783668275249

File size

1.9 MB

Language

English

Catalog Number

v338568

Institution / College

Tribhuvan University

Grade

1

Tags