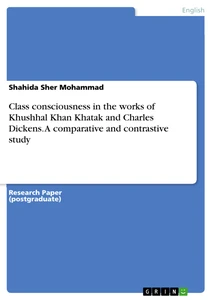 Class consciousness in the works of Khushhal Khan Khatak and Charles Dickens. A comparative and contrastive study
Research Paper (postgraduate) 2016 14 Pages
Summary
This research paper tends to seek the comparison and contrast of class-consciousness between the two great writers of world literature, Khushal Khan Khatak and Charles Dickens. The former belongs to the seventeenth-century feudal sub-continent of South Asia and latter comes from the industrialised capitalist Victorian age.

They depicted the economic plight, misery and suffering of the toiling classes in their writings in the different historical ages to project different visions of human situation. Both the writers in spite of different historical ages, cultures, literary genres, socio-economic, political and class backgrounds possess one thing in common, which is the class-consciousness.

The comparison and contrast will be conducted in this research study in terms of Marxist class-analysis of the two authors belonging to the two different periods of history. Applying the Marxist hermeneutics to the textual analysis of the texts of the both authors, the present research study tries to introduce new a portrait and re-evaluation of the personages of the two greatest literary writers in an innovative perspective.

Details
Pages

14

Year

2016

ISBN (Book)

9783668279544

File size

484 KB

Language

English

Catalog Number

v338073

Institution / College

University of Balochistan – Department of English Literature

Grade

Tags