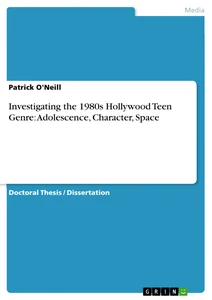 Investigating the 1980s Hollywood Teen Genre: Adolescence, Character, Space
Doctoral Thesis / Dissertation 2016 227 Pages
Summary
The 1980s Hollywood teen genre is a topic which has not attracted significant academic interest in the context of doctoral research. Only recently have writers focused on this period in wider scholarly texts, often positioned in relation to other periods of the teen genre, but not extensively concentrating on the 1980s. This research will address what is a lack of detailed analysis of this cinematic era and offer a contribution to knowledge in terms of Hollywood genre cinema.

The aim of this thesis is to argue that teen films produced during the 1980s effectively represent youth concerns and the coming-of-age process, for example, in terms of adolescent identity, the different 'roles' the characters play, sexuality, gender, relationships, class issues and the generational divide. These concerns will often resonate with the wider sociopolitical and economic landscape of the Reagan era. The research will investigate these themes in individual films and then go on to analyse them using several films across the generic spectrum to show how the genre achieves a unity and synergy, despite differences in tone and attitude of the films under scrutiny. The films covered herein will be a selection from the subgenres of the 1980s teen films: the teen sex comedies examined were produced during the first half of the decade; the more romantic comedies and dramas were generally made from the mid-1980s onwards. Also scrutinised will be several delinquent teen films.

One of the methodologies used to underpin the central argument is related to the structuralist theories and their binary oppositional factors. This will attempt to make sense of the portrayal of a youth culture by exposing its contradictions. This approach will be merged with film genre theories, for instance, in relation to a film's semantic/syntactic axis and the symbolic use of generic sites and iconography. Ideas relating to adolescence and its phases will also form part of the analysis.

The principal conclusions from this debate will be that the 1980s teen genre is a topic worthy of rigorous academic interrogation, despite often being critically neglected and sometimes maligned. The genre has the potential to represent and articulate youth cultural concerns and wider societal implications, and the films therein should be considered important media documents.
Details
Pages

227

Year

2016

ISBN (Book)

9783668274280

File size

1.3 MB

Language

English

Catalog Number

v337986

Institution / College

Kingston University London

Grade

Pass

Tags