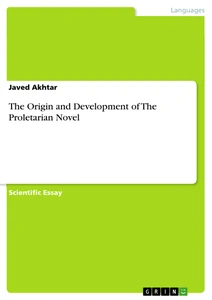 The Origin and Development of The Proletarian Novel
Scientific Essay 2016 59 Pages
Summary
This research paper intends to trace the origin and development of the mature proletarian revolutionary novel. The mature revolutionary proletarian novels will be discussed and highlighted in this study in terms of Marxist hermeneutics. This new literary kind did not come into being prior to the imperialist era because the socioeconomic requirements for this literary genre were non-existent and the proletarian movement did not enter into its decisive historical stage of development.

This new genre of the novel appeared simultaneously in the works of Robert Tressell, Martin Anderson Nexo, Upton Sinclair and Maxim Gorky in the beginning of the twentieth century. In this era of imperialism, the proletarian novel came into existence, when the socio-historical ethos brought the proletarian movement into being as well as helped to organise and develop it on international level.

At the end of this analytical and comparative study of them, the noticeable point is that the proletarian novels of that period share astonishing similarities with one another. Applying Marxist literary hermeneutics to the art of novel writing of the famous proletarian novelists, this research paper will try to introduce new portrait of the personages of the novels of these proletarian novelists in an innovative perspective.

Details
Pages

59

Year

2016

ISBN (Book)

9783668268265

File size

1.3 MB

Language

English

Catalog Number

v337563

Institution / College

University of Balochistan – English Literature

Grade

Tags