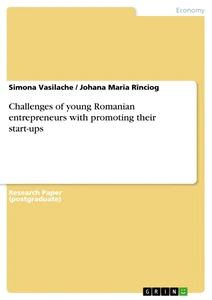 Challenges of young Romanian entrepreneurs with promoting their start-ups
Research Paper (postgraduate) 2016 50 Pages
Summary
In the first chapter of this study we aimed to perform a deeper research regarding the main challenges faced by young entrepreneurs. We used the information obtained from discussions with entrepreneurs as a basis for our research, in order to search for more ideas and details in books and articles dedicated to this subject. At the end of this chapter we wanted to know exactly which are the main categories of obstacles faced by young entrepreneurs, and the activities they should perform in order to avoid or reduce the negatives effects of these difficulties. Since the subject of our paper is quite broad, we covered in this chapter three aspects:
• Challenges faced by entrepreneurs in general;
• Challenges of promoting a start-up;
• Challenges faced by Romanian entrepreneurs at this moment;

The second chapter of the research was dedicated to present the method of research used for this study. We mentioned previously that we had the opportunity to discuss with many entrepreneurs about the way they succeed to manage their businesses. Since we maintained the contact with them, we wanted to highlight and take advantage of this source of knowledge and experience in order to improve our own knowledge regarding the entrepreneurial experience. Therefore, the purpose of this chapter is to present the way we managed to achieve the aforementioned objective.

The third chapter aims to present the results of our research. We will focus on explaining the way we reached these results and the criteria based on which we selected the most important information obtained from our research. Also, we are interested in obtaining some best practices to be transferred onto other potential entrepreneurs.
Details
Pages

50

Year

2016

ISBN (Book)

9783668268715

File size

854 KB

Language

English

Catalog Number

v336880

Grade

Tags