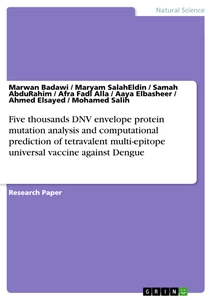 Five thousands DNV envelope protein mutation analysis and computational prediction of tetravalent multi-epitope universal vaccine against Dengue
Research Paper (postgraduate) 2016 389 Pages
Summary
This is a research work on vaccination against Dengue Virus. The text mainly represents the findings in tables.

Dengue virus is the kind of virus responsible for one of the most aggressive reemerging infections that threaten about half of the world's population. Despite of the high mortality and the fast dispersing of this infection, a licensed vaccine that protects against all of its serotypes is still elusive up to date.

In this study, all envelope proteins (E proteins) of various Dengue virus variants from different geographical regions belonging to the four Dengue virus serotypes and representing all of what is available in NCBI till June 2016 were retrieved. Alignment of the envelope protein was conducted, and concluded that 100% conservancy would be hardly possible. IEDB analysis resource has been used to predict B and T cell epitopes and to determine their conservancy level, as well as to calculate the population coverage of T cell epitopes. Predicted epitopes with high conservancy and scores in both B and T cell epitopes predicting tools were proposed as international therapeutic vaccine candidate with an expectation of further in vitro and in vivo confirmations. This study provided a novel predicted tetravalent multi-epitope peptide vaccine against Dengue virus which could prompt vaccine development of the highly mortal disease.
Details
Pages

389

Year

2016

File size

3.1 MB

Language

English

Catalog Number

v336285

Grade

Tags