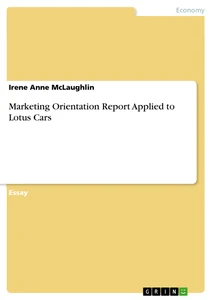 Marketing Orientation Report Applied to Lotus Cars
Essay 2016 15 Pages
Excerpt
Contents
1. Introduction
2. Background of Lotus Cars
3. Marketing Orientation
3.1 Marketing Information Systems
3.2 Segmentation
3.3 Targeting
3.4 Product Positioning, & Value Propositions
3.5 Customer Value Satisfaction
3.6 Branding
3.7 Distribution
3.8 Integrated Marketing Communications
3.9 Measurement
4. Advantages and Disadvantages of Marketing Orientation
5. Recommendations
6. Conclusions
7. Reference List
1. Introduction
Marketing orientation has been described as:
"The management process responsible for identifying, anticipating and satisfying customer requirements profitably" (CIM, 2015).
Marketing Orientation theories appear to be everywhere and failing to deploy a marketing orientation approach for companies is somehow deemed a failure. This report will critically evaluate for Group Lotus PLC (Lotus) the benefits, advantages and disadvantages of marketing orientation, and provide recommendations considering whether this is in correlation with a marketing orientation approach.
2. Background of Lotus Cars
Colin Chapman founded Lotus in 1952 and the kit-car manufacturer progressed to the creation of the iconic Esprit. From the 1970s sales dropped and various acquisitions took place, resulting in Lotus' sale to Proton. Lotus continued a downward trend with sales of one car/month for each of its 14 Dealers (AM Online, 2014).
Lotus lacks international market penetration because of the organisation's lack of:
illustration not visible in this excerpt
Figure 1: Lotus Shortcomings
A constant turnover at board level yields a disjointed marketing plan that espouses discontinuing sales to the USA and creation of an SUV to sell into China.
3. Marketing Orientation
Kotler and Keller define marketing management as:
" The Art and Science of choosing target markets and getting, keeping and growing customers through creating, delivering and communicating superior customer value"(Kotler & Keller, 2014).
Marketing orientation is when an organisation meets and anticipates the needs and wants of its target customers while making a profit (Bradley, 2003). One of the simplest/most important principles of marketing is to have customer satisfaction at the core. Marketing orientation means that the organisation should strive to satisfy its customers' wants and needs while meeting the organisation's goals, that is to say, "the customer is king".
Marketing orientation desideratum involves developing new products and improving existing products/services to exceed customer expectations. Companies (cutting-edge innovators) with exceptional marketing orientation strategies may create needs before customers are aware of the need and this changes market dynamics.
The fundamental marketing framework is changing within the landscape of social media and consumer driven demands. More than ever companies need buyers to fall in love with their brands as emphasised by "Lovemarks"(Roberts, 2005). The theories extolled by Saatchi and Saatchi regarding "Lovemarks" is prevalent today as evidenced in the Volvo advertisements stating "loved not owned".
Lotus has a history of product orientation and needs to consider customer and market orientation perspectives by identifying customers, competitors, and capabilities:
illustration not visible in this excerpt
Figure 2: Identification Customers/Competitors/Capabilities
Firm and industry analysis are required to develop a cohesive marketing strategy.
A Lotus differentiator is Carmen Jorda, who joined Lotus F1 as a driver, becoming the second female to hold the post(Reporter, 2015). Marketers identify and utilise prominent social issues. A great example of this is the Kit-Kat's "bend gate" campaign (Gosh, 2014). Lotus can take advantage of the negative female driver backlash and adopt a "Yorkie" type approach of "not for girls" campaign, thereby utilising reverse psychology techniques(Billings, 2003).
3.1 Marketing Information Systems
Marketing Information Systems have been described as "The organization-wide generation of market intelligence pertaining to current and future customer needs dissemination of the intelligence across departments and organization-wide responsiveness to it." (Jaworski & Kohli, 1996).
A marketing oriented business starts with the customer finds out what they want, and produces it for them. Shown in the figure below are product categories:
illustration not visible in this excerpt
Figure 3: Product Categories (Edx, 2016)
Lotus sells automobiles as its core product; however they also merchandise clothing, toys, replica models, luggage ranges, etc. For the purpose of this report, cars were the only product range analysed as they are the "core".
3.2 Segmentation
To deploy marketing orientation, segmentation is required to identify future customers. Extensive literature on psychological personality and other behavioural sciences have persuaded marketing researchers to theorise that personality characteristics should predict brand preferences (Engel, et al., 1995). Several other studies confirmed the lack of relationship between personality and product choice (Alpert, 1972)(Kassarjian, 1971)(Hjelle & Ziegler, 1992). However, Engel explained that personality was due to only one variable in consumer decision making.
illustration not visible in this excerpt
Figure 4: Segmentation
Segmenting luxury cars into physical categories regardless of brand association (attributes, benefits, and attitudes) can be very difficult(Keller, 1993). Brand Loyalty however via Social Mention can be measured for Lotus(SocialMention, 2016).
[...]
Details
Pages

15

Year

2016

ISBN (eBook)

9783668259850

ISBN (Book)

9783668259867

File size

705 KB

Language

English

Catalog Number

v336028

Institution / College

University of Ulster

Grade

65%

Tags