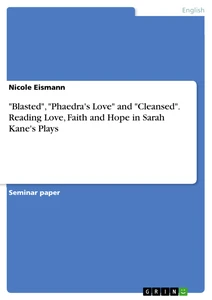 "Blasted", "Phaedra's Love" and "Cleansed". Reading Love, Faith and Hope in Sarah Kane's Plays
Seminar Paper 2015 17 Pages
Excerpt
Table of Contents
1 Introduction ... 1
2 Theory of Kane's In-Yer-Face-Theatre Plays ... 2
3 Love, Hope and Faith in Kane's Plays ... 2
3.1 Blasted – Kane's most hopeful play? ... 3
3.2 Phaedra's Love – Can Faith Move Mountains? ... 7
3.3 Cleansed – Love, the strongest force on earth? ... 10
4 Conclusion ... 14
5 Bibliography ... 15
1 Introduction
The "darkest and most unforgiving internal landscapes: landscapes of violation, of loneliness, of power, of mental collapse and, most consistently, the landscape of love"1 - this is how David Greig describes the core of Sarah Kane's plays in the introduction to the Methuen Drama edition of Sarah Kane: Complete Plays. How can topics like violation and loneliness on the one hand and love on the other hand be connected? And can love at all be found in an in-yer-face theatre play, that is known for its filthy language and shocking scenery? According to Sarah Kane, it can – and not only love but also faith and a lot of hope, despite the horrible destinies her characters have to face.
In this paper, Kane's debut play Blasted, alongside her proximate plays Phaedra's Love and Cleansed, will be discussed in order to explore the nature of the plays concerning their subject matter. Among these plays, Phaedra's Love is the only one that is based on a model and therefore not utterly Kane's content. The story is written loosely after Seneca's version of the Phaedra myth, in which a tragedy arises because the title character falls in love with her royal stepson. Beyond the thematic discussion, the question whether the subjects, Sarah Kane connects her plays with, are presented in a positive or negative way will be issued in the paper. If there is love in the plays, in how far is it satisfying for the characters? And does strong faith really promise a hopeful ending? In order to answer these questions, the paper is divided into two parts, starting with a short theory chapter, that follows this introduction and provides a brief introduction to in-yer-face theatre in general. Subsequently, one finds the main part of the paper, which consists of three sub-chapters and includes the analysis of each of the named plays. A conclusion of the findings will round the paper off.
2 Theory of Kane's In-Yer-Face-Theatre Plays
Sarah Kane is, according to the British theatre critic Aleks Sierz, one of the big three of the popular 1990s in-yer-face theatre, together with Mark Ravenhill and Anthony Neilson. The term in-yer-face theatre was coined by Sierz himself, who describes it in his same titled work, published in 2001. All three plays discussed in this paper belong to this kind of theatre, that emerged in Britain during the 1990s, when the style of new writing was dominant among British dramatists. Its origins are, however, to be found much earlier, among others in the experiental theatre described by Antonin Artaud in his work Theatre of Cruelty. Quoted on Aleks Sierz' website, which is titled like his print work in-yer-face-theatre, Artaud describes his idea of theatre as follows:
The theatre will never find itself again except by furnishing the spectator with the truthful precipitates of dreams, in which his taste for crime, his erotic obsessions, his savagery, his chimeras, his utopian sense of life and matter, even his cannibalism, pour out on a level not counterfeit and illusory, but interior.2
In-yer-face-theatre, that can be regarded as a kind of experiental theatre, wants to shock the audience and provoke spectators not to consume passively what happens on stage but to feel and perceive it actively. To achieve this, both kinds of theatre confront the audience with topics like sex, violence and humiliation in a direct and brutally honest way. The language is usually simple, with filthy vocabulary and short sentences. There are hardly any real discussions in an in-yer-face play, which mostly contains characters that do not ask for sympathy among the audience and who do not have a strong ideology or social, respectively political, agenda – and neither has the play itself.
3 Love, Hope and Faith in Kane's Plays
Despite the fact that the three plays by Sarah Kane, that are going to be discussed in the following chapter, belong to the genre of in-yer-face theatre, the author herself regards all of them as uplifting and hopeful. In an interview, quoted in Sierz' already mentioned work, Kane sees the uplifting and positive topics "hope (Blasted), faith (Phaedra's Love)and love (Cleansed)"3 as the main issues in her plays. In general, one can confirm that statement after a close reading of the plays. However, all of the three main topics are approached in ambiguous ways and do not only refer to positive emotions and actions.
3.1 Blasted – Kane's most hopeful play?
Blasted is Sarah Kane's first play and also the one she herself considers as the work that is more than anything else a story about hope; a claim that is already supported by the play's title: Blasted does not only hint at something being blown apart but also at the hope for a new beginning after the end of something else – an image also called the circle of life, in this play underlined by the seasons, which also appear in a circle and are strongly connected to death and new life in nature.
According to the author, "to create something beautiful about despair, or out of a feeling of despair, is the most hopeful, life-affirming thing a person can do."4 And indeed, among all the violence, one can find beauty in the play, and with it not only hope but also faith – which is in many cases strongly connected with hope – and even some kind of love. The latter, however, is almost entirely manifested in the character of Cate and her perception of the world around her, which changes dramatically after Ian's rape on her. At the beginning, the scenery appears pretty lovely if one ignores the obviously disharmonious relationship between the two protagonists. It is emphasised that the room contains flowers – a symbol of love and harmony – and a double bed, which might pretend a focus on love and togetherness. After the rape, this image is destroyed, emphasised by the fact that not only the formerly lovely appearing hotel room is destroyed and "the bouquet of flowers is now ripped apart and scattered around the room"5, but the entire environment has been blasted away. From then on, also the language and the scenery become more and more fragmented.
The character of Cate corresponds pretty well to the environment as it is depicted before the rape, since she seems to be the personification of infantile artlessness and love for almost everything and everyone, despite Ian. The young woman talks a lot about her family, including her apparently mentally disabled brother and her mother, who she does not want to leave, and it becomes clear that family love is an important issue for her. Furthermore, Cate also loves animals and therefore is a vegetarian, which Ian – of course – mocks. As already mentioned, Ian seems to be the only being on earth Cate does not really love. Although Kane herself considers Blasted a play "about violence, about rape, and […] about these things happening between people who know each other and ostensibly love each other"6, the woman shows more than once that there is in fact no love between her and Ian. Not only does she literally say so and rather uses the word "like" to express the feelings for him, she also wipes her mouth after he kissed her and she does not want to have sex with him. However, despite Cate's non-existing romantic feelings, she accompanies him to this hotel because he is unhappy and might need her. This can be read as a hint at the woman's strong love, not in Ian as a person but in humankind in general, which in turn is an important part of Christianity and therefore connects Cate with the unalterable faith and hope her character adds to the play. This becomes apparent in mainly two points: her unbreakable hope that everything will have a positive ending, including death, and her faith in the good side in everyone, including Ian, who does in fact not show a lot of kindness towards Cate in the entire play. Yet, she is sure that Ian would not hurt her – which turns out to be wrong – and that "you [Ian] wouldn't kill anything"7, although he keeps on declaring that he would. The woman's strong faith in a good ending is of a religious nature but is also transferred into non-religious issues. Thus, Cate does not only believe in life after death, which she describes as "You fall asleep and then you wake up".8 She is also sure that actually hopeless situations like Ian's illness will turn out well and he will for sure receive another transplant, since "people die in accidents all the time, they must have some spare."9
[...]
---
1 Greig. 2001. n.p
2 Sierz. In-Yer-Face-Theatre. http://www.inyerfacetheatre.com/soundbites.html#01
3 Sierz. 2001. p. 120
4 Ibid. p. 91
5 Kane. 2001. p. 24
6 Ward. 2013. p. 230 (emphasis added)
7 Kane. 2001. p. 22
8 Ibid. p. 10
9 Ibid. p. 11
Details
Pages

17

Year

2015

ISBN (eBook)

9783668183025

ISBN (Book)

9783668183032

File size

535 KB

Language

English

Catalog Number

v319156

Institution / College

University of Bonn – Institut für Anglistik, Amerikanistik und Keltologie

Grade

2.3

Tags