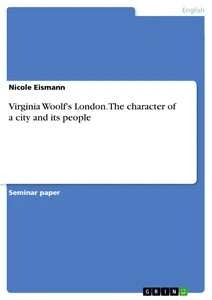 Virginia Woolf's London. The character of a city and its people
Seminar Paper 2012 13 Pages
Excerpt
Table of Contents
1 Introduction
2 The people ofLondon
2.1 Representation ofLondon's people in "Oxford Street Tide"
2.2 Representation ofLondon's people in "Street Haunting: A London Adventure"
3 Word choice, language style and London's atmosphere
3.1 Atmosphere created in "Oxford Street Tide"
3.2 Atmosphere created in "Street Haunting: A London Adventure"
4 Symboliccharacter ofLondon
4.1 Symbols used in "Oxford Street Tide"
4.2 Symbols used in "Street Haunting: A London Adventure"
5 Conclusion
6 Bibliography
6.1 Primary Literature
6.2 Secondary Literature
1 Introduction
"London itself perpetually attracts, stimulates, gives me a play & a story & a poem, without any trouble, save that of moving my legs through the streets. To walk alone in London is the greatest rest."1 Virginia Woolf writing about her home town which appears to be one of her greatest inspirations as it is not only setting of several of Woolfs novels but also the main topic in a number of her essays. At first glance, Virginia Woolf's London is a perfect place of beauty and harmony. Despite mentioning them, the negative aspects of London brought up in her works always seem to be played down with the help of linguistic devices such as the use of irony in case of "the moralist" in Oxford Street Tide which can be made out in the following quote. "Even a moralist, who is, one must suppose, since he can spend the afternoon dreaming, a man with a balance in the bank - even a moralist must allow [,..]"2 But is this beauty a real overall picture of Great Britain's capital as it is described by Woolf? Or do the mentioned negative aspects still have a bigger influence on the perception of London the reader gets than it appears? Or is the image, Virginia Woolf presents us, in the end even more negative than positive, and from which point of view?
To answer these questions, this paper includes a detailed analysis of two essays which address the city of London as their main issue with a special focus on the people and their perception - Oxford Street Tide, one of The London Scene essays which describes life in one of London's most famous shopping areas, and Street Haunting: A London Adventure in which the narrator takes the reader for a walk around London. Obviously the first one focuses onjust one street, but it is chosen because Oxford Street has always been a central point in London where people with different social backgrounds and motivations meet and interact.
Following this point of interest, the analysis starts with that factor, the one which influences every space the most - the people, and in particular their point of view concerning London. Afterwards the city's atmosphere described in the essays will be examined with a special focus on the word choice which influences a narrative atmosphere a lot. In the end the use of symbols and hence the symbolic character of
London will be emphasized followed by a conclusion of the results of the whole analysis. It has to be mentioned that this paper is not supposed to cover all facets of city life but to give a brief introduction to how London as a living and working space is perceived in Virginia Woolfs works.
2 The people of London
2.1 Representation ofLondon's people in "Oxford Street Tide"
To give the reader an understanding of the different perspectives the people of London have in case of the city, Woolf does not use a typical narrator but two different focalizers who are both extremely polarised in their points of view and represent two groups of Londoners. The main focalizer in Oxford Street Tide is a modern thinker who enjoys observing the city and its development, whereas Woolf creates a "moralist" in order to represent the typical conservative Victorian thinker who is naturally sceptical towards the modern London.3
The moralists "point the finger of scorn at those who buy"4 there to express their dis-affirmation towards Oxford Street and therefore against the modem London as a whole since the goods which are sold there are a conspicuous sign for development and the city change which, according to the focalizer, everyone in London suffers from.5 While movement appears to be positive at first glance, Susan Squier explains in her essay Gender and Class in Virginia Woolfs London the negative side of industrial development:
It belongs to the unthinking consumers of England, who expect bales of wool to turn easily into smooth sweaters for Bond Street stores. [...] the price in human suffering paid by the working classes to produce the necessities and luxuries which middle- and upper-class England consumes.6
Although Squire refers to The Docks of London, the passage explains perfectly the problem for the working class with the goods sold not only in Bond Street but also in Oxford Street. What it cannot explain is why the moralists have such a negative view towards it. As already mentioned, the moralist stands for the Victorian values. It is said that "their pride required the illusion of permanence"7 They do not accept the force to adapt. But nowadays the pride has not gone, it has just changed. "The charm of modern London is that it is not built to last; it is built to pass"8 and as Aysegül Kesirli points out "destruction is what modernity expects from humanity. The wanderers of the modern city should meet those expectations in order to survive [,..]"9
But there are also positive aspects of the modern London. Magicians on the street spread a specific kind of charm and offer fun and a bit of magic and people enjoy getting these impressions as they "lick the ink off the placards [while] the mind becomes a glutinous slab that takes impressions and Oxford Street rolls off upon it a perpetual ribbon of changing sights, sounds and movement."10 And even those suffering working-class people can be able to enjoy life in London, or at least, make the best out of it and keep a positive attitude towards it. In order to demonstrate this, Woolf offers a short description of four lower- and middle-class people who have all two things in common - a hard daily life on the streets ofLondon and an irrepressible optimism
2.2 Representation of London's people in "Street Haunting: A London Adventure"
In contrast to Oxford Street Tide, Street Haunting does not use different focalizers but one observer who seems to have a very positive attitude toward the city, which soon turns out to be an ambivalence concerning both the self and London. Stepping out of the door means to "become part of that vast republican army of anonymous trampers whose society is so agreeable after the solitude of one's own room."11 That appears to be a positive feeling of togetherness and it is indeed, but it goes along with a loss of the own identity as the term "anonymous trampers" suggests. Rachel Bowlby supports this point in her essay Walking, Women and Writing by calling it a "removal of individuality for anonymity."12
One can see that this ambivalent attitude is not just the focalizer's problem as Woolf later on introduces a couple of people whose ambivalence is even more obvious, just as a dwarf, a deformed lady buying shoes, with a "peevish yet apologetic expression"13 on her face which changes immediately for a short time when she notices her apparently not deformed feet. "She looked soothed and satisfied. Her manner became full of self-confidence."14 But back on the street everything changes again, what one might take as the fact that the city reveals the entire truth, in this case a poor, hopeless truth. In this moment the dwarf is again part of the group of anonymous Londoners and therefore kind of connected with all the others, but at the same time isolated because of the velocity of the modern London, where no one takes his time to care for one another. Megan Teigen states that "the city [...] has become simply too large and complex"15 and that "connectedness and isolation, like the threads that link London's inhabitants, are entangled and cannotbe separated."16
3 Word choice, language style and London's atmosphere
3.1 Atmosphere created in "Oxford Street Tide"
The atmosphere in Oxford Street Tide, made up by choosing specific words and phrases, is as ambivalent as the feelings of London's people toward their city and their own identities. From the very beginning, Woolf creates a special "Oxford Street atmosphere" which is supposed to be clearly separated from other areas such as the docks which are connected with raw materials and "their crudity, their bulk, their enormity."17 Just as the raw materials are getting refined before sold in Oxford Street, the word choice, especially the choice of adjectives, becomes refined to emphasize the invisible border between both areas.
[...]
---
1 Virginia Woolf. 1980. TheDiary of Virginia Woolf, voi. Three, 1925-1930. p. 186.
2 Virginia Woolf. 1975. TheLondon Scene, p. 27.
3 c.f. Susan Squier. 1983. "The London Scene": Gender and Class in Virginia Woolf sLondon. p. 489.
4 Virginia Woolf. 1975. TheLondon Scene, p. 20.
5 Ibid.: p. 19.
6 Susan Squier. 1983. "The London Scene": Gender and Class in Virginia Woolfs London, p. 490.
7 Virginia Woolf. 1975. TheLondon Scene, p. 24.
8 Ibid: p. 24.
9 Aysegül Kesirli. 2011. "Women that Melted into the Air:" Criticizing Marshall Berman's Critic of Modernity, p. 4.
10 Virginia Woolf. 1975. TheLondonScene. p. 21.
11 Virginia Woolf. 1970. "StreetHaunting:A London Adventure"TheDeathoftheMoth.pp. 20-36.
12 RachelBowlby. 1997. Walking, Women and Writing, p. 210.
13 Virginia Woolf. 1970. "StreetHaunting:A London Adventure"TheDeathoftheMoth.pp. 20-36.
14 Ibid.
15 Megan Teigen. WoolfsModernism: AmbivalenceofldentityinMrsDallowayand "StreetHaunting"
16 Ibid.
17 Virginia Woolf. 1975. TheLondonScene. p. 19.