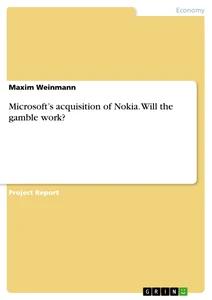 Excerpt
Contents
1 Be able to construct a strategy plan for an organisation
1.1 Propose a suitable structure for the strategy plan that ensures appropriate participation from all the organisation's stakeholders
1.2 Develop criteria for reviewing potential strategy plan options
1.2.1 Feasibility studies
1.2.2 Effects on market position and market share
1.2.3 Risk assessment
1.2.4 Cost benefit analysis
1.3 Construct an agreed-upon strategy plan that includes resources implications
1.3.1 Human capacity and skill requirements
1.3.2 Financial requirements
1.3.3 Physical resources
1.3.4 Responsibilities and accountabilities
2 Plan for the implementation of a strategy plan
2.1 Develop a schedule for implementing a strategy plan in an organisation
2.2 Create an appropriate dissemination processes to gain commitment from the stakeholders in an organisation
2.3 Design monitoring and evaluation systems for the implementation of a strategy plan in an organisation
References
Appendices
Appendix 1: HeNoMa Analysis
Appendix 2: HeNoMa Strategy
Appendix 3: SMART Targets
Appendix 4: GANTT Chart
List of abbreviations
illustration not visible in this excerpt
List of figures
Figure 1: Competitor analysis – Shipment volumes units in US$ Millions (IDC 2014)
Figure 2: GANTT-Chart as schedule for the implementation of a strategy plan in an organisation
Figure 3: Effective & ineffective communication (Johnson, et. al. 2011)
Appendix
Appendix 1: HeNoMa Analysis
Appendix 2: HeNoMa Strategy
Appendix 3: SMART Targets
Appendix 4: GANTT Chart
1 Be able to construct a strategy plan for an organisation
1.1 Propose a suitable structure for the strategy plan that ensures appropriate participation from all the organisation's stakeholders
The HeNoMA Consulting Group highlights external and internal environment factors that affect an organisation. Based on the analysis of these environmental factors, several options for the organisation's strategy plan were conducted. In appendix one the management paper of the HeNoMa Consulting Group's board presentation is attached. This management paper includes further internal and external analysis, in particular PESTLE and competitors analysis. Both are reviewed in a SWOT matrix. The defined management strategy in appendix two, along with the deducted SMART tasks in appendix three are the basis of this assignment.
Organisations have learned that they cannot compete on a global basis without a strategic plan due to rapidly changing markets and economics (Barksdale and Lund 2008). The content in this chapter proposes a suitable strategy plan structure that is dependent upon the contributions of all of an organisation's stakeholders. Although the strategy plan must meet certain requirements to gain appropriate participation from all organisational stakeholders, the content and structure of the strategy plan must focus on the stakeholders with greater influence over strategy development (Johnson et al. 2005).
Bhandari (2013) states that the strategy itself provides enough marketing to attract all the stakeholders and motivate the employees to achieve the organisation's strategic goals. However, the majority of academic and business authors are more sensitive in this topic. The following documents are used to illustrate stakeholder attractiveness (Barksdale and Lund 2006; Bryson, Anderson and Alston 2011; Scherm and Pietsch 2007):
- Comprehensive mission and vision statements;
- SWOT analysis;
- Sources of competitive advantage and USPs;
- SMART targets;
- Execution plan.
The above noted structure for a strategy plan ensures appropriate stakeholder participation, which demonstrates a credible commitment to achieving the organisation's SMART targets (Dillerup and Stoi 2008).
1.2 Develop criteria for reviewing potential strategy plan options
After the strategy structure has been developed, the strategy should be developed using the different strategy alternatives. According to Dillerup and Stoi (2008) and Hungenberg (2006), strategy formulation requires the selection and assessment of strategic plan options.
The HeNoMa Consulting Group analysed Microsoft's environment using both a SWOT and PESTLE analysis. The outcome of the analysis is attached in appendix one. These modelling tools examine the organisation's autonomy, but additional benchmarking criteria must be developed to evaluate the potential management strategy options (Dillerup and Stoi 2008; Mintzberg et al. 2003).
To identify the effect of the management strategy options on Microsoft's Windows Phone business, the following criteria must be analysed: attractiveness to stakeholders, feasibility studies, effects on market position and market share, risk assessment, and cost-benefit analysis (Johnson, Scholes and Whittington 2005; Boutellier, Gassmann and von Zedtwitz 2008). The attractiveness to stakeholders factor was already considered in 1.1, so this chapter focuses on the four other criteria.
1.2.1 Feasibility studies
Microsoft's mobile devices business unit benefits from Nokia's patents and the high value of the brand in emerging markets. Furthermore Microsoft is able to use Nokia's HR capacities, including the significant amount of knowledge and large dealer network in these markets. Due to Microsoft's financial background, its bargaining power with its suppliers, and the trust consumers place in its global brand, the strategy seems more than feasible.
According to Forbes (2013) and Telecoms (2014), high-value services, such as free mapping services and the apps paid for by carrier billing services, are unique selling schemes in emerging markets, and open smartphone apps have a range of six billion possible users, compared to 300 million credit card owners. Concerning this facts the emerging market entry strategy, attached in appendix two, the studies showing a high feasibility.
1.2.2 Effects on market position and market share
Turning potential options into a management strategy requires an assessment of the current market position. For example, if Microsoft increases its 3.3% market share up to 10%, it will be a consolidated third rank in the mobile devices market (Gartner 2013b). In mature markets (e.g., U.S. and Europe), no additional market growth is expected. Therefore, the only way Microsoft can increase its global market share is to focus on emerging markets (Gartner 2014).
1.2.3 Risk assessment
One strategy plan option is to identify and assess the potential risks that may arise during the implementation of the strategic plan. For Microsoft, the greatest risks in this strategy include: the decreasing market value of the emerging markets and powerful competitors in the fast-moving smartphone market. Due to high birth rates in emerging markets and an increase in living standards and personnel wealth, the risk of decreasing market value in emerging markets appears to be very low. However, the risk of competitors appears significantly higher. Microsoft's competitors include those from mature markets, high-priced segments of the market, and low-costs threats from local competitors (Marktwatch 2014).
1.2.4 Cost benefit analysis
The cost-benefit analysis identifies and assesses the costs involved in the investment and the benefits or returns Microsoft's mobile devices unit receives from the investment. According to Business Insider (2013), Microsoft has already invested US$ 7.2 billion for Nokia's devices unit. Microsoft has also acquired Nokia's mapping service and the company's retail and dealer network in the emerging markets. However, Nokia engaged with all carriers, which provided their products around the world. To enter emerging markets, these networks will not require an additional significant investment, so Microsoft is expected to consider these networks. The return benefits show an increase of 90% in shipment volume in unit sales, from 2012 to 2013. (IDC 2014)
1.3 Construct an agreed-upon strategy plan that includes resources implications
Management strategy construction requires a systematic analysis of internal and external factors to create a foundation for reviewing current management practices. The objective is to adapt corporate policies and strategic priorities throughout the organisation (Barksdale and Lund 2008). According to Johnson et al. (2005), the key components for an agreed-upon strategy plan for Microsoft's mobile devices unit include an analysis and assessment of the following resources and their implications:
- Human capacity and skill requirements;
- Financial requirements;
- Physical resources;
- Responsibilities and accountability.
1.3.1 Human capacity and skill requirements
Human capacity, often called human resources, includes the noun resources, which highlights the importance of human capacity as a source of competitive advantage. According to Johnson et al. (2005) and Scholz (2000), human capacity is likely to become the most valuable asset in knowledge-based companies. Capacity not only includes the amount of workers, but it also includes their knowledge and skill levels. Microsoft not only increased the amount of staff by nearly 30,000 from 2013 to 2014, but it also gained approximately 10,000 well-trained former Nokia employees with high levels of mobile device knowledge, especially in the handset sector of the business (Microsoft 2013; Microsoft 2014b).
1.3.2 Financial requirements
Financial resources and funding sources should be considered in the first line of the initial investment on the strategy plan. The additional cost of a new strategy, including shrinking cash flow, decreases stock price, opportunity costs, and resources that cover current interest, must be evaluated. With a year-to-year revenue of close to US$ 80 billion and a net income of more than US$ 20 billion (Microsoft, 2013), Microsoft's financial situation is more than convenient, and Microsoft is able to cover the financial requirements of the mobile devices unit.
1.3.3 Physical resources
Physical resources include production facilities, offices, and local retailers, as well as raw materials and access to these goods. The final assessment for a strategy plan will include the age, capacity, and location of these resources to determine their usefulness in the organisation's strategy. For example, Microsoft owns regional production and assembly plants in several emerging markets, such as India and Sub-Saharan Africa. Due to the Nokia deal, Microsoft phones can be purchased via Nokia's large dealer network in emerging markets. In addition, Microsoft's bargaining power with suppliers allows it to gain easy access to raw materials in these areas.
1.3.4 Responsibilities and accountabilities
An important requirement for an agreed-upon strategy plan is the definition and identification of responsible people in management positions. These individuals can then be assigned into positions of authority and accountability to implement the steps and actions necessary to achieve the organisation's goals (Scholz 2000). In this case, Microsoft must expand the positions of regional managers in the emerging markets by providing them with greater decision-making power and access to directly report to the board.
2 Plan for the implementation of a strategy plan
2.1 Develop a schedule for implementing a strategy plan in an organisation
In this strategic planning step, the mutually agreed-upon management strategy timeline must be evaluated. This chapter discusses the generation of a specific time frame during which the implementation and launch of the new strategy take place. For example, a four-year strategy establishes the deadline by which the company plans to achieve its strategic goals (Bryson, Anderson and Alston 2011).
The GANTT chart below provides not only a brief overview of the tasks and their deadlines, but it also helps with the implementation of complex management strategies by breaking them down into manageable steps. The schedule provided in this chapter outlines the strategy implementation milestones, starting with the definition of the new management strategy and finishing with the 'Go Life' of the new strategy.
illustration not visible in this excerpt
Figure 2: GANTT-Chart as schedule for the implementation of a strategy plan in an organisation
(c.f. appendix 4 for an enlarged versionof this chart)
In regard of the readability of this figure this chart will be provided in full size in appendix four.
2.2 Create an appropriate dissemination processes to gain commitment from the stakeholders in an organisation
To gain commitment from all the organisation's stakeholders, Microsoft needs to create and apply an appropriate strategy plan communication process. The core objective of this process is the effective dissemination of information to the stakeholders. There are several ways to ensure proper communication of the new management strategy:
- Face-to-face communication, either one-on-one, group discussions or speeches;
- Interactive communication, conferences via telephone, online chats or video streaming;
- Personal memoing in form of tailored letters and mails;
- General bulletins in type of newspaper and noticeboard announcements and
circular letters.
Figure three describes the application of these communication types in context of the intricacy of a change due to the implementation of a new strategy.
illustration not visible in this excerpt
Figure 3: Effective & ineffective communication (Johnson, et. al. 2011)
The outcome of figure three is also described by Barksdale and Lund (2008) and Bryson (2011), but Johnson et al. (2011) is more concerned about social influences. According to Johnson et al. (2011) changes that appear routine to some executive managers are viewed as very complicated to the staff.
[...]
Details
Pages

31

Year

2014

ISBN (eBook)

9783668158825

ISBN (Book)

9783668158832

File size

1.6 MB

Language

English

Catalog Number

v315826

Institution / College

European College of Business and Management (ECBM) London

Grade

79%

Tags