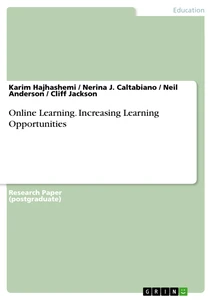 Online Learning. Increasing Learning Opportunities
Research Paper (postgraduate) 2014 8 Pages
Excerpt
Abstract.
Internet and networked technologies have expanded delivery mode opportunities in education. In recent years, many universities have offered either predominantly online courses or online learning platforms embedded within traditional modes of on-campus and face-to-face learning. Online learning has thus developed into a priority within modern educational facilities and has grown significantly both in Australia and other countries. To consider the connection between student learning and effective integration of technology, this study provides an overview about the requirements for learning in a modern society. It will discuss current reforms in higher education to accommodate a new generation of digital Australians and to prioritize teaching and learning issues in online environments.
1. Introduction
The integration of ICT in educational settings has accelerated the growth of online learning and potentially changed the way instruction is delivered to students. Researchers in the field argue that ICT has proven its potential to satisfy the promising expectations of learning by assisting in the delivery of high-quality services [1, 2]. According to Barber and Mourshed [3], facilitating learning with ICT improves the quality of learning. They also believe that ICT provides an opportunity "to put greater ownership for learning in the hands of students, who themselves can help lead the way to unleash the power of ICT for learning"[3]. Indeed, the internet and networked technologies allow flexible approaches to learning through the judicious use of multiple embedded pedagogical elements: access to learning resources via contemporary technologies (e.g. learning management systems [LMS], Blackboard, other internet applications); flexible delivery of learning experiences (e.g. podcasting, iLectures); collaborative and interactive activities (e.g. via LMS, Web 2.0 technologies); face-to-face and distance education. These technologies have expanded the delivery modes of education, and made fundamental changes to students' learning environment experiences. In recent years, many universities have increasingly offered either wholly online courses or used online learning as an adjunct to traditional modes of learning.
2. Literature Review
In the 21st century Australia's capacity to provide a high quality of life for all will depend on the ability to compete in the global knowledge and innovation economy. Education equips young people with the knowledge, understanding, skills and values to take advantage of opportunity and to face the challenges of this era with confidence [4, 5]. In this economic and political climate, students are viewed as important customers within the corporate model of education. Students' expectations of what they want from a university are higher than before due to the expenses involved in obtaining a degree[6]. In response to the existing milieu, university administrators have become more conscious of their student customers and more attentive to the significance of engagement with learning and teaching to maintain long-term market share and financial viability.
The Internet and ICT are integral to modern education trends in tertiary learning and teaching. Contemporary Australian tertiary education practice has provided students with the opportunity to complement face-to-face classes with online resources via learning management systems. Traditionally, courses were offered in internal or face-to-face mode. However, today, some courses are offered either fully or partially online. Online learning has made it possible for the educational institutions to increase the accessibility and opportunity of learning for those whose access was limited in the past. It facilitates learning for those who cannot participate internally, i.e. women staying at home with their young children. It also makes study fit with part time work better. Specifically, the rollout of the national broadband provided impetus for learning institutions to complement their current mode of delivery by introducing partial, and in some cases, full access to online courses. This learner accessibility also required a commensurate change in teaching mode. JCU is well placed geographically to embrace this shift as it serves learners not only residing regionally but also those from rural and remote communities.
As the effective use of ICT and technology in course delivery has become more widespread, some researchers have pointed to its impacts on students achievement and engagement in the learning process [1, 7]. More recently, McCoog[1], Henry et al.[8], and the Bill and Melinda Gates Foundation[9] highlighted the importance of thoughtful and purposeful use of technology to facilitate students' achievements. They stated that it should help exploration of other learning avenues in the process of differentiating instruction with clear educational goals. It should also engage students in creative information gap activities and real experiential learning. To address the obstacles to US educational innovations and tap the potential of technology, for instance, the Bill and Melinda Gates Foundation (2010) argued that utilizing technology intelligently can dramatically improve American students' readiness and completion. Furthermore, the emergence of the Net-generation students, born between 1977 to 1997, has placed additional pressure on universities and their staff to include a prominent role for technology in their teaching and learning. The Net-generations are "demanding a change in the classroom because of their ability to gather information faster than any other generation"[10].
Investigating students' perceptions of online learning environments, Terrell[11] found that considering the computer and network facilities handy to Net generations, it is not surprising that they expect technology to support their learning by accommodating the changing nature of literacy. The internet provides them with the chance to get in touch with friends, take part in online talks, and share videos and clips with buddies all around the world. In short, it allows interaction with people and material to a great extent. Logan (2012) asserts that incorporating computer-based instruction enables students to learn more effectively than previously while also enhancing self-efficacy, learner satisfaction and instructional attitudes. Indeed, the use of online learning technologies has become a part of everyday experience of university students [12].
[...]
Details
Pages

8

Year

2014

ISBN (eBook)

9783668128903

ISBN (Book)

9783668128910

File size

940 KB

Language

English

Catalog Number

v313802

Institution / College

James Cook University

Grade