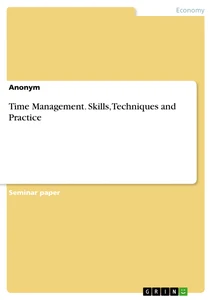 Time Management. Skills, Techniques and Practice
Term Paper 2011 17 Pages
Excerpt
Index of Contents
List of Figures
1 Introduction
1.1 My Current Situation
1.2 What is Time Management?
1.3 Aims of Time Management
2 Time Management Skills and Techniques
2.1 Work-Life Balance
2.2 Setting Goals, Having a Vision
2.3 The Eisenhower Principle
2.4 Pareto Principle
2.5 Planning a Day / Your Life
2.6 Planning a Week
2.7 Planning a Month and a Year
3 Time Management in Practice
3.1 My Experience with Time Management
3.2 Critical Acclaim
4 Conclusion
Bibliography
Attachment
1 Introduction
Although a day has 24 hours, it seems impossible for many people to perform the number of tasks they are expected to each day. A lot of people in our society are over-worked. They suffer from stress and hectic in ther daily life and the burn out syndrome has become a common condition. According to an article of the focus medicines bargain that 20% – 30% of all working people suffer from burn out syndrome at least once a lifetime.[1] Another statistic shows that in the year 2010 24.05 million out of 64.82 million people felt they did not have enough time.[2]
1.1 My Current Situation
I am currently employed in a large dental office. At work, I have several different tasks. My responsibilities include: a) compiling monthly statistics with regard to the dentists´ income, b) planning the schedule for the dentists´ Saturdays, and c) doing the stocktaking. Additionally, I must order office supplies, keep updated data of the employees, and I am responsible for innovations and their implementation at the office. At least once a week I work at the reception desk. If need be, due to employe illnesses or vacation, I work there up to three times a week. I like the variety a lot. However, sometimes I have so many different tasks that I do not know where to start. I easily lose the overview and start to get stressed. Besides work, I need to write four term papers for university in this semester, in only four months. That does not only require a lot of discipline, but excellent time management skills as well. To manage my current situation, as well as my future life, I have decided to write about the topic of time management.
1.2 What is Time Management?
Facts about time: time is a scarce resource, time goes by at the same speed, every day has 24 hours, and one cannot buy nor store time. However, a person may feel the duration of a day differently, depending on what he or she is doing. One cannot manage time but one´s daily activities. Everybody can decide him- or herself whether to use the time efficiently or to waste it. That is why one can also consider time management as self management.[3]
Time management means to decide actively what tasks should be completed and how much time that may take. Therefore, successful time management offers tools and skills that help a person to be effective and to increase efficiency.
1.3 Aims of Time Management
People who plan their time carefully have various advantages. They save time and have a better overview of their day so that they do not forget important tasks. Also, they can reach their aims faster, they have less stress, and live more balanced lives. When a person manages their time, their day is not planned by its activities, but he or she can win time for the essentials.[4] The question discussed in this term paper is how a person can use time management techniques and develop time management skills with the view to achieving these aims and having an individual benefit.
2 Time Management Skills and Techniques
This part illustrates the context between the working and the private life and informs how a person can recognize the individual worth of time for oneself. Another important aspect discussed in part two is the topic of goal setting and its influence to an efficient time management. Furthermore, this part explains the theory of some techniques used with time management and how a person can integrate them into one´s daily life.
2.1 Work-Life Balance
Everybody wants to be successful in the job, having a happy family life, a lot of friends and a perfectly fit body. To create a satisfing mixture of these values is often not easy, e.g. one needs to write many term papers that the private life automatically falls into the backround.[5]
To live a fulfilled instead of an overcrowded life, one needs to have talent for organization and time management. According to Seiwert, one needs to balance the following four sectors: family and social contacts, career and achievement, good health, and senses and values. Figure 1 gives an overview of the four sectors.
Figure 1: Work-life balance
illustration not visible in this excerpt
Source: referring to Seiwert, L. (2009), p. 29.
When these sectors are imbalanced, a person's life may tip too far in one direction, causing the person to falter. This does not mean that one has to have four equally well represented parts with 25% dedicated to each sector but that people must decide themselves the importance of the four sectors and how much time they want to spend on each. During some periods of life, it is necessary to focus on a particular sector, e.g. when I start a new job I have to shift my priorities to the achievement sector. Each period of life has different priorities, so one must be able to adjust when necessary.[6]
2.2 Setting Goals, Having a Vision
"The number one reason most people don't get what they want is that they don't know what they want." (T. Harv Eker quote from Secrets of the Millionaire Mind)[7] If a person wants to be successful, it is necessary to know wherein he or she wants to be successful and how to reach set goals.
The first step to manage one´s time effectively is to identify how you spend your time at present and how you would like to spend your time better. Therefore, it is useful to write down how time is used so that it becomes easier to decide which activities are more important than other ones.[8] Activities of high importance can be used to define goals. Another approach is to take the Work-Life Balance figure and to note the most important goals for every sector. Based on the two most important goals of every sector of the work-life balance model, one can create a vision of life as for instance getting married or to build a house for the sector social contacts/ family. This vision of life includes the values a person has, as well as, the wishes and goals for one's future life. Therefore, it is helpful to think about the future imagining what life will be like at the age of 80, what will have been achieved and experienced by then. The vision of life should be written down very concretely.[9] Regarding goal setting, the following requirements have to be considered:
- The goals should be specific, meaning that they are described concretely and include the intermediate steps necessary to reach each goal.[10]
[...]
---
[1] http://www.focus.de/gesundheit/ratgeber/psychologie/tid-11886/burn-out-das-ich-in-de r krise_aid_334305.html, Status 30 April 2011.
[2] Cp. http://de.statista.com/statistik/daten/studie/171247/umfrage/gefuehl-von-zeitnot/, Status 30 April 2011.
[3] Cp. http://www.lechlernet.de/zeitmanagement.htm, Status 2 May 2011.
[4] Cp. Seiwert, L. (2009), p. 96.
[5] Cp. Seiwert, L. (2009), p. 25 ff.
[6] Cp. Seiwert, L. (2009), p. 25 ff.
[7] http://onherway.tumblr.com/post/290863140/the-number-one-reason-most-people-dont-get- what, Status 23 April 2011.
[8] Cp. Felton, S., Sims, S. (2009), p.49.
[9] Cp. Seiwert, L. (2006), p. 62ff.
[10] Cp. Seiwert, L. (2006), p. 75.
Details
Pages

17

Year

2011

ISBN (eBook)

9783668114432

ISBN (Book)

9783668114449

File size

823 KB

Language

English

Catalog Number

v312494

Institution / College

University of Applied Sciences Essen

Grade

1,0

Tags