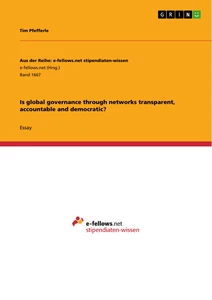 Is global governance through networks transparent, accountable and democratic?
Essay 2015 10 Pages
Excerpt
Contents
Introduction
Networked Governance
Transparency
Accountability
Democracy
Conclusion
References
Is global governance through networks transparent, accountable and democratic?
Introduction
When we talk about networks within the framework of global politics, the concept usually enjoys a positive connotation. Networks are traditionally seen in the Habermasian sense as vehicles for the exchange of ideas, for cross-border deliberation and for optimized policy-making. Therefore, authors such as Slaughter (2004) have lauded networks as one of the defining constitutive features of global governance in the 21st century. However, while perhaps empirically true, this essay will argue that it is normatively problematic. The governance-through-networks paradigm is ultimately exclusionary, operating within opaque and unaccountable structures. Moreover, if facilitating democratic processes at the global level is one of the central normative features of global governance, networks fail in contributing to this goal, given their inherently elitist nature and club-like characteristics.
Networked Governance
As a novel analytical concept, the network paradigm is extremely valuable. This is so because it is able to take into account the vastly different political landscape we find at the global level. Global political processes are no longer exclusively characterized by the activities of nation states. As Scholte (2007) has argued, globalization has led to a substantial re-ordering of relationships and spatiality around the globe. Globalization is not only to be analyzed in quantitative terms from the perspective of trade volumes or economic interdependence. Rather, the sense of interconnectivity as a constitutive element of globalization is a crucial feature which is reflected by the network concept at the global political level. Of course, cross-border political exchange is not necessarily a radically new process. Imperialism can be said to have also spread both politics and policy across borders. Narizny (2012) has suggested that fundamental political concepts such as democracy and rule of law were disseminated by the United Kingdom through political exchange with its imperial colonies However, the network idea is qualitatively different. While imperialism was a necessarily coercive project, networked governance is based on a notion of free exchange, rather like a market place. Faced with problems very much induced by globalization, policy-makers form networks to optimize their responses. As emphasized by Slaughter, "networked threats require a networked response" (2004: 2). The network concept can therefore account for the political shifts taking place as a result of the interconnectivity generated by a globalizing world. Within Rosenau's definition of governance as "steering mechanisms […] located on a nascent-to-institutionalized continuum" (1995: 29), networks can be situated somewhere in the middle. Slaughter defines networks as "a pattern of regular and purposive relations among like government units working across the borders that divide countries from one another and that demarcate the 'domestic' from the 'international' sphere" (2004: 14).
While analytically useful as a concept to understand contemporary global governance structures, the network paradigm appears to be normatively problematic. The following sections will highlight how, in terms of transparency, accountability, and most importantly democracy, networked governance fails to live up to its promises.
Transparency
In today's world, information is ubiquitous. The existence of the internet has allowed more people to have greater access to virtually anything than ever before in the history of humanity. In this sense, globalization can be seen as an empowering process, at least in terms of economic development (Hanna, 1993). However, information is not necessarily tantamount to transparency. Information also brings with it confusion and mental overload. Those who are participating in networked governance can exploit this sheer amount of information in their favor. If access to and capacity to process information were equal, this imbalance would not constitute as significant a problem. Yet, even in the globalized information age, that is not the case (Yu, 2011). The best example is networked governance structures involved in the war on terror. National security organs have been able to exploit their capacity to gather, analyze and manipulate information. The vast majority of that information is exclusive to these networks. From the standpoint of transparency, this is all the more problematic once policy is derived from this information, and in particular policy of a non-domestic nature. Thus, networks can influence policy-making in the security realm, but also in other fields, often in foreign jurisdictions, by drawing on their access to exclusive information. When pressed to reveal information, members of these networks are in a position to refer to the legitimacy conferred by membership to minimize transparency. Thus, members of security organs such as the National Security Agency or the British Government Communications Headquarters refer to one another in order to justify secrecy.
Security is the obvious issue area where the lack of transparency within networked governance is apparent. However, trade policy is another poignant example. The negotiations over the Transatlantic Trade and Investment Partnership (TTIP) between the United States and the European Union have been criticized for lacking transparency and being elite-driven (Giegold, 2015). The network consists of US trade negotiators and EU Commission officials. Lack of transparency on the EU side is a particular problem, given that the Commission is very much an unelected body.
The inherent lack of democratic structures within networked policy-making will be discussed below. Yet, in terms of transparency, the problematic nature of these networks are equally clear. As a club, the network necessarily needs to shut itself off from the wider public in order to affirm its legitimacy, both within the network and vis-à-vis external actors. Exclusivity is what confers it with power. It is only those within the network who have the capacity to understand the particular policies to be implemented.
Accountability
Within the modern nation state, accountability is often fragmented and indirect in nature. However, at least within contemporary democracies, there are structures in place to hold political decision-makers to account. Most significantly, there are elections at the national level, allowing the electorate to exercise some degree of power over elected officials. By contrast, networked governance largely takes place outside the realm of electoral politics. On the one hand, this is quite sensible. Often, the decision-making processes within the networks are complex and require members of the network to be flexible in terms of not having to worry about being recalled for political reasons. Moreover, Davis Cross (2015) has argued that members of epistemic communities need a sufficient mandate in order to be able to work effectively. In normative terms, Lake points out that "discipline, the enforcement of rules, is an inherent part of authority and may improve the welfare of the community as a whole by sustaining political order" (2010: 588).
However, when these disciplining actions take place outside the realm of democratic politics, accountability is diminished. Even though policy-making within the paradigm of the network is situated within a global governance framework, the nature of that governance is markedly different from how governance is understood in democratic terms. The space for meaningful engagement is limited. In part, this relates back to the lack of transparency discussed above. Without transparency, it is difficult to ascertain who to hold accountable in the first place. It requires a greater amount of effort to put in place the type of public scrutiny that conventional national policy-making is subject to. This could be one explanation for why non-governmental groups have attained such an important role as watchdogs of transnational political processes, acting as mediators between governance networks and the larger public. However, these groups in turn are challenged to demonstrate accountability frameworks themselves (Najam, 1996).
Institutionally, there is also little opportunity for recourse. Invariably, power asymmetries will play a role in the outcomes of policies derived from governance networks. To some extent, that is simply the nature of fragmented global governance. However, rather than promoting open institutionalized channels, networks exacerbate power imbalances. According to Held, "those who are 'choice-determining' for some people [should be] fully accountable for their actions" (2002: 26). Networks cannot meet this condition.
[...]
Details
Pages

10

Year

2015

ISBN (eBook)

9783668114258

ISBN (Book)

9783668114265

File size

662 KB

Language

English

Catalog Number

v312460

Institution / College

Oxford University – Department of International Development

Grade

70