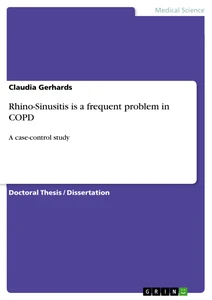 Rhino-Sinusitis is a frequent problem in COPD
A case-control study
Doctoral Thesis / Dissertation 2015 80 Pages
Excerpt
Table of Content
Summary
Background
Outline of the Chronic Obstructive Pulmonary
Disease (COPD)
Definition
Burden of COPD
Influencing Factors on Disease Development and Progression
Vicious Circle Hypothesis in the Pathogenesis and Pathophysiology of COPD
Diagnosis and Classification
COPD GOLD Staging
Combined COPD Risk Assessment
Research Questions of the Present Dissertation
Outline of Chronic Rhino-Sinusitis (CRS)
Definition
Burden of CRS
Epidemiology of CRS
Epidemiology of CRS in COPD Patients
The Role of Allergy in Rhino-Sinusitis
Diagnosis and Classification
Assessment of Severity of CRS
Examination Tools for CRS Assessment
Validation of subjective Symptom Assessment
Background of the "United Airway Disease"
Differences and similarities between Nasal and Bronchial Mucosa
Background of the Impact of cigarette smoking on upper airway involvement
Background regarding the Influence of upper airway involvement on COPD severity
Materials and Methods
Subjects
Ethical Consideration, Data Protection, and Patient Information
Study design
Data Analysis
Examination Tools
Clinical Interview
Spirometry
SNOT-20-GAV
Visual Analogue Scales (VAS)
Rhino-conjunctivitis Quality of Life Questionnaire (RQLQ)
Exhaled bronchial and nasal nitric oxide
Skin Prick Test
CT Scan
Power analysis
Statistical analysis
Results
Study Flow Charts
Demographical Characteristics and Clinical Features of the Patients
Patients' reports of upper airway symptoms were more frequent in the COPD cohort but they were not associated with a poorer quality of life
SNOT-20-GAV
Rhino-conjunctivitis Quality of Life Questionnaire (RQLQ)
Visual Analogue Scales (VAS)
Pathological radiographic findings were more frequent in the COPD cohort while there was no difference in Nitric Oxide markers
Newman Staging System
Lund-MacKay Staging System
Correlation between Subjective and Objective Parameters of upper airway involvement
Impact of cigarette smoking on upper airway involvement
Influence of upper airway involvement on COPD severity
Discussion
Subjective reports of the upper airway symptoms were more frequent in the COPD cohort but they were not associated with a worse quality of life
Radiographic pathologic findings were more frequent in the COPD cohort
Correlation between Subjective and Objective Parameters for upper airway involvement
Impact of cigarette smoking on upper airway involvement and Quality of Life
Limitations
Conclusion
Listof Figures
List of Tables
Attachment
Schriftliche Erklärung
Summary
Background: The prevalence and nature of upper respiratory changes in patients with COPD and its impact on COPD outcomes are unclear.
Methods: Patients with stable COPD GOLD stages 1-4 and a control group without COPD matched in gender and age were recruited at the University Hospital Basel. The difference in the Sino-Nasal-Outcome-20 questionnaire (SNOT-20) score (primary endpoint) was compared between the COPD cohort and the control group. Secondary outcomes were sub-scores SNOT-Primary Nasal Symptoms (SNOT-PNS), SNOT-Secondary Nasal Symptoms (SNOT-SNS) and SNOT-Quality of Life (SNOT-QOL). Abnormal findings were defined as a value of >12 points and absolute values were compared. Furthermore the Rhino-conjunctivitis Quality of Life questionnaire (RQLQ) and three visual analogue scales (VAS) estimating the amount of nasal secretions, bilateral per­ception of nasal congestion and nasal itching, were applied. As objective clinical surrogate markers for nasal inflammation, computer tomography (CT) scans of the para-nasal sinuses were performed and assessed with the Newman and the Lund-Mackay scoring system. Furthermore nasal and bronchial nitric oxide (NO) measurements were performed.
Results: Data from 83 COPD patients (35 females, mean age: 67 years ± 10) and 34 controls (18 females, mean age: 67 years ± 12) were analysed. Forty-eight COPD patients (59%) and 14 controls (41%) had an abnormal SNOT-20 score (p=0.088) with a median SNOT-20 score of 16.0 (ICR 21) in the COPD cohort compared to a median score of 8.0 (ICR 13) in the control group (p<0.01).
An abnormal SNOT-PNS score was found in 49 COPD patients (59%) and in 9 controls (26%) (p<0.01) with a median SNOT-PNS score of 16.0 (ICR 26) in COPD patients and of 4.0 (ICR 14) in the control group (p<0.01). In the COPD group cough was the most frequent sino-nasal symptom in the SNOT-20 question­naire followed by constant desire to clear one's throat, and nasal obstruction. Urge to sneeze was the most frequent sino-nasal symptom of the control group, followed by cough and runny nose.
The other subjective symptom parameters assessed facial symptoms (SNOT-SNS), rhino-conjunctivitis (RQLQ) and nasal symptoms (VAS) and showed significantly higher values in the COPD group compared to the control group (all p<0.01). Forty-eight COPD patients (59%) and 12 control patients (35%) had an abnormal Lund-Mackay score (p=0.02). The COPD group had a significantly higher median CT Lund-Mackay score with 1.0 (ICR 3) than the control group with 0.0 (ICR 1) (p=0.03). Also, forty-eight COPD patients (58%) showed a pathological CT Newman score, whereas 12 controls (35%) had an abnormal CT Newman score (p=0.03). The COPD group had a significantly higher median CT Newman score with 2.0 (ICR 4) than the control group with 0.0 (ICR 1) (p=0.03). Nasal symptom- and CT scores did not correlate with each other. Current smokers yielded sig­nificantly more subjective and objective pathological findings in the SNOT-20, SNOT-PNS, and CT Newman score. Nasal symptoms did not correlate with severity of COPD GOLD stages or rate of exacerbations.
Conclusion: Evidence for a higher prevalence of subjective and radiographic signs of rhino-sinusitis in COPD patients compared to controls without COPD was found. Current smoking was highly associated with findings in SNOT-PNS scores (p<0.01) and abnormal CT Newman scores (p=0.046), but did not show significantly more abnormal SNOT-20 scores (p=0.11).
Background
Outline of the Chronic Obstructive Pulmonary Disease (COPD)
Definition
The Global initiative for chronic Obstructive Lung Disease (GOLD) defines COPD as a "common preventable and treatable disease characterized by persistent airflow limitation that is usually progressive and associated with an enhanced chronic inflammatory response in the airways and the lungs to noxious particles or gases. Exacerbations and comorbidities contribute to the overall severity in individual patients". (1)
Burden of COPD
There is a widespread variation of COPD prevalence due to different study set ups, diagnostic criteria and analytic approaches. A meta-analysis of 62 studies from 28 different countries revealed an estimated prevalence of 7.6%. (2) World­wide, approximately 210 million people suffer from COPD. (3) Fifteen million in the United States adults are suffering from COPD. (2) The COPD prevalence reaches in the United States from 3.2% in adults aged 18-44 years to>11.6% in adults aged >65 years (2), which goes along with a meta-analysis of Halbert et. al. who estimated a prevalence of approximately 9-10% in the age group >40 years. (2), (4) In Switzerland approximately 27% of current smokers suffer from a significant irreversible airway obstruction and 58% report dyspnea. (5), (6) Bridevaux et. al. found a lower prevalence of airway obstruction in 6126 subjects measured in Switzerland of 2.5% in subjects aged 30-39 years to 8.0% in those aged >70 years. (7)
There are several studies showing a prevalence of comorbidities in patients with COPD like cardiovascular disease, musculoskeletal impairment or diabetes mellitus. The World Health Organization (WHO) currently considered COPD as the third age-adjusted leading cause of death worldwide after ischaemic heart disease and stroke. The mortality is increasing because of the expanding epidemic of smoking, reduced mortality from other common causes of death, and aging of the world population. (8)
Influencing Factors on Disease Development and Progression
Continuous exposure to irritants leads to inflammation of the airways and the lungs. The most common risk factor for COPD in industrialized nations is long-term inhalation of cigarette, pipe or cigar smoke, and other types of tobacco use. (1) There is consistent evidence from epidemiologic studies that non-smokers may also develop chronic airflow obstruction and that the prevalence seems to differ in different pop­ulation groups. (4) Therefore it can be concluded that COPD is a multifactorial dis­ease. (1) Figure 1 demonstrates the influencing factors on development of COPD.
illustration not visible in this excerpt
Figure 1 Influencing factors on development of COPD. (9)
Generally, any factor that affects the lung can potentially be a risk factor for the development of COPD later on.
There is evidence for genes, which bear a risk of airflow limitation. Certain genes, such as metalloproteinase 12 (MMP12) which are related to declined lung function suggesting that an underlying susceptibility is triggered by environmental factors. (1) The best-described genetic risk factor is a rare condition called alpha-1 antitrypsin deficiency and leads to early-onset COPD. (1)
Impaired lung growth during gestation and childhood as well as airway infec­tions in childhood are potential risk factors for a later development of a lung disease such as COPD. (1), (10)
Age seems to play a role in the prevalence of COPD since the prevalence in people older than 65 years is higher than in younger individuals, but the cause-and-ef- fect relation remains unclear. (2), (7)
Gender also seems to be an influencing factor. Halbert et. al. found in their meta­analysis that the prevalence of COPD is significantly higher in males than in fe­males. (2) However, there seems to be a trend towards gender equalization and it is even suggested that females are more vulnerable to tobacco smoke than men. Beside tobacco smoke, occupational exposures to organic and inorganic dusts, chemical agents and fumes are underestimated in their risk for causing COPD in susceptible individuals. Wood, animal dung, crop residues, and coal lead to indoor air pollution and increased risk for COPD. (1) The role of urban air pollution is yet unclear, but Halbert et. al. found in their meta-analysis that the prevalence of COPD is significantly higher in people living in urban areas. (2) Furthermore poverty seems to be a risk factor for COPD, but the contributing components are unclear likewise. A factor, which is often connected to the socioeconomic status is the body mass index (BMI). A study based on anthropo­metric measurements and physical activity from 113'279 participants demon­strated that obesity and particularly abdominal adiposity was associated with an increased risk of COPD whereas an increased hip circumference and physical activity were associated with a decreased risk of COPD. (11)
A further important but yet not understood factor for COPD is asthma and bronchial hyperreactivity. Asthmatics have an increased risk of developing a COPD and bronchial hyperreactivity is an independent predictor of COPD. (10) De Marco et. al. examined 4'636 individuals between the age of 20 and 40 years and con­sidered bronchial hyperresponsiveness as the second most important risk factor for COPD after cigarette smoking. (10), (12)
The emphasis of the referred risk factors could also depend on the spirometric definition of the disease used. Therefore several authors suggested that COPD should not only be a spirometric definition. A better understanding and char­acterization of the disease needs greater complexity of diagnostic criteria. (10), (13)
illustration not visible in this excerpt
Figure 2. Long-term exposure to tobacco smoke is the most common risk factor for COPD. (14)
Vicious Circle Hypothesis in the Patho­genesis and Pathophysiology of COPD
A variety of factors contribute to lung inflammation. It is hypothesized that those factors are triggers and COPD develops in the manner of a vicious circle. Figure 3 demonstrates the assumed cause-and-effect relationships.
illustration not visible in this excerpt
Figure 3 Schema of the vicious circle hypothesis of the role of bacterial colonization in the progression of COPD. (15)
Long-term exposure to triggers can lead to enhanced mucus secretion, disruption of normal ciliary activity, and airway epithelial injury. This results in impaired mucociliary clearance, which allows bacteria to colonize the lower airways. (15) The bacterial products are in a constant turnover with the airway epithelium and lead to further airway epithelial injury and an inflammatory response. The processes following this inflammation as a consequence lead to the development and progression of COPD.
Those inflammatory pathways are shown in figure 4, dependent on the size of the airways. Figure 5 illustrates that smaller airways react with obstruction to inflammation due to bacterial products while larger airways tend to react with chronic bronchitis.
illustration not visible in this excerpt
Figure 4 Potential pathways by which infection-induced lung damage could contribute to the pathology of COPD. (15)
To summarize the mentioned effects on a pathophysiological level, the processes lead to airflow limitation, air trapping, gas exchange abnormalities, and mucus hypersecretion. (1) In an advanced disease stage pulmonary hypertension can be also found.
Systemic extra-pulmonary effects characterize disease progression and compli­cations such as muscle wasting, cardiovascular disease, depression, cachexia, osteopenia, chronic infections, and pulmonary hypertension. (1), (16)
Diagnosis and Classification
The characteristic symptoms of COPD are dyspnea, chronic cough and increased sputum production and should result in further examination. (1)
The assessment of the medical history such as risk factors and family history and a physical examination is relevant to diagnose COPD.
illustration not visible in this excerpt
Figure 5 Pathophysiological effects of COPD on the lungs. (17)
COPD GOLD Staging
COPD is primarily assessed and classified by spirometry. The gold standard of COPD severity staging is based on the post-bronchodilator value of the forced expiratory volume in the first second (FEV1) in percent predicted and the ratio between FEV1 and the forced vital capacity (FVC), which is abbreviated as FEV1/FVC. To diagnose COPD, the ratio FEV1/FVC has to be at least <0.7. The resulting values of a spirometry are assessed according to the GOLD guidelines and grouped into four COPD stages. Table 1 shows the staging ac­cording spirometric parameters and the corresponding clinical symptoms.
Table 1. COPD Staging according to GOLD Guidelines (1)
illustration not visible in this excerpt
COPD, chronic obstructive pulmonary disease; GOLD, Global Initiative for chronic Obstructive Lung Disease
Combined COPD Risk Assessment
Besides the COPD GOLD staging, a more comprehensive assessment has been developed. It combines the assessment of the patients' symptoms with the patients' spirometric classification and the risk of exacerbations.
Patients are classified in four different risk groups with letters ranging from A to D. The classification is illustrated as a grid in figure 6 and the classification procedure is shown in figure 7.
After recognizing and diagnosing COPD in a patient, they are grouped in a low risk or a high-risk group according to their COPD GOLD stage and their exacerbation rate in the preceding year. (1), (18) In a next step, the symptoms are questioned with either the COPD Assessment Test (CAT) (see figure 8) or the modified Medical Research Council Dyspnea Scale (mMRC) (see figure 9). A CAT score less than ten and a mMRC score less than two is considered as less symptomatic, a CAT score more than 10 and a mMRC score more than two is considered as more symptomatic. Therefore patients are further split into risk group A with less symptoms, few exacerbations and a low COPD GOLD stage, risk group В with more symptoms, few exacerbations and a low COPD GOLD stage, risk group C with less symptoms, but more exacerbations and a higher COPD GOLD stage, and risk group D with more symptoms, more exacerbations and a higher COPD GOLD stage. This risk stratification is particularly applied for therapy planning.
illustration not visible in this excerpt
Figure 6. Combined COPD Assessment (1), (18)
illustration not visible in this excerpt
Figure 7. Step-wise combined COPD Assessment. (1), (18)
illustration not visible in this excerpt
Figure 8. COPD Assessment Test (CAT) (18), (19)
illustration not visible in this excerpt
Figure 9. modified Medical Research Council Dyspnea Scale (mMRC) (18), (20)
Research Questions of the Present Dissertation
The aim of the present work was firstly to investigate individuals with COPD in comparison to individuals without COPD regarding subjective and objective upper respiratory symptoms, secondly to assess the correlation of subjective and objective findings and thirdly to evaluate their impact on COPD outcomes such as COPD GOLD stages, exacerbation rate and quality of life.
We hypothesize a correlation between symptoms and sino-nasal radiologic find­ings independent of the scoring system used and that subjective and objective si­no-nasal pathologies are more common in COPD patients than in lung-healthy individuals.
The present work is embedded in the clinical study of Prof. Dr. med. J. Leuppi with the title "Upper respiratory symptoms and chronic rhino-sinusitis and its impact on various disease specific outcomes in patients with COPD". The aim of this study was to investigate individuals with COPD in a tertiary clinic in Switzerland regarding upper respiratory symptoms, objective findings of nasal pathology, body activity and energy consumption and their impact on the quality of life (QoL). In a second step, control group with lung-healthy individual was applied.
Outline of Chronic Rhino-Sinusitis (CRS)
Definition
Rhino-sinusitis in adults is defined as an inflammation of the nose and the para-nasal sinuses characterised by two or more clinical symptoms and either endoscopic signs and/or CT changes for more than twelve weeks. (21) The diagnostic criteria are specified in Table 2 and illustrated in Figure 10.
Table 2. Diagnostic Criteria of Chronic Rhino-Sinusitis (CRS) (21)
illustration not visible in this excerpt
CRS, chronic rhino-sinusitis; CT, computed tomography
For research purposes the definition is based on symptomatology with validation by telephone or interview. An ear-nose-throat (ENT) examinations or radiologic assessment is hereby optional. (21)
illustration not visible in this excerpt
Figure 10. Endoscopic images with corresponding CT image of nasal polyps. (22)
Burden of CRS
Epidemiology of CRS
The prevalence of chronic rhino-sinusitis in the general population is high and is estimated to be 5-15% in both Europe and the United States (21)
Epidemiology of CRS in COPD Patients
There is conflicting data about the prevalence of nasal symptoms in patients with COPD. Roberts et al. (23) and Hurst et al. (24) reported a high prevalence of 75% (23) and 88% (24) respectively in patients with COPD, independent of the smoking status. Others, such as Montnemery et al., reported nasal symptoms only in 40% of patients with COPD (25). Van Manen et al. pointed out a higher prevalence of self-reported diagnosis of sinusitis in patients with airflow obstruction compared to patients without airflow obstruction (12% vs. 2.5%), not differen­tiating between COPD and asthma (26). However, Sichtelidis et al. did not find a significant difference in prevalence of rhinitis in patients with COPD (27.5%) and without COPD (24.5%) (27). Piotrowska et al. provided evidence that upper airways disease in COPD was more related to smoking status than to COPD severity. (28)
The Role of Allergy in Rhino-Sinusitis
Chronic rhino-sinusitis is strongly associated with asthma (16) and its treatment may lead to both subjective and objective improvement of asthma. (17) Rhinitis has been found in atopic and non-atopic asthma to a similar extent. (18) Pant et. Al. summarized in their review article, that there is currently no direct evidence for allergy as a major cause of sino-nasal inflammation in CRS. (29) There is increasing evidence that non-IgE-mediated fungal hypersensitivity and non-allergic IgE-associated inflammation may contribute to the pathogenesis in some forms of CRS, including allergic fungal sinusitis. Specific IgE to bacterial superantigens may also be elevated in nasal polyps and modulate eosinophilic inflammation.
[...]
Details
Pages

80

Year

2015

ISBN (eBook)

9783668100541

ISBN (Book)

9783668100558

File size

3.5 MB

Language

English

Catalog Number

v310996

Institution / College

University of Basel

Grade

passed

Tags