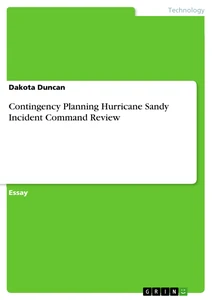 Contingency Planning Hurricane Sandy Incident Command Review
Essay 2014 7 Pages
Excerpt
Hurricane Sandy was without a doubt a storm that has proven the strength, dedication, and effectiveness of the emergency response operation system. Emergency responders, emergency managers, public service agencies, power and light agencies, and the US National Guard all executed their response capabilities swiftly and with great accuracy. As with most large scale disaster or state-of-emergency operations there tends to be a great amount of chaos and confusion within our response capabilities, however Hurricane Sandy was well prepared for. Hurricane Sandy is by far one of the largest and most powerful hurricanes to have ever hit land. According to CNN timeline library "the total death toll total of nearly for 117 deaths in the U.S. and 69 more in Canada and the Caribbean". With this massive Hurricane moving towards the US preparations and monitoring of this storm became paramount to all levels of government and the public.
On 'Monday, October 22 NOAA National Weather Service issued public advisories throughout the day to inform that Tropical Depression 18 had officially become Tropical Storm Sandy with maximum sustained winds of near 40 miles per hour" (FEMA, 2012). With the warnings released to the pubic of the expected effected areas the preparations and utilization of resources are underway. FEMA had acted accordingly with warning the President of the United States, mobilizing emergency operation commands, mobilizing liaison officers to the areas expecting the Hurricane, and sending viable resources to staging areas. Medical teams, power and light teams, rescue operation teams, the National Guard and the Coast Guard were all on stand-by and awaiting the signal to move in. Unlike Hurricane Katrina, Sandy's response efforts were fast, well prepared, and well equipped.
Warnings from NOAA and the National Weather service remained in effect for areas expected to be hit by the Hurricane. With social media and new technologies being used daily the "New Yorkers were encouraged to download the free Red Cross Hurricane App for mobile devices to have real time hurricane safety information at their fingertips. The app can be used to receive weather alerts and get information on Red Cross shelters. The app also features a toolkit with a flashlight, strobe light and alarm, and the one-touch "I'm Safe" button lets individuals use social media outlets to tell family and friends they are well" (FEMA, 2012). This usage of social media was one of the first times that social media has been used and proven effective by the public service agencies in warning and locating information to residents. "Along with social media usage there were an average of 10 Hurricane Sandy related photos uploaded per second to Instagram" (Webley, 2012). "Another 20,000,000 tweets were sent about Hurricane Sandy between Oct. 27 and Nov. 1." (Webley, 2012).
To expand the monitoring capabilities on "Friday, October 26 FEMA National Watch Center in Washington, D.C. elevated to an enhanced watch to proactively support any potential needs or requests from potentially-affected states" (FEMA, 2012). "October, 26 President Obama was briefed by FEMA Administrator Craig Fugate, National Hurricane Center Director Dr. Rick Knabb, and Homeland Security Advisor John Brennan on updates to Hurricane Sandy and federal actions to prepare for the storm as it continued to move toward the United States mainland. The President directed Administrator Fugate to ensure that all available federal resources were being brought to bear to support state and local responders in potentially affected areas along the eastern seaboard as they prepared for the severe weather" (FEMA, 2012).
Along with FEMA the "U.S. Department of Defense Northern Command deployed Regional Defense Coordinating Officers, and portions of the Defense Coordinating Element, in advance of the storm, to validate, plan and coordinate support of FEMA's response operations and to facilitate DOD support of life-saving and response operations" (FEMA, 2012).
With advanced warnings given, ample amounts of time to prepare and evacuated. Some residents did just that and were successfully able to survive the Hurricane due to their prompt evacuation of their homes. Others attempted to ride out the storm, although most were successful, some did not survive the Hurricanes deadly force. As with any mass evacuation the highways, back roads, airlines, trains, etc. were all delayed and crowded.
In "Washington, D.C. on October, 27 FEMA's National Response Coordination Center is activated in preparation for Hurricane Sandy's landfall" (FEMA, 2012). Throughout the Hurricane agencies such as the Center for Disease Control, U.S. Health and Human Services, U.S. Agriculture Department, Food and Drug Administration, and the American Red Cross all released information, tips, safety advice, and official warnings to prepare area impacted residents who choose not to evacuate their homes. "The American Red Cross chapters mobilized hundreds of disaster workers, readied shelters and continued to coordinate response efforts with community partners. Red Cross workers also finalized preparations of relief supplies such as; cots, blankets, ready to eat meals and snacks and were moved into place to support sheltering efforts" (FEMA, 2012).
With Hurricane Sandy being the second most costly storm in U.S. history what is the damage? The amount of lives lost due to the storm far outweigh any amount of monetary loss. CNN released "the total death toll total of nearly for 117 deaths in the U.S. and 69 more in Canada and the Caribbean" (CNN, 2012). Financially speaking "Sandy will end up causing about $20 billion in property damage and $10 billion to $30 billion more in lost business, making it one of the costliest natural disasters on record in the United States, according to IHS Global Insight, a forecasting firm. The New York City mayor's office in late November estimated total losses to the city to be $19 billion and asked the federal government for $9.8 billion in aid for costs not covered by insurance or FEMA (Sharp, 2012). The theater mecca had cancelled 49 Broadway performances costing over $8 million in ticket sales alone" (Webley, 2012).
[...]