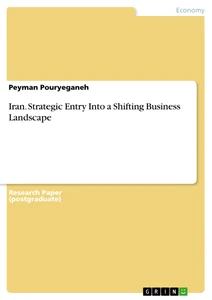 Iran. Strategic Entry Into a Shifting Business Landscape
Research Paper (postgraduate) 2015 9 Pages
Excerpt
Introduction
Iran has the potential of becoming one of the hottest investment destinations in the next 20 years. This will greatly depend on whether the anticipated lifting of sanctions in 2016 leads to a political process that strengthens ties between Iran and the west. Nevertheless, for the next 5 to 10 years, the country's complex and outdated business environment will remain a major challenge for foreign investors to establish and sustain business operations in Iran.
In this report, our objective is to draw a simplified image of Iran's true business environment, competition landscape, and economic potentials. We will look at the country's current market conditions and entry barriers, and explain how foreign investors can increase their chance of establishing successful businesses in the country by developing a comprehensive strategic plan.
Iran's Business Environment and Economy at a Glance
Iran is a culturally diverse country. Six major ethnic groups, each with its own specific entrepreneurial culture, makes the country's natural business landscape colorful but somewhat complex.
Most economists are not comfortable dealing with culture and its impact on the economic progress of a nation simply because "it is difficult to quantify and operates in a highly complex context with psychological, institutional, political, geographic, and other factors". This is why the exact impact of Iran's cultural diversity on the country's economic development has not been carefully studied to date. Nevertheless, anyone familiar with the country would note that such cultural diversity has led to the nation being capitalistic in nature, continuously striving for a free-market entrepreneurial system.
The complexity of Iran's business environment has also been intensified by country's limited business relationship with the western economies over the course of the past 36 years (Figure-
1). This has resulted in a peculiar business ecosystem not quite familiar to western investors.
illustration not visible in this excerpt
Figure 1- Iran's Foreign Direct Investment as a percentage of nominal GDP (Source: The World Bank and Trading Economics)
With a GDP of $493.8 billion, which can be at least doubled in a short period of time, Iran is ranked the 28th largest economy in the world (Lynn, 2014). The size of Iran's economy is larger than that of Malaysia and relatively similar to Austria, Norway, Belgium, Sweden, and Argentina (Figure-2).
illustration not visible in this excerpt
Figure 2-Iran's GDP in comparison with other countries (Source: The World Bank)
Iran is endowed with a large area and an industrial economy; it enjoys low debts, a healthy demographics, 13.1 percent of proven oil reserves (OPEC, 2015), 15.57 percent of proven natural gas reserves (CIA, 2015); it is home to the second biggest stock exchange in the Middle East, and a considerable number of highly educated people eager to participate in the economy. As such, the country is ready to catch up with the rest of the developing world.
With an open economy, Iran is without a doubt an emerging market that cannot be ignored by foreign investors. According to estimates, an economically open Iran could generate $600 billion to $800 billion of new investment opportunities only in the next ten years (Fitch, 2014).
illustration not visible in this excerpt
Figure 3- Iran as an Investment Opportunity (Source: The Economist, 2015)
Nevertheless, despite its phenomenal investment attractiveness, entry into the Iranian market will remain a major challenge for foreign investors until a complete and efficient free-market entrepreneurial system is in place.
Future Economic Growth
Iran's economy has emerged from a recession in 2014 and is expected to continue its recovery over the next 5 years. The signature of the interim nuclear deal in November 2013 has been the main trigger for Iran's economic recovery.
Although recovery is expected to weaken during most of 2015/2016, given lower oil prices, an austerity budget, and sanctions that will remain in place for the most of the fiscal year, Iran's recovery is expected to regain its pace once the US and EU sanctions are lifted in 2016. In fact, the country has set a target of 8 percent annual growth for the next five years, up from its current 2.5 percent (The Economist, 2015).
The deal will allow Iran to increase its crude oil production; nevertheless, the size of the production increase will greatly depend on the scale of the foreign investment in Iran's hydrocarbon's sector, which has been suffering from years of underinvestment. In the next five years Iran needs an estimated $230 billion - $260 billion of investment in oil and gas projects (The Economist, 2015).
With a comprehensive nuclear deal, Iran could return to real GDP growth rates of around 5 percent. Yet, Iran's growth will remain below its full potential given the challenges of its business environment. With a real political and economical reform, Iran's economy could unleash its full growth potential and surpass the economists' forecast.
Current Entry Barriers and Market Conditions
UN, US, and EU sanctions on Iran's Banking and Energy Sector
Current sanctions on Iran's banking and energy sectors make it extremely difficult for foreign companies to undertake financial transactions with Iranian entities. Due to unpredictable outcomes of the nuclear deal, it is also very risky for foreign companies to invest in Iran's hydrocarbon sector at the present time (Ministry of the foreign affairs of Denmark, 2014).
Transfer of Funds to and From Iran
Transfer of any amount equal to or above 10,000 Euros to or from Iran is subject to special rules and requires prior notification/authorization to/from treasury authorities (Ministry of the foreign affairs of Denmark, 2014 and HM Treasury, 2012).
Challenges of Operating in Iran's Business Environment
Complicated Tax Laws
The incorrect perception of Iranian authorities is that all foreign companies automatically generate profit when doing business in the country, which drastically increases the tax burden on foreign investors (Frischenschlager, 2015).
Many foreign companies therefore face unpleasant surprises when they are asked to pay huge tax bills before becoming profitable. The expatriate managers of such companies are also often asked to pay substantial monthly personal income tax based on inaccurate earning charts used by the taxation authorities (Frischenschlager, 2015).
Labor Law
When setting up their operations, foreign companies usually need to hire a large number of local employees. Iranian labor laws are among the most employee-friendly, and the dismissal of employed staff can prove to be challenging, as it is only allowed when a serious misconduct can be proven (Frischenschlager, 2015).
Labor disputes often become complex issues that consume significant amount of managers' energy and time and are usually ruled in favor of the employee.
[...]
Details
Pages

9

Year

2015

ISBN (eBook)

9783668076518

File size

898 KB

Language

English

Catalog Number

v309212

Grade

Tags