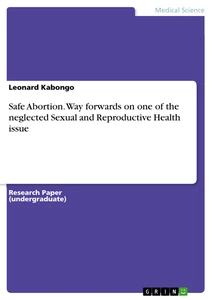 Safe Abortion. Way forwards on one of the neglected Sexual and Reproductive Health issue
Research Paper (undergraduate) 2015 13 Pages
Excerpt
Table of Contents
1. Introduction
2. Why and how unsafe abortion is neglected
3. Rights-based approach to mitigate unsafe abortion
4. Conclusion
References
1. Introduction
The World Health Organization (1992) defines unsafe abortion as a procedure for terminating a pregnancy that is performed by an individual lacking the necessary skills, or in an environment that does not conform to minimal medical standards, or both. Unsafe abortion is common in places where abortion is illegal. Every year almost 44,000 abortions occur globally and nearly half of them are unsafe whereby almost all unsafe abortions (98 percent) are happening in developing Countries. In Countries where abortion remains unsafe, it is a leading cause of maternal mortality. According to the WHO (2010) unsafe abortions contribute to 13% of all maternal mortality globally and are direct cause of maternal mortality in Sub-Saharan Africa. When comparing women with their counterpart men in Sexual and Reproductive Health, there is no such a high cause of mortality in men. This difference shows the existent gender inequality in most developing Countries. In these settings women are denied access to information, education on safe sex, contraception and are not offered an informed consent on their fertility choices. (Leila, H., 2005). Gender based violence is one of the contributing factor to this inequality that women suffer and this affect their potential development and enjoyment of their right to health including their right to Sexual and Reproductive Health. These universal rights legitimate women to choose whether to conceive or when to form a family. This should have not been difficult to achieve in a World with so much technologies of modern effective contraceptive methods. And the issue of unsafe abortion and its complications could be averted. Conversely this is not the case in the context where legal structures should determine the fate of those who should make decisions for their own lives. The legalization or non-legalization of termination of pregnancy has been a battle ground for Centuries in many Countries across the Globe with different variations in the trends of abortion legal frameworks. In this essay, I will discuss why unsafe abortion is perceived as neglected globally and evaluate the extent to which human rights-based approach can be useful to mitigate this public health problem and conclude with my personal view on this issue.
2. Why and how unsafe abortion is neglected
Unsafe abortions are carried in unsafe conditions where the life of the woman undergoing the procedure is endangered. The magnitude of the issue is not well comprehended due to unreported abortion practices. Global reports estimates are aggregations of Countries reports, research papers and community surveys that are critically analyzed by International Agencies. This limitation shows the level of stigma, sensitivity and socio-cultural aspects attached to the subject. Globally it's estimated that 35 million abortions occur in less developed Countries compare to 7 million in developed Countries annually. (Myers, J.E. and Seif, M.W., 2010).It appears that Countries with high restrictive laws against abortion have more unsafe abortions reported and high complications including high Maternal Mortality Ratio.(Shah, I.H., et al.,2014).Unsafe abortions contribute to 47,000 deaths each year in Sub-Saharan Africa where only two Countries, Cape Verde and South Africa permit abortion on request.
In 1994, the International Conference on Population and Development called for different Governments to engage with women's health by improving accessibility to safe abortion services in places where abortion is legalized and provide post abortion care including management of its complications, counseling, and education on the importance of contraception and information on various contraceptive possibilities. The agreement was imperative for public health and seen as the first step to enhance accessibility of women to Reproductive and Sexual Health Care Services and to enjoy their entitled right to health.
Six years later, WHO strengthened this engagement in the Millennium Development Goals with goal 5 directly targeting women health with clear objectives: firstly to reduce maternal mortality by three quarter between 1990 and 2015, and secondly to achieve universal access to reproductive health services.(United Nations ,2015) .
A decade ago, WHO (2003) published The International Standards and Guidelines for Safe Abortion to mitigate unsafe abortion and its complications in an approach to guide providers in places where safe induced abortion is legally protected.
Further, recently the International Federation of Gynaecologists and Obstetricians (2012) recommended that every woman has the right to a safe medical or surgical induced abortion after an appropriate counseling and that every health care worker has the obligation to provide such services.
Other treaties like the protocol on the right of women in Africa clearly mention the right to abortion and the United Nations special rapporteur on the right to health has pointed out that criminalization of abortion leads to violation of the rights to health. (African Union, 2012). Despite these legal instruments and advocacies, there is wide variation in the trend of abortion laws around the World. Countries may be divided into three categories when considering abortion laws: those with legal permission, Countries with high legal restrictions and Countries with permission on broad medical and social grounds. According to Myers (2010), fifty-six Countries have liberal abortion laws with no reason. Among them 76% are more developed and 31% are less developed. China is included in this group although the law is purely based on procreation control. While these Countries permit abortion without indicating reasons, women still face challenges to access the services. Discrepancies between the de fore (laws) and de facto ( applications of the laws) are not uncommon. In some Countries there is need for several Doctors, parental or spouse consent for a safe abortion. The knowledge and interpretation of the laws by Health Care Workers, the family, and/or the community is another barrier for service accessibility. For example safe abortion is not widely accessible in South Africa, India, Cambodia and Zambia despite liberal legislation. In Countries with high restriction laws women are likely not to receive safe abortion and post abortion care. In these Countries the service is not available or not supported in the public sector. In some instances, the service may be available in the private sector at the woman cost leaving poor women and those that cannot afford with no chance than to opt for unsafe abortion. In Countries with limited legislation, abortion is permitted mostly for reasons like saving the mother or in case of incest or rape.
Globally among 194 Countries, the United Nations (2011) have identified seven reasons of induced abortions among member States: to save the life of the mother (97%), to preserve the mother's physical health (68%), to preserve the mother's mental health (65%), in case of rape or incest (51%), in case of foetal impairment (51%), for socio-economic reasons (36%) and on request (30%).
For the past decades, significant progress has been seen globally with some Countries adding one reason to another. And the proportion of women of childbearing age leaving in Countries with high restrictive laws have decline from 11% (1999) to 6% (2008). (Myers, J.E. and Seif, M.W., 2010).Nonetheless this reduction is not significant to mitigate the issue of unsafe abortion. Unsafe abortions and its complications still claiming the lives of almost 47,000 women each year in Sub –Saharan Africa where most of Countries have restrictive laws.
Globally unsafe abortion is perceived neglected due to several factors that act in singularity or in symbiosis. The level of advocacy and discussion relating to Women Sexual and Reproductive Health issues at the International and local community tend to be more political or mostly focused on Gender Violence, access to family planning, HIV services including the Protection of Mother to Child Transmission of HIV and campaigns on opposition to forced sterilization. According to Maria de Bruyn (2012), advocacy work to include safe abortion as part of the comprehensive Reproductive and Sexual Health is lagging behind. On my view, Countries' policies relating to abortion are not strengthened enough and voiced out.
Gender, discrimination, stigmatization and victimization of women and human right activists who openly consider abortion as a human right are a reality in most of Countries where abortion laws are restrictive. Women who opt for abortion suffer rejection, abandonment and lack social and family support. Interestingly even in Countries with liberal abortion law, the debate on the topic is always hot and end in perplexity of controversial views among health workers and community. Some Providers consider induced abortion as a major public health problem and that legalization would make a significant advance in women right. They argue better to have an induced abortion legally rather than going for unsafe abortion with all risks attached. Others consider that health care providers should also be given the right to choose whether to work in an abortion clinic or not. (Rehnström L.U. et al, 2015). In one study in Ghana, human rights arguments were found both going for and against abortion. (Aniteye, P. and Mayhew, S.H., 2013).
[...]
Details
Pages

13

Year

2015

ISBN (eBook)

9783668036239

ISBN (Book)

9783668036246

File size

449 KB

Language

English

Catalog Number

v305674

Institution / College

University of Manchester – HCRI

Grade

A

Tags