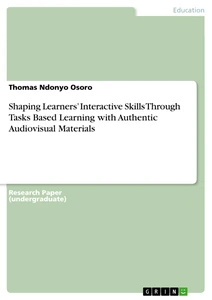 Shaping Learners' Interactive Skills Through Tasks Based Learning with Authentic Audiovisual Materials
Research Paper (undergraduate) 2015 45 Pages
Excerpt
Table of Contents
Introduction
Literature Review
Research Constructs
Methodological Procedure
Research Design
Data Analysis
Conclusions
Pedagogical Implications
Introduction
Speaking English should be a spontaneous communicative activity and more especially for candidates aspiring for a teaching profession in that language. Nevertheless, most students who enrol at university program to train for this degree show a somewhat lack of communicative competences (listening, speaking, reading and writing) not mentioning critical thinking skills. This was evident from the results of needs analysis and observations in which the research ascertained that a certain number of candidates could shy off from proposed learning and communicative tasks. This phenomenon provoked the research questions that guided this study.
Hence, this study envisioned an approach, the use of authentic audiovisual materials, as a pedagogical intervention in the learning of English language a view to shape learners' interactive skills in English conversations. Nevertheless, a question that lingers in the mind is, "why authentic?" The authenticity of such audiovisual materials owes its relevance to a real language use mediated through the modern technological tools that are currently in high consumption in our modern society.
In accordance with the said hitherto, this study parted from the hypothesis that the use of such media would maximize the consumption of trans-cultural contents of English speaking communities in order to shape students' interactive skills. Hence, it was within the heart and realm of this research to investigate ways to usurp information and communication technology tools and the content they convey in order to shape learning and teaching of English with the purpose of providing for the void of a cultural substratum, which in many cases, is absent in the language learning contexts like that of the State University.
Literature Review
This study sought to develop learners' interactive skills through authentic audiovisual materials' project; a topic that dates back to 1972 when the earliest concern for the use of audiovisuals in the teaching of languages was raised especially in the Council of Europe. In that year, topics related to modern languages and the use of textbooks in secondary school education, the use of audiovisual aids in modern language teaching were discussed paving the way for the use of cassettes, audio CDs and DVDs. While maintaining the essence of audiovisual materials in class, this study diverted its focus from duly prepared audiovisual texts especially in the "language laboratory" with somewhat untainted language use in terms of pronunciation, accents, intonation, among others, to the choice and application of authentic materials taken from socio-cultural English speaking communities. Such socio-cultural endorsement is accurately exemplified in the mass media and diffused through the ICT (information communication technologies).
It is worthwhile noting beforehand that there have been a few studies conducted in this topic. However, such studies emphasize on a strategic shift from teacher centered learning to student centered approaches in learning and teaching of English. For instance, in the article, A cognitive view on Bilingualism and "Bilingual" teaching and learning, the author points out that learning a new language is not something arbitrary (Niemeier, 1999): it requires learners and teachers to be aware and be involved in the process rather than just learning grammar rules by heart. Accordingly, it is through action-oriented approach that teachers actively involve learners in achieving the set goals. This study capitalized on task based learning and teaching with a view to promote interaction in class.
Another study on this topic is a doctoral thesis that sought to investigate the role of soap-opera in the formal education. This thesis analyzed communication processes among scholarly and urban based adolescents (Rojas, 2009) and came up with the following conclusions. Firstly, considering the formal school as the legitimate mediator of knowledge and a privileged space for socialization, production, awareness and all-inclusivity among the young people (Reguwello, 2000 as cited in Rojas, 2009), knowledge is tied up to socio-cultural contexts in which the young people find themselves and hence, it is very crucial in the learning and teaching of languages. Therefore, foreign languages like English among others, offers a communicative solution while sharing knowledge at a global context in which there is a cross-cultural exchange and consumption of lifestyles and different ideologies and knowledge through the mediation of mass media: TV programs and also the different genres of music and films. It is in this 'globality' that this study considered the views of Rojas as being pertinent in the learning and teaching of English from an authentic use of information.
Secondly, analyzing the role of TV programs in South America, Rojas asserts that the use of such media for learning purposes propagate classroom life while at the same time creates interest and motivation among students to learn. This motivation comes from the fact that such media, as much as it informs about what happens elsewhere in world, it also entertains students to the extent that they acquire general knowledge outside the rigid and traditional classroom context of magister dixit philosophy.
Thirdly, the use of TV programs is generally interesting to young people given that they find them relevant to their immediate environment. In other words, the youth become critical interpreters of TV programs they watch and especially the ones that address their problems. Hence, learning and teaching language students with such relevant media could prove very supporting and motivating in the learning process.
There is yet a further study that supported this research. It is a thesis developed at a master's level entitled, Uso de mensajes televisivos en lengua extranjera para recepción crítica (the critical reception and use of TV messages in a foreign language) by Ramirez (2009) from Universidad Externado de Colombia's faculty of education. This study sought to investigate how learners receive TV messages with a critical mind. The author analyzed the history of the development of TV as an important academic resource substantiating her study on some previous relevant academic projects developed in the same area.
For instance, Ramirez based her study on the work of Pineda from the same university's master program between the years 2005 and 2007 in which the author worked on a project entitled, Television Educativa: Contextos y usos, (Educational TV: Contexts and uses) in which she sought to surmount the discord between TV understood as recreation, and TV understood as pedagogic and therefore as something boring. Accordingly, Pineda offers a solution regarding a competent use of TV programs and insists on the interactive nature of the class. It is on this vision that this study sought to expound by answering the question on how the use of such authentic audiovisual aids in the learning and teaching of English may shape students' capacity to interact in the foreign language.
The last project that supported this study was also developed in Universidad Externado de Colombia's Faculty of Sciences of Education (2000) entitled, Uso de la Television en el Aula (The use of TV in class). Parting from a close relationship between communication and language, the faculty designed and validated a pedagogic strategy for applying TV programs in the classroom among a few of the State academic institutions of Bogotá. This project concludes that the use of commercial TV programs with pedagogical motives to enhance communicative activities promote interactive processes in class. Hence, parting from these academic projects developed in the area of education, this study relied on the following research constructs.
Research Constructs
Figure 1. The Main Constructs of this Study
Abbildung in dieser Leseprobe nicht enthalten
Authentic Audiovisual Materials
Language and communication are the two faces of the same reality. These faces are profoundly ingrained in culture and whenever there is any communication, there is necessarily language use. This language use may not exclusively be words (spoken or written) but also, the use of other cultural communication moves, otherwise called speech acts, which may be bodily expressions.
Figure 2. Language use in an English Speaking Culture
Abbildung in dieser Leseprobe nicht enthalten
The figure 2 above shows the close relationship that exists between culture and its "medium of expression" (Marion, 1994), which takes into account most of the historic-cultural life experiences of a community. In a word, language and culture are intertwined together as Brown (1989) expressed:
People don't exist in a vacuum any more than club members exist without a club. They are part of some framework: a family, a community, a country, a set of traditions, a storehouse of knowledge, or a way of looking at the universe. He continues to assert that every person is part of a culture [and] everyone uses a language to express that culture, to operate within that tradition, and to categorize the universe (p. 65).
The quotation above affirms that language cannot be reduced to some mere communicative functions: there is and should be more to that (Celce-Murcia & Olshtain, 2000); representing the whole cultural heritage of a people. This is the reason why learning of a new language is a demanding endeavor in which language, communication, and culture have to be jointly treated in learning and teaching contexts.
By the same token, language learning, apart from being a medium for communication purposes (Karen, 1995), is also a tool to understanding society in a wide range of her cultural set-ups. That demands that the learning process be developed with a positive attitude towards the users of a target language culture without obviously neglecting or looking down upon one's own culture: otherwise, it is in one's own culture that one learns the essence of any communicative intentionality or move between the speaker and the listener.
The question here is, "do we mean the same thing every time we use the same communicative moves or acts?" The answer would be in the negative. Language use has meaning in a given speech act event whereby a correct presupposition to any speech act is clearly and logically derived.
Hence, teaching and learning of English devoid of the speech act context reduces language to a limited functionality that can at the same time be misunderstood. It is on the basis of this argument that I propose the use of communication media (videos of different genres) to make for this void in an English class environment.
In a word, I would like to emphasize that it is in the socio-cultural context that language makes sense, as it constitutes a socio-cultural tradition that can be learnt. At the same time, it gives a controlled order that mediates and regulates communication (Holliday, 1994). For instance, TV programs include cultural elements that differentiate one society from another. For instance, the BBC programs represent, for example, a different culture from the CNN programs in different ways: the cultural icons, the linguistic features, and the general philosophy of a people.
It is also worth noting that, as people exist in a culture, so their language becomes a medium through which communication is facilitated. Therefore, anyone interested to learn that particular language ventures into some adaptation in personality as one takes up a new social and cultural behavior and the ways of being of another society. This implies that speaking another language one assumes an identity other than that of one's original culture.
Therefore, to achieve what we have affirmed hitherto, language and its corresponding ways of expression, culture has to be availed to learners in many different ways, but, most of all, through authentic materials. Epistemology, the study of how knowledge is acquired, classifies two ways in which a person can know: empirically, that is, knowledge obtained through experience, a posteriori and rationally, that is, knowledge acquired a priori. It therefore follows that authentic audiovisual aids are external stimuli on the empirical plane, establishing the basis for knowledge that includes a wide range of content-based information.
Thus, such external stimuli are of a vital academic import to language learners as they direct, focus students' "attention" and "awareness" (Gass, 1997), and as well serve as the input resource to their learning process. Similarly, they provide an opportunity to practice the listening and comprehension of the target language. Hence, taken as input, learners have the advantage of reckoning the projected text in "an active conscious state of mind" (Schmidt, 1990 as cited in Gass, 1997).
Therefore, parting from the above reflections, the use of TV programs, songs, and videos as authentic audiovisual materials respond to the socio-cultural, religious-political, and economic contexts of the target language that at the same time are universals. This means, those cultural contents of a target language are the same in the students' own culture that allow that students talk about such topics using the target language.
At the same time, audiovisual texts in this context provides a demarcated theme to think and reflect upon one's circumscribing realities even though, as Swan (1985) points out, the grammar of the target language is not of the main focus. This is because learners just pay attention to the general message passed across and this arouses a series of ideas and questions that they may be interested to discuss in an interactive context. Of course, learners also pay attention to the pronunciation, stress, intonation of the words used as a standard reference to their speaking adjustments and even skills. Speaking skills may be intertwined with specific admirable characters that represent some social and cultural aspects of a target language speaking community. Accordingly, some may want imitate the speaking skills and styles of prominent TV characters like for instance Obama, Bush, Shakira and even some of the TV presenters and certain programs like MTV just to mention but a few.
One of the questions that my readers may raise is, 'why authentic?' Well, regarding the authenticity of the audiovisual materials, the literature I consulted argues that authentic materials are such that are not prepared and taken to class for learning purposes (Wallace, 1992, Widdowson, 1990). However, for the scope of this study, I wish to refer myself to authentic materials as real texts that can be oral or written taken to class for learning and teaching purposes.
The main reason as to why I opt for such authentic materials is because of their natural setting in a specific cultural context. Moreover, such aids are not manipulated or simplified for learning motives and thus, they motivate learners to their exposure during to their authentic linguistic challenge therein included (Sacha, 2006).
Similarly, there are innumerable advantages of using authentic audiovisual task based materials. In the first place, learners have the advantage of exposure to real language (Martinez, 2002; Peacock, 1997) and can pick up some expressions they understand well and competently apply them in other similar contexts in an interactive with fellow learners. Same or related contexts may be created through interactive tasks selected and applied in class that would have students exposed to all linguistic genres otherwise rare to find in written text. They for instance come in contact with common and cultural expressions, casual language in the streets and professional language that are not common in that imported matter.
Secondly, the use of authentic materials presents learners with knowledge of what is happening in the world and in this way, learners may come to know names of different countries and their socio-political situations, important people in the world and their contributions to humanity. Consequently, a film or a TV program about say, South Africa would obviously treat the socio-political situation of the country and its major participants. In this respect, I agree with Chacón & Reyes (2005) who say that dailies are effective means to help a student reflect on his or her own learning process. It is in such dailies that language learners detect socio-cultural and political problems that have a similar bearing on their immediate contexts.
In the third place, using authentic audiovisual material makes it possible for learners to access different linguistic genres used in different English speaking cultures. Such access to the linguistic diversity provides an indispensable input to language learners as they can access different ways of using the language. For instance, they come to understand the use of English in different cultures like the United States of America, Canada, England, Australia, India, Nigeria, South Africa, Zimbabwe, Kenya, Uganda, and other British linguistic heritage elsewhere.
Fourthly, some topics addressed in the authentic audiovisual material may be very interesting and so motivating to learners to expound on them even outside the classroom context. And lastly, the use of authentic audiovisual materials has been described as vital especially as it helps memory. To this respect, students easily recall what they saw as they watched a movie or any other audiovisual projections done in class (Ennis, 1997) and so remember the general content and the language use. Hence, my research is grounded on these views that I have briefly discussed here.
Task Based Interaction
According to Ellis (2003) a task is an activity primarily focused on pragmatic meaning to which Willis (1996) proposes three phases which she calls a 'task cycle': pre-task, task, and language focus. However, this study modified the cycle to fit the tasks that were prepared and applied to students. The students decoded the audiovisual texts in a two-way realm: the top-down and down-up processing. Buck (2001) also established some steps through which a bottom-up processing can happen. The author explains that there should be an oral text that is decoded into phonemes. Then, there follows the syntactic level before analyzing the semantic content (to establish a literal understanding) and, finally, the interpretation of the literal meaning that enables one to understand what the speaker or an oral text means.
[...]
Details
Pages

45

Year

2015

ISBN (eBook)

9783668038318

ISBN (Book)

9783668038325

File size

1 MB

Language

English

Catalog Number

v303934

Grade

4.7 out of 5.0

Tags