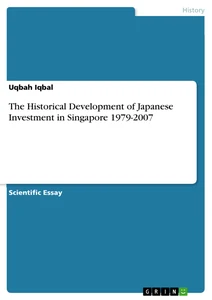 The Historical Development of Japanese Investment in Singapore 1979-2007
Scientific Essay 2015 12 Pages
Excerpt
The Historical Development of Japanese Investment in Singapore (1979-2007)
As Asia's most advanced countries in the field of company and could be likened to the countries of Western Europe and the United States, Japan has provided significant investment to Singapore. capital of $150 million. Government This is done as soon as the Singapore government decided to expand the corporate sector in the country and making it the backbone of economic development of countries in the early years of the sixties. The opening of Jurong city has led to an increase in Japanese factories and companies that opened in Singapore. Economic relations between Singapore and Japan narrowed and moved in tandem with the development and progress made by Singapore in the field of industry. By January 1977, Japan is the major business partner to Singapore and most foreign countries to invest here, followed by the United States and West Germany.[1]
A manufacturer of carburetors for motor saws from Japan has established a subsidiary in Singapore with registered capital of $2 million. Walbro Singapore Pte Limited Company is the first and only company in Southeast Asia producing such a device. This subsidiary to Walbro Far East Incorporation from Japan will have a factory in Kallang Way and started production in January 1979. In the first year of production, it will have about 40 employees, including three specially trained technicians for six months in Japan. The tools that made here will be marketed to countries in Asia, North America and Europe.[2]
Japanese production company, Nachi-Fujikoshi Corporation will be established in Singapore in May 1979 with a capital of $6 million and a fixed initial investment of $16 million. The company known as Nachi Manufacturing is expected to achieve annual revenue of $12 million. Commercial production is expected to commence in March 1980 with initially 270 employees. The company's plant, which has an area of 20,000 square meters has been allocated in Jurong. The corporation plans to establish a company in Singapore because of a positive encouragement from the government of Singapore, the location, the free port status, and others. Singapore also has a skilled labor competition for quality production. The company will be owned 95 percent by the Corporation and five percent by Nachi Singapore, a joint venture between the Corporation and the local company.[3]
Matsushita also plan to double their investments amounted to $100 million in Singapore in the next four to five years from 1979. The company already has seven networked companies that employ 4,000 workers. The company will also provide promotional opportunities for local workers in which 150 people were sent to Japan to attend the necessary training. At the executive level, three local officials were given the opportunity in three from seven Matsushita companies in Singapore, including a woman as personnel manager. Currently, all Matsushita companies in Singapore exports about 68 percent of their products abroad and they hope to increase the amount of exports to 80 percent in the 1980s.[4] There is the establishment of Yamaha Manufacturing Pte Ltd factory in Teban Garden Crescent, Jurong in January 1980 with a capital of $5 million and issued a total of 150,000 tennis rackets. About 99 percent of the output will be exported worldwide.[5]
Showa Chain (S) Pte Ltd, a leading manufacturer of mixture iron chain in Jurong which started production in August 1980 invested a total of $3 million to increase the number of its machinery by March 1981. This brings the company's total investment to $10 million. That additional machines will increase the company's chain anchor production to $1.5 million a year. Most of the production is for the domestic market. But with the increasing production, the company can export to other countries, including New Zealand and Mexico. The company, which has a factory covering an area of 3,300 square meters and is situated on a plot of land measuring 8,700 square meters also produces chains for mining, forestry and companies for exporting to Japan, Australia, the Philippines, Thailand, South Korea, the European Common Market (EEC), and North America. The company also is exploring the market potential in Indonesia and India where demand is high reliable. Factory in Jurong was a factory of its parent company, Showa Kikai Shoji which is the first outside Japan and the first kind in Singapore. The company granted pioneer status for seven years had a total of 35 employees and expects to double that number under expansion plans. Singapore became an option for its plant because of its ideal location, the economic environment, good ports, facilities, and employees who can perform automatic machines for various production processes.[6] Singapore JVC Electronics Company will invest $12 million in 1982, bringing the total investment in Singapore to $16.5 million. The company became active in Singapore since 1978. The company is the first overseas branch of its parent company headquartered in Japan. Until October 1981, its branch in Singapore has more than 600 workers.[7]
A new company that will produce the circuit board will be set up in Singapore. The company named CMK Singapore Pte Ltd is the result of a partnership of two Japanese companies, namely Chuo Meiban Manufacturing Co Ltd and Sumitomo Bakelite Co. Ltd. For starters, the company will invest a total of $14 million and supplies circuit boards to the electronics companies that become their customers in Singapore and other countries in the region. The company's plant will be built in an area of two hectares in Bedok Industrial Park in July 1981 and be completed in April 1982. The plant will have a production process using machinery. Thus it only takes a total of 150 employees for full production and some workers at the plant in Singapore will be sent to Japan soon to follow a training program there. The company was granted an investment incentive allowance and will develop the project gradually with its completion investment is estimated to reach as much as $25 million within five years.[8]
In June 1985, Minebea Company, which is a major ball-bearing manufacturer in the world and headquartered in Tokyo has set up an investment company worth $70 million company called Minebea Investment Pte Ltd in Singapore to manage the money benefits. The company has already opened four factories in Singapore and listed under Stock Exchange of Singapore (SES). The main activities of Minebea investment company is to invest in securities, bonds and shares in the United States stock markets and Europe. Within three months after its establishment, the company's trading activities increased to $375 million. Apart from its share capital, the company's main source are long-term loans from its parent company and related companies. At the end of September 1985, this number reached $325 million. Ajinamoto Company has also set up an investment company in Singapore in 1985 with a capital of $150 million. Government of Singapore Investment Corporation (GIC) has purchased bonds worth $8 million from the company.[9]
[...]
---
[1] Anonymous, Peranan syarikat2 Jepun dlm pembangunan ekonomi S'pura. TINJAUAN KE ATAS SYARIKAT DAN KILANG JEPUN DI SINGAPURA - Bahagian Pertama in Berita Harian, 11 January 1977, p. 4.
[2] Anonymous, Firma pembuat karburator Jepun dirikan kilang $2j in Berita Harian, 26 May 1978, p. 10.
[3] Anonymous, Syarikat pengeluar alat2 haidrolik Jepun akan ditubuh in Berita Harian, 16 January 1979, p. 2.
[4] Anonymous, Firma Jepun rancang pelaburan $100 juta in Berita Harian, 23 October 1979, p. 8.
[5] Anonymous, Kenapa pelabur2 Jepun pilih S'pura… in Berita Harian, 23 April 1980, p. 3.
[6] Anonymous, Syarikat Jepun tambah pelaburan jentera in Berita Harian, 20 March 1981, p. 3.
[7] Anonymous, JVC diduga ambil alih kilang pangsa Firma Copal in Berita Harian, 22 October 1981, p. 2.
[8] Anonymous, Usahasama dua firma Jepun bina kilang in Berita Harian, 11 May 1981, p. 2.
[9] Anonymous, Minebea bentuk firma pelaburan bernilai $70 juta in Berita Harian, 27 June 1986, p. 2.
Details
Pages

12

Year

2015

ISBN (eBook)

9783668011328

ISBN (Book)

9783668011335

File size

413 KB

Language

English

Catalog Number

v302585

Institution / College

University Kebangsaan Malaysia

Grade

Tags