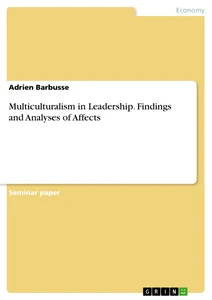 Excerpt
Content
ABSTRACT
PART I. INTRODUCTION
Context and Background
Problem Statement
Purpose of the Research
Research Questions
PART II. LITERATURE REVIEW
PART III. METHODOLOGY
PART IV. FINDINGS AND ANALYSES
Is multiculturalism commonly seen in business?
HOW DOES MULTICULTURALISM AFFECT THE LEADERSHIP STYLE OF THE LEADER?
Is there a leadership style more suitable to multiculturalism?
PART V. ANALYSIS, RECOMMENDATIONS AND CONCLUSIONS
Recommendations
Conclusions
REFERENCES
APPENDICES
Interview of Maria Perez, Cofounder of Glassful (Thirsty.Corp.)
Interview of Emilie Perge, Researcher at Columbia University
Abstract
This paper explores previous researches on Leadership, and its relationship to multiculturalism. They give different aspects and point of views of the correlation between the two concepts. Multiculturalism is a trending notion in the business world. Countries like Canada are building their economy on the variety of culture they have. With Multicultural Policies, Canada has become a major player on the international trade and an example for other growing countries. The innovation behind Multiculturalism offers opportunities that companies are now trying to get a hand on (Kymlicka, 2012).
Part I. Introduction
Context and Background
Globalization has a particularly important impact on how companies and their employees work. Corporations use to define their environment, mostly geographically, and stay within this area. However, competition has pushed them to outsource, sometimes even to relocate to be at least as good as their competitors. They have become international entities. Organizations have subsequently more opportunities to trade globally as the world has grown with fewer physical borders and technological barriers.
The enhancement of technologies, such as communication and transport, has dramatically improved the quality of exchange of information and goods. Internet, telecommunication, marine transport systems and aviation have been the biggest innovations that have allowed globalization to truly succeed. These innovations have connected companies throughout the globe and encouraged people multiple cultural backgrounds to work together.
Individuals from various social groups have to communicate nowadays more than they ever have before. Sometimes, their discussions may end in conflict, more or less important. Whether it is just a misunderstanding or a war, multiculturalism, defined as cultural differences, may be an obstacle to clear and peaceful discussions. These cultural divergences also affect managers and leaders who have to deal with point of views and values that may differ from theirs.
My experience as a multicultural agent started when I was very young. I was born from a Swiss mother and a French father. As a Swiss and French citizen, I had to learn about both countries seamlessly. Furthermore, my family would tell me about their experience living abroad, and how it helped them become who they are. Later, I moved to New York, where I currently live. New York is one of the most culturally diverse cities in the United States, which broaden even farther my understanding of cultural difference. At last, it is in three countries that I educated myself and grew as an adult, and a leader.
My grandparents, parents and siblings all have two things in common; they all are entrepreneurs and leaders. Therefore, entrepreneurship and leadership have always been in my life and always interested me. I had my own small business in France, and I am planning on having this experience again. My career also put me in situations where I had to be the leader. Experiencing entrepreneurship and leadership help understand the main difference between being a boss and being a leader; one dictates what to do, and the other motivates their team help it move forward. I believe that Leadership is what determine how successful the organization is going to be.
Problem Statement
Management has its limits; consequently, researchers and companies have grown very involved in leadership theories. Professionals have to come up with solutions to help the workforce to be more motivated, more efficient and get more work done. Leadership experts have found theories and practices that have shown success previously. They used various personal traits, sets of skills, work situations, and follower insights to create appropriate leadership practices.
However with companies all over the globe and growing internationally, the concept of cultural divergence is a problem that companies have to address. Organizations aiming for efficiency, especially in their global teams, have to manage different cultures, which may be complicated. Firms should find the right tool to overpass these cultural barriers.
Purpose of the Research
Such a tool should not be to impose one culture to others but to promote cultural differences as an asset. Forcing people to adopt a foreign culture both in a social or work environment is likely to fail since it can create misunderstandings, frustrations and conflicts. Multicultural leadership can avoid such situations. The role of the leader would be to mediate teams from different cultures and to make them work together. This leader could either have acquired their skills from their personal family background or from their experience working abroad in multinational companies. Consequently, this research focuses on multicultural leadership as a component for success in international and local environment.
Research Questions
The topic raises a few questions. The main focus of this study, though, will be: Should leaders focus in multiculturalism? Regarding the leadership style, there are preset styles that have been proven to work. However, they are not necessarily based on a multicultural environment. It also raises the question of the behavior of the company. The purpose of the company may have an effect on the leadership style. Although the corporate culture has to stay within its mission, the corporate culture could, to some extend, implement multiculturalism. Most importantly, it is necessary to prove that multiculturalism is an element of success.
Ideally, the research study would give more information about leaders who are involved in multiculturalism and its benefits, but also its risks. Analyzing them would allow to figure what leadership style they were using, and how their skills helped them become successful.
To answer the main question, which focuses on the success of multiculturalism in the leadership environment, other questions will be raised, such as:
- Is multiculturalism commonly seen in business?
- How does multiculturalism affect the leadership style of the leader?
- Is there a leadership style more suitable to multiculturalism?
Part II. Literature Review
Background, Experience and Education are the elements that may determine potential leaders' success. A previous research conducted by Kingl (2012) show that throughout their early age, leaders develop their hunger for knowledge and self­improvement. They also start taking responsibility, and acquire their Ethics and their values such as integrity, honesty, hard work, and respect for time and social responsibility. Their high quality education allows them to build strong analytical skills and creative thinking. They have strong social, team and leadership skills, earned through extra curricular activities. Moreover, they are open to learn from others, from experience, from other cultures, and from role models. Later, they become aspiring leaders. They apply what they learned and gathered. They become hard workers, smart and focus individuals. They see the potential of growth and career development plans. They are engaged in self-development activities and develop cultural sensibility. All of these sharpen their Emotional Intelligence, as they learn from experience and adversity. Finally they become outstanding leaders. They will be asked to show their actual accomplishments, their behavioral skills in situ. They have to be able to recognize their strengths and weaknesses in context, and use them. At last, they are expected to lift their masks and show what make them different from others.
Nowadays, being a good mono-cultural leader may not be enough anymore. The world has grown without borders. People and companies relocate, immigrate, and travel. Moran and Remington Abramson (2014) explain that new subjects had to be created within the higher education curriculum in order to adapt. Cross-cultural management and international business are now the key topics in undergraduate business, MBA, and executive education programs worldwide. According to Doz (2013) Aspiring leaders born within a multicultural environment obviously have an advantage. They have bridges between their cultures allowing them to create connections to other culture. Immigrants too have an advantage in the global leadership mass. They aspire to adopt the culture of the country they live in. Even though expatriation of at least two years may be necessary, it may not be sufficient any longer. Today, being there is not enough. They need to live the integration process, and understand the culture. Behavioral Adjustment is a skill that companies are seeking for in their human resource.
Multicultural leader have specific knowledge, skills and a certain awareness that set them apart from mono-cultural managers. They have the ability to interpret tacit, collective and cultural dependent knowledge. Doz research (2013) shows that their Multilanguage understanding skills bring more value to the organization and the market. For example, Kentucky Fried Chicken had the ability to take 40% of the Fast Food Chinese market just with its innovative adaptation to the culture and by hiring local managers that understand the values of the company. Kingl (2012) added thatthis cultural mix enables leaders and managers from all over the world to enable an Intellectual Gymnastic that unfortunately mono-culturals do not seem to have. Furthermore, their cultural sensibility allow them to build connections between cultures and make international trade smoother.
There are apparent communication and social aspects related to Multiculturalism. Social Media, transportation, and telecommunication brought seamlessly the business world together. As reported by Soo (2012) it can be difficult to interpret information and data from the other side of the globe as it may differ from the values of the home country. This is when multicultural managers and leaders have a great advantage at computing the information brought to them. Conforming to Moran and Remington Abranson (2014) the cultural stereotypes are often hard to decode, even in business. Multi-culturals are supported by their Bridge-Building skills. It comes from their everyday life business, and their personal encounters. Connerley and Pedersen (2005) found that there are perspective and values differences between business cultures. Some talk about East/West differences, while other think that every identities may be different. However, in term of leadership and management, the main concern is the gap between individuality and group centered cultures; they are less likely to be compatible, and individuals may have a difficult experience working together.
Doz (2013) think that multicultural leaders should be able to anticipate Cross- cultural conflicts and address them. This area is truly where a multicultural background makes a difference as a manager. If applied properly, multiculurals' skills may lead to the effectiveness of global teams. Leaders with a multicultural background have a natural ease for integration in a team. As leaders, they may use this skill to facilitate the integration of new team members from different cultures. The communication skills of the leader may also be useful in order to mediate relationships between global teams, and to deal with mono-cultural managers. Again, multi-culturals excel at comprehending new cultures and set them together.
Multicultural leaders and managers represent great innovation and creativity opportunities. Multiculturalism is an innovative form of leadership in itself, as seen previously with the knowledge, skills, awareness and communication assets that compose multicultural leaders. It is an excellent opportunity on a strategic level. For instance, the French brand L'Oreal is known for its ability to develop premium products and for building global brands while still being sensitive to local market differences. L'Oreal good understanding of culture divergence comes from a vast variety of people within the strategic level of the company. Leaders from all around the globe puttogether translate to a great aptitude ofbuilding global solutions, often within the legal frame, and social responsibility. The association and the drawing analogy abilities are assets for global company that want to success with geographical marketing (Doz, 2013).
Regarding the corporation and their corporate culture and processes, companies understood the advantage of building multicultural teams. Because true multiculturals are rare, they expatriate their workforce as part of their training process for executives, stated Kingl (2012). Human Ressources are actively seeking for international talents. Soo (2012) listed what Human Resources are doing now:
- Focus in recruiting efforts to bring diverse multicultural candidates into the company; by enhancing employer messages, diversifying recruiting talent source, adjusting selection criteria to reward multicultural experience and leadership capability. They are also hiring experts such as cultural anthropologists to help them define their international Human Resource needs
- Make multicultural experience an explicit part of career path conversations and performance review.
- Build multicultural elements into management training programs.
- Launch structured mobility programs (expatriation and rotation) allowing deep immersion of their employees within different cultures to understand their values and specific context.
- Integrate multicultural insights into business decisions and strategy.
Leadership is a vast area of expertise. There are many leadership styles and theories to enhance team communication and efficiency. In line with Potoker (2011), personal working styles and design preferences may not be the most informed and effective in integrated and virtual based interactive worlds. Leadership, especially multicultural leadership, needs managers to control their personal biases.
Following the book of Northouse (2004), the main elements of leadership are the leader, the follower, the context, the process, and at last the outcome. Because there is not only one leadership style, it is important to clarify what are the different theories that will articulate one's leadership practices. The leadership style theory focuses on the behavior of the leader. In simple words, this theory is binomial: The leader is either relationship or task driven.
Details
Pages

48

Year

2015

ISBN (Book)

9783668009011

File size

711 KB

Language

English

Catalog Number

v302326

Institution / College

New York University

Grade

A

Tags