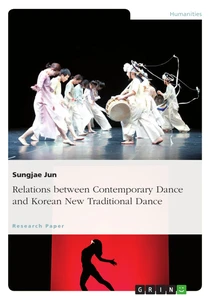 Relations between Contemporary Dance and Korean New Traditional Dance
Research Paper (postgraduate) 2015 46 Pages
Excerpt
Abstract
The movement is one of the spirits of Korean Cultural Roots. There are a dozen of proverbs in Korea, which are describing the movement and dance in various situations. Movements are the foundation of the Korean Traditional Culture. They started from Shamanism and will move forward. Dance is a main part of Korean Tradition and Culture. Even in the time of Japanese colony, the Korean Dance was on a roll.
Most important, the Art is always influenced by surroundings. Not only in Korea, but all around the world. Arising Shamanism as great-faith started developing its movement in Korea 9000 years ago. Time goes by, the movements have been widely specified in many ways, by different classes and status. Such as in palaces, on the streets, in temples etc.
During the Second World War Korea was under invasion of Japan. In this time, even the usage of Korean language and culture activities was prohibited. It is to observe in the literature that Korea had to adapt and change many of cultural parameter such as dance and movement during the Japanese colonial period. I am sure and confident that dance is a process and can never be static. Art and dance grow and change the history and they mostly become political instruments!
In each period of time, with evolution of art, the traditional dances adapt new movement and add partially selected elements. In the twentieth century, a new series of movements was imported to Korea and improved several technics in dance industry. Almost at the same time Ishii Baku, the Japanese Dancer and his Company was travelling around Asia and performing in different cities. After performing in Manju, Ishii Baku and his company performed in Seoul.
At age 15, Choi Seoung Hee watched the performance. She was impressed and decided to attend the Ishii Baku's school in Japan. She learned a lot, was very enthusiastic and a talented dancer. Recently there is evidence that she was already chosen as a main dancer of Baku's Company in Tokyo.
After Choi came back to Seoul, she founded her own dance school in Seoul in her early years. She was well-connected with international artists such as Pablo Picasso and was supported by different Japanese intellectuals like Yasunari Kawabata or the French artist Jean Cocteau. She was chosen in different committees of art and juries in the USA and Europe. She brought changes to Korea and created the New Traditional Dance after those experiences. She is recognized as one of the world's finest performers. With her began a new era of art in Korea: the Korean New Traditional Dance.
They are a few important elements, which show us why the Contemporary Dance has roots in Korean New Traditional Dance. In the literature of Contemporary Dance is mentioned that Contemporary Dance is developed during the middle portion of the twentieth century and it sometimes also incorporates elements of non-western dance cultures such as movements from the Japanese contemporary dance Butoh and other Asian or African Dance.
With comparing the different definitions and explanations in literature about Contemporary Dance, it is notable that there are a few common definitions, which could build a bridge for verifying my hypothesis – "there are relations between Contemporary Dance and Korean New Traditional Dance".
The creating of Korean New Traditional Dance by Choi Seung Hee had important influences in the history of Korean Dance. It is absolutely understandable that both kinds, Contemporary Dance and Korean New Traditional Dance, which started in the twentieth century, could have been related. Although technology was not so highly developed in the last century, still the influences of media and culture globalization, such as languages, films, songs and art, was very well noticeable and perceptible.
Contemporary Dance and New Traditional Dance are not static, they are in process, growing, adding and changing the movements. Furthermore they cannot be protected from changes and influences.
Table of Contents
Abstract ... 2
Table of Contents ... 4
Table of Figures ... 6
Acknowledgments ... 7
Introduction ... 8
Chapter 1: Korean Traditional Dance ... 11
I. Performing Art ... 11
II. Dance Story in Korea ... 12
III. Types of Korean Dance ... 14
1. Court Dance 정재 ... 14
2. Folk dance 민속무용 ... 20
3. Ritual dance 의식무용 ... 21
4. New Traditional Dance신무용 ... 22
Chapter 2: Contemporary Dance ... 25
I. Definition of Dance ... 25
II. The philosophy of Dance ... 26
III. Thinking of Dance ... 28
IV. Dance Story in ancient ... 30
V. Performance and Participation ... 31
VI. Contemporary Dance ... 33
VII. Modern dance ... 37
Chapter 3: The relation between Contemporary Dance and Korean New Traditional Dance ... 39
Bibliography ... 41
Secondary Literature ... 41
External Links ... 44
Further References ... 44
Introduction
Have you ever asked yourself too, which relations are between Korean New Traditional Dance and Contemporary Dance?
All around the world as I travel, the people watching me with big eyes, as soon as I speak about my dance career. Many of them even artists ask me, which are the relations between Contemporary Dance and Korean New Traditional Dance?
There is always a question mark on the face of people, if I try to explain that the Korean Dance for example Korean Ballet or Korean Modern Dance are related to Contemporary Dance, it is difficult for them to understand the subject in first few moments. For many people regard to the content of the Contemporary Dance is either an abstract subject or only an American art of Dance.
There are many similarities between Korean Contemporary Dance and Korean New Traditional Dance. There are a lot of common points between Korean Ballet and Original Ballet. In one hand, many movements are through the Globalization imported to Korea. In other hand many of artists moving around the world and learning by different choreographer. For Example; the new movements and influences in Korea have begun already in 1929, as Choi Seung Hee came back to Seoul from Japanese dance school of Ishii Baku. In the colonial time, in which was Korea under the Japanese regime, Choi was able to travel to Japan and all around the world to perform. She was able to inspire the artists and dancers in Korea and create the New Korean Traditional Dance 신무용. She is a Korean legend and her willing and desire for adjust, completing and renewal Korean Dance will always accompany Korean dance societies.
Such people always impress and inspire me. Their uniqueness indeed reinforces my desire to be a pioneer who cleared path of progress. Because of the previous statements, perhaps we can look at it in this way and to establish my career so, why I am an enthusiastic choreographer today. In my point of view, my dance career has begun in my age of 10. In this time I was a street dancer and I already performed with my friends on the street in Seoul. This dance was not very professional and trained in that time, but it was a small start going on the track.
With 14 I have continued my dance career during the middle school time with a private teacher. I could learn the finest art of Korean Dance already as a teenager. In 1994 I entered to the dance department of GUKAK National High school in Seoul and subsequently in 1997 I graduated the high school.
Immediately In 1997 I entered to the department of Dance performance at Korean National University of Arts in Seoul. I obtained my Bachelor of Arts in major of Korean Dance in 2001. Continuing in 2001 I started the Master of fine Arts. Without break in my career I went to France for exchange study at Conservatoire National Supérieur de Musique et de Danse in Lyon (C.N.S.M.D).
In 2004 at the same university in Seoul I have achieved the Master of Fine Arts in Dance.
In the between I received few prizes in Korea for my solo performance and choreography. I wanted to have more experiences and to get new perspectives. So I decided to travel to the art metropolis of Europe such as Paris, London and Amsterdam for new experiences.
[Figures and tables are omitted from this preview.]
Figure 2: Sungjae Jun, Choreographer and Author1 (RecnaD Property)
In 2006 I passed the audition of Luzerner-Theater in Switzerland. And then I had been dancing there for the theater more than 3 years. This was a new worthy experience to build up and continue my dance career on new stages. After Luzern I decide to go to Canada because I wanted to make experiences with the North American Contemporary Dance. In Vancouver and other cities around in Canada I could collect new impression of Canadian Art. There I had possibilities to visit many different performances and get new Inspiration. In 2010 I returned to Korea and I have started R.ecnaD2 Dance Project with several most famous dancers of Seoul. It was a great time and we've had many different performances in a short time so far. At the same time I was directing R.ecnaD Dance Company, I started a new PhD study in Performing Art. Besides the study, choreography and several dance projects I had different teaching contracts by different universities and schools in Korea from the beginning of 2011 until the End of 2013.
Continuing in 2014 I came to Switzerland and I started new careers to teach and choreograph. To sum up what I did and learned in last few years, I have decided to write a book about relations between Korean Traditional Dance and Contemporary Dance. There are not so many books and literature in English or German about this subject, but few translating were still helpful for doing this work.
I will try to show in this small contribution few points and importance of Korean Dance generally and its relations to worldwide Dance. This book should even show the Similarities between Korean New Traditional Dance and Contemporary Dance today. It is expected that this book should give answers to all my friends and colleges, who ask their own, the differences and similarities of this kind of dances.
Chapter 1: Korean Traditional Dance
Judy Van Zile described in her book perspective on Korean Dance the best definition of Korean Dance, which makes every one unable to complete it. She writes from palace to street and to international stage, that Korean dance is a vibrant and complex art compromised of many different forms. She brings the different faces of Dances and different perspectives of dance, the diversity of Dance in Korean culture together. She describes the ritual and concept in a way, which makes understanding the importance of Dance and Art in an old Shamanism Korean culture. Regarding to her research here are many definition and explanation used from her (cf. Zile, 2001: 53-59).
In the next part I am going to give an overview about Performing Art. The Performing art are one of the most important contribution of Korean culture. It has a long tradition as shamanism in Korea.
I. Performing Art
It is famous that the Korean has traditional performing art from 3000 BCE. In the performing arts, Korean story has developed different ways, such as ritualistic shamanistic ways and in the songs of "Yangban scholars", and the cross-overs between the visual arts and the performing arts which are more intense and fluid than in the West. There are evidences that "depicted on petroglyphs and in pottery shards, as well as wall-paintings intombs, the various performing arts nearly always incorporatedKorean masks, costumes withKorean knots, Korean embroidery, and a dense overlay of art in combination with other arts." (https://en.wikipedia.org/wiki/Korean_art, 01.23.2015)
There are specific dances, which are considered as important Korean cultural heritage pieces of art. Fabric is in the performing art very important. "The performing arts have always been linked to the fabric arts: not just in costume, but in woven screens behind the plays, ornaments woven or embroidered or knotted to indicate rank, position, or as shamanistic charms; and in other forms to be indicated." (cf. Zile, 2001)
Historically, the division of the performing arts is between, arts done almost exclusively by women in costume, dance-works; and those done exclusively by men in costume, storytelling. And those done as a group by both sexes with women's numbers in performances reduced as time goes on as it became reputable for men to function as public entertainers (cf. Zile, 2001).34
II. Dance Story in Korea
Korean has a long tradition in art and dancing as I mentioned before. Korean dance and performing is developing day by day. It has begun from the palace to the modern Korean Pop, which is known as K-Pop. Even this performing art is shaping a new culture in Korea and making Korea international famous. In next part I try to show the importance of traditional Korean Dance in the Story.
Dance is a significant element of traditional Korean culture. Special traditional dances are performed as part of many annual festivals and celebrations (harvest, etc.), involving traditional costumes, specific colors, music, songs and special instruments. Some dances are performed by, either men only or women only, while others are performed by both. The women usually have their hair pulled back away from the face in a bun, or may be wearing colorful hats. Some variation of the traditional Hanbok한복 is typically worn, or a special costume specific to that dance. In some dances, the women's costumes will have very long sleeves, or trail a long length of fabric, to accentuate graceful arm movements. Outdoor festivals are loud and joyous, and cymbals and drums can prominently be heard. Masks may be worn.
It began with shamanistic early rituals five thousand years ago and now ranges from folk dance to newly created and adapted contemporarydance. Korean Traditional Dance originated in ancient shamanistic rituals thousands of years ago. By the time of the later Korean kingdoms, Goryeo고려 andJoseon조선 in the 2nd millennium, Korean Traditional Dance benefited from regular support of the royal court, numerous academies, and even an official ministry of the government (cf. Kibaek Yi, 2013: 9-20).5
A number of different dances gained permanent high status, including the Hermit dance, the Ghost dance, Buchae Chum부채춤 (the fan dance), Seung Mu 승무 (the Monk dance) and others, despite the fact that many had humble origins. For example, the Fan dance is believed to have originated with shamans performing nature rites with leaves but evolved into one of the most highly refined Korean dances.6
[Figures and tables are omitted from this preview.]
Figure 3: Jeju obbang gaksichum 제주 오방각시춤, a variety of gaksichum 각시춤 and one of dances consisting of Tamraguk Ibchun gutnori 탐라국 입춘 굿놀이which had ceased due to the cultural suppression byImperial Japan duringKorea's annexation to Japan7
Other Korean dances remained and remain to this day under the ambit of farmers and folk dance groups. Props used in the dances include the long billowing silk scarf of pure white used in the Salpuri dance 살풀이춤, drums, hats, swords and others. The props may be peripheral or central to the story of the dance. In the Ghost dance, the entertainer has a joyous reunion with a deceased spouse, only to endure the heartbreak of reseparation, and there may few or no props. On the other hand, the Great Drum dance (one of several forms of drum dances) features a gaudy drum, which may be taller than the performer. The drum tempts a monk until finally he succumbs to it and performs a rolling drum "orgy."8
Due to the cultural suppression by Imperial Japan, arguably considered cultural genocide during Korea's Annexation to Japa, most of the dance academies died out and some dances were lost as well as some of dance forms were distorted (cf. Avruch, 2004: 5-12). However, few pioneering Korean dancers such as Choi Seung Hee created new forms of Korean dances based on the traditional dances and kept many of the traditions alive in secret and abroad, and today Korean traditional dance is enjoying a vibrant resurgence. Numerous universities in Korea teach Korean traditional dance, and even some universities abroad now provide instruction in the forms. Top dancers are recognized as "Living National Treasures" and are charged to pass their dances down to their students. The lineages of dance and dancers may be traced back several generations through such connections. (cf. Avruch, 2004: 5-12)
[...]
---
1 The author Sungjae Jun in Luzerner Theater 2008
2 RecnaD is the name of a dance company art directed by Sungjae Jun
3 Perspectives on Korean Dance Paperback, Judy Van Zile, 2001
4 http://en.wikipedia.org/wiki/Korean_art (01.18.2015)
5 New History of Korea. Kibaek Yi, Harvard University Press, 2013.
6 http://www.wattpad.com/23543011-mapeh/page/6 (02.20.2015)
7 http://en.wikipedia.org/wiki/Korean_dance#/media/File:Korean_dance-Jeju-Obbanggaksi_chum-02.jpg (02.20.2015)
8 http://koreabridge.net/sites/default/files/korean_dance.pdf (02.20.2015)
Details
Pages

46

Year

2015

ISBN (eBook)

9783668012431

ISBN (Book)

9783668012448

File size

9.3 MB

Language

English

Catalog Number

v302294

Grade

Tags