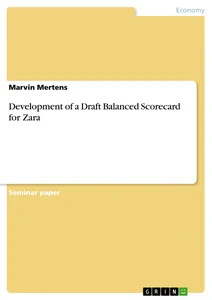 Development of a Draft Balanced Scorecard for Zara
Seminar Paper 2015 24 Pages
Excerpt
Table of contents
List of figures
List of tables
1. Introduction
2. Analysis of Zara's stakeholders
2.1 Stakeholder identification and role descriptions
2.2 Stakeholder interests and implications for draft BSC
2.3 Assessment of stakeholders' power/interest levels and implications for draft BSC
3. Analysis of Zara's strategy
3.1 Introduction of strategy map
3.2 Explanation and justification of strategy map
4. Development of a suitable BSC framework
4.1 Identification of KPIs
4.2 Explanation and justification of KPIs
4.2.1 Financial perspective
4.2.2 Customer perspective
4.2.3 Internal business perspective
4.2.4 Innovation and learning perspective
5. Analysis of potential practical issues
5.1 Likely practical issues
5.2 Potential ways to overcome practical issues
References
List of figures
Figure 1: Process of developing a draft BSC for Zara
Figure 2: Stakeholder map for Zara
Figure 3: Strategy map for Zara
Figure 4: Price-performance chart
List of tables
Table 1: Stakeholder interests and BSC implications
Table 2: Assessment of stakeholders' power and interest
Table 3: KPIs for Zara's BSC
1. Introduction
In 2001, CNN euphorically described Zara as "a Spanish success story", and Daniel Piette, then-fashion director of LVMH1, praised the company as "possibly the most innovative and devastating retailer in the world" (CNN, 2001). 13 years later, Tobias Buck of The Financial Times called the Spanish fashion brand which was founded in 1975 by Amancio Ortega – by now the world's fourth richest person according to Forbes (Forbes, 2015) – "one of the most striking corporate success stories of recent years" (Buck, 2014). Having started as a small fashion store in A Coruña, Zara is now the flagship brand of Inditex, the biggest fashion retailer in the world. At the end of the financial year 2014 (FY2014), Zara accounted for 28.77% of Inditex's stores, 62.14% of the group's selling area, 64% of its net sales, and 66% of its EBIT2. With a share of 27.99% in the group's total net store openings, Zara was also Inditex's main vehicle for growth (Inditex, 2015). Customers, who visit Zara stores at least four to five times more often per year than those of competitors (Ferdows et al., 2004; Kumar & Linguri, 2006; Buck, 2014), reportedly wait in front of stores before opening time on delivery days to be among the first to buy new designs (CNN, 2001). Zara's popularity even allows the firm, unlike rivals, to spend almost nothing on advertising (Loeb, 2013).
Despite these impressive facts, Zara's success is by no means cast in stone. Simon Irvin of Credit Suisse, criticising Inditex's recently lacklustre financial performance, noted that business models were not likely to remain brilliant forever, and that Zara's parent company were no exception to the rule (Buck, 2014). Having said that, numerous attempts have been made by competitors to copy (parts of) Zara's successful business model and thereby eliminate the company's competitive advantage. For instance, C&A purposefully hired away Inditex managers (The Economist, 2012), while Mango even managed to outpace Zara in terms of sales in Spain, Zara's home market, by copying Zara's approach to manufacture the majority of its garments in nearby countries, as well as the firm's product offering (Baigorri, 2013). Other major followers and imitators include Uniqlo and H&M (Girotra & Netessine, 2012).
In light of these developments, it is essential for Zara to measure its performance timely and carefully, and identify ways in which the firm's future performance, against the background of its business model, may be improved. The Balanced Scorecard (BSC), developed by Kaplan and Norton, is the right tool to achieve this, as it translates a company's strategic objectives and competitive demands into a coherent set of performance measures (Kaplan & Norton, 1993a). In particular, the BSC complements financial performance measures, usually reflecting past performance, with operational measures in the areas of customer satisfaction, internal processes, and a firm's innovation and improvement activities, all of which can be said to be drivers of future performance (Kaplan & Norton, 1992).
In this report, a draft BSC for Zara shall be developed. The corresponding process is presented in figure 1.
illustration not visible in this excerpt
Figure 1: Process of developing a draft BSC for Zara
2. Analysis of Zara's stakeholders
2.1 Stakeholder identification and role descriptions
Stakeholders are individuals, groups, and organisations with the power to influence the delivery of an organisation's strategy and thus the organisation's performance and/or a significant interest in an organisation's strategy and thus the organisation's performance (Wisniewski, 2001; Ackermann & Eden, 2011). In the context of the draft BSC to be developed, however, the analysis shall focus on relatively aggregated stakeholder groups. Firstly, the aim of this stakeholder analysis is not to pinpoint individual persons as stakeholders who may then be managed more easily than large organisations, but to identify rather broad stakeholder groups interested in Zara's performance. Secondly, addressing the potentially diverse interests of a multitude of individuals and small organisations in the draft BSC would likely result in an unhelpfully huge number of KPIs and thus lead to problems related to data collection and complexity. Against this background, and on the basis of an extensive literature review, the following stakeholders may be identified for Zara:
1. Customers
Zara's target customers are young, value-conscious, and extremely sensitive to the latest fashion trends (Doran, 2014). Kumar and Linguri (2006: 84) describe them as "trendy city youngsters".
2. Inditex
Inditex is Zara's parent company and publicly listed since 2001. At the end of FY2013, the group held approximately 59.37% of its share capital through its Board of Directors, which also includes Inditex founder Amancio Ortega (Inditex, 2014). In 2012, Inditex overtook the international retail bank Santander and the telecommunications company Telefónica to become Spain's biggest publicly listed company as measured by market capitalisation (Butler, 2012).
3. Inditex's minority shareholders
At the end of FY2013, the only shareholders with a relatively huge stake in Inditex's share capital, other than Inditex itself, were Partner 2006, S.L. with a 9.28% stake, and Rosp Corunna Participaciones Empresionales, S.L.U., holding approximately 5.05% of the group's shares (Inditex, 2014).
4. Spanish government
Although Inditex is doing business in 88 countries (Ruddick, 2014), and Zara as the group's oldest and most successful brand is comparably international, Inditex is registered in Spain. Hence, the Spanish government determines large parts of the legal framework within which Inditex, and thus Zara, operate. Moreover, Spain is still by far the most important market for Inditex and Zara, accounting for 19% of the group's total sales in FY2014 (Inditex, 2015).
5. External suppliers
This stakeholder group comprises both external suppliers of finished products and external suppliers of fabric and other materials. To ensure flexibility and short lead times, Zara does, unlike major competitors, not rely on external manufacturers in low-cost countries, e.g. in Asia. Instead, it keeps a significant share of its production in-house (Ferdows et al., 2004). Only basic items with minimal fashion content, such as T-shirts and lingerie, for which competition is likely to be on price are outsourced to third parties in low-cost countries, while more complicated items that depend on the latest fashion are produced in nearby company-owned factories (Kumar & Linguri, 2006). The unusually high degree of vertical integration also reduces Zara's reliance on external suppliers of fabric and other materials. As of 2004, Zara purchased 40% of its fabric from Comditel, an Inditex firm, and its entire dyestuff from yet another Inditex firm. Also, Zara buys more than 50% of its fabric undyed to be able to react quickly to in-season colour changes, which makes external suppliers more interchangeable (Ferdows et al., 2004).
6. Other external business partners
Other external business partners include, for example, the local subcontractors whose services Zara employs for simple, but labour-intensive steps of the production process such as sewing. These subcontractors are usually small workshops for whom Zara is the primary customer (Ferdows et al., 2004). Further, this stakeholder group comprises franchise partners who ran 10.87% of Zara stores worldwide in FY2014 (Inditex, 2015). However, since Zara's business model is characterised by an uncommonly high level of vertical integration, several functions that are often outsourced to third parties, e.g. in the areas of warehousing, distribution, and logistics, are managed by Zara itself (Ferdows et al., 2004).
7. Zara employees at headquarters (HQ)
At Zara's HQ, designers work alongside market specialists, as well as procurement and production planners in cross-functional teams. These teams are in charge of creating new designs, assessing their market potential including possible price points, and allocating resources. By fostering cross-functional teamwork, Zara ensures the quick exchange of information and thus decreases the time it takes to turn sketches into products ready for shipment (Ferdows et al., 2004).
8. Zara employees in manufacturing and distribution
This group comprises all Zara employees responsible for producing garments and transporting them to stores. As mentioned above, the percentage of products Zara manufactures in-house is very high compared to rivals. However, the factories in which the firm produces its most important garments are highly automated and thus only to a certain extent dependent on human labour. Apart from production facilities, Zara operates a giant distribution centre in A Coruña that ships approximately 2.5 million items per week and employs 800 people filling orders plus 400 temporary workers during peak seasons to keep lead times low (Ferdows et al., 2004).
9. Zara employees in stores
Employees working in stores, i.e. store managers and frontline personnel, play a critical role in the context of Zara's business model. Using customised PDAs, store managers constantly communicate customer feedback, either hard data such as orders and sales trends or soft data like customer reactions to a new style or the "buzz" around a new design, to Zara's HQ where the feedback is used by designers to quickly develop new garments based on customers' wishes (Ferdows et al., 2004). Frontline employees assist their superiors in collecting the feedback. Zara's store managers and shop assistants thus close the communication loop between shoppers and Zara's HQ (Ferdows et al., 2004) and therefore contribute hugely to Zara being able to first understand what customers like and then design and produce it (Buck, 2014). Accounting for their key role, Zara pays store managers an above-average salary and up to 100% of their salary in bonuses if they hit sales targets (Ruddick, 2014).
10. NGOs and other political actors
This group consists of a variety of different stakeholders. NGOs interested in Zara's performance may, for instance, include organisations with an environmental focus, such as Greenpeace who in 2012 made Zara commit to eliminate all discharge of hazardous chemicals from its supply chain and clothes (Greenpeace, 2012), and organisations who are rather concerned with the rights of the employees working, either directly or indirectly, for Zara, for example the NGO La Alameda who in 2013 accused Zara of outsourcing its production in Argentina to clandestine sweatshops letting immigrants work under slave-like conditions (Equal Times, 2013). Other political actors with a potential interest in Zara's performance are local trade unions and organisations in charge of consumer protection.
11. Media
The media act as a multiplier of, either positive or negative, information about Zara and may thus influence public opinion either in favour of or to the disadvantage of the Spanish brand. Examples for the former case are the numerous articles praising the firm's business model, while an example for the latter case is a 2014 Bloomberg report describing how Zara's parent company Inditex had shifted profits to a small business unit operating in the Netherlands and Switzerland to reduce its tax burden (Drucker, 2014).
12. Competitors
Zara's most important competitors are other retailers associated with the fast fashion industry including Benetton, Mango, Gap, and, most notably, H&M (Caro & Martínez-de-Albéniz, 2014).
2.2 Stakeholder interests and implications for draft BSC
Based on the above discussion, the nature of each stakeholder's interest in Zara's performance shall be described briefly. Moreover, the implications of this interest on the draft BSC to be developed shall be identified. For the results, refer to table 1.
illustration not visible in this excerpt
Table 1: Stakeholder interests and BSC implications
2.3 Assessment of stakeholders' power/interest levels and implications for draft BSC
To evaluate the importance of each stakeholder group and thus to decide whose interests need to be taken into account when designing the draft BSC, the power and interest levels of all stakeholders shall be assessed briefly. The results are shown in table 2.
Table 2: Assessment of stakeholders' power and interest
The power/interest level of each stakeholder as given in table 2 may now be visualised using a stakeholder grid (see figure 2).
illustration not visible in this excerpt
Figure 2: Stakeholder map for Zara
Figure 2 clearly shows those stakeholders (enclosed by the dashed red circle) whose importance definitely needs to be reflected in the draft BSC: customers (1), Inditex (2), Zara employees at HQ (7), Zara employees in stores (9), and competitors (12). Apart from these, the draft BSC should address the concerns of NGOs and other political actors (10), as they may theoretically influence customers both directly (indicated by the black arrow from concept 10 to concept 1) and indirectly through the media (indicated by the dashed black arrows from concept 10 to concept 11 and from concept 11 to concept 1) by expressing their positive or negative attitude towards Zara's performance with respect to CSR-related aspects.
3. Analysis of Zara's strategy
3.1 Introduction of strategy map
Wisniewski (1998) notes that, to be effective, a BSC needs to be developed based on an organisation's declared visions and priorities. Kaplan & Norton (1993a) specify this by saying that it is an organisation's strategic objectives (SOs) and competitive demands that should form the basis of the coherent set of performance measures incorporated in a BSC. Against this background, a strategy map, showing the cause-effect relationships between Zara's SOs in the four BSC dimensions, shall be created. For the map, please refer to figure 3. Note that SOs 1, 2, and 3 are associated with the financial perspective of the BSC; SOs 4, 5, and 7 with the customer perspective; SOs 6, 8, and 10 with the internal business perspective; and SOs 11, 12, and 13 with the innovation and learning perspective.
illustration not visible in this excerpt
Figure 3: Strategy map for Zara
3.2 Explanation and justification of strategy map
Generally, profit is defined as the difference between revenue and cost. Hence, an increase in profitability (SO 1) may be achieved through one of the following combinations of SO 2 and SO 3: an increase in revenue at a constant cost level, a decrease in costs at a constant level of revenue, or a combination of sales growth and cost reductions.
Revenue growth, in the case of Zara, is contingent on the company adhering to CSR standards (SO 7), frequent introducing new, attractive designs (SO 4), and offering a superior price-performance ratio (SO 5). Concerning SO 7, not adhering to CSR standards may generate negative publicity and thus discourage customers from purchasing Zara products. For example, when Greenpeace urged Zara to eliminate all discharge of hazardous chemicals from its supply chain and clothes, tens of thousands of people emailed and tweeted directly to Zara to support the claim (Greenpeace, 2012). This indicates the effect negative publicity may have on the attitude of Zara's customers and, consequently, on the company's sales. Regarding SO 4, continuously bringing new designs to market encourages customers to visit Zara stores frequently, and to constantly spend money on Zara products, thereby increasing sales. More precisely, Zara's sales strategy is not to generate a high purchase volume per customer per visit, but to stimulate frequent purchases and thus realise a high accumulated purchase volume per customer over the course of a year (Kumar & Linguri, 2006). Lastly, a superior price-performance ratio (SO 5) has a positive impact on revenue growth. While this relationship is rather obvious, it is important to use an aggregated measure accounting for differences in pricing and, consequently, potential variations in quality levels. For instance, Smith (2014), comparing the pricing strategies of Zara and H&M, found that the average price point at Zara was $48, as opposed to $21.40 at H&M.
Within the context of Zara's business model, however, the frequent introduction of new, attractive designs and a superior price-performance ratio do not only stimulate revenue growth; they also help keep cost levels low. As a result of Zara's rather uncommon approach to managing its supply chain, the firm's cost in some areas of its business are substantially higher than those of competitors. For instance, Zara manufactures and distributes garments in small batches instead of aiming to realise economies of scale (Ferdows et al., 2004) and produces the majority of its products in relatively high-cost countries such as Spain, Portugal, or Morocco instead of sourcing from distant low-cost countries (Buck, 2014). These relative cost disadvantages are partly offset by low inventory levels, negligible marketing expenditure, and the ability to sell products at full price. Because Zara continuously introduces new designs, shoppers have a reason to visit the company's stores frequently without Zara spending heavily on advertising. The continuous replenishment of stock, together with the production and shipment of garments in small batches, an informal policy to remove unsold items quickly, and a superior price-performance ratio create a strong incentive to buy resulting in low inventory levels and very little need to mark down stock (Ferdows et al., 2004).
[...]
---
1 The company behind Louis Vuitton.
2 Earnings before interest and taxes.
Details
Pages

24

Year

2015

ISBN (eBook)

9783668002128

ISBN (Book)

9783668002135

File size

510 KB

Language

English

Catalog Number

v301172

Institution / College

University of Strathclyde – Strathclyde Business School

Grade

80.00/100.00

Tags