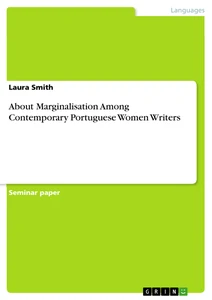 About Marginalisation Among Contemporary Portuguese Women Writers
Term Paper 2015 11 Pages
Excerpt
Contemporary Portuguese women writers are often described as 'doubly marginalised' (Abranches in Thorau, 1997: 205). How are the authors studied negotiating positions of marginalisation?
"The great art of writing consists in selecting what is most stimulant from the works of our predecessors, and in uniting the gathered beauties in a new whole, more interesting than the tributary models." (Anon: 1797b, 451). This anonymous eighteenth-century reviewer demonstrates why a pre-existing literary tradition is so important for authors. If, however, the 'works of our predecessors' refers solely or predominantly to the works of men, from what literary tradition does a modern female author draw? The lack of literary ancestors for Portuguese women has resulted in a culture dominated by the works of men, in which the few women writers struggle for success. The level of marginalisation experienced by Portuguese women in particular is indeed higher than that of other women when one considers the effects of the censorship laws of the Estado Novo dictatorship. The traditionalist and conservative views of a Roman Catholic State frowned upon women as authors and it wasn't until the Carnation Revolution of April 25th 1974, which overthrew the regime, that women were to have the chance to write freely.
Angolan author Wanda Ramos (in Expresso: 05/02/1983) agrees that this date contributed to a general sense of liberation for Portuguese women and an amadurecimento, or 'coming-of-age' for Portuguese society. While it's true that women were now a part of the literary canon in Portugal, they still represented a minority. So how do they overcome this double marginalisation? The lusophone literary market may include several territories outside of Portugal, including Brazil, but it is still small in comparison with the market for English language publications. For this reason, translation into English is of paramount importance to Portuguese women authors who wish to be successful. Modern authors also have many options open to them with regards to digital media and several women writers make valuable use of social networks and similar media platforms to sell their work. From a more literary point of view, a large number of Portuguese authors borrow from other cultures: they appropriate foreign literary traditions and ancestors to negotiate their position of marginalisation within their own culture.
This latter technique is a favourite of Hélia Correia, the well-known author of A Casa Eterna and O Número dos Vivos as well as several short stories. Correia has stated that she had a Scottish great-great-grandmother, "uma trisavó escocesa" (in Máxima, Nov 2001) and she relies heavily on her Celtic routes, both in her storytelling and with regards to her public image. In addition, much of her work draws on English literary tradition by incorporating gothic elements reminiscent of the earlier works of the Brontë sisters. The Oxford Dictionary of Literary Terms remarks that the genre "flourished in Britain from the 1770s to the 1820s" and had "many imitators" (Baldick: 2008, 144). Avril Horner agrees with this idea of imitation but condemns academics for focusing on the Anglo-American traditions (2002, 1) and gives examples of other European countries which produced their own version of the Gothic. Two and a half centuries later Correia's short stories Doroteia and A Velha (or The Old Woman) make use of several traditionally gothic elements.
Fred Botting (1996, 45) believes that the aim of these writers was "the production of terror". The Old Woman certainly makes for an unsettling read, given the nature of the ending. In addition, language such as 'defecated' (Correia: 1) is not the norm for a narrative about a gentle old-aged pensioner but Correia subverts all of the reader's expectations of this old woman. She may appear vulnerable when the thief is introduced: "Everyone talks about old women, so fragile, so easy to deceive." (Correia: 4) The ending, however, seems to leave the woman in a position of strength; the reader is told "nature took revenge on the thief" (Correia: 5). Correia creates a powerful female character by making nature the old woman's ally. As well as the aforementioned gothic elements, Correia's work contains many references to nature (Magalhães: 1995, 99) and it is elevated here to character status, arguably an antagonist. The personification of nature is somewhat surreal; Correia's work often consists of folklore traditions and even fairy tale elements. The Old Woman, however, includes some temporal markers such as the mention of modern technology (Correia: 4) and though lack of geographical markers is common in folklore/fairytale tradition, the fact that the old woman lights a lamp on her altar for Saint Theresa (Correia: 3) points to a very Portuguese protagonist.
Not so in Doroteia; though clearly rural Portugal, there are few temporal and geographical markers. There is also a distinct lack of references to foreign literature and cultural contexts. Instead Correia seems to be criticising both Catholicism and the treatment of women in a mid-century rural society. Magalhães (1995, 101) agrees that Correia wants the reader to consider the difficulties of provincial life and includes many references to it throughout the story, often in the form of aural verbs which denote suffering. 'Weep', 'whispering', 'moaned', and 'mumbled' accompany descriptions of poverty and decay. The techniques used in Doroteia are a departure from her usual approach, perhaps, but arguably effective in communicating the struggles of women in Portugal.
Effective storytelling is one thing but for a novel or a collection of short stories to sell, the public must be aware of them and encouraged to buy them. Correia is excellent with regards to her use of the epitext. Images of her adorn the covers of her books and she is often dressed in a black cloak, once again evoking the gothic, sinister side to her work. She readily gives interviews, often outside, surrounded by nature; a clever technique, when one considers the key role nature often plays in her fiction. In interviews she discusses her literature but also speaks a lot about her background, again drawing on her Celtic routes and experiences abroad. In one such interview, Correia mentions her experiences in Ireland: "Eles não tinham verão há cinco anos e só esse ano foi de sol [...] Diziam-me, na rua: 'Que lindo dia!' E eu pensava: 'Não é nada.' Apanhar amoras foi o tempo todo o meu trabalho." (In Máxima: Nov 2001). The seemingly insignificant difference in culture is irrelevant to most people but Correia's understanding of such issues is clear in her work and makes her appeal to a wider audience, outside Portugal. She feels an affinity with the countries whose literary ancestry she borrows and all of these aspects – her background, her media image, and her appropriation of gothic/folklore tradition – work together to make up a unique body of work which has a hope of standing out in the Portuguese literary canon.
[...]
Details
Pages

11

Year

2015

ISBN (eBook)

9783656945550

ISBN (Book)

9783656945567

File size

480 KB

Language

English

Catalog Number

v295718

Institution / College

University of Birmingham

Grade

62

Tags