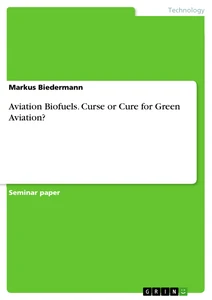 Aviation Biofuels. Curse or Cure for Green Aviation?
Term Paper 2015 27 Pages
Excerpt
Inhaltsverzeichnis
LIST OF FIGURES
ABBREVIATIONS
ABSTRACT
1. INTRODUCTION
2. DEFINITION OF BIOFUEL
3. HISTORY OF BIOFUELS
4. DRIVING FORCES FOR AVIATION BIOFUELS
4.1. ECONOMICAL REASONS
4.2. EUROPEAN UNION REGULATION
5. AVAILABLE AVIATION BIOFUEL APPROACHES
5.1. FISCHER-TROPSCH AND THE BIOMASS-TO-LIQUID PROCESS
5.2. HYDRO-PROCESSED ESTERS AND FATTY ACIDS
5.3. THE CARBON LIFE CYCLE
6. CHALLENGES FOR AVIATION BIOFUELS
6.1. FOOD PRODUCTION COMPETITION
6.2. LAND USE COMPETITION
6.3. AVAILABILITY
6.4. PRICE VOLATILITY
6.5. COMPATIBILITY AND CERTIFICATION
7. POSSIBILITIES FOR AVIATION BIOFUELS
7.1. CO2 LIFECYCLE AND EU ETS
7.2. COST EFFECTIVENESS
7.3. INDEPENDENCE OF FUEL PRODUCING COUNTRIES
7.4. ENTERING NEW MARKETS
7.5. DEALING WITH THE CRUDE OIL SHORTAGE IN THE FUTURE
7.6. ALGAE-BASED JET FUEL
8. CONCLUSION
BIBLIOGRAPHY
List of Figures
Figure 1: The Carbon Cycle (2014), http://earthobservatory.nasa.gov/Features/CarbonCycle/images/carbon_cy cle.jpg (Accessed on 21.10.2014)
Figure 2: The Fischer-Tropsch Technology, http://blog.cafefoundation.org/wp-content/uploads/2011/01/fischer- tropsch.gif (Accessed on 17.10.2014)
Figure 3: The Carbon Life Cycle (2014), http://sarcozona.org/wp-content/uploads/2011/06/Carbon-cycle-full.jpg (Accessed on 19.10.2014)
Figure 4: Algae Fuel Production (2014), http://images.dailytech.com/nimage/Algae_Biofuels_Production.jpg (Accessed on 10.10.2014)
Abbreviations
Abbildung in dieser Leseprobe nicht enthalten
Abstract
The purpose of this paper is to evaluate the challenges and chances of biofuels in an aviation context. It begins by providing a brief history on biofuels in general and in aviation specifically. It is followed by an overview of the main driving forces for the aviation industry to invest in biofuels and their development. After that, different available biofuels and their segmentation in first, second, and third generations is shown in more detail along with a basic overview on the production processes that exist on the market. Based on the given information, first the challenges and after that, the chances, for the aviation industry on investing in aviation biofuels is shown into detail.
The paper claims that the biofuels still have major issues as there is no real alternative on the market or in development that can substitute crude oil-based jet fuel up to 100%. Current biofuels can only be used as mixtures with conventional jet fuel. However, the biggest issue, namely that biofuels cannot be certified in aviation because of their specifications, is solved with second-generation biofuels.
The main challenges are still to find a sustainable biofuel that can be used without changes to existing aircraft propulsion technology and nothing ensures that this will be possible in the necessary timeframe until the crude oil finally starts to become less available. That point in time is constantly updated, but only based on statistical data. It is not known at what point in time this will be exactly.
However, there are a number of opportunities. They range from having an alternative to substitute conventional jet fuel for emission reduction reasons to the investment of an aircraft operator to the production of biofuel itself. This could be for the sake of entering new markets or just to integrate the fuel supply into the company-owned supply chain. The paper concludes that a lot of development still seems to need to be required before a real alternative to conventional jet fuel is available on a large scale. The most promising approach today is the algae-based fuel production, which uses genetically modified algae to directly produce an oil derivative.
1. Introduction
Fuel made from crude oil has been vital for the aviation industry since the beginning of commercial aviation in 1908, when Wilbur Wright took an employee with him in his plane. (BURNS&MCDONNELL, 2014) Today, the world oil demand in aviation has reached 5.5 million barrels of oil equivalent per day (mboe/d) and due to the growth in the aviation industry, this demand is still rising with a projected demand of 7.2 mboe/d by 2035. (ORGANIZATION OF THE PETROLEUM EXPORTING COUNTRIES, 2013) Jet fuel price right now is decreasing and reached a minus of 16.5% in average if the price level of October 2013 and October 2014 is compared. (INTERNATIONAL AVIATION TRANSPORT ASSOCIATION, 2014) However, the overall fuel price in the past few years has risen remarkably from 104.1 USD per barrel in December of 2010 to 121.5 USD per barrel in July of 2014. That is an overall increase of approximately 16.7% in just four years. (INTERNATIONAL AVIATION TRANSPORT ASSOCIATION, 2014) For that reason alone, the search for alternative aviation fuels is interesting, since from an economical point of view, there are alternatives to cut costs. On the other hand, the continuing increase in the awareness about carbon dioxide and its implications on the climate is putting additional pressure on the search for alternatives.
This paper focuses on biofuels in aviation and what possible chances and challenges it has in the aviation industry as an alternative to crude oil- based fuels. It starts by providing an overview of the development of biofuels in general and for aviation specifically. Based on that, the associated challenges are evaluated and thus, so too are the possible chances that result for the aviation industry. Upon conclusion, an outlook is provided for possible further developments and options in the near future.
2. Definition of Biofuel
Biofuels are a portion of bioenergy or biomass energy that is produced from various organic materials. The production relies on biological processes and this basically means that any available organic material is used to produce liquid fuel that is then known as ethanol, methanol, and biodiesel. Especially important is that biofuels contain energy from previous carbon fixations, which means that burning that sort of fuel only sets free the amount of carbon dioxides that have been fixated during the biomass formation process. (OLAH, George A. et al., 2009)
3. History of Biofuels
Until the industrial revolution in the 18th century, the predominant source of energy had been biomass materials such as wood, plant oil, or animal fat. During the industrial revolution, the former bioenergy sources were replaced with fossil fuels, coal, and later oil and gas in a step by step process. (BORCHARDT, Knut, 1978) In the early 1980s, new research on renewable energy sources started after the initial oil crises in the 1970s. (KARLSCH, Rainer and Stokes, Raymond G., 2003) The world became aware of the fact that crude oil, as well as coal and gas, are finite as the basis of energy production. At some unknown point in the future, and even in the current day and age, the calculations will differ remarkably and fossil sources for energy will be completely consumed.
The developments at that time allowed for the first generation biofuels that have since been used primarily heating homes and power generation. The most common source for the production of those biofuels is edible plants that are rich in sugars and bio-derived oils. The sugar-containing plants can be fermented to produce ethanol as a direct substitute for petroleum.
The second generation biofuels are based on bio-derived oil that is usually produced through pressing the plants to get the oil. Bio-derived oil can be burnt directly or processed further to make jet and diesel fuels. The second-generation biofuels were introduced during the 1990s. (AIR TRANSPORT ACTION GROUP, 2009) Most of those biofuels are still produced from different feedstock.
The latest development in biofuels and especially in bio jet fuels are the third generation biofuels that rely on certain plants like algae that are genetically manipulated to produce different types of fuel. The research is still in its initial stages and no long-term experience exists at this point as only research farms are currently in existence. Availability for commercial use is to be expected as of 2035 and onwards. (BIOFUEL.ORG.UK, 2014)
4. Driving forces for aviation biofuels
4.1. Economical reasons
Research on biofuels for aviation already started with first generation biofuels. At the beginning, the interest in the industry was mainly derived from the perspective to gain independence from oil producing countries and then increase the bargaining power. With the oil crisis, the volatility of aviation fuel prices has been an important factor in establishing the first approaches into aviation biofuels. For the aviation industry, fuel costs are one of the main expenses of operations. In 2013, Lufthansa spent 22.5% of the overall operating expenses on fuel, which in total numbers is 7.058 million EUR. (LUFTHANSA, 2013) Even just little changes in the overall aviation fuel price can contribute greatly to the operating expenses. An alternative source for aviation fuel that is not dependent on the oil price would remove the pressure on the fuel policies of airlines.
4.2. European Union Regulation
The second main driving force is the green house discussion that started in the early 1990s. The natural green house effect is comprised of the release of carbon in the form of carbon dioxide into the atmosphere and then becomes fixated in soil via plants that absorb this carbon dioxide. This is called the natural carbon cycle.
[...]
Details
Pages

27

Year

2015

ISBN (eBook)

9783656925071

ISBN (Book)

9783656925088

File size

2.2 MB

Language

English

Catalog Number

v294668

Institution / College

University of Applied Sciences Frankfurt am Main

Grade

1,0

Tags