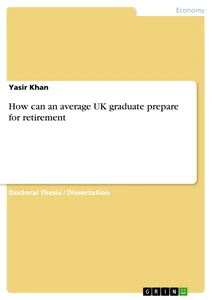 How can an average UK graduate prepare for retirement
Doctoral Thesis / Dissertation 2015 37 Pages
Excerpt
Content
Introduction
The Current Pension Provisions in the UK
Unfunded Pension Schemes
Funded Pension Schemes
The Significance of Saving for Pension
Pension and Financial Position
State Pensions
Patterns in Spending Habit of Retiree Households
Retirement Income Needs and Inflation
Methodology
Presentation of Findings
Analysis of Findings
Understudy Uoan Repayment Factor
Plan 1 : Example student loan payments
Uncertainties and Risk Facing Pension Schemes
Longevity Risk and Private Pensions
Investment Risk and Defined Benefit Pension Funds
Conclusion
References
Appendices
Abstract
Be it the modern age graduates, or the baby Boomer generation, savings have always been a central point to ponder in regards to planning for the post-retirement future. Regardless of the fact that there are many today who may not appreciate savings, rather move on towards living their routine lives without planning, or their interest towards saving, there exists a lack of understanding of how one can prepare for retirement. Especially in the recent UK graduates, or more specifically the Millennials, there is a serious gap between acceptability and understanding planning for retirement. The purpose of this paper is to provide an overview of the various intricacies and characteristics of pension planning, types of pensions, facts and figures regarding savings, and the significance of saving for the Millennials of the UK in light of comprehensive retrospect and primary research.
Introduction
The topic area of this dissertation is essentially Finance, but involves a rather qualitative perspective of financial metrics. It undertakes the various metrics and variables involved in an average UK graduate's preparation for his/her retirement, and the concerns underlying this factor.
The central question pertaining to this study is "How can an average UK graduate prepare for retirement?". The objective is to uncover the various intricacies involved in terms of pension, and the efforts made by individuals to prepare financially for their old age. The study focuses basically on the milennials - the ones born between 1980 and 2000 - since they are the most rational samples to study the current pension issues in the UK, and are also the ones who will be vastly involved in job hunts and employment (Howe & Strauss, 2009).
The world of work is on the verge to be reshaped by those born between the 80s and the 2000s, AKA the millennial generation. The best in a business's future relies upon its capability to attract the best in the generation of Millennials (Fromm, 2013). The culture of the 21st century workplace will essentially be defined by the millennial generation's aspirations for their career, work attitudes, and their acuity about the new and changing technologies (Espinoza & Rousch, 2010).
The graduates of this generation are important not only for the fact that they will shape up the future of the contemporary workplaces (Reiser & Janson, 2010), but also because they outnumber he so called Baby Boomer generation who have either retired, or are about to retire- In the United Kingdom, the millennial generation has already occupied approximately 25% of the total workforce, whereas their overall market share in the global workforce market will rise up to 50% by the end of 2020 and 75% by 2025 (Deloitte, 2014). Be that as it may in spite of the fact that they will soon dwarf their Generation X ancestors, they stay hard to find, especially in parts of the world where conception rates have been lower (Sujansky, 2009). They will likewise be more profitable - this era will work to help a fundamentally bigger, more established era as future increments. Chiefs let US know that pulling in and keeping onenger laborers is one of their greatest ability challenges.
It's agreeable that Millennials will be a capable era of specialists and that those with the right abilities will be popular. They may have the capacity to summon innovative prize bundles by today's principles, as well as additionally impact the way they work and where and how they work in the working environment. They might likewise speak to one of the greatest difficulties that numerous associations will confront.
Are Millennials truly any distinctive to past eras? It's valid to say that a portion of the conduct and characteristics of Millennials can be clarified by their age and relative absence of obligations. Our conduct and needs change and adjust as we age, however to release the issues totally on that premise would be an error.
Millennials' utilization of innovation plainly separates them. One of the characterizing attributes of the millennial era is their fondness with the computerized world. They have grown up with broadband, cell phones, laptops and social networking being the standard and anticipate that moment access will data. This is the original to enter the working environment with a superior handle of a key business instrument than more senior laborers.
It's more than simply the way Millennials use innovation that makes today's and diverse - they carry on diversely as well. Their conduct is shaded by their experience of the worldwide monetary emergency and this era put considerably more accentuation on their individual needs than on those of the association. Furthermore executives ought to be vigilant - almost 75% of Millenials in our review said they had bargained to get into work - something we accept will be set all right as monetary conditions make strides.
Millennials have a tendency to be uncomfortable with inflexible corporate structures and turned off by data storehouses. They expect fast movement, a changed and intriguing vocation and steady criticism. As it were, Millennials need an administration style and corporate society that is uniquely not the same as anything that has gone before - one that addresses their needs (Moser, 2002).
The specific qualities of Millennials -, for example, their aspiration and craving to continue learning and move rapidly upwards through an association, and also their readiness to proceed onward rapidly if their desires are not being met - obliges a centered reaction from businesses. Millennials need an adaptable way to work, yet exceptionally normal input and support. They need to feel their work is advantageous and that their endeavors are being perceived. Also they esteem comparable things in an executive brand as they do in a shopper brand. These are all attributes that head honchos can effectively address.
The organizations that have as of now been the best in pulling in gifted Millennials - Google and Apple among them - are commonly inventive superintendents who are never limited by 'how things used to be carried out'. These organizations are not particularly focusing on Millennials, however their way of life, administration style and way to enrollment and maintenance characteristically speak to the millennial era. Furthermore as a result of that, they find themselves able to take their pick of the best more youthful ability around.
Regardless of the long haul points and aspirations of an individual organization, the capacity to draw in and hold millennial ability will be an essential venture to attaining to it.
This study plans to give some knowledge into the psyches of new graduates from as far and wide as possible entering the workforce shockingly. Chiefs are getting to be progressively worried that they will soon be not able to discover the ability that they will need to succeed, with a deficiency of suitably gifted specialists in their single greatest stress. Organizations are contending furiously for the best accessible laborers and for the ability that will supplant the resigning Boomer era in the advancing few years. Consistently, more of that ability will be selected from the positions of Millennials.
As they start their working lives, what are the trusts and desires of this era? Also above all, work together pioneers and HR groups need to overhaul their current procedures parallel to the transitions.
In this study, a total of 400 UK graduates was surveyed across 5 recognized universities, including London Metropolitan University, Sheffield Halam University, London Business School, London School of Business and Finance, and client's own institute name. 48 of these respondents were client's own institute name graduates who responded through direct survey questionnaires, while others responded either online through social/peer networks, or via email requests. Overall, 341 graduates across the sample population responded to the survey. The age bracket for all the graduates was under 31 years, while a majority of them had graduated between 2010 and 2014. Exactly 68% of the total respondents were already employed or about to join a new employer while 20% of the respondents were in search of a job when the questionnaires were filled. The remainder of the respondents were either entrepreneurs or were on their way to pursue further education and specialization. Out of the total respondents that were employed, almost 80% responded that their jobs involved graduate roles while the rest were working under positions that did not have any educational pre-requisites.
Quotes from the Millennials who participated included throughout this report. The key issues to be addressed in this study include the following;
How can average UK graduates prepare for retirement?
How student loan repayment may affect their retirement plans?
What are their other options than government pension plans?
What type of pension plans would they prefer, and their knowledge about the available pension plans.
Literature Review
A British retiree's yearly pay is not as much as that earned by a graduate in their first employment, as per examination did by Skipton Financial Services. Unbelievably, the normal resigned individual brings home simply £15,776.27 a year - which is almost six thousand pounds not as much as a 21-year-old new out of University.
Analysts found that, in spite of working for up to fifty years, those individuals entering the 'brilliant years' are attempting to bring home the bacon on a pay they beforehand earned up to 25 years prior. The stunning discoveries developed in an investigation of grown-ups who have left job for good, and are currently attempting to get by on a lower salary during a period when the average cost for basic items is going up and up.
It demonstrates one in six individuals are depending singularly on their state annuity to survive monetarily - which implies they bring home a greatest of £145.40 a week, or £7,560.80 every year, once ensure credit is added to top up the fundamental week after week state benefits of £110.15.
As per the report, seven in 10 individuals in retirement thought that it was less demanding to adapt 25 years back with what might as well be called what they are procuring now, just in light of the fact that the typical cost for basic items was so much lower. Keeping in mind 45% of elderly individuals have a private annuity and a further 56% have an organization benefits, a third concedes they think that it hard to see it through to the end of the month.
Without a doubt, 26% right now think that it hard to deal with their bills and whatever remains of their outgoings, with the same rate having not exactly £100 of disposable wage to live on for the entire month. Just under 50% of retirees say the ascent in the expense of petrol, nourishment and service bills has made it hard for them monetarily, while 33% spend most days agonizing over cash and how they are going to survive.
33% of those surveyed profoundly lament not get ready for retirement prior - and on reflection wish they had made a move by the age of 30. Three in 10 individuals didn't spare a penny towards their retirement years and 45% expected they would have the capacity to fall again on the state benefits, without expecting to make different procurements - presumably not understanding how low a pay this truly is.
Andrew Barker, overseeing chief of Skipton Financial Services, said: "It is greatly stressing that such a large number of individuals are confronting such a battle in retirement, during an era when they would have wanted to have the capacity to live it up and do a portion of the things they were not able to do whilst working. It is additionally upsetting that a sixth of the individuals reviewed are depending singularly on their state annuity, as it might be numerous have thought little of their use in retirement and overestimated their disposable salary. It will be a society stun for some individuals to just have the same pay they had a quarter of a century back, particularly when one element in the impacts of expansion. The press on their accounts won't be helped by the late declaration by the Bank of England senator Mark Carney that premium rates are prone to stay at their record low 0.5% for in any event the following three years, importance a delayed powerlessness to depend on an expansion beating rate of profit for their well deserved investment funds.
"It is worried that 33% of individuals are thinking that it hard to endure the month, with over a quarter having not exactly £100 of disposable salary to last the month. It is stressing that pretty much half accepted they would have the capacity to depend on their state annuity and just about a third spared nothing towards retirement. 15% readied for retirement, however their investment funds have officially gone, with the normal time their retirement funds enduring just 14 years. Individuals belittle what they would need to or need to spend, as it is abnormal for retirees to change the way of life they have gotten to be acclimated to.
"A large portion of respondents concede that the late climbs in expansion have hit them hard and they are in for further agony with the remarks from Bank of England Governor Mark Carney that he anticipates that swelling will stay over the 2% focus at around its present level in the close term, not dropping to underneath 2.4% until the end of one year from now. It is tragically past the point of no return for the third who concede that they lament not planning for retirement prior and these will presumably be the same third who spend most days agonizing over cash, when they ought to be getting a charge out of years of flexibility and great wellbeing.
"Governing body not long ago declared that the state retirement age will increment to 67 somewhere around 2026 and 2028, emulated by future expands connected to future, which is liable to see union specialists today not resigning until they are into their 70s. This will at any rate mean these individuals have of a chance time to monetarily plan for their retirement, and additionally a shorter retirement to reserve. One thing which will ideally help future eras of retirees is auto­enlistment, importance less individuals will need to depend singularly on their state annuity. The key thing is to begin setting cash aside when one can in the wake of beginning occupation, as regularly individuals could have more disposable salary when owning, before they get onto the property step and have kids to backing.
"Numerous individuals never tie their retirement goals up with their budgetary plans, and as being what is indicated once in a while consider what it will take to satisfy those objectives. Yet for quite a few people, the future will soon be the present and it could be loaded with second thoughts from realizing that it could have been diverse, had they made a greater amount of their accounts when they had the opportunity (Skipton Financial Services, 2013).
The Current Pension Provisions in the UK
The state of UK gives a flat rate first-level annuity generally called the BSP.. The supplementary or second-level annuities are provided by employers, the government and other budgetary establishments from the private sector, the purported three mainstays of backing in seniority. The core decisions are made amidst: a relatively low level benefit scheme under the state system to which an individual is entitled only after retirement; a word related framework that offers a generally abnormal state of annuity (recorded to costs after retirement as per the guidelines of Limited Price Indexation or better), however, as an aftereffect of poor exchange values between plans, just to specialists who spend the greater part of their working lives with the same organization; and an individual benefits framework that offers completely compact (and LPI- listed) annuities, yet these are in view of dubious speculation returns and are liable to high set-up and organization charges, regularly improper deals strategies, and low paid-up qualities if commitments into the arrangements pass rashly (Blake, 2000).
Entitlement is developed by the representatives in the UK for both Band Profits and the Basic State Pension (BSP) in receipt of income subject to National Insurance Contributions (NICs), to the benefits provided by the State-Earnings-Related Pension Scheme (SERPS). The Department of Social Security is liable to pay the benefits pertaining to the state annuity age, which is 60 years for women and 65 years for men. As or the self-employed individuals, they are entitled for a Basic State Pension but do not qualify for a SERPS annuity scheme. Workers with profit in overabundance of the LEL will consequently be individuals from SERPS, unless they fit in with a manager's word related annuity plan or to an individual benefits plot that has been contracted out of SERPS. In such cases both the individual and the executive contracting out get a discount on their NICs (1.6 every penny of income for the representative and 3.0 every penny for the manager, unless it works a COMPS, in which case the worker refund is 0.6 every penny) and the individual swears off the privilege to get a SERPS benefits. Then again, there is no commitment on managers to work their own annuity plan, nor, since 1988, has there been any contractual necessity for a representative to join the boss' plan on the off chance that it has one. There is an extensive variety of private segment annuity plans open to people. They can join their head honcho's word related benefits plan (in the event that it has one), whichcan be any of the accompanying: . Contracted-in compensation related plan (CISRS); . contracted-in cash purchasescheme (CIMPS);. Contracted- out pay related plan (COSRS); . Contracted-out money purchase plan (COMPS); . contracted-out mixed benefit plan (COMBS); . contracted-out hybridscheme (COHS).
A CISRS is a characterized profit conspire that has not been contracted out of SERPS along these lines gives a compensation related annuity notwithstanding the SERPS benefits, while CIMPS give a characterized commitment supplement to the SERPS benefits. COSRS must give "requisite profits" so as to contract out of SERPS, to be specific a compensation related benefits that is in any event in the same class as the SERPS annuity supplanted, while COMPS must have commitments no lower than the contractedout refund.
Brushes can utilize a mixture of the imperative advantages and least commitments tests to contract out of SERPS, while COHS can give annuities utilizing a mix of pay related and cash buy components. People can likewise top up their plans with extra intentional commitments (AVCs) or unattached extra willful commitments (FSAVCs) up tolimits allowed by the Inland Revenue. As an option, people have the accompanying individual benefits decisions that are autonomous of the superintendent's plan: . individual benefits plan (PPS) (likewise the main sort of plan accessible to the independently employed); . Bunch individual benefits plan (GPPS).
A PPS is partitioned into two segments. The primary is a suitable individual annuity plan (APPS) which is contracted out of SERPS and gives "protected rights" advantages that remain set up of SERPS profits: they are otherwise called least commitment or refund just plans following the main commitments allowed are the joined discount on NICs with the representative's offer of the refund accumulated up for essential rate charge alleviation. The second is an extra plan, likewise contracted out, that gets any extra commitments up to Inland Revenue limits.
Unfunded Pension Schemes
Most state benefits plans are financed on a PAYG premise. The annuities of the resigned era are paid from the commitments of the current working populace. To be suitable as time goes on, they oblige suficient individuals in work, making suffcient commitments to pay for the individuals who have resigned. In fact, we require the whole of the development rates in the working populace and work benefit (i.e., yield every specialist) to surpass the total of the development rates in the resigned populace and genuine benefits (for commitment rates not to climb). This is proportional to stating that the genuine development rate in the national pay bill must surpass the genuine development rate in the national benefits bill. Anyhow in the United Kingdom, as in whatever is left of Europe, the populace development rate is easing off (and in a few nations is really antagonistic) and, because of advances in restorative science, individuals are existing longer. Consequently the populace is maturing significantly, bringing about the supposed demographic timebomb, the between generational danger that there will insuficient more youthful specialists to pay the benefits of the vast quantities of retired people.
While the offer of state annuity costs as an extent of GDP has been contained on account of the United Kingdom through the following half century and is required to fall on account of Ireland, it is anticipated to become significantly in different parts of Europe, climbing by 61% in Italy, by 66% in Germany and multiplying on account of the Netherlands and Portugal. Evaluations have been made of the extent of unfunded state benefits liabilities in Europe (ascertained as the contrast between the present estimations of guaranteed future annuity installments and expected future commitments). Ireland has the most reduced net obligation (at 19% of GDP), nearly took after by the United Kingdom (at 24%), while Sweden and Belgium have the most astounding net liabilities (at 132% and 153% individually). In the event that these liabilities had been perceived as a feature of the national obligation of every nation and added to the offcial measure of national obligation, then no part condition of the EU would have fulfilled one of the Maastricht criteria for taking an interest in the euro coin (specifically that national obligation should not surpass 60% of GDP).
Funded Pension Schemes
In the event that PAYG state benefits plans are liable to wind up progressively unviable (unless state annuities are obliged from becoming in genuine terms or the viable working life is expanded), then governments have minimal option however to exchange the load of annuity procurement to supported benefits plans; keeping in mind these subsidized plans could be in the general population segment (as on account of Sweden, for instance), they are destined to be in the private part. Indeed, there is an outcome in the annuity financial aspects writing, which demonstrates the condition under which, over the long haul, supported benefits plans are better than unfunded plans. It requires the genuine rate of profit for the advantages in financed plans to surpass the genuine development rate in the compensation bill (which is equivalent to the ' rate of return' on a pay-as-one-go framework). This condition seems to hold on account of the United Kingdom and somewhere else, not minimum in light of the fact that benefits stores have the capacity to produce higher returns by putting resources into the quickest developing economies of the world, instead of in Europe. There is additionally a decent hypothetical purpose behind assuming that, in long run balance, the normal profit for resources will surpass the development rate in the compensation bill (which, thusly, measures up to the development rate in national pay if the offer of wages in national wage is consistent). This needs to do with the 'dynamic effciency' of the economy. Be that as it may, it is conceivable to amass so much capital that the rate of profit for capital resources falls beneath the development rate in national salary and the economy gets to be ' dynamically ineficient': individuals could be improved off by sparing less and devouring more. Progressively ineffcient economies are unrealistic to be supportable over the long haul, following the holders of capital are liable to exchange their funding to economies offering higher returns.
Further, exclusively financed benefits plans are liable to the accompanying sorts of dangers: the danger joined to commitment in ows emerging from the likelihood of unemployment, sick wellbeing, incapacity or demise in-administration amid the working lifetime, the danger to the aggregating annuity store emerging from the instabilities connected to resource returns, and the danger identified with the procurement of benefits annuities when lifetimes are questionable. These are dangers that are either costly or difficult to fence utilizing private protection markets: people are not able to exchange chances effciently to the organizations working in these businesses. Precious stone contends that required unfunded state benefits give the component to safeguarding these dangers all in all, albeit there is still the issue that unfunded plans confront a danger from the demographic timebomb that financed plans don't. At long last, the individual subsidizing of benefits courses of action may not be suitable or, without a doubt, attainable for the low paid: staterun PAYG frameworks grant least welfare models to be made by means of salary redistribution in a manner which private segment supported plans don't
[...]