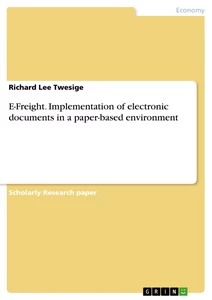 E-Freight. Implementation of electronic documents in a paper-based environment
Research Paper (undergraduate) 2014 7 Pages
Excerpt
2014 E-FREIGHT
Implementation of electronic documents
in a paper-based environment
DECEMBER 2014
RICHARD LEE TWESIGE
Keywords: e-freight, dwell time, cargo, supply chain, logistics, invoice, waybill, CIM Consignment, CMR Consignment
Abstract
The e-Freight project is aimed at uniformly synchronizing transport documents that are used in trade, at the same time providing a manageable system for the stakeholders involved in the logistics business. This paper will address the problems associated with the current transport and logistics system focusing on East Africa, proposed solutions, explain the benefits of e-freight, implementation of e-freight into a paper-based environment, illustration of data flow for cargo and conclusion.
Introduction and Problem Statement
In a place where businesses and economies rely on supply chain activities to meet consumer needs, time is a vital factor. Reducing dwell time at the main ports and border points especially in a growth market environment, is key to economic enrichment to the land locked countries. There have been donations towards the East African community that were aimed at improving trade logistics in the region with inaccurate assumptions that control agencies like customs agents, port authorities, and infrastructure are responsible for these dwell times at the ports and border points.
Findings
Cargo dwell time in the East African ports can take up to two weeks, compared to other ports in Latin America, Asia and Europe which takes less than a week (table 1.1) The port of Mombasa has an average dwell time is close to 20 days in comparison to other large international ports.
[Figures and tables are omitted from this preview.]
Proposed solution
The introduction of advanced information technology into the freight transportation system has had a significant impact on the system so far. With the steady decrease of technology prices, coupled with an increased awareness among transport and logistics stakeholders of information technology's potential, has encouraged the industry to increase the use of technology. Different modes of transportation like carriers will have to rely on real time technology that updates location and status of trucks and cargo in the system. Freight transportation companies such as UPS (United Parcel Service) and Federal Express (FedEx) have increased the use of information technology to meet their clients and business needs.
For East Africa, I propose e-freight technology. E-freight is the implementation of electronic documentation technology into the transport and logistics field. The technology is aimed at removal of paper documents and the provision of efficient data exchange across the system, that makes the entire transportation cycle transparent and accurate. The reduction of the carbon footprint is a guarantee since paper based processes are not environment friendly and cost effective. It also provides key requirements of air/ground cargo;
Quality: Since the documents in use currently are paper-based, there is a high risk of tare and deterioration.
Security: There can be assured safe storage and access of documents needed for transportation. Using encrypted systems, documents can be transferred and shared with other parties. And since electronic documents cannot be misplaced, cargo can't be held for long periods because of missing documents.
Speed: Electronic documents greatly cut the acceptance and delivery process times. With the ability of single capture and no need to re-enter the same data, it makes it faster for the stakeholders to process the data even before the cargo leaves for its destination which helps reduce industry cycle time.
Supply Chain Visibility: Electronic documents can be tracked online. Regulatory advantage: With information technology services in use, regional communities can build accustom e-freight process around the current technology standards.
Cost effectiveness: Cargo transport document processing can be costly over time, and by migrating to a paperless system can help cut stationary costs, manpower costs and even customs penalties due to incorrect data submission.
Implementation and requirements
1. Locate an e-freight location.
An e-freight location is a place where cargo goods are declared and released for export or import. For at least commercial invoices and packing lists do not have to be original to support the declaration of the cargo goods. The location should have a national legislation which supports electronic archiving for transport documents or ratified MC99/MP4 treaties. If the above criteria is met, then it is possible to have an end-to-end paperless system. Otherwise, it cannot be a full e-freight location but can still offer paperless documentation of some documents like the air waybill.
2. Removing core transport documents.
This step includes digitization process of document like; Electronic Air Waybill (e- WB), Electronic House Manifest (e-HM), Electronic Consignment Security Declaration (e- CSD), and Electronic Flight Manifest (e-FM). In addition to the above documents, the same can be done for the CMR Consignment Note (for road [CMR, 1956]), CIM Consignment Note (for rail [COTIF­CIM, 1999]), Sea Waybills (e.g. BIMCO Non- negotiable Sea Waybill), FI T Non- negotiable Multimodal Transport Waybill, BIMCO Multimodal Transport Waybill, In-house Waybills/House Bills (e.g. DHL Express Waybill). This step should enable electronic communication between FF-Airline- GH .
3. Removing Commercial Documents.
In addition to the transport documents mentioned in step 2, invoice and packing lists that are accompanied by special Air Cargo documents such as CITES or Certificates of Origin that are used at destination by the freight forwarder to complete the Customs declarations and other purposes. This step enables the freight forwarder of origin to communicate these commercial documents with to the freight forwarder at destination. Hence the freight forwarder does not need to present these documents to airline carrier.
After the whole system is in place, data flow for cargo should look like this;
[Figures and tables are omitted from this preview.]
Conclusion
The e-freight solution provides means to quickly and securely access and manage information for an entire transport chain, allowing stakeholders in transport and logistics to enter data only one time at one location and also access information that is specific to each of them. The system is unbiased against the size of transport operator and can be used just as effectively for single transport legs, it allows flexibility of deployment. If there are no political and cultural obstacles to this technology, then it will be widely adopted.
References:
[1] "Projects and Operations." East Africa Trade and Transport Facilitation Project / The World Bank. N.p., 4 Oct. 2014. Web. 09 Dec. 2014.
[2] Lavinay, Céline. "E - Freight Fundamentals." IATA E-freight Implementation (2013): n. pag. http://www.iata.org. 2013. Web. 5 Dec. 2014. http://www.iata.org/whatwedo/cargo/e/efreight/Pages/index.aspx.
[3] Liability rules applicable to international air transportation as developed by the courts in the United States: from Warsaw 1929 to Montreal 1999 George N. Tompkins - Wolters Kluwer Law and Business - 2010.
[4] Sjogren, Jerker. Improving Freight Transport Efficiency. Sweden: Ministry of Enterprise, Energy and Communications, n. d. PDF.
[5] Ramsauer, Peter, Dr, and Andreas Scheuer, Dr. Freight Transport and Logistics Action Plan - Logistics Initiative for Germany. Germany: Federal Ministry of Transport, Building and Urban Development, Dec. 2010. PDF.
[6] THE EAST AFRICAN ROAD NETWORK PROJECT. Tanzania: EAST AFRICAN COMMUNITY SECRETARIAT, Jan. 2007. PDF.
[7] "E C Infrastructure: Aviation Projects." EAC Infrastructure: Aviation Projects. East African Community, 25 Jan. 2011. Web. 3 Dec. 2014. http://www.eac.int/infrastructure/index.php?option=com_content&view=article&id=106&Itemid=125.
[8] Ballou, R. H. and J. M. Masters, (1993), "Commercial Software for Locating Warehouses and Other Facilities," Journal of Business Logistics, Vol. 14, No. 2, pp. 71-107.
[9] Raballand, Gael. Why Does Cargo Spend Weeks in Sub-Saharan African Ports?: Lessons from Six Case Countries. Washington, DC: World Bank, 2012. Print.
Details
Pages

7

Year

2014

File size

507 KB

Language

English

Catalog Number

v286735

Grade

10.0

Tags