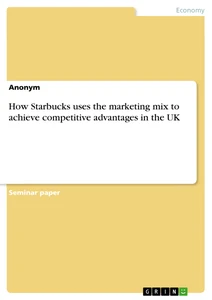 How Starbucks uses the marketing mix to achieve competitive advantages in the UK
Term Paper 2012 44 Pages
Excerpt
Table of Contents
List of Tables
List of Figures
Introduction
Position in the Market
1. Internationalisation Strategy
2. Market Overview
3. Target Segments
4. Positioning
5. Competitive Strategy
Marketing Mix
1. Product
1.1. Brand
1.1.1. CSR
1.2. Customer Service
1.3. Quality
1.4. Product Range
1.4.1. Health Trend
2. Price
2.1. Customers' Value Equation
3. Place
3.1. Location
3.2. Store Format
3.3. Convenience
3.4. Distribution Channels
4. Promotion
4.1. Renaissance Plan
4.2. In-Store Communication
4.3. Relationship Marketing
4.3.1. My Starbucks Rewards
4.3.2. Social Media
4.3.3. My Starbucks Idea
5. People
5.1. Employee Satisfaction
5.2. Employee Appearance
6. Physical Evidence
6.1. Store Layout
6.2. Store Environment
Conclusion
Bibliography
Appendix I – Store Manager Interview
Appendix II – Observation Starbucks Christ's Lane
Appendix III – Observation Nero and Costa
List of Tables
Table 1: Market Entry in Japan
Table 2: Starbucks Target Segments
Table 3: CSR Activities
Table 4: Customer Service Elements
Table 5: Price Comparison
Table 6: Perceived Customer Benefits
Table 7: Starbucks Distribution Channels
Table 8: Implementation Renaissance Plan UK
Table 9: In-Store Communication Activities - Christ's Lane Jan-March 2012
Table 10: My Starbucks Rewards Loyalty Programme
Table 11: Social Media Activities
Table 12: My Starbucks Idea
Table 13: Employee Relationship
Table 14: Physical Aspects
Table 15: Sensory Aspects
Table 16: Critical Success Factors
List of Figures
Figure 1: Competitor Overview
Figure 2: Positioning Map
Figure 3: Bowman's Strategy Clock
Figure 4: Starbucks Experience
Figure 5: Assortment Profiles
Figure 6: Starbucks Location on Christ's Lane
Figure 7: Store Numbers 2011
Figure 8: Sign on the Back of the Espresso Machine
Figure 9: Service Value Cycle
Figure 10: Store Layout Starbucks Christ's Lane
Introduction
The aim of this paper is to analyse the way in which each element of Starbucks' marketing mix contributes to achieve sustainable competitive advantage in the UK market. In order to identify critical success factors, marketing elements will be examined and contrasted to competitors' approaches
Ever since the first coffee houses were opened in the late fourteen hundreds, they have been a gathering place for people to socialise and discuss business (IOC, 2012). Today, the possibilities of how and where to enjoy a cup of coffee are plentiful and Starbucks aims to set itself apart from other coffee houses by creating an experience around coffee, which caters to people's lifestyles. As a supplier of high-quality coffee, Starbucks has become one of the most recognised brands worldwide (Interbrand, 2011). The company's approach to doing business and its impressive success story set it apart from other companies and make it an interesting case for analysing retail marketing strategies.
Position in the Market
This section is set out to define Starbucks' position in the market place compared to its main competitors, which will also be identified.
1. Internationalisation Strategy
Since the first Starbucks store was opened in 1971 in Seattle, the company has transitioned into the largest coffee house chain worldwide, operating 17.000 stores in 58 countries (Starbucks, 2011). After expanding heavily in its home market as well as Canada, Starbucks gradually entered new markets by forming partnerships with local companies (Bussing-Burks, 2009, p.53). Starbucks internationalisation process appears to be in line with Dunning's Eclectic Model, which proposes that companies consider a range of factors before entering an international market and only decide to do so if it is advantageous on several levels (Ruzzier, Hisrich and Antoncic, 2006). The case of Japan serves to support this thesis (Table 1).
Table 1: Market Entry in Japan
illustration not visible in this excerpt
Source: Simmons, 2004, p.133
The case of Japan also shows that Starbucks' expansion strategy is in line with work of those researchers, who argue that in order to be successful, a company should not choose between the two extremes of standardisation and adaptation, but instead work out a strategy that derives benefits from both approaches (Vrontis, Thrassou and Lamprianou, 2009). While Starbucks creates a uniform international appearance by recreating the business model it follows in its home market, the company also adapts to specific local requirements.
2. Market Overview
Starbucks competes in the coffee shop market, which includes all establishments where coffee is the primary sales item. Due to difficult economic conditions in recent years, the market has been vulnerable and thus growth rates improved only slightly (Mintel, 2012). In addition to Starbucks, the market is dominated by Caffè Nero (Nero) and Costa Coffee (Costa), which are regarded as core competitors as they fulfil the same needs and serve the same category. But competition from large non-specialist chains, such as McDonalds, as well as local independent stores intensifies and cannot be disregarded. The following figure provides an overview of Starbucks' competitors in the UK.
Figure 1: Competitor Overview
illustration not visible in this excerpt
Source: Personal market observation in the UK
3. Target Segments
While Starbucks strives to appeal to a wide range of different demographics, the company primarily targets well-educated and affluent 18-49 year-olds. Within this segment, the main groups of interest are university students or graduates, professionals, and also young families, particularly mothers with young children. Due to Starbucks' global presence, stores are also highly frequented by tourists. As the menu is designed to cater to different preferences, Starbucks does not only appeal to coffee lovers.
Table 2: Starbucks Target Segments
illustration not visible in this excerpt
Source: Personal observation
Individual Starbucks stores target different customers depending on the location, which in turn influences store layout and range of merchandise. There are three Starbucks stores in Cambridge's city centre – Christ's Lane, Grand Arcade and Market Street. While the Christ's Lane store predominantly targets students and customers with children, the other two stores primarily target tourists and shoppers (Appendix I).
4. Positioning
Starbucks achieved a premium position in the coffee shop market based on a high quality level combined with higher than average prices, which is illustrated in figure 2. As the company is successful within this position, it can be concluded that customers are willing to pay a premium price in order to receive a superior level of quality and service. Costa positions itself similarly, but focuses more on speed of service and convenience, which goes at the expense of quality (Blatchford, 2011). Nero on the other hand, represents a high value position, as it provides a good service at slightly lower prices, which appeals to price-sensitive customers.
illustration not visible in this excerpt
Figure 2 : Positioning Map
Sources: Personal observation; Starbucks, 2012g; Gridovate, 2010; White Rose, 2012
5. Competitive Strategy
Competitive strategy is concerned with the basis on which a business unit might achieve competitive advantage in its market (McDonald and Wilson, 2011, p.227). Starbucks claims to add value to its products providing customers with what they want more effectively than competitors thus justifying premium prices. While the correctness of this statement will be investigated by analysing the company's marketing mix, it can be declared that Starbucks follows a differentiating strategy according to Bowman's interpretation of customers' value equations (Figure 3).
Figure 3: Bowman's Strategy Clock
illustration not visible in this excerpt
Adapted from Johnson, Scholes and Whittington, 2008, p.33; Starbucks, 2012g
Marketing Mix
The following analysis of Starbucks' marketing mix is based on marketing activities in Great Britain, with particular focus on the company's store on Cambridge's Christ's Lane. The aim is to provide an understanding of how Starbucks differentiates itself from main competitors in the area in order to gain competitive advantage.
1. Product
A product consists of several tangible and intangible aspects that customers purchase to satisfy their needs and wants (Ghauri and Cateora, 2010, p.365). Therefore, customers' in-store experience as well as the feeling they get when buying a product becomes part of the purchase and thus also part of the product. As McDonald and Wilson (2011, p.148) explain, 'product surround' "can account for as much as 80 per cent of the added values and impact of a product".
1.1. Brand
Experiential brands such as Starbucks follow the concept that a brand's identity and design evoke certain sensations, feelings and cognitions for the consumer, thus creating an experience, which can result in brand loyalty and even advocacy (Lockman, 2012). As Starbucks CEO Howard Schultz states: "At Starbucks, our product is not just great coffee but also what we call the 'Starbucks experience', an inviting, enriching environment in our stores that is comfortable and accessible, yet also stylish and elegant" (Schultz and Yang, 1997, p.251). Figure 4 presents further elements of the 'Starbucks Experience'.
Figure 4: Starbucks Experience
illustration not visible in this excerpt
Compiled on the basis of Schultz, 2011; Simmons, 2004; Logo: Starbucks, 2012g Because of its strong brand image, Starbucks has a high fixed utility as the costs and benefits for customers are largely independent of the specific item purchased (Gilbert, 2003, p.167). The fact that Costa and Nero did not yet develop a similarly strong brand provides a competitive advantage for Starbucks and adds to customers' value perception.
1.1.1. CSR
As CSR is an important part of the Starbucks Experience, activities of Costa, Nero and Starbucks will be compared in table 3.
Table 3: CSR Activities
illustration not visible in this excerpt
Sources: Appendices II-IV; Schultz, 2011; Starbucks, 2012a; Costa, 2012a; Nero, 2012
As corporate social responsibility becomes increasingly important for customers' purchase decisions, Starbucks strong commitment to conducting business in an ethically and socially responsible manner has become an inseparable part of the brand and sets the company apart from competitors.
1.2. Customer Service
Since customer service is a major part of customer's overall in-store experience, Starbucks trains its employees to approach customers in a friendly and open way, which they effectively put into practice. To make the experience more personal, employees are now asking for customers' names and are wearing name tags themselves. While employees aim to serve customers as quickly as possible, it is not always achieved. Furthermore, employees are not always able to keep up with the cleaning as there are often dirty cups on the tables. As many customers come to the store to work on their laptops, a number of plugs is provided as well as free and easy access to Wi-Fi, which has come to be expected in coffee shops and attracts people (Appendix II). The following table provides an overview of service perceptions for all three competitors.
Table 4: Customer Service Elements
illustration not visible in this excerpt
Sources: Appendices II-III
1.3. Quality
As part of Starbucks' value proposition the company aims to ethically source only high-quality Arabica beans, while competitors often use inferior and cheaper Robusta beans (Bussing-Burks, 2009, p.6). Sourcing and roasting own beans allows Starbucks to closely control the quality of its product and guarantees consistency, so that Starbucks claims to offer the same taste and the same quality in every store worldwide. Furthermore, Starbucks provides its baristas with extensive knowledge about coffee, which they brew fresh in the store every day (Appendix I). The use of quality beans as well as Starbucks' expertise in roasting differentiate the company from others in the specialty coffee industry.
1.4. Product Range
The core product – the coffee in all its variations as well as the food and the coffee equipment - is yet another important part of the Starbucks Experience. When comparing the assortment of all three competitors it becomes evident that Starbucks provides a greater product variety within each category and also a greater choice (Figure 5).
Figure 5: Assortment Profiles
illustration not visible in this excerpt
Adapted from Gilbert, 2003, p.149
While Costa and Nero primarily concentrate on selling a selected range of hot and cold drink options along with sweet and savoury snacks and newspapers, Starbucks' Christ Lane store additionally offers instant coffee, tea bags, coffee beans, mugs which have become a popular collector's item, and further coffee-related accessories. Selling branded merchandise for home use provides a further advantage as people take the Starbucks experience home and are thus constantly exposed to the brand.
Starbucks investment in research and development allows the company to be on the forefront when it comes to product innovations. They were, for example, the first to introduce the popular Frappuccinos and not long ago introduced premium instant coffee (Schultz, 2011, p.245).
1.4.1. Health Trend
Customers are increasingly pursuing a healthier lifestyle, which is also reflected in their food and drink choices (Mintel, 2012). To respond these preferences all three coffee shops offer healthier alternatives and customisation options, as for example reduced fat milk. Starbucks even goes a step further by displaying nutritional information with all their food and drink options including the calorie count for drinks on their menu board (Appendix II).
2. Price
Starbucks is positioned as a premium coffee specialist and therefore adapts a premium pricing strategy. A price comparison between the three main coffee shops in Cambridge confirms that Starbucks generally charges slightly higher prices for its products (Table 5), which the company justifies by claiming to provide higher than average quality and service.
Table 5: Price Comparison
illustration not visible in this excerpt
Based on in-store menu display March 2012, prices are for smallest drink option Prices for food items in all three stores vary according to 'eat-in' or 'take-away' options, which is explained by the Value Added Tax that is applied to food eaten at the store.
As a premium coffee supplier, sustaining high prices is essential for customer contentment and retention. This is reinforced by the price quality effect, which states that a higher price signals superior quality and thus reduces price sensitivity (Gilbert, 2003, p.159). Starbucks is therefore able to increase its prices every year without losing its customers (Appendix I). Due to its position as a premium retailer, Starbucks does not normally offer any discounts or meal deals. Money-saving incentives are only provided for customers participating in Starbucks' reward system who are entitled to free drinks and free extras such as additional espresso shots or syrups in order to reward their loyalty (Starbucks, 2012b).
2.1. Customers' Value Equation
"I like to think that the Starbucks Experience is an affordable necessity"
Howard Schultz
CEO Starbucks
As customers are looking for value, they are only willing to make sacrifices, if they believe that product image and quality justify the purchase at the given price (Gilbert, 2003, p.167). Starbucks has a strong brand image, which customers associate with high quality coffee and good customer service. As Starbucks products include an experience consisting of elements such as the in-store atmosphere, the following table lists attributes which provide benefits to customers when purchasing from Starbucks.
Table 6: Perceived Customer Benefits
illustration not visible in this excerpt
Based on multiple store visits, February-April 2012
Customers willingness to pay more for high-quality coffee combined with a nice in-store atmosphere and good customer service corresponds to the unique value effect, which implies that customers "are less sensitive to a product's price the more they value any of its attributes that differentiate it from competing products" (Gilbert, 2003, p.159). For many customers Starbucks coffee has become part of their daily routines and a luxury that they are not easily willing to sacrifice (Bussing-Burks, 2009, p.43). Therefore, the value added benefit is high enough for them to agree to pay higher prices.
As Costa and Nero aim to take market share from Starbucks by providing products of similar quality for less money thus appealing to customers, who do not identify with Starbucks' brand image or simply do not derive more value from purchasing Starbucks branded products.
3. Place
3.1. Location
Starbucks chose to open its store on Cambridge's Christ's Lane (Figure 6), a premium high street location with modern retail units in close proximity to the historic city centre and further shopping areas (JLD Media, 2011). Even though, Christ's Lane is a highly frequented pedestrian link between St. Andrews Street and Christ's Piece, it is quieter and not as busy as Starbucks' two closely located stores in the Grand Arcade and on Market Street, which appeals to the store's targeted customer base. While Giraffe is the only restaurant on Christ's Lane, several direct competitors operate stores within walking distance, thus potentially taking market share from Starbucks and reinforcing the need for Starbucks to differentiate its product offer.
Figure 6: Starbucks Location on Christ's Lane
Abbildung in dieser Leseprobe nicht enthalten
Source: Recke, 2012
3.2. Store Format
As Starbucks' core business concentrates on selling a wide range of coffee variations and associated items at premium prices and by providing a high service quality and expert knowledge, the stores fall into the category of specialty retailers. The presentation as specialty store fits well with Starbucks upmarket location and thus meets customer expectations.
[...]
Details
Pages

44

Year

2012

ISBN (eBook)

9783656853893

ISBN (Book)

9783656853909

File size

1.7 MB

Language

English

Catalog Number

v284888

Institution / College

Ashcroft International Business School Cambridge – Anglia Ruskin University

Grade

1,0

Tags