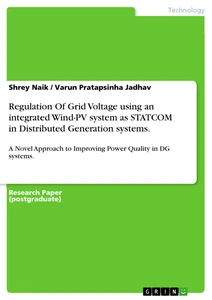 Regulation Of Grid Voltage using an integrated Wind-PV system as STATCOM in Distributed Generation systems.
A Novel Approach to Improving Power Quality in DG systems.
Research Paper (postgraduate) 2014 4 Pages
Summary
In the proposed paper, it is described how a Solar PV Farm along with a battery storage system can be used to regulate grid voltage in a PV-Wind integrated distributed generation System.
At night time Solar PV system is normally dormant (i.e. it does not generate power) but the stored power in batteries can be utilised efficiently to regulate the common coupling voltage by means of a FACTS based Static Synchronous Compensator (STATCOM) thereby improving the power quality.
Various Utilities are facing major issues with Grid Integration of various types of Renewable Energy Distributed Systems while ensuring power quality ,Regulation and Stability. During day time the inverter of PV system provides the power to Grid but during night time PV farm is inactive and stored energy in the batteries can be used as power source to PV inverter for implementing a STATCOM.
with advancements in RES and increasing DG systems to provide for load demand the quality of power has to be maintained to optimum value and this paper focuses purely on improving regulation of voltage without using external regulation devices but the installed RES system.
In order to implement and validate the concept of the prescribed paper SIMULINK Tool has been used.

Details
Pages

4

Year

2014

ISBN (eBook)

9783656834755

ISBN (Book)

9783656834762

File size

824 KB

Language

English

Catalog Number

v283560

Grade

B.E EEE First Class

Tags