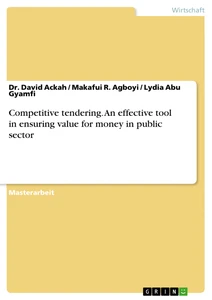 Competitive tendering. An effective tool in ensuring value for money in public sector
Masterarbeit 2014 20 Seiten
Leseprobe
ABSTRACT
This research report was carried out on the topic, "competitive tendering as an effective tool in ensuring value for money in public sector procurement''. The main objective for this study was to examine how competitive tendering could be used as an effective tool to achieve value for money in public sector procurement at the Ahanta West District Assembly. The researcher administered twenty (20) questionnaires to some selected departments in the organization, specifically the procurement unit, the stores department, the accounting department and then the engineering department. The researcher used purposive sampling as a technique to gather ample information for this work. By purposive sampling, the researcher targeted those departments within the organization whose daily activities have direct bearing on procurement. Information gathered were analyzed critically and presented in the form of tables which is readily understandable. It was found out from the analyses that the Ahanta West District Assembly uses the competitive tendering methods in awarding most of their contracts thereby procuring goods, works and services at affordable and competitive prices. However the major problem identified was that, the processes involved are seen to be complex more especially for some contractors and those employees who have little knowledge in procurement when it comes to works and also the problem of political interference .The researcher finally recommended that series of workshops and seminars should be organized for both procurement officers especially new ones who have little knowledge in practical procurement when it comes to works and potential contractors so that they will have more insight into what goes into the preparations or processing of tender documents and lastly the Public Procurement Authority (PPA) should institute measures to monitor the adherence to the public procurement Act 663 in all public institutions.
Key Words: Competitive Tendering, Value for Money and Purposive Sampling
INTRODUCTION
Ensuring value for money is one of the ultimate aims/objectives of the Public Procurement Authority (PPA) as well as all public sector organizations since there is definitely going to be accountability. As a result of this Carpineti et al (2006) lamented on the fact that with efficient procurement practices, both the public and the private sectors play a key role in modern economies as they ensure reduction of wasteful activities. Achieving such efficacy is an ambitious task as procurement faces numerous challenges, especially due to the work structure, the legal framework and the political environment procurers' face.
Indeed in recent years public and even private procurement players have set up several initiatives and networks aimed at sharing best procurement practices. Some examples may include the International Federation of Purchasing and Materials Management (IFPMM), the International Purchasing and Supply Education and Research Association (IPSERA), the Public Procurement Network (PPN), and the EU Public Procurement Learning lab (EU Lab, 2003-2005) (Carpineti et al ,2006) as well as that of the Republic of Ghana called the Public Procurement Authority (PPA 2003).These initiatives were taken to ensure that the best procurement procedures (competitive tendering) are adhered to.
In Ghana however the Public Procurement Act 663 (2003) is the hand book within which the various tendering methods and procedures are highlighted (Section 35 -47). The researcher based his arguments on the best tendering methods/practices (competitive tendering) which are tools for ensuring value for money in public sector procurements. Procedures and conditions for competitive tendering are clearly itemized in section 35 of Act663. Competitive tendering is also known as the open tendering, equal opportunity is given to qualified suppliers to bid for contracts (Lyson and Farrington, 2006).
They come in the form of national competitive tendering (NCT), international competitive tendering (ICT), and two stage tendering and restricted tendering (public procurement Act 663.section 35, 36, 38,44and45). These are the various competitive methods of procurement available at the disposal of all the public sector organizations when it comes to the acquisition of goods, works and services of which the Ahanta West District Assembly is not an exception. It is very obvious these days that even most private sector organizations make good use of the above mentioned methods to achieve value.
Currently, most District Assemblies fund for their projects using the Internal Generated Funds (IGF), the District Assembly common funds, The World Bank and other donor agencies. It is well noted that the assemblies system of tendering and award of contracts are based on the terms and conditions outlined in the public procurement Act 663. However if these conditions are compromised and contracts are being tendered for and awarded anyhow (to whom you know), then the purpose for which the Act was enacted will be in vain.
Thus there wouldn't be competitive contractual deals and once this happens it will pave way for contractors to misappropriate our limited resources thereby providing shoddy works/projects which will intend need to be renovated or re-awarded when they are abandoned by these selfish contractors. Hence value for money cannot be achieved but rather causes financial loss to the state if it is a state funded project.
An effective means of ensuring value for money in the award of contract is by allowing all able or qualified contractors or suppliers to bid or tender for contracts (competitive tendering) per section 35(1) of Act 663. It can be deduced from the above statement that the competitive tendering method will provide a range of variety of contractors with variety of goods, works and services within which an organization can select the best available option, all things being equal.
However the opposite is envisaged in most public sector organizations these days as contracts are being awarded to some incompetent contractors who through dubious means find their ways into the procurement net and misappropriate state funds allocated to them in the name of contact deals. The research work therefore seeks to examine competitive tendering as an effective tool in ensuring value for money in public sector procurement specifically at the Ahanta West District Assembly.
Furthermore it will interest readers to know that the government of Ghana is incurring many losses as a result of these selfish-contractors and their respective selfish-procurement officers in these District Assemblies since monies which should have been used to put up more infrastructural facilities are nowadays used for rehabilitations of old projects as well as for the completion of abandoned works.
More so the interference of some political figures in the whole tendering process up to the award stage so to say makes the process vulnerable since the best tendering procedures are compromised.
As a result the key objective of this study is to examine how competitive tendering could be used as an effective tool to achieve value for money in public sector procurement at the Ahanta West District Assembly. The specific objectives seek to:
1. Ascertain the tendering methods used by the District Assembly when it comes to the award of contracts/projects.
2. Examine the role of the procurement unit in the tendering procedures and the award of contract.
3. Examine if the tendering procedures adopted by the organization ensure value for money.
4. Give recommendations and suggestions towards improving tendering procedures in the Assembly.
Consequently, the following key questions are asked.
1. What type of tendering method do you use to award contracts at the Ahanta West District Assembly?
2. What role does the procurement unit play in the tendering and the award of contracts at the Assembly?
3. How does the method mentioned above help in achieving value for money?
4. What are the problems encountered in the tendering processes?
5. How can these problems be solved?
As a result of time and financial constraint, we limited the research works to the Ahanta West District Assembly in Agona Ahanta otherwise this work should have covered other public sectors.
But however the case may be we are of the strongest conviction that most public sectors encounter similar problems and for that matter analysis and recommendations made in the end may go a long way to help.
REVIEW OF LITERATURE
THE CONCEPT OF PUBLIC SECTOR PROCUREMENT
Public procurement is the process through which an organization/government purchases goods, works and services using state funds.
Stuart and Barry (2008) discussed procurement as part of the supply chain philosophy and indeed added that in many organizations it is alleged that procurement does occupy a strategic role that recognizes the fact that buying gives both value for money and cost reductions. Besides it may cover all of the following aspect; the acquisition of what is needed by spending money externally so as to satisfy the needs of both internal and external customers, expediting, providing information and services to parties involved.
Dobler and Burt (1996) also echoed that to public sector organizations, procurement is a process or concept which encompasses a wider range of supply activities than involved in purchasing functions and typically includes broadened view of traditional buying role with more buyer participation in related material activities. They went further to say that the activities include conducting of all purchasing functions ,management of investment recovery activities and salvage of surplus activities ,purchase inbound transportation and so on.
Once more Lysons and Farrington (2006) in their research added that procurement is the process of obtaining goods or services in any way, including borrowing, leasing and even force or pillage. Based on the above discussions so far, it's quite clear that procurement to many public sector organizations is of keen interest since it is aimed at obtaining value for money in organizations and state spending.
Another view is that procurement represents a very large fraction of total economic activities. The value of public procurement transactions in EU countries is about 16% of their Gross Domestic Product (GDP) whiles in the United States it is around 20 %.( Dimitri et al, 2006).
This may account for the reason why in 2003 the government of China enacted the first national regulation on government procurement, called The Government Procurement Law (GPL) which applies to the purchase of goods, services and construction projects by state bodies. Public Institutions and social organizations at all government levels.
Again motivated by the need to control cost and streamline the whole procurement process centralization versus decentralization has captured the interest of many researchers, practitioners and public Administrators.
CENTRALIZATION IN PROCUREMENT
Procurement is fully centralized when all the relevant decisions (what ,how, when.) to purchase products whether by competitive tendering or by negotiations are in the hands of a company's headquarters or a centralized public unit dedicated to buying products to satisfy the need of the company such as the Public Procurement Service (PPS) which is Korea's Procuring Agency and the central administration, purchasing and providing goods, and services needed for the operation of the various government agencies and public organizations.
Dimitri et al. (2006) went on to argue that countries such as Mexico (1996), Brazil (1997), Chile (2003) and other governments in Latin America have recently developed centralized e-procurement systems. Also some government and other public sectors may consider some activities /products to be strategic to pursuing certain social or national goals and for that matter negotiations and pre-contract deals will have to be done centrally for security reasons. As a result, USA defense procurement is in the hands of the Department of Defense (Dec.2004). Procurement in the health care sector is not left out since the acquisition of certain anti-malaria drugs/vaccines will have to be done rapidly whiles green procurement policies aimed at buying products with mild or no impact on the environment all because public procurement represents a considerable share of government expenditure in both developed and developing countries like ours.
Benefit of centralization in procurement
Some benefits of using this system are; Efficiency (savings and cost control), Greater/higher bargaining power, Product standardization, Monitoring contractor's performance and the achievement of value for money etc. (Dimitri et al, 2006).
DECENTRALIZATION SYSTEM OF PROCUREMENT
It's the opposite of centralized as divisions or local administrations are delegated the power to decide how, what and when to procure. However research indicates that when organizations become large, controlling the costs of decentralized branches may become difficult. That is why the centralized system is common over the years in countries like Europe, USA, and Asia. More so it was discovered that centralized procurement is estimated to save 15% -20% on purchases of materials and services.
This is because the centralized system of contracting makes available to all public sectors several items for a given period of time at a certain (often renegotiable) price. Public sectors are therefore recommended to use such contract systems since it can help to obtain goods, works and services at competitive prices which will in the end help to achieve value for money (Dimitri et al, 2006).
However the case may be, Ghana is not an exception although it has not centralized all its procurement activities but then, the enactment of the Public Procurement Act 663 (2003) and the establishment of the Public Procurement Authority (PPA) serve as a shielding mechanism to all procurement deals in our treasured country.
COMPETITIVE TENDERING
The term tender refers to a formal offer to supply goods or services for an agreed price.
From a purchasing perspective competitive tendering is a purchasing procedure whereby potential suppliers are invited to make a firm and unequivocal offer of the price and terms on which they will supply specified goods and services, which on acceptance, shall be the basis of a subsequent contract (Lysons and Farrington, 2006).
Tenders are normally based on a specification of requirements prepared by the purchaser but then an alternative is to invite suppliers to submit a solution and a price to a problem stated by the purchaser. It's comprehensible that tendering is based on the principles of competition, fairness and accountability, transparency and openness and probity since the whole process is aimed at ensuring best value for money and not necessarily the lowest price.
In reaction to the above statement Dimitri et al. (2006) echoed that although its competitive procurement (open tendering) it is opened to only qualified suppliers to guarantee good contracts execution.
Competitive Tendering Methods
Per section 35, 36, and 38, of the public procurement Act 663(2003) is the various methods of competitive tendering. Thus, competitive tendering (National and International), two stage tendering and restricted tendering.
National Competitive Tendering
This is a procurement proceeding in which the procurement entity decides that only domestic suppliers or contractors may submit tenders, the entity shall then employ national competitive tendering procedures (Public Procurement Act 2003 (Act 663) of Ghana, Section 44).
International Competitive Tendering
In Ghana the above method can be used whenever open/competitive tendering is used and effective competition cannot be obtained unless foreign contractors are invited to tender. Then also when items to be procured are not available locally or cannot be provided on account of technical and other competencies together with financial constraint (Public Procurement Act 2003 (Act 663) of Ghana, Section 45).
[...]
Details
Seiten

20

Jahr

2014

ISBN (eBook)

9783656844396

ISBN (Buch)

9783656844402

Dateigröße

747 KB

Sprache

Deutsch

Katalognummer

v283466

Note

A

Schlagworte