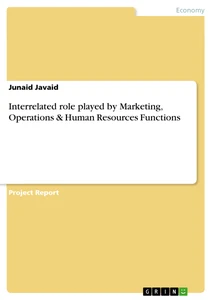 Interrelated role played by Marketing, Operations & Human Resources Functions
Project Report 2014 10 Pages
Excerpt
1. Introduction
It has been believed the marketers engaged in the services business couldn't accomplish the core objectives of its companies without assistance of managers responsible for the execution of other functions. Most precisely, it has been determined that three management functions (marketing, operations and human resources) always play major and interrelated roles especially in designing and delivering services that would enable these companies in meeting their customers' needs(Glynn & Barnes, 1995). In short, it has been understood that there is a clear interdependence exists between all of three functions in regard to satisfying the specified company's customers' needs. Importantly, the companies' top management always required to ensure that all managers and employees working in all three given functions are not operating in departmental silos(Nankervis, 2005).
2. Significance of Each Function in the Service Designing & Delivery
2.1. Marketing Function
It has been found out that production and consumption factors are typically distinguished in the manufacturing companies. And relatedly, it is not essential for personnel in production function to have direct interaction with customers specifically in regard to the companies operating in consumer goods sectors. In given circumstances, the marketing function plays vital role in creating relationship between the compani
es and their customers and hence provides the companies' operations function with the instructions for the product specifications that would attract their consumers. Correspondingly, the companies' marketing function is also helpful in projecting market demands as well as important information on the competitive activity along with acquiring feedback on the performance companies' services(Hoffman & Bateson, 2001). In some cases, it has been discovered that marketing personnel are working closely with distribution & logistics department in developing the company's overall distribution strategies. While in regard to the services companies, things are seems to be quite different. The services operations based on the people processing services where customers used to enter the premises whenever they need services. It has been understood that the services companies that have large chain (like fast-food restaurants and hotels) whose service delivery sites are resided in various location across the country or world, then in that situation it would become mandatory to have direct interaction with operations function. The main reason for that interaction is that customers desire to be involved directly in the production and consume services outcome when it has been produced.
In relation to the manufacturing companies, it has been assumed that marketers are consider to be entirely responsible once the finished product moves outside the production line. And very often, marketers are seen to work closely with the companies' retailers. However it has been believed that the marketing function of companies are responsible for performing all of the tasks mentioned below:
- Evaluating and targeting the specific market segments.
- Identifying the customers' preferences and needs in each market segment.
- Monitoring competitive marketing offerings along with various aspects (major traits, quality and marketing mix strategies) of given services(Wirtz, 2012).
- Projecting that the potential services would meet the needs of targeted market segments and simultaneously ensuring that given marketing offering would compete or exceed the quality of competitors' marketing offering.
- Establishing and choosing the forms of services level for the supplementary elements so that it would enhance the value of specified services.
- Collaborating with personnel in operations function especially for the designing of complete service process for ensuring that either it is according to the desired customers' preferences and needs or not.
- Deciding upon the prices of given services with respect to three important factors (competitive strategies, costs and customers' sensitivity) at different price levels.
- Deciding the location and also the availability & scheduling of services in relation to the customers' preferences and needs.
- Developing sufficient communication strategies so that it would make possible for the company in creating awareness among its target segments about the benefits of specified services to be offered by the company.
- Mapping out the performance standards on the basis of customers' expectations and needs for the establishment and measurement of specified services levels.
- Creating loyalty programs for the purpose of reinforcing and rewarding loyal customers.
- Conducting research for examining that either the company's targeted segments are satisfied with the quality of specified services or not and in this way it would help them in signifying any aspect which needs improvements or changes.
Therefore, it has been learned out that service marketing function strongly linked with operations, personnel and procedures that used to be undergone by operations function and also dependent on the characteristics of services personnel hired and trained through human resources function. In short, it has been seen that marketing function has major implications for organisational design, strategy and the assignment of responsibilities(Fisk, 2013).
[...]
Details
Pages

10

Year

2014

ISBN (eBook)

9783656748847

ISBN (Book)

9783656748014

File size

591 KB

Language

English

Catalog Number

v280855

Institution / College

University of Warwick

Grade

B-

Tags