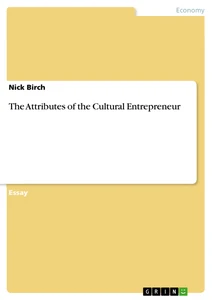 The Attributes of the Cultural Entrepreneur
Essay 2014 8 Pages
Excerpt
THE ATTRIBUTES OF THE CULTURAL ENTREPRENEUR
Nick Birch 2014
"If you want one year of prosperity, grow grain. If you want ten years of prosperity, grow trees. If you want one hundred years of prosperity, grow people."
— Chinese Proverb
For generations, Zen philosophy has taught the importance of finding tranquillity inside yourself instead of foolishly seeking it in the world around you. One of the most profound teachings from this philosophy, and probably one that is most relevant to the entrepreneur, is that of ignoring doctrine and listening to your gut instinct. (Butt, 2014a)
Google (N/A) defines entrepreneur as 'a person who organizes and operates a business or businesses, taking on greater than normal financial risks in order to do so', from the French 'entreprendre', meaning to 'undertake' and 'go between'. Branagan (2003) outlines several critical success factors:
- being able to make connections and spot opportunity
- taking a creative approach to problem solving
- being able to cultivate networks of appropriate contacts
- being able to persuade, inspire and motivate others through enhanced vision
- the ability to take calculated risks and having the nerve to work outside convention
- the ability to overcome rejection and failure
- keeping pace with technology and innovation
- an understanding of business strategies and tactics
It is the spirit of undertaking something novel and innovative; in some sense either pushing forward with avant-garde activities, or combining elements from previous concepts for new markets or audiences. There are many entrepreneurs within the arts world who do just this, acting as go-betweens for artists and clients, or audiences. Furthermore, the common preoccupation with originality, implementing ideas and making progress, held by many artists and arts consultants, is itself an entrepreneurial trait; translating vision into a creative act. From a contemporary and historical perspective, an entrepreneurial outlook has either inadvertently or intentionally ensured the successful progression of many very influential figures within both the commercial and non-commercial arts sectors.
(Branagan, 2003)
CULTURAL CAPITAL
While the post-modern world of consumption and spectacle suggests to some academics and governments that the arts and cultural industries are the way of the future, others remain sceptical about their social and economic value. Leading social theorist and prolific academic writer, Pierre Bourdieu, argued that 'capital formed the foundation of social life and dictated one's position within the social order' (Social Theory re-wired, 2011). As one of France's greatest scholars and one of the most influential social theorists in the world, Bourdieu's theory of cultural capital refers to 'the collection of symbolic elements such as skills, tastes, posture, clothing, mannerisms, material belongings, credentials, etc. that one acquires through being part of a particular social class. Sharing similar forms of cultural capital with others -the same taste in movies, for example, or a degree from an Ivy League School - creates a sense of collective identity and group position ("people like us"). But Bourdieu also points out that cultural capital is a major source of social inequality. Certain forms of cultural capital are valued over others, and can help or hinder one's social mobility just as much as income or wealth' (Social Theory re-wired, 2011).
Richard Swedberg (2006) defines cultural entrepreneurship as the carrying out of a novel combination that results in something new and appreciated in the cultural sphere. In a paper prepared as a keynote address for the 2006 conference of the Association for Cultural Economics International in Vienna, Swedberg (2006) sees cultural entrepreneurship as a combination of art, economy and entrepreneurship. He refers to the work of Austrian American economist and political scientist Joseph Schumpeter (2012) when defining the Cultural Entrepreneur:
1. Introduction of a new or improved good
2. Introduction of a new method of production
3. Opening of a new market
4. Exploitation of a new source of supply
5. Re-engineering or organising of business management process
Joseph Schumpeter's idea of 'creative destruction' seems to embody these five traits, but as a vehicle for social change. The opening up of new markets, foreign or domestic, revolutionises the economic structure ' from within, incessantly destroying the old one, incessantly creating a new one. The process of Creative Destruction is the essential fact about capitalism. It is what capitalism consists in and what every capitalist concern has got to live in' (Schumpeter, 1976, p.83).
THE CULTURAL ECONOMY
illustration not visible in this excerpt
http://www.unesco.org/culture/pdf/creative-economy-report-2013.pdf
The creative industries generate substantial economic impact - and this impact and growth is outpacing every other sector of the economy. According to data collected from around the world by the Global Centre for Cultural Entrepreneurship (N/A), it indicates the Creative Economy is the economy of the future:
- USA: Creative industries generated $142 billion in export sales in 2012 -- more than aerospace or American agriculture.
- USA: The cultural economy employs over 27 million individuals.
- The creative economy of California (the world's 8th largest economy) generated more than $3.3 billion in state and local tax revenues in 2012.
- EUROPE: creative industries contribute $600 billion (USD) to European economy.
- EUROPE: 10% of ALL exports stem from creative industries.
- CHINA: Spending on creative and cultural goods surpasses $97 billion USD in 2009.
- GLOBAL: $646 billion in annual global exports of cultural goods and services, according to United Nations figures.
'Each region has its own "cultural treasure chest." The globally minded entrepreneur must act a bit like a pirate, stealing slivers of wisdom from different treasure chests, forging them together, and making them his own.' (Butt, 2014a) Rapidly adapting to changes in technology and knowing how to discover and when to exploit a new market are also traits all cultural entrepreneurs must be familiar with.
CREATIVITY + TECHNOLOGY = EXPLOSIVE ECONOMIC GROWTH
Disruptive technologies are catalysing explosive growth of new firms in the creative and cultural industries. An unprecedented wave of innovation is transforming the processes used to create, market, distribute, and consume cultural and creative goods (Global Centre for Cultural Entrepreneurship, N/A). In its 2013 Creative Economy Report, the United Nations (2013, p.10) demonstrated that the creative economy is not only one of the most rapidly growing sectors of the world economy, but also a highly transformative one in terms of income-generation, job creation and export earnings'.
illustration not visible in this excerpt
http://www.unesco.org/culture/pdf/creative-economy-report-2013.pdf
Cities and regions are a privileged terrain because of their dense networks of interacting people, markets and activities. 'The city as a whole functions as a sort of creative field – albeit one that is also completely open to the rest of the world – in which multiple bits of information flow with special intensity between the diverse units of economic and social activity contained in the urban space' (Scott, 1999). 'The integration of these local nodes is closely related to, and indeed driven by, their integration in the world economy as places of cultural creation, production, distribution dissemination and consumption. In other words, individual urban settings have increasingly constituted systems of internal transactions that are embedded in a wider system of global transactions in a grid of relationships that are at the same time complementary and competitive. Globalized digital and other electronic technologies have largely driven out standardized forms of work and have encouraged a vast expansion in human capital resulting from the cognitive and cultural assets of the labour force' (United Nations, 2013, p.33)
[...]
Details
Pages

8

Year

2014

ISBN (eBook)

9783656730774

ISBN (Book)

9783656730743

File size

1.2 MB

Language

English

Catalog Number

v279279

Institution / College

Central Queensland University

Grade

1.6

Tags