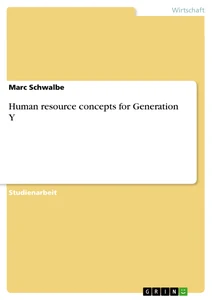 Human resource concepts for Generation Y
Studienarbeit 2013 11 Seiten
Leseprobe
Table of Contents
1 Introduction
2 Generation Y
2.1 Meaning of the term "Generation Y"
2.2 Characteristics
3 Human resource management
3.1 Tasks and history of Human resource management
3.2 Concepts for generation Y
3.2.1 Create a workplace environment
3.2.2 Teleworking
3.3 Opportunity, Challenge and Risks
4 Conclusion
5 Résumé
6 Table of figures
7 Bibliography
1. Introduction
Generation Y (14 to 27 years old) is often tagged as a self-entitled group raised during prosperous economic times, placed on pedestals by their doting baby boomer parents. In the context of the workplace, they've been described as overly ambitious dreamers who don't want to pay their dues and are only concerned about higher pay and more time off. Generation Y (Gen Y) is also called "Millennials".
The kinds of career and development opportunities Generation Y is asking for are going to require significant rethinking and retooling of how organizations are set up, how work is designed, and how people are managed and rewarded. Organizations need to act now.
The largest generation since the baby-boomers, the Millennials are defined by their numbers. They will have a huge social and economic impact. There are three major characteristics of the Millennial group: 1) They are racially and ethnically diverse, 2) They are extremely independent because of divorce, day care, single parents, latchkey parenting, and the technological revolution that they are growing up alongside, and 3) They feel empowered; thanks to overindulgent parents, they have a sense of security and are optimistic about the future. The following assignment is going to examine the possibilities and concepts for the human resource management according to the generation Y.
2. Generation Y
2.1 Meaning of the term "Generation Y"
The phrase Generation Y first appeared in an August 1993 Ad Age editorial to describe teenagers of the day, which they defined as different from Generation X, and then aged 11 or younger as well as the teenagers of the upcoming ten years.[1] Since then, the company has sometimes used 1982 as the starting birth year for this generation.[2]
The Pew Research Center, an American think tank organization, lists the millennial birth range from 1981-2000.[3]
A global generational study conducted by the University of Southern California, the London Business School, and PwC (a network of member accounting firms) defines millennials as those born between 1980 and 1995. The 2013 Millennial Impact Research Report by the Achieve Guidance Agency cites the generation's birth range from 1979-1994.
A report based on research conducted as part of a joint partnership with the Service Management Group, Barkley Agency, and the Boston Consulting Group lists the age range from 1977-2000.
Several alternative names have been proposed by various people:
Generation We, Global Generation, Generation Next, and the Net Generation.
Millennials are sometimes also called Echo Boomers, referring to the generation's size relative to the Baby Boomer generation, and due to the significant increase in birth rates during the 1980s and into the 1990s.
In the United States, birth rates peaked in 1990 and a 20th-century trend toward smaller families in developed countries continued.
In Australia, there is debate over Millennial birth dates. It is generally accepted, however, that the first Millennials were born in 1983. The Australian Bureau of Statistics uses 1983–2000.
In Canada, 1983 is generally thought to be the starting birth year for Generation Y, ending in 1999 or 2000, even as late as 2004.
The first reference to "Generation 9/11" was made in the cover story of the November 12, 2001 issue of Newsweek Magazine. This could be considered a sub-group in Generation Y.
Eric Greenberg, author of Generation We: How Millennial Youth Are Taking Over America and Changing Our World Forever cites the age range from 1978-2000.[4]
2.2 Characteristics
Generation Y grew up with technology and rely on it to perform their jobs better. Armed with BlackBerrys, laptops, cellphones and other gadgets, Generation Y is plugged-in 24 hours a day, 7 days a week. This generation prefers to communicate through e-mail and text messaging rather than face-to-face contact and prefers webinars and online technology to traditional lecture-based presentations.
Abbildung in dieser Leseprobe nicht enthalten
Figure 1: Difference between Personal and Lifestyle Characteristics[5]
Family-Centric: The fast-track has lost much of its appeal for Generation Y who is willing to trade high pay for fewer billable hours, flexible schedules and a better work/life balance. While older generations may view this attitude as narcissistic or lacking commitment, discipline and drive, Generation Y legal professionals have a different vision of workplace expectations and prioritize family over work.
Achievement-Oriented: Nurtured and pampered by parents who did not want to make the mistakes of the previous generation, Generation Y is confident, ambitious and achievement-oriented. They have high expectations of their employers, seek out new challenges and are not afraid to question authority. Generation Y wants meaningful work and a solid learning curve.
Team-Oriented: As children, Generation Y participated in team sports, play groups and other group activities. They value teamwork and seek the input and affirmation of others. Part of a no-person-left-behind generation, Generation Y is loyal, committed and wants to be included and involved.
Attention-Craving: Generation Y craves attention in the forms of feedback and guidance. They appreciate being kept in the loop and seek frequent praise and reassurance. Generation Y may benefit greatly from mentors who can help guide and develop their young careers.[6]
3. Human resource management concepts for generation Y
3.1 Tasks and history of Human resource management
Human resource management was previously known as personnel management which was concerned with the activities of a single department. It was typically concerned with the administration of human. The functions carried out by the department were recruitment and selection, reward, appraisal, development, grievance handling, retirement, registration and so forth. It was introduced and developed in the bureaucratic set up in which importance was given on organization and administration of manpower.
Now, human resource management may be defined as a process in which human resources are recruited and mobilized in such a way that it helps in achieving the objective of the organization. HRM is concerned with the people dimension in management under which the consideration is given towards recruitment and selection, development, motivation and maintenance of human resources in an organization. It is one of the main functions of management, which is related with the management of human energies and competencies. Human resource management helps to ensure the right man, for the right position and at the right time in a changing environment. The organizational performance depends on the efficiency of human resource working in the organization. Hence, a proper set up should be taken for manpower planning, recruitment, motivation, training and development, performance evaluation, remuneration management and industrial relation.[7]
Moreover, human resource management is concerned with the development of human skill, knowledge and ability to perform the organizational tasks effectively and efficiently. It is a field of study consisting of four functions- acquisition, development, motivation and maintenance of human resources. The acquisition is related with getting people, development is with preparing them for work, motivation refers to activating them and finally maintenance refers to keeping them retained in the organization.
Therefore, human resource management is an art of managing and mobilizing people in the organization. It is done through the application of different practices and policies which ultimately values human resources as major asset of an organization. It integrates personnel function into strategic management.[8]
Human resource mangement is a product of the human relations movement of the early 20th century, when researchers began documenting ways of creating business value through the strategic management of the workforce. The function was initially dominated by transactional work, such as payroll and benefits administration, but due to globalization, company consolidation, technological advancement, and further research, human resources management now focuses on strategic initiatives like mergers and acquisitions, talent management, succession planning, industrial and labor relations, and diversity and inclusion.
In current global work environment, all global companies are focused on retention of talent and knowledge held by the workforce. All companies are focused on lowering the employee turnover and keeping the knowledge. New hiring not only includes a high cost but also highers the risk of persons not being able to replace the person who was working at the same position before. Human resource management department is also focused on making the strategies in the form of benefits or other activities to lure the workforce and reduce the risk of losing the knowledge.[9]
3.2 Concepts for generation Y
3.2.1 Create a workplace environment
The following tips are some of the ways business leaders and Human resource managers can create a workplace environment to foster the development of the dynamic Gen Y generation:
- Provide challenging work that matters. Gen Ys thrive on conquering challenges that come their way. As a group, they have generally graduated with a dynamic mix of university degrees, and gained valuable work experience. The result of this is that they are searching for roles that are intellectually challenging but also meaningful. While this generation likes stimulation, the reality is that they are also the younger and more junior generation in the workplace, therefore are required to do mundane work at times. To keep them motivated, provide them with a mix of every day work as well as more challenging projects that offer responsibility.
- Give feedback on performance. Having been brought up in an era where they are able to make their own choices and are often rewarded for their work, Gen Y employees appreciate timely and regular feedback on their performance. If you recognize the need to speak to these employees openly and provide honest feedback on their work, you will find that they will be more engaged and motivated to put their best foot forward at work. Frequent encouragement and acknowledgment of their efforts will also reap better work attitudes from Gen Y employees.
[...]
---
[1] "Generation Y" Ad Age August 30, 1993. p. 16.
[2] Francese, Peter (2003-09-01). "Trend Ticker: Ahead of the Next Wave"
[3] http://www.pewsocialtrends.org/files/2010/10/millennials-confident-connected-open-to-change.pdf
[4] William Strauss, Neil Howe (2000). Millennials Rising: The Next Great Generation. New York, NY: Vintage. pp. 213–237
[5] http://www.fdu.edu/newspubs/magazine/05ws/assets/table1.4.jpg
[6] Howe, Neil, Strauss, William. Millennials Rising: The Next Great Generation, p. 352
[7] Fonda Na´ Desh. Gen-Y Implications for Organizations, Perceptions of the "Grown Up Digital" generation, p.18
[8] Cyrus Achouri, Human Resources Management, page 220-230
[9] Ulrich, Dave, Human Resource Champions. The next agenda for adding value and delivering results, page 13-28
Details
Seiten

11

Jahr

2013

ISBN (eBook)

9783656717027

ISBN (Buch)

9783656716969

Dateigröße

639 KB

Sprache

Deutsch

Katalognummer

v278951

Institution / Hochschule

AKAD-Privathochschule Frankfurt

Note

2,7

Schlagworte