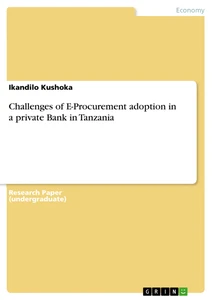 Challenges of E-Procurement adoption in a private Bank in Tanzania
Research Paper (undergraduate) 2005 72 Pages
Excerpt
TABLE OF CONTENTS
DEDICATION.
LIST OF ABBREVIATIONS
ABSTRACT
CHAPTER ONE OVERVIEW OF STUDY
1.1Introduction
1.2ackground information to the problem
1.3Research Problem
Research Objectives
General Objective
Specific Objectives
1.4 Research Questions
General question
Specific questions
1.5 Significance of the study
1.6 Organization of the study
CHAPTER TWO LITERATURE REVIEW
2.1 Introduction
2.2 Theoretical bases of the study
2.2.1 Procurement Definition
2.2.2 Conceptual definitions
2.2.3nline Marketplaces Institutional Theory
2.2.4. Legal Framework and E-Procurement in Tanzania
2.3. Empirical studies
2.4 Conceptual model of e-procurement adoption
CHAPTER THREE RESEARCH METHODOLOGY
3.1 Introduction
3.2 Research paradigms (Philosophy)
3.3 Research design (Strategy)
3.4 Types of measurements- Parametric and Non parametric
3.5 Data collection methods and approach
3.6 Types of data
3.6.1 Primary data
3.6.2 Secondary data
3.7 Sampling techniques
3.7.1 Sample and sample size
3.7.2 Sampling procedure
3.8 Reliability and validity of data
3.8.1 Reliability
3.8.2 Validity
3.9 Management and analysis of data
3.9.1 Data management
3.9.2 Data analysis
3.9.3 Expected results
3.10 Limitation of the study
CHAPTER FOUR FACTS FINDING AND ANALYSIS
4.1 Introduction
4.2 Summary of planned and effective Questionnaire responses
4.2 Necessary skills of procurement officers to support the use of e-procurement
4.3 The availability of technological infrastructure to support e-procurement
4.4 Level of adoption of e-procurement at the bank
4.5 Use and operation of IT at the bank
4.6 Assessment of the strategic importance of e-procurement at the bank
4.7 Consideration of factors driving adoption of e-procurement at the bank
4.8 Highly ranked inhibitor of adopting e-procurement at the bank
4.9 Assessment on skills of procurement practitioners at the bank
4.10 Evaluation on the value of e-procurement to the organization
4.11 Assessment on the professional and academic qualifications of P.M.U at the bank
4.12 The main challenges of adopting e-procurement at CRDB bank
CHAPTER FIVE DISCUSSIONS
5.1Introduction
5.2Discussion on specific Information collected from respondents
5.2.1Skills of procurement officers to facilitate the use of e-procurement
5.2.2Availability of technological infrastructure to support e-procurement
5.2.3 Level of adoption of e-procurement at CRDB bank
5.2.4 Assessment of the use and operation of IT at the bank
5.2.5 Assessment of strategic importance of e-procurement at the bank
5.2.6 Consideration of the factors driving adoption of e-procurement at the bank
5.2.7 Highly ranked inhibitor of adopting e-procurement at the bank
5.3 Discussion on Respondents General Information
5.3.1 Skills of bank personnel in engaging in procurement process
5.3.2 E-procurement as adding value to the bank
5.3.3 Assessment of members of P.M.U on carrying out e-procurement activities
5.3.4 Discussion on the main challenges of adopting e-procurement at CRDB bank
CHAPTER SIX CONCLUSION AND RECOMMENDATIONS
6.1 Introduction
6.2 Summary of the research findings
6.3 Conclusion
6.4 Recommendations
6.5 Contributions and Implications
REFERENCES
Questionnaire for CRDB Bank
Interview Questions to CRDB Bank Top Management
LIST OF FIGURE
Figure 1: Conceptual Model
LIST OF TABLES
Table 3:1 Sample framework
Table 4:1 Education level of Staff
Table 4:2 IT Infrastructure at CRDB
Table 4:3 Level of E Procurement at CRDB
Table 4:4 IT Operations at CRDB
Table 4:5 Importance of E Procurement
Table 4:6 Factors driving adoption of E Procurement
Table 4:7 Inhibitors of adopting E Procurement
CHAPTER ONE OVERVIEW OF STUDY
1.1 Introduction
This chapter presents general information of the study carried in this dissertation. It covers background information to the problem, research problem, research objectives and questions, significance and organization of the study.
1.2 Background information to the problem
The increased adoption of the internet for business uses globally, has influenced the function of procurement to migrate from traditional paper-based processes to e-procurement. The unique features of the internet and related web-based technologies can potentially support the activities of procurement, and at the same time provide improvements to the procurement process. It is on this ground that e-procurement has, in recent years, been used as a means to significantly reduce costs because of its ability to reduce transaction costs and manage the inventory in a more efficient manner. In its most basic definition, e-procurement is the streamlining of procurement/purchasing processes by eliminating traditional paper-based documents such as purchase orders, requisition forms, invoices etc and replacing them with electronic based paperless processes. It is a powerful business tool that can revolutionize the buying function of an organization by streamlining and automating the labour intensive procurement routines which in return enable employees to gain direct access to their suppliers' systems, visually confirm technical specifications and view product pictures, price points, and detailed product descriptions (Commission of the European Communities, 2004).
Companies that use e-procurement technologies save 42% in purchasing transaction costs due to the simplification in the purchase process and the reduction in purchasing cycle time, which in turn, increases flexibility and provides more up-to-date information at the time of placing a purchase order. Thus, e-procurement tends to leverage the bargaining power of companies willing to establish contracts with their preferred suppliers and as a result, the overall maverick buying is lower (Hawking et al, 2004).
The introduction of an e-Procurement system has been identified as a mechanism for many countries to improve their procurement processes and thereby reduce the cost of procurement and deliver better value for money. E-procurement is the use of secure web-based platforms by the government as a buyer to communicate with bidders in a paperless environment, free from the inconveniences, delays, and physical insecurities of any kind.
However the phrase "e-Procurement" can cover a number of elements including:
- The ability to download bidding documents from a website
- Submission of bids through an electronic tender box
- The development of Management Information Systems to assist with procurement reporting as well as oversight and monitoring
- The publication of contract awards on the website of a procurement regulatory or oversight body (Bruno et.al, 2005).
The acceptance of e-procurement, especially in Africa, has been a bit patchy since its inception in the 1990s where it was launched as a method of conducting simple purchasing transactions over the Internet. It has nonetheless evolved into a complex marketplace with many players offering a variety of services from catalogue maintenance and hosting to managing tenders and auctions on behalf of clients (Almeida & Smith, 2004).
1.3 Research Problem
Apart from all the benefits of e-procurement, the process hasn't been smooth. Its adoption and implementation has been facing many challenges in both public and private sectors, particularly at CRDB bank. The adoption of e-procurement in Tanzania is a new phenomenon although some initiatives have already been undertaken by few private companies especially owned by foreign investors in large part. Public procurement is still lagging behind as the initiatives slowly progressing and mostly things are done manually through following the traditional procurement. This calls for a total country approach whereby the whole procurement system in the country will be integrated electronically.
Although a considerable body of work, with regard to the uptake and application of electronic procurement, has already been assembled, however, existing studies tend to adopt narrow conceptualizations of e-procurement, typically centered upon a specific type of technical artefact, such as EDI (Min & Galle, 2003); e-auctions or electronic markets (Moon, 2005). Existing empirical studies of adoption factors have also typically been accomplished using questionnaires (e.g. Min & Galle, 2003) and there has, therefore, been a relative absence of in-depth studies of e-procurement adoption, using qualitative methods. Perhaps even more importantly, to date there have been relatively few studies of e-procurement adoption in a private sector context. The one existing study that already addresses this gap in the literature is a qualitative study of the impacts of e-procurement implementations, within the Tanzania private sector (Croom & Brandon-Jones, 2005). Against this backdrop, the gaps are explicitly addressed by undertaking an in-depth study of the application of e-procurement, within the private sector.
Research Objectives
This research was focused in meeting the following objectives;
General Objective
This study intended to examine the challenges of e-procurement adoption in CRDB bank.
Specific Objectives
-To investigate if procurement officers have necessary skills to facilitate the use of e-procurement
-To examine the extent of availability of technological infrastructure to support e-procurement
-To identify challenges facing CRDB bank in adopting e-procurement
1.4Research Questions
General question
The main research question was what are the challenges of e-procurement adoption in CRDB bank?
Specific questions
-Do procurement officers have necessary skills to facilitate the use of e-procurement?
-What is the extent and level of adoption of e-procurement at the bank in relation to technological infrastructure availability?
-What are the challenges facing CRDB bank in adopting e-procurement?
1.5Significance of the study
This study intended to be of great significance in the following grounds;
The company researched will be able to identify the gaps and therefore improve performance
To measure the extent of e-procurement adoption and reveal areas to be improved for other similar companies in Tanzania
Academically the study will add to the existing knowledge on e-procurement in Tanzania
1.6Organization of the study
This study is organized in six chapters of which chapter one covers introduction or problem setting. This chapter will explore background information and problem setting, statement of the problem, research questions, and objectives of the research, significance and organization of the study.
Chapter two is about literature review whereby it explores the theoretical bases of the study, empirical studies, conceptual framework (Conceptual model) and measurement of variables.
Chapter three explains on the research methodology to be carried out in this study. It consists of research paradigms, design, and types of measurements, data collection methods and approach, types of data, sampling techniques, reliability and validity of data, management and analysis of data as well as limitations of the study. Chapter four is about facts finding and analysis. In this chapter, presentation of facts is done, with a thorough analysis of the data collected.
Chapter five is based on discussions. A thorough discussion of the facts is done relating them to the research questions, objectives, proving the problem existence and supported by references from the literatures review. Chapter six is about conclusion and recommendations ns. A summary of the research is given, drawing a conclusion made from the study, policy implications individual and general, ramifications and their impact. Recommendations are also appropriate contained in this chapter.
CHAPTER TWO LITERATURE REVIEW
2.1 Introduction
This chapter focuses on theoretical bases of the study, empirical studies, conceptual framework (conceptual model) and measurement of variables.
2.2 Theoretical bases of the study
2.2.1 Procurement Definition
"Procurement" is the overarching function that describes the activities and processes to acquire goods and services. Importantly, and distinct from "purchasing", procurement involves the activities involved in establishing fundamental requirements, sourcing activities such as market research and vendor evaluation and negotiation of contracts. It can also include the purchasing activities required to order and receive goods.
2.2.2 Conceptual definitions
Purchasing
The term "Purchasing" refers to the process of ordering and receiving goods and services. It is a subset of the wider procurement process. Generally, purchasing refers to the process involved in ordering goods such as request, approval, creation of a purchase order record (a Purchase Order or P.O.) and the receipting of goods (UN ,1999).
According to PPA, 2004 procurement has been defined as buying, purchasing, renting, leasing or otherwise acquiring any goods, works or services by procuring entity spending public funds on behalf of ministry, department or regional administration if the Government public body and includes all functions that pertain to the obtaining of any goods, works or services, including description of requirement, selection and invitation of tenders, preparation and award of contracts.
E-Commerce
Muffato & Payaro (2004) define Electronic Commerce as a term used to describe the wide range of tools used to conduct business in a paperless environment. Electronic commerce includes electronic data interchange (EDI), e-mail; electronic funds transfer, publishing, image processing, electronic bulletin boards, shared database and magnetic/optical data capture, internet and website.
E- Sourcing
E-sourcing is the use of internet for the identification of new suppliers for a category of purchasing requirements. Otherwise known as reverse auctioning, e-sourcing is a method by which enterprises can move their procurement process online in order to reach a larger number of suppliers than would be possible through usual channels (De Boer, Harink, & Heijboer, 2002).
E-sourcing supports the specification phase; it can be used to pre-qualify suppliers and also identifies suppliers that can be used in the selection phase. For suppliers the benefit is: "marketing" and for the buying organizations the benefit is facilitating the sourcing of suppliers.
E-Auctioning
E-auctioning supports the contract stage. It enables the closing of a deal with a supplier if parties agree on price. They operate with an upward or downward price mechanism e.g. e-auctioning with upward price mechanism for the selling organization and e-reverse auctioning with a downward price mechanism for the buying organization. They are internet based using open or closed systems.
E-Procurement
Essig & Arnold (2001) defines e-procurement as the value added application of e-commerce solutions to facilitate, integrate and streamline the entire procurement process, from consumer to supplier and back again.
E-procurement (electronic procurement,) sometimes also known as supplier exchange) is the business-to-business or business-to-consumer purchase and sale of supplies and services through the Internet as well as other information and networking systems, such as Electronic Data Interchange and Enterprise Resource Planning. Typically, e-procurement Web sites allow qualified and registered users to look for buyers or sellers of goods and services. Depending on the approach, buyers or sellers may specify costs or invite bids. Transactions can be initiated and completed. Ongoing purchases may qualify customers for volume discounts or special offers. E-procurement software may make it possible to automate some buying and selling. Companies participating expect to be able to control parts inventories more effectively, reduce purchasing agent overhead, and improve manufacturing cycles. E-procurement is expected to be integrated with the trend toward computerized supply chain management.
There are six main types of e-procurement:
Web-based ERP (Electronic Resource Planning): Creating and approving purchasing requisitions, placing purchase orders and receiving goods and services by using a software system based on Internet technology.
E-MRO (Maintenance, Repair and Operating): The same as web-based ERP except that the goods and services ordered are non-product related MRO supplies.
E-SOURCING: Identifying new suppliers for a specific category of purchasing requirements using Internet technology.
E-TENDERING: Sending requests for information and prices to suppliers and receiving the responses of suppliers using Internet technology.
E-REVERSE AUCTIONING: Using Internet technology to buy goods and services from a number of known or unknown suppliers.
E-INFORMING: Gathering and distributing purchasing information both from and to internal and external parties using Internet technology.
Electronic Data Interchange
Since the 1960s, many large companies have relied on electronic data interchange (EDI) for the procurement of goods. EDI deals more with the way information is communicated during procurement than it does with the act of linking buyers and suppliers. By definition, EDI is the electronic exchange of business information—purchase orders, invoices, bills of lading, inventory data, and various types of confirmations—between organizations or trading partners in standardized formats. EDI also is used within individual organizations to transfer data between different divisions or departments, such as finance, purchasing, and shipping. Two characteristics set EDI apart from other ways of exchanging information. First, EDI only involves business-to-business transactions; individual consumers do not directly use EDI to purchase goods or services. Secondly, EDI involves transactions between computers or databases, not individuals. Therefore, individuals sending e-mail messages or sharing files over a network does not constitute EDI.
EDI can occur point-to-point, where organizations communicate directly with one another over a private network; via the Internet (also known as open EDI); and most commonly, via value-added networks (VANs), which function like telephone lines by allowing for the transfer of information. In the early 2000s, although many companies still relied on VANs, the Internet was playing a larger role in EDI. It is possible for companies to translate the files used during EDI and send them to another company's computer system over the Internet, via e-mail, or file transfer protocol (FTP). Because it is an open network and access is not terribly expensive, using the Internet for EDI can be more cost effective for companies with limited means. It has the potential to provide them with access to large companies who continue to rely on large, traditional EDI systems. The low cost associated with open EDI also means that more companies are likely to participate. This is important because the level of value for participants often increases along with their number.
While the automotive and retail industries have experimented with open EDI for some time, the efforts didn't result in widespread adoption by small suppliers, usually due to cumbersome requirements like the installation of on-site software. Incorporating EDI into e-marketplaces was an approach that held more potential. In March 2000, an e-marketplace called the Worldwide Retail Exchange (WWRE) was established. It allowed suppliers and retailers in various industry sectors—including retail, general merchandise, food, and drugstores—to conduct transactions over the World Wide Web. After one year of operation, the WWRE had 53 retailer members with combined annual turnover of $722 billion. Leading retailers, among them Kmart, Rite Aid, Best Buy, and Target, planned to offer a Web-to-EDI translation service on the WWRE so it would be easier for smaller suppliers to do business with them. In this arrangement, the retailers send purchase orders to a data center where they are translated to a language that can be read with a Web browser. Suppliers are then notified about the PO and allowed to respond. This is a break from true EDI, since orders are handled manually by suppliers.
For companies using open EDI, a language called extensible markup language (XML), similar in some respects to hypertext markup language (HTML), allows users to share information in a universal, standard way without making the kinds of special arrangements EDI often requires and regardless of the software program it was originally created in.XML played an important role in the development of online marketplaces like WWRE.
2.2.3Online Marketplaces
Online marketplaces bring many buyers and sellers together in an online environment and function as intermediaries between the two parties. In the early 2000s, third-party companies like Commerce One Inc. and Ariba Inc. offered high-end e-procurement software and services that were used to operate different online marketplaces. Numerous other companies provided similar kinds of services and applications. Online marketplaces existed for many different industries, ranging from the food and beverage industries to consumer packaged goods and interior design. The costs for participating in an online marketplace varied. In some cases, participating companies (suppliers, purchasers, or both) were required to purchase special software from a third party. Third parties also levied different charges for making transactions, joining the network, and updating catalogs of available products.
In addition to connecting buyers and sellers, online marketplace providers add value to the procurement process by offering various services, ranging from inventory management and process improvement to tracking shipments and arranging financing. In addition to adding value, online marketplaces also can simplify the process of procurement. For example, some allowed suppliers to choose the manner in which they received orders from purchasers, such as XML, fax, e-mail, or EDI.
The e-procurement value chain consists of Indent Management, eTendering, eAuctioning, Vendor Management, Catalogue Management, and Contract Management. Indent Management is the workflow involved in the preparation of tenders. This part of the value chain is optional, with individual procuring departments defining their indenting process. In works procurement, administrative approval and technical sanction are obtained in electronic format. In goods procurement, indent generation activity is done online (Davila, Gupta & Palmer, 2003).
Generally, e-procurement refers to the automation of any part of the procurement to payment process with electronic tools. E-procurement is a procurement system that utilizes the possibilities created by modern information and communication technologies.
The main advantage is easy and cost effective access to information. There different types of e-procurement systems, each with increasing level of sophistication and requirements are follows: Electronic Information Systems – have low minimal technical requirements. Electronic Purchasing Systems – have medium technical, legal and organizational requirements. Electronic Tendering Systems – have quite high requirements; require mature markets and complex legal and organizational reforms that cannot be easily met outside the context of a larger e-government reform (Almeida & Smith, 2004).
According to PPA, (2004) procurement is defined as buying, purchasing, renting, leasing or otherwise acquiring any goods, works or services by procuring entity spending public funds on behalf of ministry, department or regional administration of the Government public body and includes all functions that pertain to the obtaining of any goods, works or services, including description of requirements, selection and invitation of tenders, preparation and award of contracts.
Electronic Procurement (also known as e-procurement) is a way of using the Internet to make it easier, faster, and less expensive for businesses to purchase the goods and services they require. While e-procurement is a general term that covers a wide assortment of techniques, such as reverse auctions, its overall goal is to streamline the purchasing process so businesses can focus more management time on earning revenue and serving customers.
Implementing an electronic procurement system offers a company many benefits. For example, if an employee needed to purchase a laptop computer for a business trip, he may at one time have been told to visit the local business supply store and charge the purchase to the company account. He may have been given a spending limit or may have been required to bring back a receipt for his purchase; however, those rules were not easy to enforce or to keep track of. He could purchase a top of the line laptop more for personal use than for business, but it would be the company that would foot the bill.
With electronic procurement, those types of situations are much less likely to occur. For one thing, all purchases are easier to track because they are done over the Internet and the company's managers can easily see who made which purchases without having to wait to receive a monthly revolving credit statement. Furthermore, many companies incorporate product specifications into their e-procurement systems, so an employee wanting a laptop might only be able to purchase a certain brand with specific features, memory capacity, and software.
Also, e-procurement saves time. Buyers do not need to leave their desks or make phone calls to suppliers in order to place orders; they simply go through the Internet. And, because suppliers receive the order almost immediately, they can also fulfill and ship it much faster than with the traditional procurement methods.
Although the benefits of e-procurement are plentiful, there are obstacles that that can arise in implementing this type of process. The biggest pitfall is treating all areas of procurement and all products the same. The reality is that what may work for one good or service may simply not work for all of them, so successful e-procurement systems use a number of different techniques.
The best way to illustrate this point is through a comparison of products. One product is what is called a urgent item. These items are those which are supplied by only a few companies or individuals but which are in high demand. Most companies stock up on urgent items if possible so that they do not run out and find themselves in a difficult situation. Another product might be classified as a noncritical item, such as printer paper or coffee filters. These type of items are extremely important to the business but they are needed. Generally, this category of items accounts for 80% of all company purchases.
While both products are needed by the company, they would require different procurement techniques or else the buyer would end up paying more. With an urgent item that is in high demand, for instance, a buyer would never want to hold a reverse auction because the seller would be able to drive up the price since they, not the buyer, have all the power in that relationship. Reverse auctions work quite well, on the other hand, for noncritical items and can lower costs for these items by as much as 35% (Carter, et al, 2004).
E-procurement strategy – costs, benefits and risks
Business cases aimed at adopting or enhancing e-procurement tools are often prepared by information technology and/or finance specialists. However, some of the most successful e-procurement implementations have been driven by those who best understand the procurement processes and outcomes to be achieved. Because of their understanding and proximity to procurement processes, those involved in the procurement function have a key role to play in identifying and assessing the costs and benefits of e-procurement tools and in providing input into how existing tools may be enhanced. The following costs and benefits as identified by de Boer, et al. (2002), can be influenced by e-procurement:
- The cost of expenditure on goods/services related directly to the production/service delivery.
- The cost of non-production of goods and services.
- The cost of operational procurement activities – e.g., requisitioning, ordering, expediting and administrative support.
- The cost of tactical procurement activities – e.g., formulating specifications, selecting suppliers, negotiating with suppliers, contracting, disposals etc.
- The costs of strategic procurement activities – e.g., spend analysis, transaction analysis, market analysis, planning, developing procurement policies etc.
- Internal benefits arising from investments in particular inter-organizational relationships.
- The contribution of investments in particular inter-organizational relationships to revenues.
These costs and benefits should be assessed in relation to each e-procurement tool. While it is usually assumed that e-procurement will automatically deliver benefits, the actual benefits will depend on many factors including: cost of required investment, ability to convert associated savings to cash, nature of the procurement process being automated, particular supply market and the extent to which the organization supports its implementation.
Benefits
Particular benefits of e-procurement in the public sector are thought to include greater transparency in procurement through electronic publishing of tender notices and contract awards. This in turn is likely to enhance accountability and reduce the instances of corruption.
When developing a business case for adopting or enhancing an e-procurement tool, it is important to assess the baseline benefits and costs associated with the process or processes to be automated in order to understand the probable outcomes of e-procurement adoption or enhancement. In essence, it is important to understand what will change and how it will change when an e-procurement tool is implemented.
Risks
The implementation of e-procurement tools carries certain risks. One of the primary risks is missing opportunities to implement strategies that improve procurement management without the need for investment in e-procurement. This is because many of the benefits ascribed to e-procurement may be achieved simply by improving procurement practice. For example, it is often said that e-procurement reduces "maverick buying". However, other measures, including the implementation of corporate buying strategies that offer value for money, do not need electronic tools.
Another risk is over-investment in e-procurement tools that do not deliver the expected benefits. This risk arises when there has been inadequate evaluation of the implications of the adoption or enhancement of e-procurement tools. The risk that users will not accept an e-procurement tool is another common risk. This risk often arises where users have not been adequately consulted about the adoption or enhancement of particular tools.
On the supply side, there is a risk that suppliers will not cooperate with the use of e-procurement tools. For example, some suppliers are sufficiently powerful to insist on the use of paper-based systems. Others may not have access to affordable internet based technology that would give them access to the e-procurement tools of purchasers. In markets that are already competitive with low profit margins, suppliers may choose not to participate in e-reverse auctions.
Normal methods of risk assessment and management should be applied during the development of business cases for e-procurement development or enhancement.
Drivers and barriers to E-procurement
Davila, Gupta & Palmer, (2003) identified the following as drivers or benefits of e-procurement
- Reduction of transaction cost
This is due to reduced paper based processes and the time spent on reconciling various documentations
- Reduced procurement costs
This is due to increasing the buying power of the organization with its chosen suppliers, and discounts likely to be given by suppliers due to reduction of their own administrative costs, when transacting with a procuring entity electronically.
- Reduced procurement cycle time
This is due to speeding up of the entire process and the capability to carry out complete analysis of the procurement cycle so that procurement staff can identify common bottlenecks.
- Better management control
This is due to the fact that all procurement data is processed through one central database and automatically integrated financial management system, thus relevant analysis and management reports to be easily produced.
- Maximum Compliance
This is a result of getting the best value from the deals the Procuring Entity has struck, and allowing leverage for better deals with suppliers. It is compliance and leverage that deliver the largest proportion of cost reductions.
- Minimizing errors in the process
E-procurement results in minimizing chances of errors normally caused by human intervention or correct interpretation. According to Eakin (2003) the challenges behind the practice e-government procurement can be such as, lack of perceived benefits of e-procurement by many stakeholders who participate in the transactions. This is due to lack of enough skills in ICT (Information and Communication Technology) which in turn make reluctance in going for this modern way of procurement despite the fact that some of the activities like advertisement of tendering is currently done through internet.
Lack of trust and security problems, due to cyber-crime via the internet many stakeholders in procurement transaction including the government. Piracy and presence of fake suppliers make some stakeholders not to have much trust with the use of internet as they calculate much risk from cyber-crime.
Difficulty in integrating Information System, this comes in due to the fact that the integration will need many resources when training people involved in the process, set up costs, running costs etc. Reluctance of suppliers, not all suppliers will have the positive response in terms of complying effectively into the new IT system of e-procurement.
Institutional Theory
Institutional theory argues that all organizations take the shape they do because they draw from the culture around them value-based notions of how things should be organised (Tolpert & Zucker, 1996). Institutional theory is an increasingly important lens for studying all types of organizational phenomena (Frumkin & Galaskiewich, 2004). Consequently, in addition to exploring the highly tangible and explicit drivers for Business to Business (B2B) adoption that stakeholders could readily articulate, Institutional Theory also is used to explore the deeper motivations and behaviours of organizations.
The central tenet of institutional theory is that organizations are primarily shaped by their desire to achieve a high level of legitimacy in the eyes of key groups of external stakeholders, rather than being driven chiefly to optimize organizational performance (DiMaggio & Powell, 1983). As organizations and business units of the same type share many external stakeholders, and are subjected to the same environmental pressures, they tend to adopt strikingly similar organizational designs and behaviors'. For example, it has been shown how organizations of a certain class might all adopt similar attitudes to the desirability, or otherwise, of a particular type of technology, such as EDI (Tonkin, 2003). In a similar vein, studies have demonstrated how such institutional factors have also influenced commercial organizations to mimic one another with respect to both their adoption of B2B and Business to Consumer (B2C) e-commerce. Consequently, in addition to the potential inhibitors / facilitators highlighted, there is also the yet un-tested possibility that there are a number of institutional drivers that might be either encouraging or discouraging organizations when it comes to the adoption of e-procurement.
2.3 Legal Framework and E-Procurement in Tanzania
According to (URT, 2003) introduction of e-procurement system in Tanzania is part of e-government implementation. This new system which involves the use of ICT will among others enable suppliers to sell goods and services to the government through the internet. There is no doubt for government through the Public Procurement Regulatory Authority can facilitate the implementation of electronic procurement which is part of the e-commerce and e-government we cannot avoid carefully considering the current policy and legal environment. Furthermore, while the ICT Policy 2003 and the e-government strategy might equally support the introduction of e-procurement as part of e-government implementation there is no specific legal framework to support e-procurement in Tanzania.
The current legal framework such as PPA, 2004 and regulations made thereof including other business laws were made to suit the procurement methods and process under paper based transaction methods. The laws do not give room on the use of e-procurement methods and process. The common legal requirements features under the current legal system that will not suit the e-procurement system include the following legal requirement writing, signature, original documents and records, retention of documents (sect. 56 PPA), manual filling system, formation of contracts, methods of procurement, advertisement and publication in government gazette.
2.2.4. Empirical studies
At the dawn of the Internet era, Gebauer et al (1998) in UK concluded that emerging technologies are raising hopes of reversing the tradition of costly, time-consuming, and inefficient procurement. Very soon an embryonic literature had been established reporting on the, largely positive, experiences of both public and private sector organizations (e.g. Croom, 2001; Essig & Arnold, 2001). Despite the compelling nature of the case for public sector e-procurement that has been made both by formal, governmental-sponsored reviews (NAO, 1999; Byatt, 2001), and perhaps more importantly through the positive experiences of private sector organizations, there is very little evidence that it has been widely adopted within the UK public sector. A study by Tonkin, (2003) of government purchasing strategies found that only 13% of orders are sent electronically; 3% of invoices are received and processed electronically and 6% of tenders are transacted electronically. As Tonkin (2003) notes, there is little evidence of extensive e-procurement use in the public and private sector and therefore its coverage in the academic literature is also very limited. E-procurement function remains rather neglected, a literature is beginning to emerge, with contributions focusing upon its uptake in the US (Moon, 2005) and the UK (Croom & Brandon-Jones, 2005).
E-procurement solutions make purchasing activities more effective in terms of both time and cost. E-procurement is changing the way businesses purchase goods. Since most products and services are procured using electronic data interchange and the Internet, the application of e-procurement is inevitable in both manufacturing and services (MacManus, 2002).
A study by Knudsen (2003) on the adoption of e-procurement was conducted in Hong Kong. The main objective of the study was to identify the perceived critical success factors and perceived barriers regarding the implementation of e-procurement. A conceptual framework had been developed for the adoption of e-procurement, and this subsequently had been tested with data collected from companies in Hong Kong. The results indicated that educating companies in both long- and short-term benefits would encourage the application of e-procurement.
[...]
Details
Pages

72

Year

2005

ISBN (eBook)

9783656706304

ISBN (Book)

9783656706731

File size

769 KB

Language

English

Catalog Number

v276666

Institution / College

Institute of Accountancy Arusha

Grade

Tags