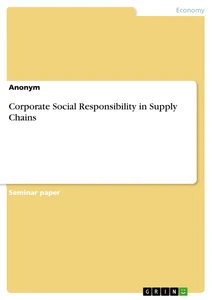 Corporate Social Responsibility in Supply Chains
Term Paper 2013 16 Pages
Excerpt
Contents
List of Abbreviations
List of Figures
1. Introduction
2. Basics of Corporate Social Responsibility
2.1. Definition and History
2.2. The Impact of CSR in Supply Chains
3. Corporate Social Responsibility at Tchibo
3.1. Company Overview
3.2. Responsibility in the Supply Chain
3.3. Project "Worldwide Enhancement of Social Quality" (WE)
4. Conclusion
Addition
References
List of Abbreviations
illustration not visible in this excerpt
List of Figures
Fig. 1: Carroll´s CSR Pyramid, p. 2
Fig. 2: Prioritizing Social Issues, p. 5
1. Introduction
Corporate social responsibility (CSR) has become an important and much discussed topic of the 21st century, both in academic research and public media. Corporate leaders increasingly realize that their responsibilities are not limited to shareholders, but extend to the communities in which their companies operate. Exercising this responsibility, particularly concerning social and environmental issues, has consequently become more crucial to many companies. However, this has brought new reporting challenges because the successes of CSR are often difficult to quantify.[1]
Companies have to account for the social and environmental consequences of their activities. CSR has emerged as an inescapable priority for business leaders in every country because many organizations rank companies on the performance of their CSR and these rankings attract considerable publicity.
An example of the rising influence of social issues on economic performance is the consumer boycott of Nike products in the early 1990s after the New York Times and other media outlets reported abusive labor practices at some of its Indonesian suppliers.
This behavior of consumers demonstrates how intense economic consequences of social issues could be, even if those corporations actually have had little impact on the problem at hand.[2]
2. Basics of Corporate Social Responsibility
2.1. Definition and History
Although CSR has its origin in the 1950s it only became a global phenomenon during the last 25 years, mostly since the year 2000. Despite this long history, there is still no uniform definition of CSR.
In October 2011 the European Commission defined corporate social responsibility as "the responsibility of enterprises for their impacts on society".To fully meet their social responsibility, enterprises "should have in place a process to integrate social, environmental, ethical human rights and consumerconcerns into their business operations and core strategy in close collaboration with their stakeholders".[3] According to Carroll CSR should be framed in such a way that the entire ranges of business responsibilities are included. He suggests that four kinds of responsibilities constitute total CSR and arranges them as a pyramid.
illustration not visible in this excerpt
Fig. 1: Carroll´s CSR Pyramid (Taken from: http://www.csrquest.net/imagefiles/CSR%20Pyramid.jpg)
Carroll himself does not claim his model to be complete but it has become a basis for discussions about what CSR includes.[4]
Although there is no consensus on a definition, yet comprehensive long-term research in this area, it has become an important factor for companies all over the world. Business firms started to assume social and political responsibility and thus filled the regulatory vacuum in global governance. While often operating in countries with failed state agency companies engage in public health, education, social security, and protection of human rights. Business firms have begun to take over a state-like role and have become important political actors in global society.
One example of creating a basis for this new form of global governance is the UN Global Compact[5] which is a global platform of discourse for the implementation of basic human rights and environmental principles.[6]
Moreover, CSR is often used as a marketing strategy in order to achieve consumer loyalty and gain new customers. According to a study of A.T. Kearney of the year 2007 about 58 percent of the companies examined have a corporate sustainability strategy and almost 60 percent of firms adopt sustainable practice to strengthen their brand name or differentiate their products. The record of social responsibility is a vital factor determining consumers´ brand loyality when they compare products of similar quality.[7]
Many companies justify their CSR initiatives on the grounds that they will improve the company´s image, strengthen its brand, enliven morale, and even raise the value of its stock. Concerns about reputation, like license to operate, focus on satisfying the external audience.[8]
2.2. The Impact of CSR in Supply Chains
The strategic importance of supply chain management has been growing during the past two decades. Companies utilize the supply chain to be more competitive because suppliers have a direct impact on costs, quality, speed and responsiveness of buying companies.
Another development in this area is the increasing responsibility of multinational companies for environmental and labour practices of their global trading partners which are, in turn, mainly driven by customer pressure, government legislation and changes in business procurement.[9]
Globalization and outsourcing have resulted in the development of complex supply networks with suppliers located in various countries and subject to different regulatory regimes. Aside from the fact that suppliers and producers may hold different ethical, social and environmental priorities, thus a CSR-strategy may function as a common ground.[10]
CSR is important in supply chain management because business and society are dependent on one another: safe products and working conditions not only attract customers but also help lowering internal costs for accidents and utilizing land, water, energy, and other natural resources more efficiently.[11]
The so-called triple bottom line of economic, social, and environmental performance is a generally accepted concept for sustainable community development, which includes the principle of sustainability and recognizes that corporations not only add economic value. According to this concept companies should aim to secure long-term economic performance by avoiding short-term behavior that is socially harmful or environmentally wasteful.[12]
The central question concerning the implementation of CSR-strategies in supply chain management is where the responsibility of the companies for their suppliers has its boundaries. By now many corporations use so-called codes of conduct to ensure that their suppliers meet social and environmental standards. A code of conduct is a document stating a number of social and environmental standards which are based on local legislation and international conventions such as the UN´s Global Compact Initiative.[13]
According to a study of A.T. Kearney in 2002, 12 percent of firms severed relationships with a supplier that failed to meet formal sustainability criteria. In only 5 years this number has already risen to more than 50 percent of companies.[14]
Due to the fact external pressure, particularly through consumers, for responsible supply chain management is felt by lead firms rather than suppliers, buyer power over the supplier may be a necessary condition for the implementation of an appropriate strategy. The basic principle for realizing CSR throughout the whole supply chain should be a long-term cooperative relationship between buyers and suppliers based on trust and a free exchange of information. This close working partnership may involve significant investment in dedicated quality control procedures at the suppliers' hands and the acceptance of increased levels of control and monitoring by the buyer. However, a partnership like this may serve as an opportunity to get a better understanding of the environmental consequences of production.[15]
According to Porter and Kramer the implementation of a CSR-strategy is usually done in three steps. First the company has to identify the points of contact between the activities in a company´s value chain and the communities in which the firm operates. After this the company analyses which social issues intersect with its particular business, and next identifies which to focus on. These social issues fall into three categories which are shown in the following illustration.
illustration not visible in this excerpt
Fig. 2: Prioritizing Social Issues (Taken from: Porter M./Kramer M. Strategy & Society: The Link between competitive Advantage and CSR p. 84)
Every company will need to sort social issues into these three categories and then rank them in terms of potential impact. Which of these categories a social issue belongs to always depends on the circumstances in which the business firm operates: "For example carbon emissions may be a generic social issue for a financial service firm like Bank of America, a negative value chain impact for a transportation-based company like UPS, or both a value chain impact and a competitive context issue for a car manufacturer like Toyota"[16]. In the last phase of implementing CSR in supply chain management a corporate social agenda is created and integrated in practice. For companies it is important to understand the importance of the outside-in influence of competitive context and choosing the right social issues to focus on. Companies that establish focused, proactive and integrated social initiatives in compliance with their core strategies will generate the most significant social impact and achieve the greatest business benefits.[17]
3. Corporate Social Responsibility at Tchibo
3.1. Company Overview
Tchibo, originally founded in Hamburg in 1949 as a mail-order business for roasted coffee, is one of Germany´s largest international companies for consumer goods and retail. Tchibo has constantly diversified the range of products and services. Today it combines expertise in the realm of coffee roasting with a weekly changing range of consumer goods. Tchibo is the world's fourth largest coffee roasting company and leads the market in roasted coffee products in four European countries.
The company sells its products in a network of over 1,100 Tchibo shops, about 840 of them in Germany and a further 300 in Austria, Switzerland and eastern European countries. Customers can also buy Tchibo products via the Internet or from about 29,000 concessions in food and specialist retail outlets throughout Germany. Tchibo has 11,000 employees worldwide. 7,300 of them work in Germany. In 2012, the company has achieved a volume of sales of 3.6 billion euros.[18]
3.2. Responsibility in the Supply Chain
In 2006 Tchibo identified that a sustainable corporate policy is an essential component of their long-term strategy and thus established the Corporate Responsibility Department. The weekly changing consumer goods, in particular, pose a challenge to the company while implementing CSR in supplier chains.
Tchibo feels responsible for establishing social and environmental standards in their supplier countries. Particularly with its WE qualification program (see next chapter) Tchibo wants to improve working conditions in cooperation with its suppliers and manufacturers. Besides these social aspects Tchibo also improves its production and process efficiency to ensure competitiveness. According to Tchibo's sourcing strategy the key to securing high-quality production lies in more direct business relationships, fewer production facilities and expanding strategic partnerships.
Tchibo, like other companies, has implemented codes of conduct as the basis for any business relationship with suppliers. At first these mainly involved fundamental rights for workers but these were extended in 2011 to regulate also environmental aspects and energy efficiency.
The company's ambition for the coffee supply management is to procure 100% sustainable coffee. To achieve this goal Tchibo works with other companies like Rainforst Alliance, Fairtrade and the UTZ Certified Coffee Program. The annual sustainable development reports of Tchibo document broad changes in this sector. In 2011 13% of the total coffee usage was covered by the sustainability concept. 100% of the coffee served in the Tchibo coffee bars is sustainably produced coffee and over 50% of the sustainable filter coffee consumed in Germany is from Tchibo.[19]
Quite recently the federal government decorated Tchibo with an award for aiming its business toward sustainability and social responsibility and for taking the entire value chain into account.[20]
In summary, Tchibo's key issues of its CSR-strategy in the supply chain are the improvement of working conditions, long-term partnerships with suppliers, the advancement of its codes of conduct, living wages and moreoverin the coffee industry the development of environmentally friendly and socially aware farming methods.[21]
3.3. Project "Worldwide Enhancement of Social Quality" (WE)
The pilot project WE was initiated in 2007 for the duration of 5 years as aDevelopment Partnershipbetween Tchibo GmbH and Deutsche Gesellschaft für Internationale Zusammenarbeit (GIZ) GmbH. The ambition of this project was to move away from a top-down approach for improving working conditions by introducing a joint approach of developing practical solutions. The participating pilot companies represent 5% of Tchibo's suppliers in the non-food sector and are located in Bangladesh, Thailand and China. They employ about 40,000 workers and produce mainly textile, but also jewelry, furniture and metal and leather goods. The whole project was divided into 4 phases.
In the first part Tchibo selected the suppliers for this project and invited them to join it. At this time observers documented whether the social principles were put into practice in the company in order to create a comparable state. At the same time, the local GIZ offices reviewed local training organizations and invited potential trainers. It was important for the project coordinators to recruit local trainers because they speak the local language and are familiar with the cultural values and norms.
During the second phase of the project the trainers were provided with knowledge on social standards and built up their ability to support implementing in-house structures. After that the local WE trainers transferred their knowledge on social standards to the manufacturers. They assisted the managers with improving communication within the production facilities, permanent supported by the international coaches of the project. The last phase of the project included a monitoring system and defined milestones which were documented in regular monitoring reports.
The results of the project show that a dialogue-based approach for implementing social standards in supplier firms is successful. Many of the targets set were achieved and local working conditions were improved. The communication between managers and workers and thus the participation of workers are two of these aims (see addition 1). In order to ensure the success of this project it was important to work closely with the supplier management and gain acceptance among suppliers via the local trainers.[22]
[...]
---
[1] Cp. Caplan, D./Dutta, S./Lawson, R. (2013), p. 15-16
[2] Cp. Porter M./Kramer M. (2006), p. 78
[3] Cp. http://ec.europa.eu/enterprise/policies/sustainable-business/corporate-social-responsibility/index_en.htm (27.05.2013)
[4] Cp. Carroll, A. (1991), p. 40ff
[5] "The UN Global Compact is the world's largest corporate citizenship and sustainability initiative. Since its official launch on 26 July 2000, the initiative hasgrown to more than 10,000 participants, including over 7,000 businesses in 145 countries around the world. It isa network-based initiative with the Global Compact Office and seven UN agencies at its core." (http://www.unglobalcompact.org/ParticipantsAndStakeholders/index.html, 20.05.2013)
[6] Cp. Scherer, A./ Palazzo, G. (2011) p. 900
[7] Cp. ATKearney, Chain Reaction (2007), p. 2
[8] Cp. Porter M./Kramer M.(2006), p 82
[9] Cp. Idowu, S./Louche, C. (2011), p. 57ff
[10] Cp. ATKearney, Chain Reaction (2007), p. 1
[11] Cp. Porter M./Kramer M. (2006), p. 83
[12] Cp. Porter M./Kramer M. (2006), p. 82
[13] Cp. Idowu, S./Louche, C. (2011), p. 63f
[14] Cp. A.T. Kearney, Chain Reaction (2007), p. 6
[15] Cp. Crane et al. (2008), p. 370ff
[16] Porter, M./Kramer, M. (2006), p.85
[17] Porter, M./Kramer, M. (2006), p.84ff
[18] Cp. http://www.tchibo-nachhaltigkeit.de/csrweb/servlet/content/649462/-/en/about-tchibo.html (20.05.2013)
[19] Cp. Tchibo Sustainability Report 2011
[20] Cp. http://www.csr-preis-bund.de/preisverleihung/die-nominierten/tchibo.html (26.05.2013)
[21] Cp. Tchibo Sustainability Report 2011
[22] Cp. http://www.we-socialquality.com/Project-WE.aspx?l=2 (22.05.2013)
Details
Pages

16

Year

2013

ISBN (eBook)

9783656694205

ISBN (Book)

9783656695929

File size

520 KB

Language

English

Catalog Number

v276338

Institution / College

The FOM University of Applied Sciences, Hamburg

Grade

1,7

Tags