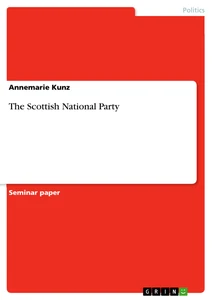 The Scottish National Party
Term Paper 2012 9 Pages
Excerpt
Table of Contents
1. Introduction
2. History and Character.
3. Party Program
3.1 Independence
3.2 Environmental Protection
3.3 Health and Education
3.4 Economic Development
4. The SNP and the EU
5. Conclusion
Bibliography
Introduction
"Scotland is on a journey and the path ahead is a bright one. Now is a time for Scotland to keep moving forward."[1]
The Scottish National Party (SNP), the regionalist party of Scotland in the United Kingdom, is a centre-left, social-democratic party. This paper firstly provides short paragraph on the history and character of the party, followed by an analysis of the party's program. It then comments on how the party approaches new challenges and tries to find answers to current problems, such as climate change, the economic crisis and Scottish home rule. Finally, the relationship of the SNP and the European Union (EU) is examined.
It will conclude that the SNP is one of the strongest advocates of Scottish independence, believing it could be a strong sovereign nation state inside the EU. The SNP tries to stay closely to the wants and needs of its people, while additionally focussing on global and European problems.
2. History and Character
The SNP is Scotland's largest political party. It is a regionalist party which was established in Glasgow on 7th April 1934; the National Party of Scotland and the Scottish Party merged to form the SNP.[2] The SNP used to be a marginal political actor from 1934 to the mid 1960s and did only rise in the general elections in 1974. The party did not have a clear ideological position until the 1980s. Since then it presents it self as moderate or democratic centre-left party which is campaigning for independence from the United Kingdom.[3] As a regionalist party, the SNP has more success in the Scottish region than in the national arena.[4]
With the creation of the Scottish Parliament in 1999, the SNP became the second largest party in devolved Scotland, and remained the main party of the opposition for two terms. In 2007, the SNP won the highest vote in the party's history and the most seats in the Scottish parliament. It governed as a minority administration until the elections in 2011. There, it won an overall majority or 'landslide victory' and became the first party to form a majority government in the Scottish parliament, with 69 seats. Currently, the party holds 6 of 59 Scottish seats in the House of Commons of the United Kingdom, and 2 of 6 Scottish seats in the European Parliament.[5] Since Scottish people perceived the distant Conservative government in London as alien, they first turned to the Labour party. But after several minor scandals and corruption, voters turned towards the SNP. Its current leader is Alex Salmond, who was recently voted the UK's best politician because of his knowledge, negotiating skills and good manner.[6]
[...]
---
[1] Scottish National Party Manifesto 2011 , title page
[2] SNP Facebook
[3] Lynch 2009, p. 620-624
[4] Linera 2011, p. 283
[5] SNP Homepage
[6] Bulmer 2012
Details
Pages

9

Year

2012

ISBN (eBook)

9783656628101

ISBN (Book)

9783656628095

File size

453 KB

Language

English

Catalog Number

v271000

Institution / College

Charles University in Prague

Grade

1,0

Tags