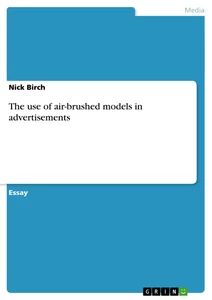 Excerpt
AN EVALUATION OF THE USE OF AIR-BRUSHED MODELS IN ADVERTISEMENTS
Nick Birch 2011
"Graphic design is avisuallanguage uniting harmony and balance, color and light,scaleand tension, form and content. But it is also an idiomatic language, a language of cues and puns and symbols and allusions, of cultural references andperceptualinferences that challenge both the intellect and the eye"
- Jessica Helfand (author and designer)
Abbildung in dieser Leseprobe nicht enthalten
Image:http://www.independent.co.uk/news/media/advertising/can-we-live-without-the-magic-airbrush-2005302.html
INTRODUCTION
It is of no contention that the air-brushing of models in advertisements has been a central issue amongst body image advocates. Re-touching images of people has created problems for body-conscience individuals as well as advertisers although it is questionable whether the significance of the problems has yet outweighed the advantages of the practice. Part of the ethical responsibility of designers is to be aware of the effects their designs have on people, but there may be times when designers do not have a choice. Advertisers respond to the market in a supply-and-demand manner and will continue to deliver images that are successful, or more aptly recognised: as profitable.
Design critic Alice Rawsthorn categorises 'most graphic design ... as "quietly good design", (that is, we never) really stop and look at it in the way that we might stop and look at a painting or a work of art. We absorb the messages, but only rarely take time to look at how the message has been constructed. In other words, we gulp the wine, but never look at the glass' (Shaughnessy, 2008). It is interesting that the glass that delivers images of people in particular gains so much attention.
SUBSTANTIATING STRATEGIES
Kirkup (2009) draws our attention to expert claims that '[m]edia images that depict ultra-thin, digitally altered women models are linked to body dissatisfaction and unhealthy eating in girls and women'. Consumer cynicism in developed markets appears to be increasing and recent research suggests that 'nearly two thirds of consumers in the UK and over half in the US say corporations are "only interested" in selling products' (Bird, 2010). One of the responsibilities of a company's advertising is to engender trust in the consumer. According to the World Federation of Advertisers there are 'two critical factors to achieving this – firstly all claims have to be substantiated and backed up by the company, and secondly marketing must remain faithful to the spirit of these claims' (Bird, 2010).
Backed by 42 more academics, Dr Helga Dittmar of the University of Sussex and Dr Emma Halliwell of the University of the West of England have 'submitted to the Advertising Standards Agency with a call for all airbrushed adverts to carry a notice making clear the images have been artificially enhanced' (Kirkup, 2009). These experts have put their names on the report The Impact of Media Images on Body Image and Behaviours: A Summary of the Scientific Evidence. This report 'summarises the research of the effects of airbrushing in advertisements' such as eating disorders and other health problems (Boyd, 2009).
'[C]ompanies need to be seen to be respecting the self regulatory bodies and systems set up to monitor advertising. In the UK this would be the Advertising Standards Agency (ASA), which is thought by many consumers to be a government body when in fact it is an industry funded self regulatory organisation.
When consumers see a strong watchdog that is policing the industry they are more reassured that advertising is being properly regulated' (Bird, 2010).
[...]
Details
Pages

11

Year

2011

ISBN (eBook)

9783656609452

ISBN (Book)

9783656608851

File size

573 KB

Language

English

Catalog Number

v269680

Institution / College

Central Queensland University

Grade

1.1

Tags