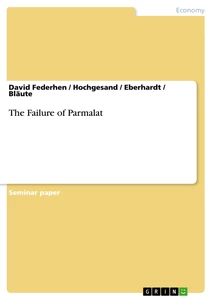 Excerpt
Inhalt
Company Background
Management's misconduct
How could all this be facilitated?
How to prevent such corporate failure in future?
References
Appendix
Company Background
Parmalat Finanziaria S.p.A. – literally 'latte di Parma' (milk of Parma) was founded in 1961 as a small milk-packaging company. In the mid-1970s, Parmalat Finanziaria (hereafter Parmalat) started to process fresh milk in order to make it durable for days, even without a refrigerator. Driven by its success in the long-life milk market, Parmalat started to launch a massive acquisition spree to spread the business through Europe, Latin America and Africa. (www.zmag.org)not according to citing guide
Later on, the company also began to produce vegetables, baked goods as well as fruit juices and grew to the number three cookie producer in the US.
Parmalat became a transnational corporation in the food industry with sales touching seven billionthe graph shows more than 7 billioneuro in 2002, more than 36,300 employees, and operations in more than 100 countries worldwide.
Abbildung in dieser Leseprobe nicht enthalten
Despite being one of the world's biggest corporations in the food and dairy market, Parmalat remained a family-owned business. About 51% of Parmalat's shares were under control of the founder Mr. Calisto Tanzi and his family. Tanzi was chairman and Chief Executive Officer until Enrico Bondi took over as CEO on December 15th 2003. Tanzi's
children were also part of the business and engaged in developing foreign subsidiaries and managing departments such as marketing and sales.
Parmalat nowadays incorporates more than 50 different brands; they are listed in the Appendix. A 2001 report on 'best practice in Corporate Governance' (Best practice..2001) displays the following information concerning Parmalat's management and Corporate Governance. At that time Parmalat's board was composed of 13 directors and one chairman who also occupied the role of Managing director. 5 out of these 13 directors are direct family members of the Tanzi family that owned more than 50 percent of the company, the rest were close family friends.
According to the just named report, Parmalat ensures that it is one of the best performing companies in terms of following the 'Code of best practice for listed companies'. Looking at Parmalat belly-up, this remains rather questionable.
Representatives of the Italian branch of Grant Thornton officially audited Parmalat until 1999, the years after it was Deloitte & Touche S.p.A. Deloitte & Touche's Milan office was occupied auditing all financial statements concerning Parmalat and its operations. The following report will be concerned with analyzing how and why Parmalat went sour and what could have been done to prevent this scheme.
Management's misconduct
On December 24, 2003, Parmalat S.p.A. filed for bankruptcy protection with a court in Parma, Italy, and on December 27, 2003, the court declared Parmalat S.p.A. insolvent.
What happened? According to the press releases and annual reports Parmalat was doing fine, backed up by the approval of Parmalat's auditing firm. Just to mention one figure, the last annual report for the financial year ending 2002 stated a pre-tax profit of £200 million. Clearly, something went wrong.
When one talks about the management practices at Parmalat Finanziaria S.p.A, the word
misconduct is probably understating what actual happened at its headquarters. It is still
not totally clear in what kind of practices management engaged in and numbers are yet hard to prove due to the large and extensive international network structure of the company. But while investigations are going on, it becomes more clear clearerthat three main accusations are being held against Parmalat. Founder Calisto Tanzi along with some other former employees is being accused of:
- Inventing paper assets
- Funneling money to other family businesses
- Extensive fraud to disguise
The main accusation against Parmalat is that the company has constructed a web of offshore holding companies with fictitious assets. In Mid-November, Parmalat failed to repay a $185 million bond issue that became due. When turn-around manager Eric Bondi was contracted and he proposed to liquidate a certain cash-account in order to repay the bonds, Parmalat first felt the heat. Parmalat's accounting department stated that a subsidiary, Bonlat Financing Corporation, a wholly owned subsidiary which was incorporated in the Cayman Islands, held a cash amount of $4.9 billion at the Bank of America. However, it turned out that this account simply did not exist. According to Italian Prosecutors, Parmalat's managers simply invented these and other assets to offset as much as $16.2 billion in liabilities. A confirmation letter, dated May 6th, 2003, from the Bank of America was forged by Parmalat; some managers just took the letterhead of Bank of America, put it on a fake document, copied it, and faked the name and the signature of a secretary beneath it. These $4.9 billion represented some 38% of Parmalat's assets. As Investigators tried to solve the Bonlat puzzle, it turned out that Bonlat claimed to have sold 300.000 tons of powdered milk to a Cuban food importer, Empresa Cubana Importadora de Alimentos, and recorded it as a credit on their balance sheet. This amount of milk powder would be enough to produce 2.8 billion litres of milk, enough to provide every Cuban with 250 litres. Pedro Alvarez, president of Empresa
Cubana Importadora de Alimentos, denied these purchases. The only transactions his company was engaged in were with Parmalat Chile, totalling up to 600-700 tons per month.
Managers apparently had invested over a billion dollars in derivatives to try to re-earn the money that then should have offset the deficiency and restored a sound financial situation. In November, Parmalat told investors for the first time that it had invested €496.5 million in a hedge fund named Epicurum domiciled in the Cayman Islands. Italy's largest food company also said in a conference call on November 14 that it had made money on derivative-contracts with Epicurum. Stefano Tanzi, a director of Parmalat, told analysts in a conference call on November 14 on the same day that the company had earned $50 million in the first quarter of 2003 in a currency swap with Epicurum, clearly a lie. "The investment was made in order to assign the management of a portion of the group's liquidity to professional fund managers, partly based on an expected return in excess of the average returns provided by the securities currently in portfolio," the press release said. But Andrew Jones, a litigation partner at Maples and Calder, the largest law firm in the Caymans, said one key detail had been omitted: the fund had been created by Parmalat itself. "Tanzi, together with his associates, created Epicurum as a fictitious investment fund", the court papers say. False documents, "apparently" from Bank of America, were used to make it appear as if the fund had assets of about $642 million, according to the papers.
The fund helped precipitate Parmalat's collapse when it failed to refund $589.9 million of the investment as agreed. In a press release on November 12, Parmalat described the Epicurum stake as a liquid investment in a hedge fund.
But where did this money go?
[...]