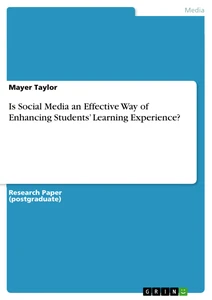 Is Social Media an Effective Way of Enhancing Students' Learning Experience?
Research Paper (postgraduate) 2011 73 Pages
Summary
The emergence and widespread popularity of social media usage has revolutionized the way in which the young generation communicates, connects and socializes now a day. This has had significant implications for higher education and learning due to the changing nature of students entering higher education institutions now a days and the changing nature of communication and connections; all of which impact upon the learning behavior and academic activities of students.

Higher education institutions are faced with an imperative challenge in that they are required to respond to the phenomenon of social media integration in higher education. It is high time for higher education institutions to formulate viable social media strategy to ensure that the contemporary learning environment and teaching approaches reflect the changing nature of younger generation. This research identifies the impact of social media upon students' overall learning experience and ways in which social media adds value to the students' learning experience.

This study utilizes survey and interview methods for primary data collection to study a group of student at Brunel University in UK. Based on the research findings, it is concluded that social media usage has a significant positive impact upon enabling student's collaboration in context of group work, enabling delivery of assessment and feedbacks and other course related content and fostering formal communication between students and tutors. Within these broader domains, establishing sense of community, facilitating multidisciplinary intergroup communication, facilitating sharing of student-generated content and general discussion between tutors and students were some of the most enabling aspects of social media usage.

Despite the positive role of social media for these purposes, the research findings also reveal that there are several shortcomings related to social media usage which impede the effectiveness of social media in positively affecting students' overall learning experience such as the lack of commitment of peers to use of social media for formal communication and learning, the inability or unwillingness of tutors/instructors to utilize social media and privacy concerns.