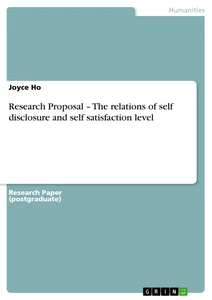 Research Proposal – The relations of self disclosure and self satisfaction level
Research Paper (postgraduate) 2012 20 Pages
Excerpt
Table of Contents
Chapter 1: Introduction
1.1 Background, Area of the study with justification
1.2 Researchable questions
1.3 Research objectives
Chapter 2: Literature Review
2.1 The population pattern of using social media
2.2 The disclosure and the profile page
2.3 Self-satisfaction of human beings and the habit of disclosure online
Chapter 3: Theoretical Framework
3.1 Conceptual Framework
3.2 Conceptual definition of concepts
3.3 Operational definition of operates
Chapter 4: Methodology
4.1 Target population
4.2 Sampling design
4.3 Data collection method
4.3.1 University and Postgraduate School Students
4.3.2 Faculty Staff
4.4 Questionnaire design and measurement
4.5 Table for questionnaire
Bibliography
Appendix 1: Survey Questionnaire
Chapter 1: Introduction
1.1 Background, Area of the study with justification
Human being living in the globe is craving for their self-satisfaction by accomplishing several aims, like money, social status and also successful achievements. Behaviors can reflect ones subjective feelings, and their reactions are certainly a scale to tell whether a person is self-centered or not. Many specialists before do researches and some findings are found. Factors affecting subjective well beings of human life are main point to focus for our research.
Moreover, the social media nowadays is influential to human lives, people especially youngsters rely on social media as one of their identities' representations. It is likely that within few decades pass and ongoing, technology will then undergo evolution and become more advance.
People who use social media are not merely for networking but also to publish themselves to their friends or the public. Therefore, we will look into the functions and importance of online social media in Hong Kong. The research will also focus on the types of popular social media in Hong Kong and thus attracting what types of people to fancy of them. Since Facebook is the most commonly use social networking sites, therefore we will have a deepen study of Facebook. Besides, our research will also have a study on the history and news about using Facebook and disclosing personal information with the advantages and disadvantages.
As the technologies development is rapidly growing, now people can connect to the Internet with tiny electronic devices – cell phones. With Internet assessable cell phones on hands, we can download tons of mobile applications, like games, online newspaper and the most important ones, the social media applications, including Facebook, Twitter, Weibo, Whatsapp, LINE, Tango and so on.
No doubts, the convenience and fast access speed of technology are changing our perceptions and the way of sharing information. While enjoying the benefits that technologies bring, people may not consider about the leakage of personal information. Not only conversations dialogues but also personal data including mobile number, gender, living place, age, birthday and so on will be exposed. Through this research, we would like to figure out and examine the factors of influencing tendency and acceptability of personal information disclosure.
1.2 Researchable questions
- What are the levels of self-satisfaction of the Facebook users in Hong Kong?
- What are their tendencies toward disclosing personal information when using Facebook?
- What are the purposes and frequencies of people who use Facebook?
- What are the purposes of people who are disclosing their personal information in using Facebook?
- What are the influences of age, gender, education levels, job position, income and marital status towards disclosing personal information?
- What are the impacts of level of self-satisfaction towards disclosing personal information in using online social media?
1.3 Research objectives
The key research objectives of this study are listed as follows:
- To describe the level of self-satisfaction of the Facebook user in Hong Kong.
- To examine their tendency towards disclosing personal information
- To examine the purposes of people who use Facebook.
- To examine the purposes of people who are disclosing their personal information in using Facebook.
- To identify the influences of age, gender, education level, job position, income and marital status towards disclosing personal information.
- To determine the relationship of the level of subjective being well and the tendencies of disclosing personal information in using Facebook.
Chapter 2: Literature Review
2.1 The population pattern of using social media
According to Graham, P. (2010, March 1), in UK, the most popular platforms are Facebook which occupied 47.5% of the population. The population of using Facebook is relatively big and significant for carry out a research. Also, there are statistics showing that the age different will affect the activeness of a person appear online. According to Lenhart, A. (2007)'s research on Teens and Social media in 2009, 65% of youngsters are enthusiastic in using online social networking site and about 10% are having their own homepage and host some activities to network with people. From the same research, 38% of 12 -14 year-olds have an online profile, while those who are 15 -17 year-olds, there are 77% of them have at least one online profile. Then, there are less people using twitter in the age group 18-30, there is only 18% active. Therefore, age is an important factor to affect netizens in putting their personal information online. The study have shown that the increasing of mobile phone ownership lead to the popular of youngsters using social media(s), due to the easy and fast accessibility.
2.2 The disclosure and the profile page
Nearly every social media have the feature of profile page since it is representing self/selves according to Gross, R., & Acquisti, A. (2005). With the intention of keeping contact with friends, getting back in touch, making new friends, and share the recent lives, people will fill their profile up with their personal information including birthday, mobile number and so on. Thus, personal information disclosure is the key of social medias. As what McKnight, D. H. (2010) found people will "Giving up certain aspects of privacy by not restricting access to their personal information allows one to interact more openly with friends and others online" So the social media users' preferences and the background they are from will actively influence the validity of information they disclose. It is likely that users think both the scarifies related to social media (such as privacy concerns) and the benefits of it (such as enjoyment, or self- satisfaction) when deciding to continue using the website.
Through the study by McKnight, D. H. (2010), it is also stated that some social media like Facebook, the options in controlling the privacy and how much to be disclosed is complicated and confused most users.
2.3 Self-satisfaction of human life and the habit of disclosure online
According to Keyes , C. L. M. (1998), self-disclosure is important to social integration, which refers to the evaluation of one's relationship quality to society and community. Therefore, we can easily tell what kind of person is the social media user is by reading their disclosed information. Social media are understood to be a user generated content at this situation. Moreover, it is normally for social media users to looking for "likes", "tags" or "re-tweets" as this is a kind of recognition of audiences. Facebook is then a typical example of this as it grows rapidly and allowing users to display information, creates a profile page, uploading photos and sharing articles. Self-identification is a special discover on online social medias. Social networking sites offer an assortment of tools specifically designed to help users create a digital impression of themselves from Manago, A. & Graham, M. & Greenfield, P. & Salim Khan, G.(2008). Because of the freedom it offered, many people will then create a rater subjective page for fulfilling the desires, also use social media as a platform for themselves to express, even advertise themselves.
In this study we take a step forward to investigate the relations of age, gender and education level difference and the tendency of disclosing information online of self-satisfaction of human life.
[...]