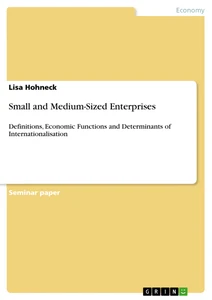 Small and Medium-Sized Enterprises
Definitions, Economic Functions and Determinants of Internationalisation
Seminar Paper 2013 17 Pages
Excerpt
Table of Contents
List of tables
1. Introduction
2. Theoretical Background
2.1. Small and Medium-Sized Enterprises
2.2. Internationalisation
2.3. Export
3. Economic Functions of SMEs
3.1. A Pluralistic Economic Structure
3.2. Job Creation
3.3. Economic Growth
4. Motives for SMEs to Internationalise
4.1. Internal and External Motives
4.2. Early Stages of Research
4.2.1. Internal Motives
4.2.2. External Motives
4.3. Modern Approaches of Research
4.3.1. Internal Motives
4.3.2. External Motives
5. Discussion
5.1. Justification
5.2. Summary
5.3. Practical Implications
6. Limitations and Further Research
References
List of Tables
Table 1: Internationalisation stimuli
1. Introduction
This study investigates a number of motives stimulating the internationalisation of small and medium-sized enterprises (SMEs). Most research with regard to internationalisation is on large scale enterprises (LSEs) explaining how they incorporate entering different country markets into their business strategies. The internationalisation of SMEs usually is not part of a strategy but a reaction to a stimulus (Keegan and Green 2003). An internationalisation stimulus also referred to as motive or incentive is a factor fostering a firm's decision to start or maintain committing some resources to act on an international basis. The reaction to stimuli is an indicator for the flexibility of SMEs. It is an interesting point that flexibility helps small firms to overcome the lack of financial resources and is their advantage with regard to internationalisation. Therefore, the factors stimulating SME's internationalisation are factors worth investigating. In the literature we can find empirical studies ranking export stimuli, listing factors that facilitate internationalisation in general or giving theoretical explanations and examples how stimuli can lead to internationalisation (Leonidou 1995; Pett et al. 2004; Zain and Ng 2006; Ruzzier et al. 2006 ). After highlighting determinants that define SMEs and showing how they contribute to economic success I want to explain how ten selected stimuli foster or facilitate the internationalisation of SMEs. To structure this work I will distinguish between internal and external internationalisation motives. After discussing them I will explain how practitioners could benefit from this work.
2. Theoretical Background
In the following section I will begin by explaining three terms and their coherence which are essential to understand this work.
2.1 Small and Medium-Sized Enterprises
There is no universally acknowledged definition of 'small' and 'medium' in terms of the size of enterprises. The legal definition provided by the European Union (EU) draws a line between small and medium enterprises at a maximum of 49 employees and an annual turnover, and/or an annual balance sheet total of maximum 10 million Euros (EUR). The 'medium enterprise' is defined by a maximum of 249 employees and an annual turnover not beyond EUR 50 million, and/or an annual balance sheet total of not more than EUR 43 million (EU 2003).
In the United States of America (USA) the government does not provide any universally accepted definition of the SME. However, government institutions often refer to SMEs as enterprises having less than 500 employees (USITC 2010). According to He et al. (2008), the situation is similar in Canada. In less developed countries, the number of employees and annual turnover defining SMEs differs since especially the annual turnover of a firm is influenced by the economic environment it operates in. In general I would like to make a note of the fact that SMEs are defined by a limited number of personnel and financial success, and that they should be clearly differentiated from LSEs. This is because SMEs are also characterised by less hierarchical systems, and an innovative and entrepreneurial spirit.
2.2 Internationalisation
The term 'internationalisation' in this study describes a firm's engagement in international business. Daniels et al. (2007, p. 7) defined international business as 'all commercial transactions between two or more countries'. Weber and Kabst (2000) distinguished between three heterogeneous fields of incentives for such transactions: marketing orientation, profit orientation and procurement orientation.
For SMEs, low-cost production, one of the key factors of a profit-orientated strategy, or advantages of sourcing, elementary for an efficient procurement strategy, only play an inferior role regarding internationalisation (Kaufmann 1993). SMEs predominantly focus on marketing orientation in this context; this is why foreign markets, for the most part, are interesting as sales markets.
To utilise international markets for distribution purposes, there are numerous foreign operation modes such as export, licenses and franchising, joint ventures or even building one's own subsidiaries abroad (Weber and Kabst 2000). Models found in the relevant literature are in harmony with empirical findings when it comes to the question of choosing the mode that is mostly preferred by SMEs.
2.3 Export
Export - defined as the movement of goods or services across national borders (Daniels et al. 2007) - is the first stage in traditional models, which describe the incremental internationalisation process of firms (e. g. Johanson and Vahlne 1977). Most entrepreneurs still name 'export' as their preferred foreign operation mode (European Commission 2007; Brink et al. 2012). Leonidou (1998) named three key reasons explaining why exporting is the most convenient way for SMEs to sell abroad. First, the resources required are manageable, especially in terms of financial commitment as well as personnel and time. Secondly, the risk involvement is kept low due to the smaller amount of resources raised; thirdly, it allows for a great level of flexibility in terms of amount and number of foreign markets served. Though traditional models describe an increasing commitment over time, Gutmann (2000) stated that going beyond export, for example by directly selling abroad or establishing production facilities, can often be difficult for SMEs since they quickly reach their limits in terms of capital resources.
3. The Economic Functions of SMEs
Many studies found that governments all over the globe focus mainly on SMEs in trying to establish strategies on economic growth (Lukács 2005; Ruzzier et al. 2006; Johnson 2007). I would like to explain the reason, with the help of the following numbers from the EU and the USA.
3.1 A Pluralistic Economic Structure
The EU statistics of 2008 stated that there are about 20.994 million (m) enterprises with less than 250 employees. This represents a share of 99.8% of all enterprises (Eurostat 2011). The US Census Bureau (2012) published statistics stating that in 2008, 97.6% of all 7.601 m US firms were small enterprises (up to 99 employees) and another 2.15% accounted for enterprises with up to 499 employees (medium-sized, according to the US definition). These numbers are a clear statement that explains why policy makers focus a lot on SMEs.
With their high share, SMEs form the core of a pluralistic economic structure which is – especially from a customer's point of view – very positive (Weber and Kabst 2000). A market with numerous competitors is more likely to offer highly adapted versions of a product or service at an affordable price. Micro-economic theories describe the positive effect of lower prices, saying that the more consumers are able to afford a good, the higher the overall benefit for society (e.g. Varian 1984). But entrepreneurial firms seem to be experts, especially in terms of adaption. A lot of SMEs serve niche markets very successfully. Simon (1996) described this success of the 'Hidden Champions' by analysing the strategies adopted by some SMEs which are world leaders in their specialised markets.
3.2 Job Creation
Another factor that makes SMEs economically viable is the amount of jobs they create. Two-thirds of all jobs in the EU are created by enterprises with less than 249 employees. The most important sectors in terms of offering jobs in the EU are distributive trades, scientific and technical activities, manufacturing, and construction (Eurostat 2011). In the US, small firms employing less than 100 people account for 54% of all jobs, US medium-sized firms employ another 96.197 m people, which equals 79.6% of all US jobs are created by SMEs (US Census Bureau 2012).
In the EU, SMEs score particularly high in terms of net job creation, which means all newly created jobs less the jobs that were lost within a period. Between 2002 and 2010, European SMEs created 5.5 times more net jobs than large organizations (Saisana 2012). Fast growing SMEs are the main drivers of job creation as they manage to be successful owing to their entrepreneurial orientation (Eurostat 2011).
3.3 Economic Growth
For political decision makers, economic growth is at least as import as job creation. When measuring economic contribution, the US Census Bureau uses the income compilation approach by summing up each firm's annual payroll. It confirms that SMEs accounted for 73.3% of the overall US annual payroll in 2008.
The EU, using the output compilation approach of value creation, takes into account the value of all newly generated goods and services minus the value of all goods and services used as intermediate consumption. In 2008, European SMEs were responsible for far more than half (58.6%) of all the value added, while distributive trades, manufacturing and construction sectors generated the greatest percentages (Eurostat 2011). The US figure exceeds the European one distinctly, but one has to bear in mind that US SMEs can have double the amount of employees than their European counterparts.
A pluralistic economic structure, created by SMEs, benefits society in terms of growth as it fosters innovation (Richard et al. 1999). This line of thought is built upon Schumpeter's (1934) idea of 'creative destruction'. He highlights the contribution of young innovative enterprises as they force less efficient ones to leave the market by being more successful. They are successful because of innovative ways of doing things. According to the German Institute for SME research (IfM), German SMEs generated more than 12 per cent of their turnover in 2012 through newly-innovated goods.
Europeans governments take various steps to improve the situation and foster growth and innovativeness of smaller firms. For example, they lower administrative burdens and make capital allocation easier. They also ensure fair competition and help protect intellectual property (Eurostat 2011).
4. Motives for SMEs to Internationalise
As described earlier, the foreign operation mode, most frequently chosen by SMEs, is distribution by exporting. I do not aim to evaluate what stimulus provokes which kind of operation mode. Therefore studies with regard to all stages of foreign market commitment were conducted. Nor is it my intention to analyse whether a motive could function as the triggering cue or incentive to maintain engagement in international business. However, most of the research conducted mainly focuses on the motives for SMEs to start export to foreign countries.
[...]
Details
Pages

17

Year

2013

ISBN (eBook)

9783656455400

ISBN (Book)

9783656457145

File size

468 KB

Language

English

Catalog Number

v229712

Institution / College

University of Applied Sciences Trier

Grade

1,0

Tags