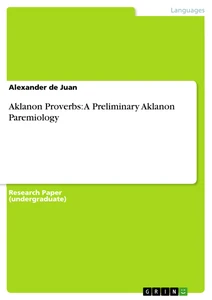 Aklanon Proverbs: A Preliminary Aklanon Paremiology
Research Paper (undergraduate) 2013 64 Pages
Excerpt
CHAPTER I INTRODUCTION
Background of the Study
This study evaluates the hueobaton or proverbs in Aklanon language. There are 298 Aklanon proverbs gathered from field and library research. These proverbs are classified according to themes and subject matter, and then analyzed for contextual meaning by highlighting the embedded motifs, symbols and cultural concepts. By providing a collection of Aklanon proverbs, or an Aklanon paremiography, this research serves as a preliminary study so future researches may be done towards a comprehensive Aklanon paremiology.
Statement of the Problem
This study primarily intends to collect the Aklanon proverbs, translate them in English, classify them according to themes and subject matter, and analyze their contextual meaning by identifying the motifs, symbols and cultural concepts embedded in those proverbs.
Specifically, this study aim to answer these questions:
1. What are the themes and subject matter contained in Aklanon proverbs?
2. What are the motifs, symbols and cultural concepts embedded in those proverbs?
Conceptual Framework
In the international scene, materials abound on the two major aspects of proverb scholarship: the collection of proverbs (paremiography) and the study of proverbs (paremiology). All the major languages in the world have their comprehensive paremiography, while there are special journals, essay volumes, and bibliographies dedicated to paremiology. Renowned paremiologist Wolfgang Mieder of the University of Vermont have authored various books on paremiology, including the International Proverb Scholarship: An Annotated Bibliography, 3 volumes (New York: Garland, 1982, 1990, and 1993), in which "4,599 books, dissertations, and articles have been registered with detailed and critical comments as well as extensive name, subject, and proverb indices. These massive volumes contain the major accomplishments of proverb scholars during the past two hundred years" (Mieder, 1997). The latest proverb bibliographical listings of Mieder can be found in the online proverb journal De Proverbio.
Archer Taylor (1890-1973), considered the pioneer of modern paremiology, introduced in his book The Proverb (1931) the "seven main categories of proverb scholarship: (1) historical and comparative studies on individual proverbs, (2) bibliographical surveys, (3) general aspects of the study of proverbs, (4) common motifs and themes in the content of proverbs, (5) literary proverb studies, (6) collections of proverbs, proverbial expressions, proverbial comparisons and wellerisms, and (7) investigations of proverb patterns and variants" (Mieder, 1985). Meanwhile, current international proverb scholarship deals with "the definition of proverbs, the concept of 'proverbiality', the intriguing aspects of empirical proverb research, the semiotic and linguistic approaches to the proverb, the question of the meaning of proverbs, and the use and function of proverbs in the social context" (Mieder 1996). Psychologists and psychiatrists also use proverbs by for various types of mental and attitude testing. There are also studies on proverbs as expressing slurs and stereotypes, and proverbs as expressions of worldview or mentality. Some studies deal with the necessity of tracing the origin, history, dissemination, and meaning of individual proverbs and their variants. Other scholars are interested in the role of religious proverbs in the modern age and the pedagogical use of proverbs in child rearing and in the learning of foreign languages. Some proverb studies focus on the interrelationship of proverbs with other verbal folklore genres such as fables and fairy tales as well as the integration of proverbs in literature of all types. There are also researches on the important role that proverbs play in political rhetoric throughout the world. Some scholars are interested in the iconographic interpretation of proverbs in woodcuts, emblems, tapestries, paintings, caricatures, cartoons, and comic strips. Studies are also done on new proverbs of the modern age, especially the anti-proverb (humorous rewriting of traditional proverbs) and the paremiological minimum or the "the minimal set of proverbs, sayings and other paremias, the learning of which is necessary for the understanding of any language" (International Conference of Cushitic and Omotic Languages, 2003).
Significance of the Study
This study is significant for it will contribute to the preservation and promotion of Aklanon literature, in particular Aklanon proverbs. Most of the Aklanon proverbs in this study have been collected by the researcher in the late 1990s, and most of the key informants, who are in their 70s and 80s at that time, may have already passed away after more than a decade. Hence, this study will preserve the Aklanon proverbs for future generations of Aklanons. The results of this study will be useful to DepEd teachers of the K+12 Program who are looking for materials for their mother tongue-based instruction.
Scope and Limitation of the Study
This study is just a preliminary analysis of themes, subject matter, motifs, symbols and cultural concepts contained in the Aklanon proverbs. The analysis is limited to the 298 Aklanon proverbs gathered through field and library research. The researcher believes that more Aklanon proverbs are waiting to be gathered, documented and evaluated especially from the hinterlands of Aklan, like the towns of Libacao and Madalag, where the old folks are still using the proverbs in their everyday conversations.
Definiton of Terms
- Aklanon proverbs – the proverbs written in the Inakeanon language.
- Inakeanon – the language spoken in the province of Aklan.
- Themes – the fundamental and often universal ideas explored in a literary work.
- Motifs – the recurring structures, contrasts, or literary devices that can help to develop and inform the text's major themes.
- Symbols – the objects, characters, figures, or colors used to represent abstract ideas or concepts.
CHAPTER II REVIEW OF RELATED LITERATURE
Dr. Beato A. de la Cruz's Contributions of the Aklan Mind to Philippine Literature (Rizal: Kalantiao Press, 1958) is the first and only comprehensive anthology of Aklanon literature. It contains numerous oral and written literary pieces translated into English, 20 of which are Aklanon proverbs. Most of De la Cruz's collected proverbs were not included in the book due to the limited number of pages (only 98 pages), but his wife Josefina Mirasol de la Cruz has written an M.A. thesis entitled "Aklan Sayings, Maxims and Metaphorical Expressions and Their Implications in the Character Education of Elementary School Children" (Aklan College, Kalibo, Aklan, 1967).
Damiana L. Eugenio's Philippine Folk Literature: The Proverbs (Quezon City: University of the Philippines Press, 2002) is the most wide-ranging collection of proverbs from the different languages in the Philippines. It includes more than 200 Aklanon proverbs with English translations taken from Ruth Macogue's "Aklanon Folk Literature" (Term paper for Comparative Literature 231, U.P., Quezon City, 1975), Ivy Martirez's "Aklanon Folk Literature" (M.A. thesis in progress, U.P., Quezon City, 1978) and other sources.
The numerous international proverb studies mentioned in the conceptual framework were very helpful in the analysis of proverbs in this study, especially Archer Taylor's The Proverb (Cambridge, Massachusetts: Harvard University Press, 1931) and Wolfgang Mieder's "Modern Paremiology in Retrospect and Prospect" (Paremia, 1997). The free online articles of De Proverbio (Electronic Journal of International Proverb Studies) and Folklore (Electronic Journal of Folklore) contains various proverb studies dealing with a wide range of topics. Some of the most helpful paremiological articles found in De Proverbio, Folklore and other online sites are the following:
- Bura, Renata. (2012). "Sorb Self-Stereotypes of the Sorb in Upper Sorbian Proverbs".
- Chung, Chong-wha. (1996). "Identity of the Underprivileged and Reality of Poverty as Reflected in Korean Proverbs: Proverbs as a Social History" (Abstract).
- Detje, Frank. (1996). "Psychological Insight inside the Proverbs" (Abstract).
- Fialkova, Larisa. (2010). "Proverbs and Medicine: The Problem of Applied Folklore". Folklore (Electronic Journal of Folklore), Vol. 46, 2010, pp. 111-124.
- Funk, Gabriela. (n.d.). "The Proverb as a Mirror of Popular Ideologies in the Teaching of a Foreign Language".
- Granbom-Herranen, Liisa. (2010). "Women's Place in Finnish Proverbs from Childhood". Folklore (Electronic Journal of Folklore), Vol. 46, 2010, pp. 96-110.
- Grzybek, Peter. (2008). "Fundamentals of Slovenian Paremiology".
- Hanzén, Maria. (2007). "When in Rome, Do as the Romans Do" – Proverbs as a Part of EFL Teaching".
- Hernadi, Paul and Francis Steen. (1999). "The Tropical Landscapes of Proverbia: A Crossdisciplinary Travelogue". Style, Vol. 33, No. 1 (Spring 1999), pp. 1-20.
- Honeck, Richard P. (1997). "Preface" (Excerpts). A Proverb in Mind: The Cognitive Science of Proverbial Wit and Wisdom.
- Hose, Susanne. (1996). "Paremiology in Germany: Methods, Problems and Current Trends" (Abstract).
- International Conference of Cushitic and Omotic Languages. (2003). "Some Results of the Somali Paremiological Experiment in Berlin and Arhus".
- Järv Risto. (1999). "Is Providing Proverbs a Tough Job? – References to Proverbs in Newspaper Texts". Folklore (Electronic Journal of Folklore), Vol. 10, 1999.
- Kapchits, Georgi. (n.d.). "Variants and Variations of Somali Proverbs". A paper presented at the 9th Congress of the Somali Studies International Association.
- Korpiola, Kyosti. (1996). "The Medical Wisdom of Japanese Proverbs" (Abstract).
- Krikmann, Arvo. (1996). "The Great Chain Metaphor: An Open Sesame for Proverb Semantics?" Folklore (Electronic Journal of Folklore), Vol. 1, 1996, pp. 74-83.
- Krikmann, Arvo. (1998). "On the Relationships of the Rhetorical, Modal, Logical, and Syntactic Planes in Estonian Proverbs (Parts 1 to 3)". Folklore (Electronic Journal of Folklore), Vol. 6, 8 and 9, 1998 (three installments).
- Lauhakangas, Outi. (2007). "Use of Proverbs and Narrative Thought". Folklore (Electronic Journal of Folklore), Vol. 35, 2007, pp. 77-84.
- Lauhakangas, Outi. (n.d.). "Paremiological Correspondence and Its After-Thoughts".
- Lelli, Emanuele. (2007). "Towards a Classification of Greek Proverbs".
- Lim Kim Hui. (2010). "How Malay Proverbs Encode and Evaluate Emotion? – A Paremiological Analysis". Sari - International Journal of the Malay World and Civilisation, Vol. 28, No. 1, 2010, pp. 57-81.
- Mbiti, John S. (2002). "The African Proverbs Project and After".
- Mieder, Wolfgang. (1995). "Paremiological Minimum and Cultural Literacy" (Excerpts). De Proverbio, Vol. 1, No. 1, 1995.
- Mihalev, Vadim. (1996). "Historical Change of Proverb Functions in Modern Russian Society" (Abstract).
- Moon, Paul. (1997). "Traditional Maori Proverbs: Some General Themes". Deep South, Vol. 3, No. 1, Autumn 1997.
- Steen, Francis F. (n.d.). "Abstracts of Oral Presentations at the 1996 Tokyo International Proverb Forum".
- Zˇolkovskij, A.K. "At the Intersection of Linguistics, Paremiology and Poetics: On the Literary Structure of Proverbs" (Abstract). Poetics, Volume 7, Issue 3.
For the analysis of Aklanon proverbs in relation to Philippine literature, the following online articles were helpful:
- Lumbera, Bienvenido. (1968). "Poetry of the Early Tagalogs". Philippine Studies, Vol. 16, No. 2, 1968, pp. 221-245.
- Añonuevo, Roberto. (2008). "Balanse ng Salita sa Salawikain bilang Tula".
- Añonuevo, Roberto. (2009). "Ang Tula bilang Salamin ng Panlipunang Sikolohiya".
- Añonuevo, Roberto. (2009). "Kahulugan ng Talinghaga".
CHAPTER III METHODOLOGY
Research Design
This study uses the qualitative, descriptive research design, with a contextual analysis of the themes, subject matter, motifs, symbols and cultural concepts contained in the Aklanon proverbs,
Locale of the Study
Some of the Aklanon proverbs were gathered from the towns of Batan, Kalibo and Malay, in the province of Aklan, from 1995 to present involving various key informants, while most of the proverbs were gathered through library research.
Respondents of the Study
The respondents of the study included the old folks of Batan, Kalibo and Malay as key informants or sources of the proverbs.
Data Gathering Procedure
Data were gathered using the key informant approach, wherein the old folks of the towns of Batan, Kalibo and Malay were asked to recite some proverbs from memory.
Data Analysis Procedure
The data or the Aklanon proverbs were translated from Inakeanon to English, then analyzed for themes, subject matter, motifs, symbols and cultural concepts.
CHAPTER IV PRESENTATION, ANALYSES AND INTERPRETATION OF DATA
In Damiana L. Eugenio's article "Philippine Proverb Lore" which serves as her introduction to her book Philippine Folk Literature: The Proverbs (U.P. Press, 2002), she enumerates the virtues and vices found in Philippine proverbs, which include industry (ranked the highest), thrift, patience and perseverance (companion virtues to industry), humility, prudence and caution, boldness and courage, respect and courtesy, hospitality, charity, and gratitude. On the other hand, Eugenio lists the vices found in Philippine proverbs, which include sloth, arrogance, greed and covetousness. Eugenio also mentioned that "the Filipino's system of values as expressed in the proverbs is the same as that of peoples everywhere", where "things of the spirit are set higher than material things", where "wealth is not the most important thing in life but goodness, honor, judgment and discretion, wisdom, a good name, good breeding, peace of mind, friends…." (Eugenio, 2002, p. xxiv).
One Aklanon virtue found in the Aklanon proverbs is patugsiling. This virtue is popularly known as the Golden Rule, that is, "Do not do unto others what you do not want others do unto you". In Inakeanon (the Aklanon language), the Golden Rule is simply stated as "Magpatugsiling ka" or "Patugsiling ro buhata", which may be translated as "Practice patugsiling". The virtue of patugsiling is highlighted in Proverb #1, where the individual is the one affected the most as a result of his or her actions and not his or her fellow human being (symbolized by the carabao). In Proverb #2, one's action has a parallel result or consequence. Thus, negative actions lead to negative consequences, as warned by Proverbs #136-140. Positive actions, on the other hand, produces positive results as shown in Proverbs #16-38, which celebrate the virtue of kapisan or kahugod (industry) as exemplified by the following hueobatons: Rong eugta owa nagadugo sa tawo nga mahugod (The soil does not bleed in the hands of an industrious man) and Owa it dangae nga sanduko sa ginahugda't pagbaid (There is no dull blade to him who diligently sharpens it).
Aside from industry, the Aklanon proverbs instruct Aklanons to practice the virtue of kahipid (thriftiness), as reflected in Proverbs #49-58 and shown by the following proverbs: Amligi ring manggad ay owa ron nagausoy it hagdan kon kimo tumalikod (Be careful with your possessions because they do not pass by the door when they decide to forsake you) and Ro sueod ku imong tiyan, isibu-sibo sa sueod ku imong taeagbasan (What you should put in your stomach should not be more that what you have in your rice bin).
In times of hardships and challenges, Aklanons draw inspiration from their hueobatons and practice the virtue of isog-buot or kapag-on (fortitude, courage and resilience) as reflected in Proverbs #59-65 and illustrated by the following proverbs: Kon maanad rong ueang sa kainit kung baga, nagahim-ong (When the river shrimp gets used to the hot coal, it keeps still), Rong kapait kung sampaliya, mananam sa nakauyon (The acrid taste of the native ampalaya is sweet to those who like it), and Wa't sunog nga dukot sa tawong nasusueok (To the famished, the rice at the bottom of the pot is not black).
Meanwhile, some hueobatons highlight the Aklanons' high regard to their family, the value of kaeueot (close family ties) and pagsinaeayo (harmonious relationship) as shown by Proverbs #189-201 and exemplified by the proverb Rong hae-o nagausoy gid ku anang eusong (The pestle seeks its own mortar). This proverb is often recited when a child leaves his or her parents house because of rebellion, marriage or work in a distant place. The old folks will reassure the parents that their child will return home someday, like a "pestle seeking its own mortar". Family ties are so strong like the inseparable atay (liver) and apdo (bile duct) in the proverb Ro atay ag ro apdo owa gid nagabueonlag (The liver and the bile duct always come together). Moreover, Aklanons believe that family characteristics, good or bad, will be passed on to the next generation, as reflected in the proverb Rong eangka indi magbunga it rima (The jackfruit will never bear breadfruit).
Aside from the virtues and values embedded in the Aklanon proverbs, some hueobatons are philosophical in nature, and the most poetic of all Aklanon proverbs are those that speak of the concept of umaeagi or temporariness (Proverbs #271-273), that human beings are vulnerable (Proverbs #274-280), that everything has a limitation, a tipping point, or that everything in this world is but temporary, as epitomized by the following proverbs: Bisan rong matig-a nga bato, kon matun-ugan, sarang makupkupan it gamot (There is no hard rock which will not hold root if there is always the evening dew), Bisan rong tubi sa tuburan may paghunas (Even the water in the spring shall dry up), and Ro maeamig nga tubi, kon sumilapo, patay ro kaeayo (Cold water, once it boils, puts out the fire).
The Aklanon proverbs not only extol virtues or values but also condemn vices and negative traits. For example, the hueobatons make fun of gossipers (Proverbs #184-186) and spendthrifts (Proverbs #55-58) as shown in these proverbs: Paghalin dagum, pag-abot wasay (The needle here became an axe there) and Basta't pilak, inogpieilak (Money is made to be thrown away). Other vices condemned in Aklanon proverbs are lilong or deceitfulness (Proverbs #104-116), kasueok or greed (Proverbs #117-119), and di makuntento or discontent (Proverbs #120-122).
The other virtues and values extolled in the proverbs are pagkamainantuson or patience (Proverbs #66-71), pageaom or hope (Proverbs #72-73), pagpaubos or humility (Proverbs #74-78), kabaeaka or compassion (Proverbs #79-82), pagtibyog or cooperation (Proverbs #83-84), pagtahod or respect (Proverbs #85-88), tarong or justice (Proverbs #89-92), dungog or honor (Proverbs #93-94), pag-unong or loyalty (Proverbs #95-96), kabaeaslan or debt of gratitude (Proverbs #97-98), paghigugma or love (Proverbs #98-100, and pagka-Diyosnanon or piety (Proverbs #101-103).
Other themes and subject matter contained in Aklanon proverbs are kalipay ag kasubo or happiness and sorrow (Proverbs #123-127), kaakig or anger (Proverbs #128-30), baeatyagon or emotion (Proverb #131), buhat or actions (Proverbs #132-171, hambae or words (Proverbs #172-188), pamilya or family (Proverbs #189-207), pagpabahoe or upbringing (Proverbs #208-211), babay i or woman (Proverbs #212-224), tinun-an or education (Proverbs #225-232), kaaeam or knowledge and wisdom (Proverbs #233-237), tinutuyo or purpose in life (Proverbs #238-241), buot or inner-self (Proverbs #242-245), pagdumaea or leadership (Proverbs #246-247), manggad or wealth (Proverbs #248-249), kaimueon or poverty (Proverbs #250-255), utang or debt (Proverbs #256-258, hangae or joke (Proverbs #259-260), as well as
It is noticeable the most number of proverbs are classified as buhat or actions (Proverbs #132-171) which consists of 39 proverbs, followed by proverbs that extol the virtue of kahugod or industry (Proverbs #16-38) with 22 proverbs. Meanwhile, 19 proverbs are classified as those proverbs expressing general truths and observations (Proverbs #261-280).
Of the symbols used in the proverbs, the metaphor of water stands out with 10 proverbs (Proverbs #281-291), not including those water proverbs which were already classified in other categories. On the other hand, there are six distinct proverbs using the metaphor of food (Proverbs #292-298). About the same number of proverbs uses the symbol of the talibong or sanduko (bolo), but these proverbs are scattered in different classifications (e.g., Proverbs #17, 18 and 27). One interesting find is that out of the 12 proverbs with women as subject matter (Proverbs #212-224), only two proverbs speak of the virtues of women and the rest paints a negative image of women. Further studies may focus on gender issues in Aklanon proverbs to better understand this portrayal of women in the hueobaton. Another type of proverbs with controversial views are Proverbs #113-116 which contain stereotypes of businessmen, the Ati indigenous people, and the cross-eyed individual. Sociological studies on these proverbs may be done in the future to understand the existence of these stereotypes in the hueobaton.
Below are the 298 Aklanon proverbs with their English translations and classified by the following themes or subject matter:
1. Patugsiling (The Golden Rule)
2. Kahugod (Industry)
3. Kahipid (Thriftiness)
4. Isog-Buot (Fortitude, Courage and Resilience)
5. Pagkamainantuson (Patience)
6. Pageaom (Hope)
7. Pagpaubos (Humility)
8. Kabaeaka (Compassion)
9. Pagtibyog (Cooperation)
10. Pagtahod (Respect)
11. Tarong (Justice)
12. Dungog (Honor)
13. Pag-unong (Loyalty)
14. Kabaeaslan (Debt of Gratitude)
15. Paghigugma (Love)
16. Diyos (God)
17. Lilong (Deceitfulness)
18. Kasueok (Greed)
19. Di Makuntento (Discontent)
20. Kalipay ag Kasubo (Happiness and Sorrow)
21. Kaakig (Anger)
22. Baeatyagon (Emotion)
23. Buhat (Actions)
24. Hambae (Words)
25. Pamilya (Family)
26. Pagpabahoe (Upbringing)
27. Babay i (Woman)
28. Tinun-an (Education)
29. Kaaeam (Knowledge, Wisdom)
30. Tinutuyo (Purpose in Life)
31. Buot (Inner-Self)
32. Pagdumaea (Leadership)
33. Manggad (Wealth)
34. Kaimueon (Poverty)
35. Utang (Debt)
36. Hangae (Joke)
37. Proverbs Expressing General Truths and Observations
38. Proverbs on Water
39. Proverbs on Food
[...]
Details
Pages

64

Year

2013

ISBN (eBook)

9783656424949

ISBN (Book)

9783656438007

File size

694 KB

Language

English

Catalog Number

v214006

Grade

Tags